Senate Probes Banks Over Non-Remittance Of WHT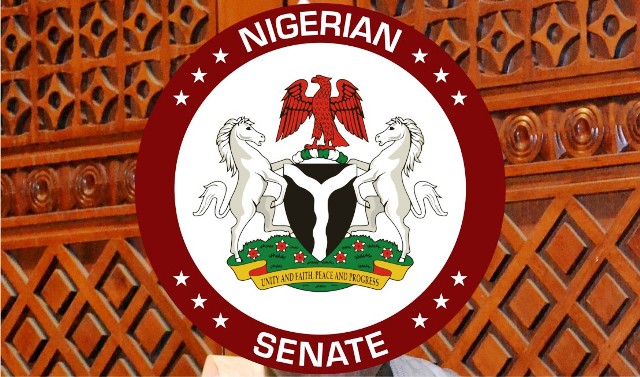 The Senate has resolved to probe the Central Security Clearing System (CSCS) and other banks over alleged non-remittance of withholding tax (WHT) on bank deposits and dividends due to state governments.
It also mandated its Committee on Banking, Insurance and other Financial Institutions to investigate and ensure that all withholding tax revenues on both bank deposits and dividends are recovered and reported back in four weeks.
The Upper Chamber also expressed its regrets on the consequential implications the alleged sharp practices impacted on state governments as most of them were said to have been unable to pay salaries and meet other financial obligations due to dwindling revenue.
These resolutions followed an adopted motion sponsored by Senator Uche Ekwunife representing Anambra Central, titled, "Digitization/Automation of Collection and Remittance of Withholding Tax on Bank Deposits and Dividends Payment for Enhanced State Governments Internally Generated Revenue".
In her lead debate, Ekwunife alleged that banks, hitherto, hold billions of naira in form of under remittance or non-remittance of withholding tax due to government.
The lawmaker also emphasised that withholding tax on bank deposits and dividends remains one of the major sources of revenue but has been difficult for the states to track.
Further, Ekwunife pointed out that tax leakages could be addressed using modern tax solutions and information technology.
In their contributions at plenary, many lawmakers supported the motion.
It was on this basis that the Senate President, Dr Ahmad Lawan hit the gavel in affirmation of the resolutions.
Senate Directs NLNG To Pay Host Communities N18.4bn Compensation
The Nigeria Liquefied Natural Gas (NLNG) has expressed worry over a recent resolution of the Senate directing it to pay N18.4billion compensation for acquisition of right of way (RoW) across some communities.
In a statement in Port Harcourt, the company, said, it was evaluating the resolution and the circumstances surrounding it.
The statement read, "The attention of Nigeria LNG Limited (NLNG) has been drawn to a resolution said to have been passed by the Senate, following the consideration of a report by its Committee on Ethics, Privileges and Public Petitions, sequel to a petition relating to compensation for the acquisition of a Right of Way across some communities.
"NLNG is evaluating the resolution and circumstances surrounding it.
"NLNG wishes to state that it has always conducted its business responsibly and in accordance with the laws of the Federal Republic of Nigeria, including in this specific matter".
Poverty, Hunger Affect Citizens' Political Choices –CAN
The Christian Association of Nigeria (CAN), yesterday, raised concerns over the increasing hardship being experienced daily by Nigerians.
This was the outcome of the meeting, held in Kaduna, presided by the Chairman of Northern CAN, Rev. Dr. Yakubu Pam, to discuss the various issues affecting Nigerians, including hardship and unemployment.
Other issues discussed include the mass poverty and hunger among millions of Nigeria; the 2023 general elections; insecurity; and the prolonged strike by the Academic Staff Union of Universities (ASUU) and the Federal Government.
In a statement issued at the end of their meeting in Kaduna, signed by CAN Chairman, and Secretary of the 19 Northern states and Abuja, Reverend Yakubu Pam and Sunday Oibi, respectively, said many families can barely get one meal in a day, adding that there was no denying the fact that there is poverty and hunger in the land.
He said Nigeria's weak economy has thrown millions into abject poverty and hunger while life is becoming a living hell as people struggle to make ends meet.
The statement said almost daily, prices of food and essential items are on the increase, adding that the reality on the ground is evident for all to see.
"Poverty and hunger affect all spheres of life. It fuels criminality and crime; it affects education; it affects quality healthcare.
"Hunger affects citizens' political choices. Already those who mismanaged the economy are using hunger as a weapon as the 2023 general election approaches",he said.
The group called on governments at all levels to address the problem of poverty and hunger in Nigeria.
It also called on Nigerians to ensure that the 2023 elections are conducted under a peaceful atmosphere without rancour, adding that an election is not war.
"No politician is worth dying for. No one should take the laws into his or her hands".
He tasked the Independent National Electoral Commission (INEC), to ensure that the elections are free, fair and credible.
NEITI Declares Natural Resources Mismanagement As Human Rights Violation
The Nigeria Extractive Industries Transparency Initiative (NEITI) and the National Human Rights Commission (NHRC), have agreed to work together to expand civic space in the petroleum and solid minerals industries, with NEITI insisting that mismanagement of natural resources is a human rights violation.
This, the agencies said, would enable civil society groups and the media to hold companies operating in the sector and the government accountable for Nigeria's natural resources.
Speaking during a visit to the NHRC, yesterday, in Abuja, the Executive Secretary of NEITI, Dr. Orji Ogbonnaya Orji, said NEITI considers the mismanagement of oil, gas and minerals resources as violation of human rights.
Orji, who was accompanied on the visit by leaders of civil society groups working in the sector, explained that this "is manifested in term of environmental pollution, climate injustice, violation of host communities' rights, denial from participation in natural resources management, inequality, revenue and social infrastructures, and in some cases, intimidation and harassment of civil society actors engaging with governance in the sector".
He noted that NEITI was concerned "about these fundamental human rights issues that usually occur when natural resources are mismanaged and abused. Therefore, the struggle and agitation by civil society actors and media for prudent management of natural resources and protection of civic space in the extractive sector is a natural response by citizens to these abuses".
He, therefore, called for a memorandum of understanding between NEITI and NHRC to guide further engagements between the two agencies.
In his response, the Executive Secretary of the National Human Rights Commission, Tony Ojukwu, expressed the readiness of the commission to work with NEITI to protect the rights of those affected by the operations of oil and gas companies, and miners across the country.
Ojukwu, who commended NEITI for doing a "marvellous work", noted that progressive nations "are built on openness and transparency.
"So, this is another step, which I think if we work it out, and it goes smoothly, it will strengthen the work we are doing. So, we are happy to do this. I look forward to the technical committee that can work out the MoU that we can use to operationalise this", he added.