Diabetic Children: Expert Harps On Healthy Dieting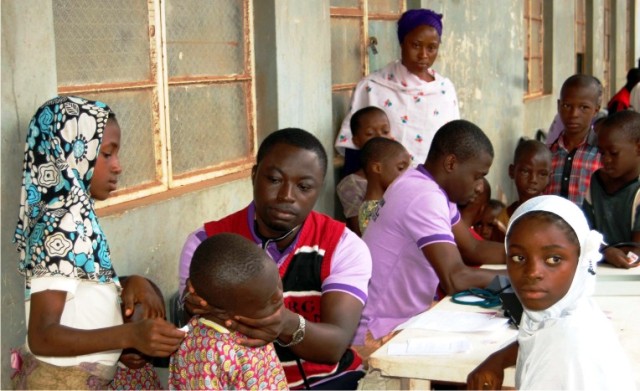 Although, the cause of diabetes is not known, parents of diabetic children have been advised to adopt healthy diets and ensure regular medical check-ups for them.
A consultant paediatric endocrinologist, Dr Nwaoma Nwaogu, gave the advice in an interview with The Tide's source in Abuja, yesterday.
Nwaogu, a member of Ask the Paediatrician Foundation, an NGO, stressed the need to adopt these measures to avoid any complications that might arise for such children.
According to her, careful meal planning is essential for the management of diabetics, hence the need for a total nutritional overhaul for the whole family.
"The management involves careful meal planning.  A family that has a diabetic child will need nutritional overhaul; balanced healthy meals at regular times with adequate fruits and vegetables.
" So this means that the other children in the home and the entire family should eat from the same pot. Regular and balanced meals are the key word.
"Portion control is also essential as it will also prevent the child from developing depression and truancy ideas like stealing,'' she said.
The expert also dispelled popular beliefs on the health benefits of wheat by diabetic patients, which could do more harm than good for them.
"The idea of wheat meal being beneficial is a common belief but wrong because research has shown that wheat has been involved in autoimmunity and that it has high glycaemic index, which means after a wheat meal, your blood glucose hits the roof rapidly.''
She, further, encouraged regular eye, urine and blood pressure checks for children suffering from diabetes to prevent complications such as cardiovascular diseases, stroke, kidney failure, damage to the eyes and foot ulcers.
"The child should have regular monitoring of HbA1C, which is a blood test that estimates blood glucose levels over a period of three months and helps identify the risk of complications in the child.''
She explained that diabetes was a lifelong condition that affected the way our bodies handled energy found in food.
" Normally, our bodies break down carbohydrates into small blocks called glucose which acts as fuel for the cells in our bodies. Cells in our bodies can only utilise this fuel (glucose blocks) with the help of a hormone called insulin.
" Insulin acts as a key that opens the door of the cells so that glucose goes in for its use. Insulin is produced by an organ in our bodies called the pancreas.
" With diabetes mellitus, it's either you do not produce insulin or the insulin is produced in insufficient quantities or the insulin produced cannot be used or a combination of all,'' she said.
The paediatrician listed types of diabetes to include type-one, commonly found in children, which shows absolute insulin lack requiring them to use insulin for life.
She added that type-2 diabetes, mostly found in adults and adolescents but increasingly being found in children, shows only relative lack of insulin, which requires a combination of oral medications and insulin.
She further disclosed that some people might develop diabetes following an infection or inflammation of the pancreas, partial or total removal of the pancreas.
"No one really knows what causes diabetes. We do know that some people are more at risk because of the genes that they are born with.
"Something triggers the immune system to start destroying the insulin producing cells in the pancreas.''
She, therefore, advised parents with diabetic children to ensure they used insulin, engaged in frequent glucose testing and avoided herbs or native concoctions.
She also advised that such children engaged in daily exercise and ate balanced meals.
Breast Feeding Week: RSUTH Targets Health Personnel
As part of measures to heighten the importance of breast feeding, authorities in the State owned Rivers State University Teaching Hospital (RSUTH) is set to sensitise its personnel on the need to ensure that nursing mothers embrace exclusive breast feeding.
The programme forms part of the weeklong activity on breast feeding and is billed to hold tomorrow to school staffers on the health benefits and why they should support the campaign
Member of a committee set up on breast feeding, Nurse Agana Ebirien in a chat with The Tide said the hospital is breast feeding friendly and has over the years held campaigns within and outside the hospital to promote breast feeding.
She stressed the need for health workers to be ambassadors at the forefront for the quest to ensure breast feeding is highly embraced by mothers visiting the health facility.
Ebirien said this year's theme: "Step Up Breast Feeding, Educate and Support" is aimed at raising awareness and underscoring the need for nursing mothers to exclusively breast feed their babies.
She said, "Most nursing mothers don't want to breast feed their babies because of the myths surrounding breast feeding. Some of the myths include danger of colostrum and many others."
Ebiriien explained that the colostrums which is the first drop of breast milk from a nursing is the richest and healthiest part of the breast milk, as it helps boost the baby's immunity and prevents him from falling ill frequently.
The nursing expert therefore called on nursing mothers to ensure they breast feed their babies exclusively for at least six months, and then breast feed with complementary feeding upto two years.
A nurse and expert on women health, Nurse Agana Ebirien has listed the benefit of breast feeding with the call on nursing mothers to exclusively breast feed their babies for at least six months without water or glucose water.
Nurse Ebirien in an exclusive chat with The Tide said thre are huge benefits of exclusive breast feeding to help the mothers and baby health in the future
Some of the benefits she said include the boosting of the child's immunity, and improving the child memory and intelligence.
She noted that mothers who breast feed their babies help curb obesity in their babies in the future, as she described breast milk as " balanced diet in balanced proportion".
For the mothers she noted that breast feeding help to heal the uterus , " as the baby sucks the breast the uterus contract and that curbs bleeding in mothers."
In addition, the nurse explained that mothers who breast feed their babies for a long time also reduce the occurrence of breast and ovarian cancers.
She added that breast feeding is calso economical as it saves the family from spending huge sums from buying milk and other condiments to feed the baby, and therefore called on fathers, and the menfolk in general to encourage their wives to breast feed their babies.
By: Kevin Nengia
Tiger Nuts Can Heal Urinary Infections -Study
The experts have evaluated the antioxidant vitamins (vitamins A, C and E) and antibacterial potential of tiger nut extracts against germs that cause human urinary tract infection pathogens. These are Escherichia coli, Staphylococcus aureus and Klebsiella pneumonia.
Many individuals, including diabetics, eat tiger nut mainly for its sweetness and for its high content of arginine, which is reported to stimulate the production of insulin. Now, in a new study, researchers have said it is a fruit that should be consumed more to prevent and treat urinary tract infections.
The susceptibility of these disease-causing germs towards the tiger nut extracts was compared with each other and with gentamicin, which was used as a positive control. All plant extracts showed antimicrobial activities against the selected microorganisms at various concentrations and the methanol extract was found to be most effective compared to ethyl acetate extract.
In addition, the antioxidant vitamin composition in the different extracts of tiger nut indicated that it contained an appreciable amount of these vitamins. However, the concentrations of these vitamins were considerably higher in the methanol extract, with Vitamin E exceeding the daily recommended intake by international standards in both extracts.
The study published in the Journal of Agroalimentary Processes and Technologies involved Imaobong E. Daniel and Etukudo Edigeal D. at the Department of Chemistry, University of Uyo, Akwa Ibom State, and it was to authenticate the medicinal importance of tiger nut.
Urinary tract infections (UTI) affect any part of the urinary tract which could be the kidney, ureter, bladder and urethra. The causes of UTIs include sexual intercourse with infected persons, poor hygiene, holding urine longer than necessary, underlying kidney stones, diabetes and loss of oestrogen.
All over the world, millions of people are diagnosed with urinary tract infections (UTI) every year. It is estimated that about 35 percent of healthy individuals suffer from symptoms of UTI at some stage in their lives, with incidences occurring mostly in women than men.
Culled from Tribune online.
Nursing Mothers Cautioned On Exclusive Breast Feeding
As Rivers State joins the rest of the world to observe the 2022 World Breast Feeding Week, some nursing mothers in Rivers State have cautioned their colleagues not to use poverty and hardship as an excuse against the practice of exclusive breastfeeding of their babies.
It would be recalled that some nursing mothers have cited poverty as factor responsible to practice exclusive breastfeeding of their babies.
Speaking, a mother of three from Okrika, Mrs Patience Owiriwa, said mothers have no excuse not to practice exclusive breastfeeding.
"I advise that as a mother, if you don't have anything to feed a child, go for breast milk, even if it is little fish you buy to cook.
"That money you use for milk, use it to buy 'Sungu' and any good cooking things.
"If you buy N500 fish, you can cook soup that will carry you. When you are eating well, your baby is eating well too", she said.
Owiriwa said exclusive breast milk prevents children from reacting to unnecessary sicknesses.
"He will be very OK. With breast milk, every vitamin is inside that breast milk; so, even if you feed him with only breast milk, he is good to go".
Another respondent, Mrs Nnenna Amadi from Ikwerre Local Government Area said, "when you breast feed a child well, you find out that the baby will be OK.
"Moreover, when you do exclusive breastfeeding, the child will not be sick, he will be healthy and plump.
"The breast milk will make the child very sharp", she said.
This year's World Breastfeeding Week is from August 1 to 7, 2022.
The theme for this year's event is: 'Step Up For Breastfeeding: Educate and Support'.
It would be recalled that the United Nations Children Fund (UNICEF) had recommended that children be initiated to breastfeeding the first hour of birth and exclusively breastfed the first six months of life.
However, some nursing mothers, who spoke on the celebration in an interview said, poverty was hampering their effort to exclusively breastfeed their babies for the first six months of birth.
Accordingly, Esther Alaka, a nursing mother said, "you must eat well before you can give your babies breast.
By: John Bibor & Oribim Ibama