2019: Buhari 'll Add To Suffering, Obasanjo Warns …North Won't Support Buhari -Leaders Say APC, FG Worsened Poverty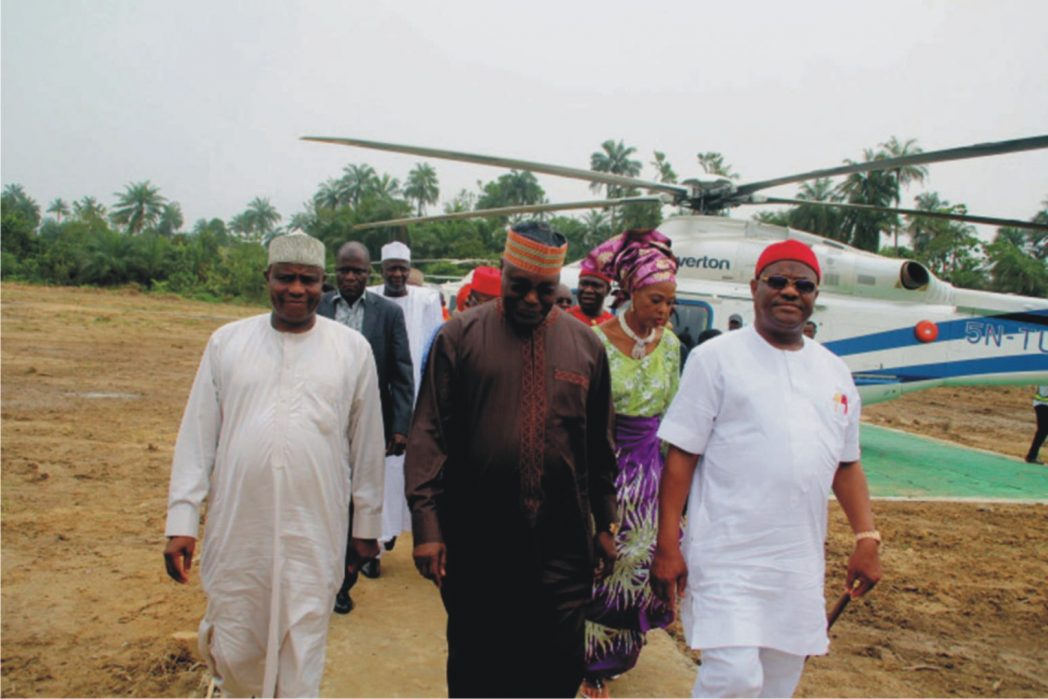 Former Nigerian president Olusegun Obasanjo has insisted that the country's current president Muhammadu Buhari must be voted out when the West African nation goes to poll in 2019.
Obasanjo, who supported Buhari in 2015 against Goodluck Jonathan, said in a statement yesterday that his former ally had done almost nothing to reposition the country.
Buhari rode into power in 2015 on the wings of populist promises of remodelling the economy, fighting biting insecurity, especially in northeast Nigeria and rein in the reign of corruption that has blighted the country for decades.
But critics like the former president said Buhari's government has performed way below expectations.
In January, the former President accused Buhari of being nepotistic and said the president was lacking in the requisite capacity to make Nigeria better.
Obasanjo acknowledged his complicity in making a man who he said "is weak in the knowledge and understanding of the economy" the president. He said he thought that Buhari could make "use of good Nigerians in that area."
"The lice of poor performance in government – poverty, insecurity, poor economic management, nepotism, gross dereliction of duty, condonation of misdeed – if not outright encouragement of it, lack of progress and hope for the future, lack of national cohesion and poor management of internal political dynamics and widening inequality – are very much with us today," Obasanjo said in a 13-page statement titled 'The Way Out: A Clarion Call for Coalition for Nigeria Movement' at the beginning of the year.
He doubled down on those claims in the Sunday statement issued by his media aide Kehinde Akinyemi.
Akinyemi said his principal believes that "only a fool will sit on the fence or be neutral when his or her country is being destroyed with incompetence, corruption, lack of focus, insecurity, nepotism, brazen impunity and denial of the obvious."
Yesterday's statement came after our correspondent report that Obasanjo had chosen to be a neutral participant as Africa's most populous nation prepares for general elections.
The report noted that Obasanjo had shifted "gear to neutral, from outright partisanship and endorsement of the opposition candidate."
"It is disingenuous, if not malicious, for anyone to suggest that Chief Obasanjo was being neutral when he chose not to use the Owu Convention as a platform for political campaign but instead adopt a communal and familial approach in talking to members of his Owu family," Akinyemi said.
"For the records, and as accurately reported by some media organisations, what the former president said at the convention in Iwo was that while he would not impress any candidates on them, Nigerians should vote for credible candidates who will drive growth and development and make their lives better than it is now."
'While Chief Olusegun Obasanjo is in Cairo to attend the maiden edition of the Intra-African Trade Fair (IATF), of which he is Chairman of the Advisory Council, his attention has been drawn to a report by the News Agency of Nigeria with the headline "Atiku: Obasanjo Shifts Political Gear to Neutral."
The former president, who already declared his support for opposition presidential candidate, Atiku Abubakar, said he would not sit on the fence when he needs to be out and active for people to know where he stands in the best interest of Nigeria.
He urged Nigerians to stop complaining about their current situation and advised that they should and go out to get "beneficial change," stating that, "they must know that such change will not come if they remain inactive just complaining and complacent and they allow themselves to be deceived by sycophants and enemies of Nigeria."
"If they do not become active and get much needed change of the current administration to a government that will improve the economy, regain the confidence of investors and generally drive growth, development and economic progress with security, what is coming will be much worse than what Nigerians currently suffer.".
The presidency has however repeatedly asked Nigerians to ignore Chief Obasanjo, saying President Buhari's performance in office was enough to earn him re-election.
President Buhari also accused Chief Obasanjo of corruption while in office.
Meanwhile,barely three months to next year's elections, some northern leaders say they will not support President Muhammadu Buhari's re-election.
They, however, shied away from announcing their preferred presidential candidate in the elections, insisting that the candidate to support remained one of their own from the list of the 71 presidential hopeful cleared by the Independent National Electoral Commission (INEC) to contest the 2019 elections.
The only other high profile candidate in the 2019 presidential election is Alhaji Atiku Abubakar of the Peoples Democratic Party (PDP).
The Convener of the Northern Elders' Forum (NEF), Professor Ango Abdullahi, spoke the mind of the northern leaders in Kaduna. However, three key officials of NEF immediately distanced themselves from Abdullahi's position, saying they were solidly behind Buhari and will do everything possible to get him re-elected next year.
The trio – Maj. Gen. Paul Tarfa, Capt. Basir Sodangi and Sani Daura – said in a statement that Buhari deserved re-election because of his excellent performance and the fact that replacing him would turn the hand of development backward.
According to Abdullahi, a former Ahmadu Bello University Vice Chancellor, the Northern Elders arrived at the decision to dump Buhari for another northern presidential candidate because of his failure to fulfil the basic conditions they handed to him in 2015 when they rejected then – President Goodluck Jonathan and elected him.
"Two of the conditions we gave Buhari upon his assumption of office were that he should take concrete steps to address the abject poverty and underdevelopment in the North and he has woefully failed to marginally address any of them," he said.
The NEF leader also accused the President of bringing strange elements into government, thereby adding no value to governance and "we are vindicated on this score because his wife, Aisha, has confirmed that this week". He went on:
"Assuming that things are working in the North or in Nigeria as a whole, we would have taken a different position but everyone can see that things are not working under this government. Perhaps, as a prelude to where this government has taken this country, Buhari wasted six months before being able to set up his cabinet.
"And when he eventually formed the cabinet, he brought in persons who had not added any value to governance and his wife has vindicated us on this. "As things stand today, we in the NEF do not believe that Nigeria's cause will be helped by Buhari's re-election in 2019.
That is why we have decided to pick one of the other presidential candidates from the North for next year's contest.
"It would be futile for anyone to blame anybody for the decision of the NEF against Buhari because his own wife has openly alluded to our position that some persons, who do not have the interest of Nigeria at heart, are running the Buhari administration without adding real value to the governance of Nigeria".
Abdullahi, who served as former President Obasanjo's Special Adviser on Food Security, pointed out that Buhari was the architect of his own misfortune, having repeatedly rebuffed all entreaties by northern leaders to meet with him and address the issues raised against him.
How Buhari is making things easy for Atiku – Essien Performance The professor of agronomy explained that the position of his group was informed by the outcome of an enlarged meeting of 18 northern groups in March which reviewed his performance and its impact on the region's economy and security.
"Apart from his poor performance to the dissatisfaction of those who made him President, Buhari has deliberately rebuffed all attempts by the Northern Elders Forum to meet with him and discuss issues pertaining to the region and Nigeria", he said.
"This is the reason we meticulous screened over 13 persons from the Nnorth and finally picked four out of the large number and our choice has also been endorsed by leaders of Southern Nigeria including Ohanaeze Ndigbo, Afenifere and Middle Belt leaders.
"We believe that there is no need for us to be talking to Buhari again about what he needs since that will not change anything. We have moved and our votes will not be based on sentiment of tribe or religion but strictly on performance".
The NEF leader said he was pained by the behaviour of the President, having taken the risk to be at the forefront of his election in 2015 on account of which he was called unprintable names by those in the Jonathan administration.
According to him, the North rejected former President Goodluck Jonathan in 2015 not because he was a southerner and a Christian but because he blatantly reneged on the agreement to complete former President Yar'Adua's tenure by doing one term and handing over power to the North to do eight years as former President Olusegun Obasanjo did.
However, the decision by the NEF to dump Buhari in 2019 has not gone down well with some members of the NEF who openly disagreed with the leadership.
'There was no time NEF decided to reject Buhari' Three men, who are foundation members of NEF- Maj. Gen. Paul Tarfa, Capt. Basir Sodangi and Sani Daura – said there was no justification for the North to reject Buhari in 2019, given the fact that he had taken the country to the next level, having taken over the reins of power at a time there was widespread insecurity, corruption and economic decay.
The trio said in a statement: "No one can deny the reality that the country was reaching a breaking point. With a committed leadership and sincerity, President Buhari has achieved immeasurable success in all fronts during the last three years.
"We sincerely believe that the Buhari administration is doing well and should be re-elected to consolidate on the foundation of progress which has been laid by it. President Buhari is on record as the leader who has taken the fight to the criminals.
For the fight to continue to victory, President Buhari should be encouraged by all well-meaning Nigerians to stamp out the monster of corruption.
"In view of the foregoing, the members of the NEF reiterate our solid support for the leadership of President Muhammadu Buhari in the interest of peaceful co-existence, honest leadership, progress and continuity, come 2019 and beyond".
Again, RSG Begins Unveiling, Flag-Off Of Nine Key Projects, 'Morrow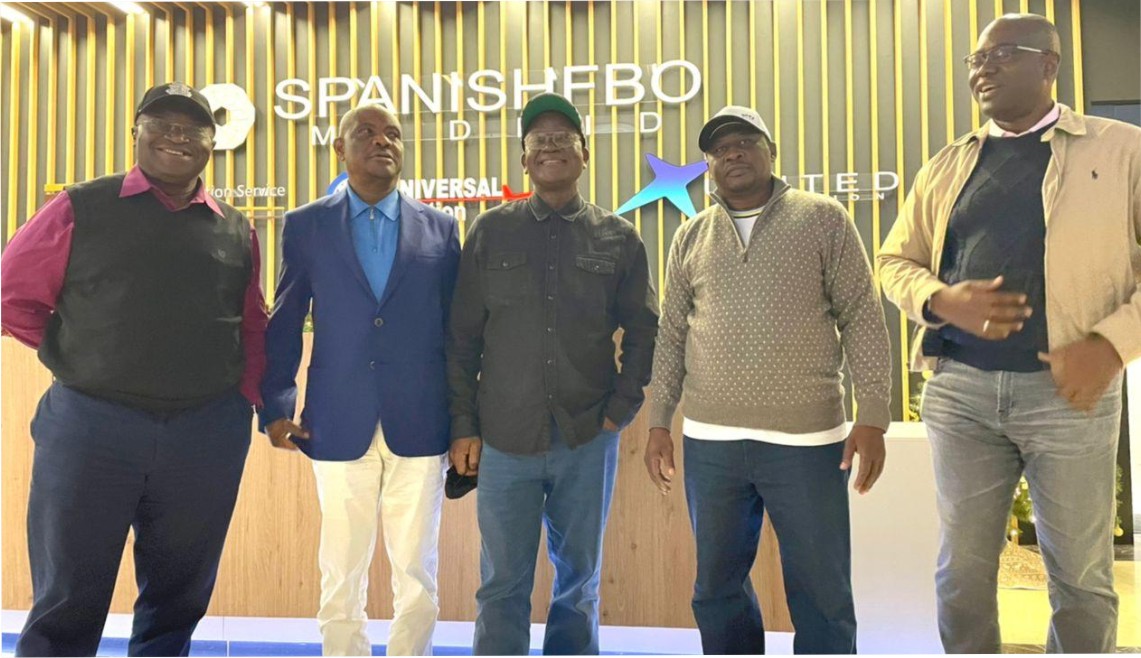 The Rivers State Government has rolled out the drums to herald another phase of official commissioning of key projects embarked upon by the Governor Nyesom Wike-led administration in the state.
A statement by the state government said that the process is in continuation of the commissioning and flag-off of projects by Governor Nyesom Wike.
It indicated that Rumuola flyover would be commissioned tomorrow, while the GRA flyover would be commissioned on Saturday.
The also stated that the government would commission the Ezimgbu Road on Monday, December 13, 2021; with another commissioning of Tombia Road Extension scheduled for Tuesday, December 14, 2021.
The statement said that the governor would commission the Safe Home, Borikiri, Port Harcourt on Wednesday, December 15; while on Thursday, December 16, 2021, the governor would commission the Odokwu internal roads.
Also, the governor would continue the flag-off of key infrastructure projects with Chokocho-Igbodo Road slated for Monday, December 20, 2021; Oyigbo-Okoloma Road on Wednesday, December 22, 2021; and Magistrates' Court Complex, Port Harcourt on Thursday, December 23, 2021.
Wike Justifies N7bn Libel Suit Against THISDAY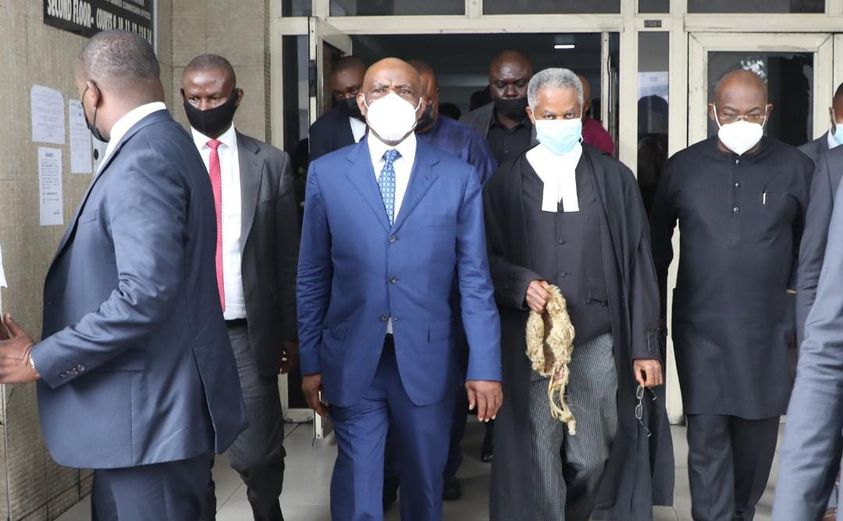 Rivers State Governor, Chief Nyesom Wike, yesterday, appeared before the state High Court in Port Harcourt, to testify as a witness in an N7billion libel suit against THISDAY Newspaper.
Wike said he was in court to seek justice and clear his name as a person from the malicious publication by THISDAY Newspaper, which portrayed him as deceitful, untrustworthy person, who exerts subterranean influences on judicial matters and over court sittings in Port Harcourt.
It would be recalled that Wike had in August, 2020, slammed a N7billion suit being damages for libel written and published in THISDAY's Tuesday, June 23, 2020 edition captioned, "With Wike, Obaseki Meets His PDP's Waterloo; Almost."
The defendants in the suit are THISDAY Newspapers Limited, Leaders and Company Limited, Davidson Iriekpan, Chuks Okocha and Adibe Emenyonu.
Wike, while testifying as witness in suit No. PHC/1505/CS/2020 before the court presided over by Justice A. Enebeli, asserted that the defendants maliciously and falsely portrayed him as an unreliable friend/person.
"When you say somebody cannot be trusted; that cannot be a fair comment. When you say somebody is influencing the Judiciary, that cannot be a fair comment", the governor said.
In his written statement on oath, Wike had stated that the defendants had accused him of influencing the decision of the court sitting in Port Harcourt that granted an injunction restraining Godwin Obaseki from participating in the primaries of Peoples Democratic Party (PDP) in Edo State in 2020.
He stated that the defendants maliciously accused him of undemocratically exerting influence on the primaries process of PDP in Edo State in aid of his ally, Omoregie Ogbeide-Ihama, who was the beneficiary of the court order restraining Obaseki from participating in the PDP primaries.
The governor, who told the court that he was not even aware of the aforementioned suit by Ogbeide-Ihama against Obaseki, said the publication was reckless, false and without regards for the truth.
According to him, contrary to well-known journalistic tradition and practices, the defendants did not investigate properly to ensure the information they relied on was accurate.
"They did not seek to verify the facts from me or in any manner oblige me with the opportunity to state my own side of the story before proceeding to make the false publication" the governor argued.
Wike stated that the defendants further denigrated him before the entire world as a fake democrat, who engages in meddling in the internal affairs of All Progressives Congress (APC) in order to get at his political foe, Chibuike Amaechi.
The governor explained that he was not a member of the APC and has had no hand in the internal crisis which has bedevilled the party both in Rivers State and all over Nigeria.
"By the letter of Messrs E.C. Ukala and Co., Solicitors, under the hand of Emmanuel C. Ukala, SAN, dated 23rd June, 2020, the defendants were given opportunity to retract, and recant the publication as well as to offer apology for the false publication but the defendants spurned the opportunity and ignored the letter completely."
The governor, while responding to claim by lawyer to the defendants, Turudu Ede, SAN, that the essence of the lawsuit was to intimidate and harass his clients, said the whole essence of the suit was to get justice and clear his name as a man of substantial character, honour and repute.
"The essence of the suit is to get justice since they (defendants) refused to retract the publication or apologise. So, I sued them to clear my name."
Speaking to journalists outside the court, one of the lawyers to Wike, Mr. Mark Agwu said his client was in court to seek legal redress.
"To challenge him as a person, it means you have made him untrustworthy, a deceit, a cheat, an influencer of the court, because the publication they made was that he had a role to play in influencing the outcome of that Federal High Court case. Nobody will take that lightly, and especially for a man who believes in the rule of law", Agwu added.
The court adjourned the matter for further hearing to 12th, 13th and 14th of January, 2022.
$130m Fraud: Rivers Sues Saipem SPA, Saipem Contracting Firm, Others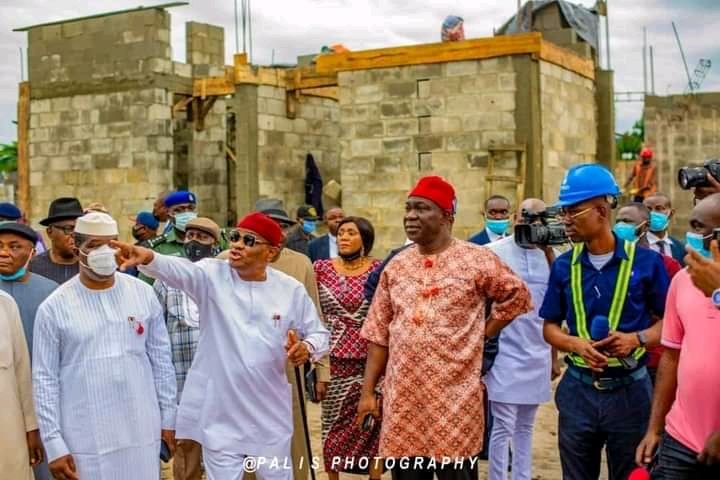 The Rivers State Government has charged two construction firms, Saipem SPA and Saipem Contracting Nigeria Ltd, to court over an alleged conspiracy to cheat and with intent to defraud the state of the sum of $130million, being advanced payment for the construction of the OCGT power plant in Port Harcourt.
In a 16-count criminal charge filed by the Director of Public Prosecution, C.F. Amadi for the Rivers State Attorney General, the state alleged that after collecting the said sum as advanced payment between 2011 and 2018, the defendants have not kept their obligation under the contract.
Others charged alongside the companies were Walter Peviana; Kelechi Sinteh Chinakwe; Giandomenico Zingali; Vitto Testaguzza and Davide Anelli, who are directors and officers of the companies.
The defendants are charged with various offences ranging from conspiracy, cheating and obtaining credit by false pretence, contrary to Section 518 (6) and (7) and punishable under Section 518 of the Criminal Code, Cap 37 Vol. 2 Laws of Rivers State of Nigeria, 1999, section 419A and punishable under Section 419 (A) (1) (b) of the Criminal Code, Cap 37 Vol. 2 Laws of Rivers State, amongst others.
Already, the Rivers State Government has issued a fiat to the law firm of Godwin Obla (SAN) to prosecute the matter before the state High court.
The defendants are equally charged for the offence of false Statements by Officials of Companies contrary to and punishable under Section 436 (b).
The prosecution specifically accused the defendants of obtaining credit of $130million by false pretences or other fraud contrary to Section 419A and punishable under Section 419 (A) (1) (b); obtaining credit of $20,467,942.00 by false pretences or other fraud contrary to Section 419A and punishable under Section 419 (A) (1) (b), obtaining credit of N7,000,000,000.00 only by false pretences or other fraud contrary to Section 419A and punishable under Section 419 (A) (1) (b).
They are charged for obtaining credit of N318,640,173.54, by false pretences or other fraud contrary to Section 419A and punishable under Section 419 (A) (1) (b); attempt to cheat $97million contrary to Section 508 and punishable under Section 509; attempt to cheat $15million contrary to Section 508 and punishable under Section 509; conspiracy to receive a credit of $97million by false pretences contrary to Section 518 (6) and punishable under Section 518; cheating $11million contrary to Section 421 and punishable under Section 421; cheating contrary to Section 421 and punishable under Section 421; cheating N110, 097, 416.51 contrary to Section 421 and punishable under Section 421; cheating by collecting sums attributable to shared facilities already paid for in AFAM Phase I in AFAM Phase II contrary to Section 421 and punishable under Section 421.
Obtaining N20, 467, 942 contrary to Section 421 and punishable under Section 421; obtaining credit of $60,168,936.00 by false pretences or other fraud, contrary to Section 419A and punishable under Section 419 (A) (1) (b); obtaining credit of $1,512,034.00 by false pretences or other fraud contrary to Section 419A and punishable under Section 419 (A) (1) (b) all of the Criminal Code Law of Rivers State, Cap 37 Vol. 2 Laws of Rivers State of Nigeria 1999.
According to the Proof of Evidence attached to the charge and the statement made by the Head, Power Generation/Mechanical of the Rivers State Ministry of Power, one Mr Temple Azunda M., the facts constituting the case in hand are as follows:
Saipem SPA and Saipem Contracting Nigeria Limited and other officers of the duo, herein the Defendants, are Italian companies which services have been retained by the Rivers State Government, herein RSG, in several projects, prominent amongst which is the AFAM Phase II Power Plant Project.
By an initial tripartite agreement made on the January 20, 2010, the RSG under the auspices of the Rivers State Ministry of Power entered a contract with Saipem Contracting Nigeria Limited, Saipem SPA for the construction of the OGCT power plant in Port Harcourt at a total cost of $119million consequent upon which the Rivers State Government made advance payments, in instalments, to Saipem Contracting Nigeria Ltd and Saipem SPA amounting in total to a sum of $130million in all which the Defendants have acknowledged receipt of.
The Defendants were to be given an initial mobilization of 20per cent of the total contract sum which the RSG paid.
It was part of the initial agreement – and indeed a condition sine qua non – that, to access the 2nd tranche of payment of 25per cent from the Rivers State Government, the Defendants would mandatorily have installed the Gas Turbine into the foundations as referenced in ATTACHMENT 1 to VO 007 which states that:
CONTRACTOR shall be entitled to a payment corresponding to 20per cent of the VO No. 007 LS PRICE upon mobilisation to site and commencement of bush clearing activities at SITE.
Upon commencement of bush clearing activities at the site, the contractor shall issue the invoice relevant to the above payment and the owner shall pay such invoice within 14 days from its issuance.
The parties agree that no deduction for recovery of advance payment shall apply on the payment due to the contractor for invoices issued by the contractor in accordance with this paragraph.