'Mushroom Extracts Inhibit Cancer Growth'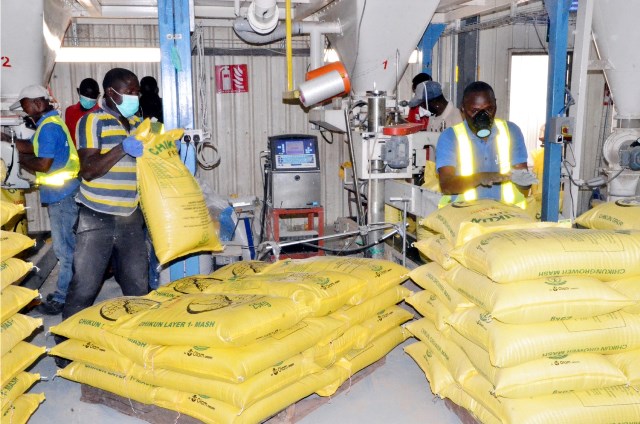 An agricultural extension and rural development expert at the Institute of Agricultural Research and Training (IAR&T), Ibadan, Prof. Lucia Ogunsumi, says mushroom extracts can inhibit cancer growth.
Ogunsumi made the disclosure in Ibadan yesterday. She said the presence of beta-glucans (dietary fibres) in mushroom extract was implicated as anti-tumour substances which could restrain the growth of cancer cells by activating and reinforcing the host's immune system.
Ogunsumi noted that the substances could slow down aromatase activity which was responsible for the conversion of androgens to estrogens (a precursor to cancerous tumours).
She emphasised that several human trials recently described physiological benefits and significant improvements in quality of life indicators from mushroom consumption by patients affected by a variety of cancers.
"Clinical trials have reported that chemo-immunotherapy using Lentinan, the backbone of beta-(1, 3)-glucan with beta-(1, 6) branches, purified from Shiitake mushrooms as an adjuvant to chemotherapy, prolonged survival of patients with advanced gastric cancer, compared to chemotherapy alone.
"Lentinan has now been approved as a biological response modifier for the treatment of gastric cancer in Japan," she said.
According to her, medicinal mushrooms are repositories of low molecular weight secondary metabolites which can be effective in the development of real immuno-modulating and anticancer drugs.
Ogunsumi remarked that mushrooms received overwhelming attention from food and pharmaceutical researchers due to the presence of bioactive compound inherent in them.
The expert further pointed out that mushrooms were great sources of carbohydrates, proteins, mineral salts, vitamins and essential amino acids, which could help to maintain a good nutritional balance.
She added that medicinal values of mushrooms included wound-healing, immunity-enhancement and tumour-retarding effects.
"Oyster mushrooms are popular items at restaurants, farmers, markets, super markets. Farmers and youths can start a business and growing it as it is easy to cultivate.
"Exotic mushrooms can also be grown, there is a big market out there for quality mushrooms; a mushroom farming business can yield big profits in just a few weeks.
"As many people are choosing to live a more natural and healthy lifestyle, they are consistently turning to mushroom cultivation; ours should not be different," she said.
PHCCIMA President Advocates Non-Oil Economy
The President of Port Harcourt Chamber of Commerce, Industry, Mines and Agriculture (PHCCIMA), Mike Elechi, has demanded for an urgent shift to non-oil economy.
He made the statement while addressing the monthly general meeting of PHCCIMA members recently in Port Harcourt, saying over-dependence on oil has caused a lot of damages to the Nigerian economy and has impoverished its citizenry.
The President noted that agriculture was the corner stone of Nigerian economy before the discovery of crude oil in commercial quantity.
Noting that palm kernel exported from Rivers State (Nigeria) turned around the fortunes of Malaysia, he lamented that the drivers of Nigerian economy are yet to "wake up from their slumber".
The PHCCIMA boss stressed that  agriculture and the growth of SMEs are the best way to having a viable economy for the survival the country.
Elechi,  while encouraging new members during the forum, explained that one of the three broad objectives of his administration is to grow and expand the membership strength of the Chamber.
"We are welcoming and inducting these quality persons representing various companies of repute from different sectors across the state into our premier and prestigious Chamber as PHCCIMA.
"PHCCIMA, as the umbrella body of the business community in Rivers State, is ensuring implementation of good policies by Rivers State Government, which are geared towards ease of doing business in the state, thereby promoting public and private sector partnership to improve the socio-economic well-being of the people of the state," Elechi said.
AFAN Harps On Restoration Of Food Security
President of ALL Farmers Association of Nigeria (AFAN), Arch Kabir Ibrahim, has called on all state governments, especially those in the Northern part of the country, to key into the drive for the restoration of security in order to ensure the attainment of sustainable National Food Security in the country.
Making the call in a statement made available to the press, he said insecurity is the foremost threat factor to the attainment of food security in Nigeria
According to him, the state governments in the North should work jointly and collectively to ensure the restoration of normalcy or the whole country might go hungry.
Ibrahim advised that all efforts by the state governments in the North to stem insecurity should coalesce under one umbrella to be called "Northern Nigeria Security Initiative" (NNSI) under the chairmanship of Northern Governors' Forum.
He noted that the forum would be assisted by a team headed by a Director General who knows what to do.
"Each of the 19 States, including the FCT, should contribute one billion naira each sustainably to a common pool, thereby pulling a large resource base at the end of December, 2022.
"Central Bank of Nigeria (CBN) should intervene with the sum of one trillion naira within the same period", he said.
Ibrahim added that a critical mass of 2,000 young able-bodied youth to be paid an honorarium of 20,000 monthly from each of the 19 Northern states and probably FCT should be recruited to form a 'vigilante group' to keep the peace among their  peers but through 'non-kinetic' means.
Speaking further, he said the National Drug Law Enforcement Agency (NDLEA) should partner with each of the 19 state governments and FCT to proactively fight drug use and trafficking by impounding and destroying identified drug peddling enclaves or dens of drug dealers as well as abusers.
"All the forests which now apparently provide safe-haven to bandits and marauders should be combed, defoliated and in some cases sectorially bulldozed as well as immediately converted into cultivable as well as irrigable land forthwith.
"Regular town hall meetings in all villages and hamlets under the direct supervision of our revered traditional rulers should be convened contiguously all over the North with a view to sensitising everybody to the impending disaster facing the possible continued existence of the entire North and the whole country at large", he said
Researchers Empower Farmers With Information On Climate Change
In a bid to ensure food sufficiency in Nigeria, researchers from the Federal University of Agriculture, Abeokuta, (FUNAA) have began sensitisation of farmers on climate information services for early warning system on climate change in the south-west.
The unveiling of the research work aimed at assisting farmers to prepare against the impacts of climate change held in Abeokuta, has stakeholders from the six states of the southwest in attendance
The project trained 1,440 farmers from 70 villages across the six states on smart farming with access to early warning systems and information dissemination platforms.
Through the research outcome, the farmers also have access to weather information websites, online radio and other small phone enabled applications aimed at providing useful information on farming activities.
Additionally, the researchers will also launch an application to assist the farmers in navigating climate conditions towards planning for their planting seasons and times.
While speaking, the Lead Researcher, Dr. John Oyedepo, Deputy Director, Institute of Food Security, Environmental Resources and Agricultural Research, FUNAAB,  said the research, sponsored by the Tertiary Education Trust Fund (TETFUND) was to assist the country in achieving food security and improve the economic status of the farmers.
He hinted that the sensitisation was to prepare farmers with alternatives to training as a source of farming, adding that the project also provided opportunities on how to farm better during the dry season.
According to the Lead Investigator on Early Warning and Climate Information Service, farming during dry seasons provide more yield because of less cloud cover, fewer weeds and fewer pests, adding that countries with less than two months of rainfall like Israel have food security and also export.
Explaining the details of the project, Oyedepo said the researchers were planning to send a policy document to the Federal Government towards ensuring the sustainability of the project which, he said, was in six phases.
"In this part of the world, our farmers depend on rain. For instance, now, many of them are not going to the farms yet because they don't know what the rain pattern will be for this year, but we can't continue to wait for the rain. A nation that is rain-fed cannot feed itself because the rain can be erratic.
"When we saw that problem, the farmers do not know when to go to the farm, when to come out of the farm, the onset and cessation of rain is not certain, and we thought we need to give them a kind of intervention and that is by putting in their hands something they can use to look at the weather and then plan their planting activities.
"Fortunately, we got support from TETFUND and that has taken us to six states where we have established 'climate-smart villages', trained the farmers on the climate-smart agricultural practices. We have developed a mobile App that will help them predict or forecast the weather in real-time.
"We are also thinking of sending policy documents to the government so that this will not just end here, but something the government can support and put  in yearly budget for continuity", he said.
Speaking further about the N40 million project, he said: "In it, we established the early warning system, ground receiving station connected with geo-Netcasting in Germany, because we need quality data to be able to advise the farmers, reliable data, so we loaded the data in conjunction with the NiMet in Abuja and other institutions around this place like OAU, and other Institutions. We came together and you will see that the project was divided into six parts.
"The first is the socio-economic aspect of it, you must know the baseline problem of farmers before you bring in any solution to them; we also develop a ground receiving station where you get quality data; we must disseminate the data, and that is why we bought those smart phoned, and from our analysis, we discovered that most of these farmers are using these smartphones, all they need is for us to train them to use it in solving their problems.
"The other thing we also did was to give them other interventions like the drip irrigation kit to demonstrate to them how to use them in case we have prolonged drought, they will be able to go to the farm and still produce something".