Pressing For Women Empowerment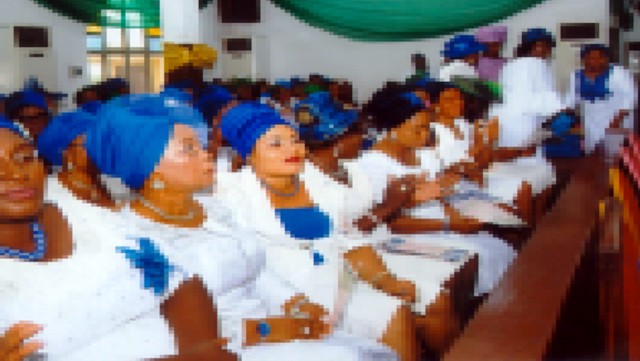 March 8th every year has been set aside globally to commemorate the International Day of Women. It is a day to take stock and strategise for the improvement and celebration of the achievements of women. The achievements are categorised into economic, cultural, political, social and individual.
The theme this year is "Press for Progress". How did the world come about this day? In 1908, 15,000 women marched through the streets of New York in the United States of America (USA) demanding for shorter working hours, right to vote and better pay package. But the idea to make it an international day was mooted by a woman, Clara Zetkin, in 1910 at the International Conference of Working Women in Copenhagen, Denmark.
The day was first celebrated in 1911. But the battle to terminate discrimination against women did not end there. In 1979, the Convention on the Elimination of all Forms of Discrimination Against Women (CEDAW) was adopted by the United Nations General Assembly and instituted on the 3rd of September, 1981.
The women continued with their fight for total emancipation and gender equality till September 3rd, 1995, when the fourth Conference on Women in Beijing held. This marked a significant turning point for the women's struggle. At the Conference, participating countries vowed to remove all obstacles to gender equality and the empowerment of women.
The Beijing Platform for Action at the Conference covered 12 critical areas of concern for women. These are: education and training, women and poverty, women and health, violence against women, women in power and decision-making, women and health, women and the economy, human rights of women, women and armed conflict, institutional mechanism for the advancement of women, women and the environment, women and the media and finally, and the most vulnerable – the girl-child.
In the 1995 golden jubilee celebrations of the founding of the United Nations, the CEDAW document/treaty was ratified by 187 member-states out of 194 nations. Surprisingly, the USA is among the countries that are yet to ratify it. That, notwithstanding, the women have continued to press on.
In Nigeria, late Dr. (Mrs) Maryam Babangida, a pioneer champion of women emancipation in Nigeria, a former First Lady and founder of Better Life for Rural Women, was viable in the fight to emancipate women. She built a workable platform for the articulation, formulation and implementation of development projects for rural women. Her Better Life programme has had great impact on women till date. It was in her time that women commissions metamorphosed into women ministry.
Then came Maryam Abacha, widow of Nigeria's late head of state, General Sani Abacha. It was in her tenure as First Lady the Beijing Conference held and a lot of women from Nigeria attended the Conference. Before both women got involved in the gender equality struggle in Nigeria, little or no effort was made in that direction. What was on ground was a mere fanfair that trivialised women empowerment.
This year's theme is expedient for women to key into. It is important for them as individuals, groups, associations, organisations and communities. Women have to tap into it and hit the ground running. It was for this reason Rivers State was not left out in the celebration of the Women's Day in the country.
Here in the state, the occasion held at the Alfred Diete-Spiff Sports Complex, Port Harcourt. In a keynote address, wife of the Rivers State governor, Her Excellency, Justice Suzette Eberechi Nyesom Wike, called for the empowerment of women at all levels. But which women group would hold Her Excellency accountable to her words and ensure that she fulfils what she said? She also called on parents to give equal opportunities to male and female children to enable the girl-child attain her highest level of development. How many mothers will heed this advice and press for the progress of their female children?
The governor of Rivers State, His Excellency, Barrister Nyesom Wike, was represented at the event by the Secretary to the State Government, Chief Kenneth Kobani. The governor commended Rivers' women for their strong support to his government and urged them to sustain the tempo. Fine. Strong commendation indeed. Is that all the women will get? What about the empowerment, the appointments and the positions in political parties? Are women not qualified to be in those positions?
The question now is: who is pressing on for the progress of women on the political front? How do we sustain the tempo achieved so far? What about working mothers? How are we working for their progress? This is because the working mother makes a lot of sacrifice both at home and at the workplace. Women are discriminated against in all fronts. It is very obvious that some employers of labour do not employ married women of child-bearing age. This discriminatory attitude also affects women in the legal profession.
Women also suffer segregation in the entrepreneurial world. Recently, the Entrepreneurial Platform Initiative celebrated women at a workshop at Sparklyn Hotels in Port Harcourt. It was revealed at the event that gender inequality is prevalent in the Niger Delta region. This affects women entrepreneurs greatly. It was also mentioned that women are denied access to funds to promote their businesses. However, the women were urged to think like entrepreneurs and organise themselves and be a part of government decision-making processes.
Multinational corporations cannot be left out of the ill treatment of women through their policies. Although few of them have encouraged women, they need to expand and support the enactment of women friendly policies. Broad-based partnership of various sectors will expand and strengthen creativity and initiative for women in the Niger Delta region in particular and Nigeria in general.
While women battle against setbacks society has erected for them, there is need for them to support themselves. Women should celebrate their fellow women and not work against one another. It is sad to see some of the discriminatory practices against women such as female circumcision, widowhood practices etc. being carried out by fellow women. Those belonging to the female gender need to change and be focused, remain undaunted and encourage themselves to form cooperatives.
Unfortunately, since CEDAW was adopted where governments agreed to make and implement policies that would enable women have access to land ownership, credit, inheritance and natural resources, nothing has been done till date. Women still do not inherit land in Nigeria. Their participation in politics and their access to political positions in relation to their male counterparts are still very low. Therefore, there is need for deliberate policies in specific areas like land rights, inheritance, property rights and asset holdings.
This year's theme introduces a critical dimension to the global emancipation of women in that it emphasises the complete eradication of poverty among the women folk. The empowerment of women shouldn't be left to them alone, they have to be assisted by their male counterparts. If favourable policies are made particularly in education and human resources, inter alia, Nigerian women and their global counterparts will get closer to their total emancipation.
Juliet Njiowhor
Re: Wike, A Governor Possessed By Spirit Of Flyovers
Our attention was drawn to an article titled: "Wike, a Governor Possessed By Spirit of Flyovers" published by Yemi Adebowale. It was in his 'RingTrue' column of the ThisDay Newspaper of August 6th, 2022.
The writer exhibited distasteful notoriety with his recluse to illogical offerings in public space of what he least knew about. The development audacity of Governor Nyesom Wike has remained all inclusive. The writer hardly grasped that extent. His piece depicted him as a sad minded and bitter man. Evidences of one soaked in skewed social media snippets abounded in his piece.
Publishers of such snippets, always, were backward looking critics. They feared to seek out the fact that would help them cease from misinformation. Yemi Adebowale, unfortunately so, had showed himself to be among such political opportunists and hack writers who politicise and trivialise issues of development with puerile logic.
As their stock-in-trade, they criticise blindly every genuine intention of Governor Wike. It is therefore, imperative for us to overcome the temptation of being silent over such snide and provocative innuendos in that obviously sponsored pervasive rant.
Stating it as it is, from inception of his administration on May 29th, 2015, up until now, Governor Wike has been dogged with issues of development . He started off with such urgency and accomplished so much within first few months in office. The drive was predicated on repairing the rot in all sectors that he inherited. The giant development strides were to rebuild the broken walls of social trust and vitalise the economy of the State. So, the well thought out development plan and its system implementation remained in focus and encompasses all sectors.
Perhaps, Yemi is oblivious of the fact that all across the globe, service-oriented governments are reinventing many cosmopolitan cities like Port Harcourt to become people friendly and sustainable.
Perennial traffic congestions in major cities like Lagos, Cairo, Port Harcourt have been identified as major bottleneck to economic growth and development.
And as part of his integrated urban renewal programme, Governor Wike decided to embark on the construction of flyovers to solve traffic snarls in major intersections within Port Harcourt and Obio-Akpor councils.
Until the Wike's infrastructure revolution, residents of Port Harcourt and its environ will attest to the fact that driving or better still, commuting along the busy Port Harcourt-Aba Road Expressway, was harrowing due to traffic congestion. A ten minutes drive today, could take up to two hours thirty minutes. That was the reality of those who live and do business in the State capital before the Wike's administration began to proffer solution to this problem.
The seven out of twelve flyovers already inaugurated have helped to streamline the traffic in Port Harcourt and its environs. A lot of irretrievable time, which is unit of life spent in congestion is avoided through these flyovers.
We are confident that these flyovers will tremendously help the business community to grow its business.
These flyovers have contributed significantly to the aesthetics of the Rivers State capital. Anyone driving through the flyovers any time of the day of course will relish a panoramic view of the Garden city.
Only narrow-minded people and those who must remain blind to any meaningful, genuine and concrete development take to mischief. They refused to see the connecting strings of each development towards the overall development of the state and its people.
But, why is the construction 12 flyovers by Governor Wike a pain to Yemi Adebowale? Without any contradiction, he is particularly averse to appreciating the benefits of the flyovers. They remained remarkable achievement. The record set would not be beaten for a long time. In contemporary times, no State government could dare.
Yemi Adebowale also had enthused that these flyovers are the only projects that are being executed. He lied. His assertions are robed with pale claims. It only proves that he had not been to Rivers State before or, maybe lately. If he had, he would be enthusiastic to do an independent search for facts. Such efforts would have espoused him to evidences of other shades of development ongoing. This is because, some levels of development are intangible. But he could still berth at shores of tangible others different from flyovers.
Governor Wike's administration has turned and transformed not less than 20 major single lane roads into dual carriage. They include Igwuruta – Chokocho road, Saapkenwa – Bori road, Tam David West Boulevard, Rumuokwurishi – Eneka – Igwuruta road, Rumuepirikom – Rumuolumeni road, Rebisi – Trans-Amadi – Oginigba road, Justice Iche Ndu road, Eagle Island – Illoabuchi road, Elelenwo – Akpajo road, Birabi road, Emeyal road, Tombia road, Forces Avenue, Olumeni road, Abacha road, and Harley street, Tombia Extension, Eastern bypass, Ogbum-nu-Abali/Eastern bypass road,and the Ezimgbu road. They have street lights, pedestrian walkways and covered drains.
Already, a lot of roads connecting and interconnecting several communities across the State are ongoing. They include Phase one of the Ahoada – Omoku dual carriage way, the phase two Saakpenwa-Bori – Kono dual carriage way, the dualisation of Egbema- Omoku road, the Woji – Aleto – Alesa road and the Wakama – Ogu – Bolo road, are underway.
It is worthy to noted that Opobo axis of the Ogoni- Opobo-Andoni road has achieved, Andoni community is next and would soon be completed so that coastal communities of Ngo, Ikuru and other towns along that way can be accessed by road after decades of failed promises by the previous governments. It is in similar vein that the construction of phase one of the Trans-Kalabari road has commenced.
Governor Wike has also provided over 1200 classrooms and nearly 14,000 desks to over 200 primary and junior secondary schools. His administration has also reconstructed, furnished and equipped several secondary schools with modern classrooms, laboratories, libraries, sports facilities, staff quarters and paved interconnecting road networks.
The facts abound that at the tertiary level, the governor has elevated the structural quality of State's tertiary institutions with new faculty, administrative and other buildings, strengthened the governance systems and enhanced staff welfare with the new salary structure.
Apart from the College of Medical Sciences, the Wike's administration has also implemented a multi-campus structure for the Rivers State University with the establishment of new campuses at Emohua, Ahoada and Etche Local Government Areas, thereby increasing the carrying capacity of the University and providing more access to quality tertiary education for Rivers people and other Nigerians. The restoration of the multi-campus status of the Rivers State University opened a vista of engagement of more personnel.
In the health sector, the Wike's administration has built some new primary healthcare centres for under-served communities, renovated some existing primary health centres and general hospitals, commissioned the 132-bed Mother and Child specialist hospital, established the Rivers State University Teaching Hospital, built the Senior Doctors' Quarters and rebuilt and upgraded the Government House Specialist Clinic, while a Junior Doctors Quarters is also under construction
The Wike's administration re-equipped and upgraded the Braithwaite Memorial Specialist Hospital. Today, it serves as the Teaching Hospital of the College of Medical Sciences. Manpower was engaged to ease provision of healthcare in expanded RSUTH.
The scholarship scheme established for Rivers indigenes studying at PAMO University of Medical Sciences subsists. Currently, over six hundred students are benefiting. This had ultimately provided medical education to Rivers children and other Nigerians. Notably, there were separate approval for an automatic employment of all Rivers State indigenes who bagged Doctor of Philosophy (PhD) during the 2018 Convocation Ceremony of the Rivers State University.
We wondered why these are not human capital development to Yemi Adebowale. Maybe, he would need to be reminded that in 2021, employment of teaching and non- teaching staff was concluded at the Rivers State University. There is an ongoing recruitment of teaching and non-teaching staff at the Ignatius Ajuru University of Education.
Yemi Adebowale least understood the implementation of the water reforms programmes, driven convincingly to specific and targeted communities. On the 15th April, 2016, the State Urban Water Sector reform programme was launched. The programme encapsulated the Port Harcourt Water Supply Scheme and the Sanitation Project.
Precisely on August 31st, 2020, the Rivers State government signed contracts for the rehabilitation and upgrading of water supply for Port Harcourt and Obio/Akpor Local Government Areas. 496 kilometers of pipeline which will produce 330,000 cubic metres of potable water per day are currently being upgraded. This project will equally create over 1,200 direct jobs and 5,000 indirect jobs for Rivers people.
Soon, water will flow in public taps. Besides the Port Harcourt and Obio/Akpor local government areas urban water scheme, the Wike's administration rehabilitated moribund water projects in 18 of the 23 Local Government Areas of the state. These water projects are targeted at improving access to potable water in the respective communities.
The significance of these deliberate, yet strategic interventions in a critical sector of the State inclusive of the Flyovers underscores the determination of leader who changed the narrative of leadership that is committed to good governance.
Yemi Adebowale in his penchant for peddling falsehood, claimed governor Wike has not been paying pensions, even when ThisDay published this report in May, 2022, 'Wike Orders Immediate Payment of Gratuities, Pensions to Rivers Retirees.'
Yemi Adebowale's suggestion that Governor Wike ought to have completed the abandoned monorail projects clearly depicts as someone possessed by spirit of ignorance.
Is Yemi Adebowale aware that in the twilight of the immediate past administration in Rivers State, the technical consultant on the monorail had planned to unveil the contentious project specifically to mislead the people of Rivers State that the project that was abandoned after 2.6 km of the over 19 km phase one, after gulping over N33.9bn was still on course.
It is on record that the Managing Director of ARCUS GIBBS Nig Ltd, technical partners to the Rivers State government on the Monorail Project, Wiero Viguezang, in 2015 declared that the project was no longer tenable, considering the shortfall of the state's revenue and the inability of its original technical and equity partners, TSI Nig Ltd, to fulfil its obligations to contribute 80 per cent of its equity holdings.
In April, 2015, ARCUS GIBBSS, had in a letter made a six-point recommendation to the Rivers State government on how to unbundle the monorail project by approaching the manufacturers of the mechanical components and rail tracks in Germany and exploit the possibility of reselling components at a lower price to the manufacturers.
It will interest him to know that no Rivers government will venture to complete the white elephant project.
Strategic Positioning Of The Teaching Profession And Nation-Building
The making of a nation is in the making of man. Where people are not developed; nations are not defined and are left underdeveloped.
Whereas, all men are created equal, not all human beings live in the same economy or the same level of development. There are superior economies and inferior economies. Whereas every human being has the right to live on the Earth, nations go through historical circles of rising and falling. Whereas God guarantees nations territorial integrity of having a defined place and space, every nation strives to reach the best, achieve the best and live in the best possible circumstances, by developing its human and natural resources within its territorial boundary.
It is stated that nations are products of a national call of shared history, shared culture, shared vision and shared identity. It is a deep-seated call in the hearts and souls of a people that creates a nation, backed with a strong determination to face the consequences, compelling a people to fight to determine their own identity.
Corroborating on this, Mahatma Gandhi stated that a nation's culture resides in the hearts and souls of its people. Thus, according to the 19th Century Indian Philosopher, Swami Vivekananda, 'Every nation has a message to deliver, a mission to fulfill and a destiny to reach'.
Reaching the destiny of a nation is a function of connecting with God whose presence and best is available for all to access to develop, nurture, and harness the human resources available in that territory guided by the established laws of the land.
It is imperative to state that the segment of the society upon which this solemn responsibility rests is the teaching profession.
Educationists have the eternal responsibility of building the capacities of the spirit of inquiry, creativity, entrepreneurship and moral leadership among the adult and younger generations.
Thus, Dr Myles Munroe stated clearly that the first and most important component in nation-building is the enthronement of national cohesion, by the establishment of godly Law, and the pursuit of divine principles as entrenched on earth before the creation of man. The earth is Lord's and the fullness therein.
Thus, teachers build the future of a nation by building the youths, for the future.
In other words, the teaching component of nation building is empowered to bring out the full dignity of the human being as given and as created by God.
This philosophy is further enhanced by the National Policy on Education which is based on the general aspirations of Nigerians as contained in Section1, paragraph 3 of the policy. Going by the provisions of this policy; Nigeria is determined to build: A free and democratic society; a just and egalitarian society; a united, strong and self-reliant nation; a great and dynamic economy; a land full of bright opportunities for all citizens.
The National Policy on Education, Sections 5 & 9 further provides for the acquisition, development and inculcation of proper value-orientation for the survival of the individual and society; the development of the intellectual capacities of individuals to understand and appreciate their local and external environment ; the acquisition of both physical and intellectual skills which will enable individuals to be self-reliant and useful members of the society; the acquisition of an objective view of the local and external environments. promoting and encouraging scholarship and community service; forging and cementing national unity; promoting national and international understanding and interaction; and contributing to national development through high-level relevant manpower training.
What this means is that teaching is the process of bringing out the human potential and channelling the same to establish and enhance the human dignity in each generation.
In other words, teaching is not just a job; it is a way of life. It is not just a service and profession, it is a pillar of human society. It is a very noble profession that shapes the character, calibre and future of an individual. This is the reason, most scholars ascribe to the teaching profession as the profession that contributes more to the future of society than any other single profession.
The British Philosopher, Helen Caddies stressed that teachers are the most responsible and most important members of any society because their professional efforts affect the fate of the earth in all ways. Therefore, as Calvin Coolidge, the 19th Century Philosopher puts it, 'the teaching profession requires adequate preparation and training, patience, devotion and a deep sense of responsibility. Those that mould the human mind influence, not for a time but eternity.
Teachers labour together with God in the making of the leaders, who in turn make the nation. Thus, teachers are expected to be wise master builders, who should receive their reward according to their labour.
It is on this background, that one examines the critical steps that have been taken in recent times to strategically position the teaching profession for the greater good of Nigeria.
Interestingly, after several years of agitations by professional teachers and other stakeholders for the establishment of a regulatory agency, the Teachers Registration Council of Nigeria, which is an agency of the Federal Ministry of Education, was established by Decree (31 of 1993, now TRCN Act CAP T3 of 2004).
TRCN is empowered by law to control and regulate teacher education, teacher training, and teacher practice at all levels in public and private sectors of the Nigeria Educational System, guided by international best practices. It is on record, that since its inception, TRCN has registered over 2.2 million qualified teachers as of last year and has identified from available statistics over 4 million persons in the teaching profession in Nigeria.
No doubt, this singular stroke of the pen has strategically positioned the teaching profession in the making of the nation. In other words, it is now mandatory and indeed required besides the mandatory certification of all teachers to acquire regular additional skills, particularly in teaching assisted learning to keep them in tune with world standards. This explains the introduction of the Professional Qualifying Examination and the Professional Standards for the teaching professionals in Nigeria.
It is therefore expected that with the establishment of TRCN, and as Prof. Agiboye the Registrar and Chief Executive of TRCN put it, 'the hydra-headed crisis of quality and quantity of teachers which demands a strong Policy response would have been adequately addressed and the rebuilding of the once cherished and mother of all Professions opened up to attract and retain the best brains.
The point is that TRCN Policy innovative will in the long run galvanize and deepen the practice of teacher recruitment and teacher Professional enhancement in Nigeria if managed effectively.
Another strategic policy innovation that has the potential of promoting nation-building, in the long run, is the introduction of the Nigeria Learning Passport. With the launch of Nigeria's first indigenous online school, every part of the Country now has direct access to over 52,000 online instructional videos of all topics in all subjects. What this means is that access to quality instruction is made open and permanent.
Teachers, Parents and students can educate themselves, taught by qualified teachers in case one is not opportuned to have one around. In a country with a complex religious and cultural diversity with deepened geographical, socio-political and economic limitations, one right and strategic step is to qualitatively open Nigeria's learning space to all and sundry guided by TRCN certified specialist teachers, if the country is truly committed to nation-building.
An educated citizen is easy to govern, and indeed the key to sustainable development. Educated citizenship is a bedrock for sustainable infrastructural, socio-political and economic development guided by moral, sound and robust laws.
Indeed, with the strategic introduction of the Nigeria Learning Passport, the prevailing learning poverty gap in Nigeria will be a thing of the past in the nearest future. No matter how long, what is most important is that Nigeria has taken one right step going forward with a multiplying positive effect.
Truly, with the Nigeria Learning Passport on board, the teaching profession is elevated and digital literacy capacity enhanced tremendously in the years to come.
Another milestone with great impact recorded in recent times to strategically position the teaching profession is the establishment of the Harmonised Retirement Age of teachers Act in the country.
The Harmonised Retirement Age of Teachers in Nigeria Act 2022, clearly states that teachers in Nigeria shall now compulsorily retire only on the attainment of 65years of age or after 40years of pensionable service.
Specifically, the Act among other provisions provides that the Public Service Rule or any Legislation ration that requires a person to retire from the public at 60years or after 35years of service shall not apply to teachers in Nigeria.
Clearly, the Harmonised Retirement Age Teachers Act is a strong motivating strategy to support the Nigerian teacher executing the burden of nation building by passionately taking the lead in educating the future along the paths of the Nigerians' dream-to live in a land of prosperity where peace and justice reign.
According to the Gates Foundation, the key to quality education is a good teacher in every classroom. And as a one-time American Secretary of Education said, 'the Centre of a classroom is not a test, a textbook, or the posters on the wall. It is not a state or district policy, and it is most certainly not a Federal Law. If the heart of the classroom is found in the unique relationships between students, pupils/ students and teachers, then, the unique teacher deserves, the collective support of all.
The Harmonised Retirement Age for Teachers in Nigeria Act 2022, is certainly a strategic way to motivate the teachers in pre-primary, primary and secondary schools in Nigeria with multiplying productivity effect. The impact of this well-intended Act will raise the bar on primary and secondary school education through the additional five years of mentorship and guidance.
Indeed, as the Nigeria Union of Teachers noted, it is expected that this Law translates to more efficient service delivery, and higher commitment and productivity, which force, leaders to achieve sustainable development on the wheels of character and deepened learning.
For instance, according to the Organisation for Economic Cooperation and Development Studies, over 90 per cent of teachers in primary, upper primary and vocational schools in Finland like their job. Only 2 per cent of teachers in secondary education regret having become a teacher.
Obviously, this study represents a higher, remarkable teacher- satisfaction rate and motivation. This is what is expected in Nigeria.
It is therefore expected that these newly introduced strategic support systems, policies and programmes, in the teaching profession will make for an enormous turnaround in Nigeria's educational system soonest.
It should be noted that nation-building is largely dependent on robust enforcement of Law and efficient implementation of policies and programmes. Robust enforcement of Law and effective implementation may sometimes be inconveniencing and uncomfortable. A nation that is not built on proper and robust enforcement of Law and policies is a nation that is not going anywhere.
As strategic as these laudable Laws and policies are, if they are not strategically and robustly enforced, and effectively implemented, productivity would be far-fetched and nation-building would be greatly inhibited.
By: Emmanuel Kaldick-Jamabo
Dr. Kaidich-Jamabo is an educadtion leadershp expert and public affairs analyst.
Nigeria's Conduct Of National Population, Housing Census: How Feasible?
The Oxford Advanced Dictionary has defined census as the process of officially counting of something, especially a country's population and recording of various facts. When a series of census has been undertaken properly it becomes easier, using the rate of growth, to estimate the population between the periods of counts. The data that emanate from the census help countries in a fair distribution of national wealth and for planning; in formulation of policies towards population growth as well as in delineation of constituencies.
Researchers make constant use of the information made available through census, just as the data is helpful in revenue allocation to the various tiers of government.The Nigeria Population Commission (NPC) has identified a nationwide census as crucial for national development.  No doubt, since 2006 when the nation held her last census exercise, a lot has happened in terms of human population growth.
According to the Director-General of NPC, Nasir Isa-Kwarra, census generates data used by the government and the private sector for policy making, planning and development.  He added that demographic data is important for national development due to its influence on sectoral planning and direction of government priorities.
However, while the result of the census conducted in 2006 put the population of the country at 140.43 million comprising 71.3 million male and 69.0 million females, analysts are contending the propriety of conducting a new census in 2023 or otherwise.  They questioned the timing of the exercise and said that it may put a strain on the economy and political activities.
Despite the fact that the planned census is coming 16 years after the last headcount, it has constituted a major concern and challenge for the Federal Government, considering the economic and security challenges that have bedevilled the country in recent times.  Presently, Nigeria could be termed as an environment fraught with resource-demanding challenges ranging from educational instability, fuel scarcity and insecurity, among others.
Based on the above considerations,  some concerned Nigerians hold the view that the pilot census which is targeted in June 2022, after political parties must have held their primary elections, would create an avenue for the manipulation of population size for political gains. Others posit that it would create competition within states to inflate their population so as to get more government resources. The long list of problems plaguing the timing of the 2023 census and fear of an inaccurate census which might result in inappropriate planning and distribution of resources, have led many to call for its suspension.
The financial expenditure cost of the Enumeration Area Demarcation (EAD) in  772  local government areas of the federation, as well as the first and second census pretest in selected enumerations was pegged at N10 billion naira (about $US26million) , from the cost of the main census budgeted for the sum of 178.09 billion naira. "Conducting a census when Nigeria is deep in debt with visible challenges is a destructive oversight bearing consequences that would draw the country closer to extinction,'' a financial expert, Mr Joe Gawo said.
According to Joe, in every economy there are needs and wants, as a nation, it is meaningless placing our wants over needs.  Highlighting the state of the nation at the moment, he said " we can't conduct a credible and meaningful census without adequate security, university brains are on strike, and the community is experiencing financial difficulties. He noted that though census could be  necessary, it is  not a daunting need at the moment. Thus, we can temporarily substitute the census data with information acquired through the national identification number.
"It is no secret that our national resources are scarce, therefore any mismanagement will eventually spell doom for the country," Gawo cautioned.
Mr. Joseph Omeje, an economist and university lecturer, shared a similar view with Gawo. He said, "putting economic, political, religious and security factors into consideration, it will be very difficult for the country to conduct and obtain generally acceptable census results. The inflationary rate as at last week is about 16.8 percent which is an indicator that our economy is in a very precarious situation and as such, no reasonable government will be talking of  census while there is fire on the mountain".
Meanwhile,  a public affairs analyst, Mr Gboyega Onadiran,  has said that population is the greatest asset in the development process. According to him, leaving our people uncounted for 17 years is not a good testimony to our commitment to planned and sustainable development of our country.
Nigeria has an estimated population of about 206 million, making it the seventh most populous country in the world. According to the United Nations, the country's population is projected to increase to 263 million in 2030 and 401 million in 2050 when it will become the third most populous country in the world.
The report published in 2017 by the UN Department of Economic and Social Affairs, which provides a comprehensive review of global demographic trends and prospects for the future, projected shifts in country population rankings. The new projections include some notable findings at the country level. China with 1.4 billion inhabitants and India 1.3 billion inhabitants remain the two most populous countries, comprising 19 and 18 per cent of the total global population. In roughly seven years, or around 2024, the population of India is expected to surpass that of China.
"Among the ten largest countries worldwide, Nigeria is growing the most rapidly. Consequently, the population of Nigeria, currently the world's 7th largest, is projected to surpass that of the United States and become the third largest country in the world shortly before 2050,'' the report said. Unfortunately, many seem not to pay attention to the implications of this, particularly on Nigeria's economy. More attention is obviously paid to politics and electioneering activities ahead of the general elections coming up in February 2023.
No doubt, elections are critical to Nigeria's democracy but  what is the assurance that the proposed  2022 census will not complicate the 2023 general elections?.
Apart from the perceived huge burden on the national economy and escalating insecurity, another reason being flaunted against the conduct of the 2022 population and housing census is its proximity to the 2023 general election. While some hold that census is politically relevant because of its use for delineation of constituencies and revenue allocation, others posit that the position of election which is about struggle for power does not make the two strange bedfellows. 'This linkage does not necessarily make census and election strange bedfellows.
"It is indeed an exaggeration to place census on the same level of sensitivity with elections or to assume that census will complicate elections.
"This line of reasoning betrays a limited understanding of the complex factors that drive the level of sensitivity of census and election, which are different and definitely not mutually reinforcing as to make their conduct within a shared time frame a no-go area.
In examining the potential impact of census on the electoral process and outcome,  concerns on the need to divorce census from election have largely been raised in relation to security as a university lecturer and a political scientist,  Yusuf Dyep, believes that a joint or close implementation of the two activities might further compromise the fragile peace in the country,'' Meanwhile, the National Population Commission (NPC) has resolved to conduct the 2023 population and housing census in accordance with the law. The Executive Chairman of NPC, Alhaji Nasir Kwarra stressed the need for a legal framework in place to enable the conduct of a digital census.
The Chairman said that the commission had spent considerable time preparing for a reliable and accurate census over the years. "The commission has successfully demarcated 772 local governments out of the 774 local governments. The commission is also proposing a preliminary census by June 2022," he said.
Chairman, Senate Committee on National Population and Identity Management Senator Yau Sahabi, said that the National Assembly was determined to support NPC to conduct a successful digital census.
The House of Representatives was not left out. Chairman, House Committee on Legislative Compliance,   Mr Dennis Idahosah, said that the Muhammadu Buhari-led administration was committed to credible and reliable census. While commending NPC for embracing emerging technology, Idahosah said that it was critical in carrying out the exercise as was done in Ghana and South Africa. He explained that a digital census would not only guarantee speed, but drive an accurate census with lesser errors.
The Chairman, Legal Committee, NPC, Mr Audu Buratai, said  the commission would continue to take necessary steps in line with the law to ensure a successful digital census. Buratai maintained that any action taken outside the dictates of the law will amount to exercise in futility. He solicited the collaboration of the members of the legal community to drive a law-compliant digital census by 2023.
In addition to this, the Minister of Works and Housing, Mr Babatunde Fashola,  explained that the Federal Government will undertake enumeration of empty houses nationwide as part of measures to address housing deficit. According to him, the ministry has called on the NPC to help it in undertaking the task, while conducting the national population census. "Last week or two weeks ago, I called on the National Population Commission that as they are about to embark on a census in the country, they should assist us in collecting data about Nigeria's housing needs.
"What kind of houses that they find in households whether it is owned or rented. If it is rented, do they want to buy or do they want to rent, let us build a body of data under the census exercise. Because we will be enumerating houses so that we can have a more precise need of Nigerians. I have copied that letter to collaborative ministries including planning and budget. So, I hope that they will help us in the next census exercise,'' Fashola said.
Fashola said he was also engaging some consultants in his ministry to do sampling data on empty houses. He said this would be done to address concerns about the access to housing "we also see a lot of empty houses unoccupied, how many they are and why they are empty." Speaking on workers benefiting from the National Housing Scheme, Fashola said an agreement had been reached with labour to allocate 10 per cent of the houses to workers.
"We have an agreement with the unions that 10 percent of the national housing project will be for them, but in order for them to do so, they still have to go to the housing portal. "Because we have created a portal on the web, people who are interested in acquiring the national housing programme in the 34 states, go to the ministry's website. "You have the national housing portal there, download the form, you have to fill a form, show your ID card, show that you are a taxpayer and process the form online.
"We have eliminated the process where people are selling form with human interference.''The minister said they have a lot of issues surrounding the housing sector hence the portal had helped in reducing such issues and unnecessary accusations by members of the public pertaining to sale of forms. He said that the ministry was also collaborating with the Head of Service under the FISH programme where workers contribute to the national housing fund for home renovation projects under the federal mortgage bank policy. According to him, this is also a way to ensure that workers get access to the national housing programme thereby reducing further the housing deficit.
By: Calista Ezeaku