Failed Economy: Nigerians Auctioned For N144,000 In Libya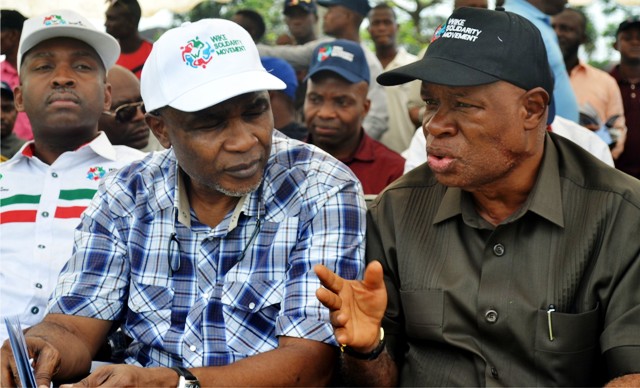 The National Agency for Prohibition of Trafficking in Persons has revealed that promising young men and women of Nigeria are being auctioned as slaves for as low as $400 (N144,000) per person in Libya.
Director-General of NAPTIP, Dame Julie Okah-Donli made this known yesterday in Calabar, the Cross River State capital at the workshop to develop a Protocol for identification, safe return and rehabilitation of trafficked persons.
She said trafficking in persons has evolved into shocking new dimensions evident in the news coming from Libya where young Nigerians among other Africans were sold as slaves.
Okah-Donli said this ugly trend prompted by Federal Government to immediately order the evacuation of its citizens desirous of coming home.
She lamented that the evil of irregular migration and the disturbing trend in human trafficking could not be overemphasized, calling for concerted efforts to avert the inhuman and criminal act.
She further disclosed that large numbers of Nigerian women are currently trapped in Cote d'Ivoire, Mali, Ghana, Togo, Benin Republic, Niger, Burkina Faso, Morrocco, Libya and many countries in Europe being subjected to s3xual and labour exploitations.
She said the presence of large numbers of such Nigerians in desperate conditions in these countries has become a problem to Nigerian missions abroad.
The NAPTIP boss, said the Protocol being developed was to ensure the safe return of the trafficked victims, saying returning to their country of origin is often a difficult process because they face psychological, health, legal, documentation and financial problems.
She said many victims also have problems in reintegrating with their families and communities.
She explained that the overall goal of the Protocol was to prevent re-trafficking and to grow a community of survivors of trafficking who could play a vital role in the economic and social development of their communities, states and the country at large.
The Governor of River State, Professor Ben Shade, who was represented by the Commissioner for Justice and Attorney-General of the State, Joseph Abang, expressed commitment of his administration towards ensuring that human trafficking is reduced to the barest minimum if not completely.
He vowed that anyone caught in the State to have been involved in human trafficking would be prosecuted, stressing that the growing trend of irregular migration was worrisome.
Buhari Now Free To Come Kano, Says Ganduje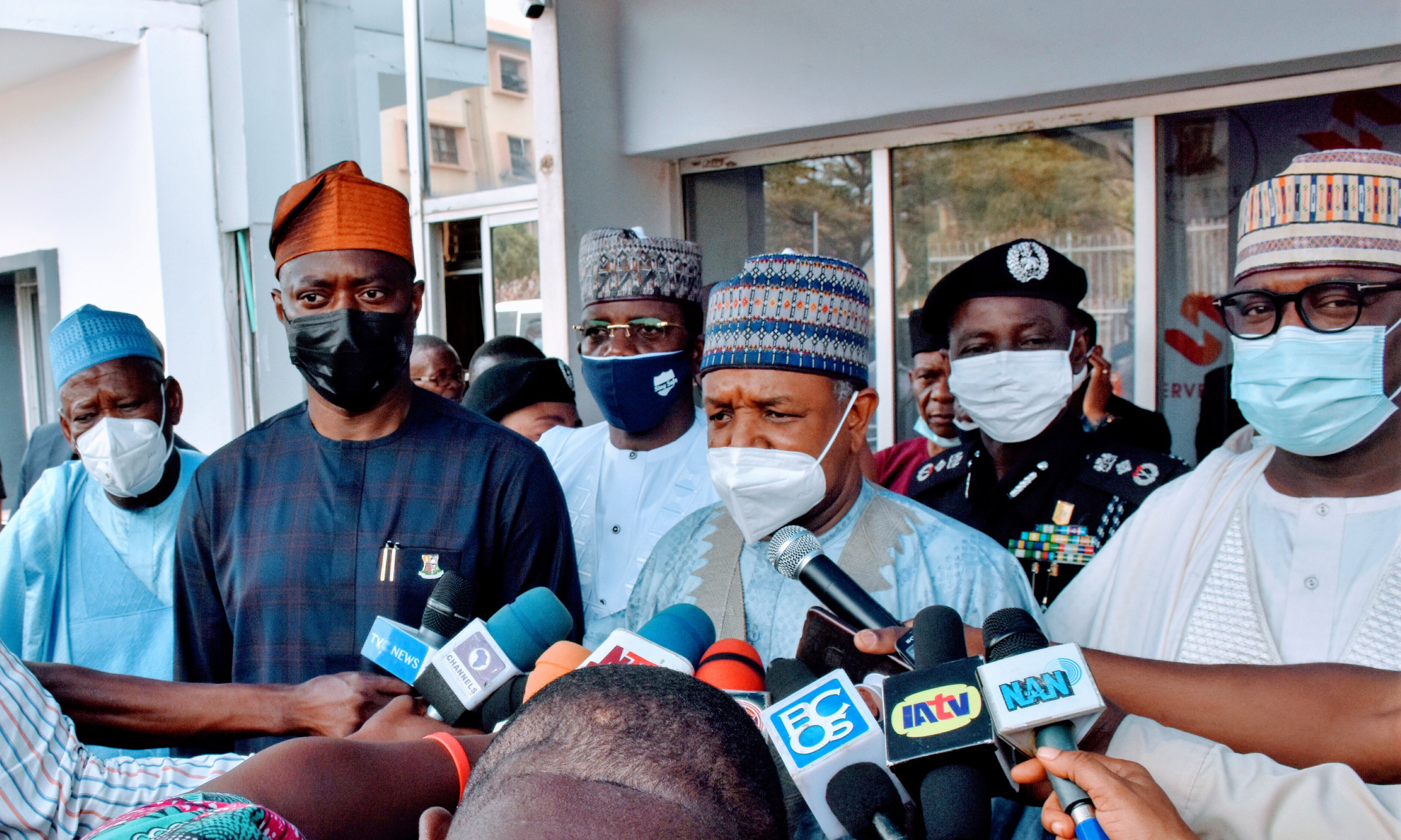 In what appears to be a u-turn barely 24 hours after advising President Muhammadu Buhari against going ahead with his scheduled Monday visit to Kano State, the Governor of Kano State, Umar Ganduje, has said that the state is now prepared to receive him.
The governor led a delegation of critical stakeholders from the state to meet President Buhari in his country home in Daura, Katsina State on Sunday after which he revealed the change of position to correspondents.
According to him, "We are very much ready to receive him and we have a lot for him to commission including federal government projects and state government projects. They are state-of-the-art projects."
He disclosed the preparation of the state to host the President when asked whether the state was prepared to host Buhari on Monday.
Recall that Ganduje had in an interactive session with critical stakeholders including scholars, legislators, political leaders and the business community in the state, revealed that the his government had requested the President to postpone the trip, saying that the state was deeply concerned about the hardship principally induced by the ongoing cash swap from old to redesigned notes.
He said the decision was taken to avoid any unforeseen circumstance.
Consequently, the state government wrote a letter to the president outlining the reasons why the planned visit is no longer auspicious at this time.
According to a press statement issued on Saturday by Abba Anwar, the chief press secretary to the governor, the decision to advised the president against the visit was endorsed by the critical stakeholders of the state.
The statement by the governor's spokesman reads in parts: "Deeply concerned with the hardship caused by limited time given for halting use of old Naira notes by the Central Bank of Nigeria (CBN), and for security reasons, the Kano State governor, Abdullahi Umar Ganduje, reveals that the state resolved and wrote to Presidency that, the visit of the President to commission some projects be postponed.
"As we are waiting for this important visit, we found ourselves in this situation, which puts citizens into untold hardship. For security purpose we wrote to Presidency that President Muhammadu Buhari's visit to Kano be postponed.
"We got an acknowledgement copy of the letter. People are really suffering because of this policy.
"There are no banks in most of our rural communities. How these people get new Naira notes is of great concern. Just look at what is happening in our urban areas, people go and spend hours upon hours in banks. And without any assurances of getting the new notes."
Despite Ganduje's objection, President Buhari had, however, insisted on going ahead with the Monday visit.
Presidency sources had disclosed that he would go there to commission some projects implemented by the federal government.
But during Sunday's visit to the President, Ganduje affirmed that he led the delegation to Daura over the issue of the ongoing currency swap and was happy with him.
He said: "Seeing is believing. You can see that I have led a powerful delegation from Kano State on the issue of new naira notes and we have seen Mr. President. We have laid the complaints of the Kano people and we are very happy.
"He explained to us and also he assured us that the time is extended and the quantity of new naira (notes) will increase so that the suffering of the people will be reduced.
"We informed him that Kano is the most populous state in the federation and also the commercial nerve center of the northern part of Nigeria, second to Lagos.
"But in terms of cash transaction, Kano is much higher than Lagos because Lagos has gone far in terms of cashless society, cashless transaction. But Kano State being comparatively a rural state, so to say, still we have 24 local governments without banks. Most of the banks are concentrated within Kano metropolitan.
"So, you can imagine the suffering of the rural areas, rural people in terms of cash transaction. But we are happy that the time has been extended and also the quantum of the naira notes will be increased.
"So, we are so grateful to the President for effort."
Electricity Consumers Decry Increase In Tariff, Say Hike Unjustifiable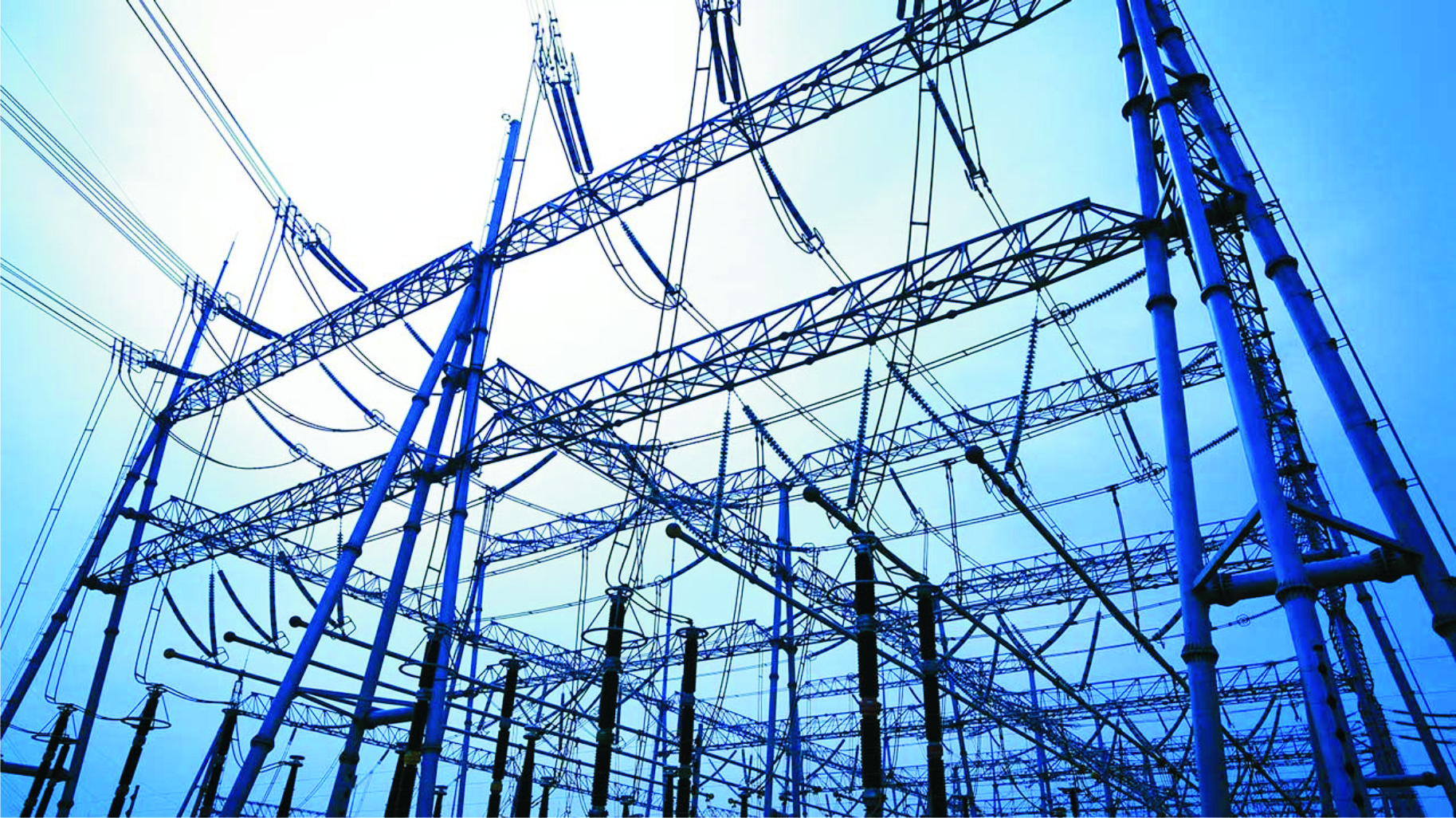 Electricity consumers in the Federal Capital Territory (FCT), have decried the increase in tariff by the Electricity Distribution Companies (DisCOs).
ccording to them, the increase is unjustifiable.
The consumers who spoke to our correspondent in Abuja, yesterday, said that DisCos had increased tariff payable for power across the country without notification.
According to them, the increase in electricity tariff is unjustified, given the unreliable, and epileptic power supply across the country.
"Millions of Nigerians continue to live in darkness in spite of the huge amount of money so far invested by governments as well as bailouts to electricity companies,'' they said.
The consumers said that it annoying that the increase in tariff was not announced, adding that you only discover that there was an increase when you recharge your meter.
The Nigerian Electricity Regulatory Commission (NERC) in its Multi-Year Tariff Order, provides a 15-year tariff plan for the Nigeria Electricity Supply Industry with limited minor reviews each year.
It states that the reviews are in the light of changes in a limited number of parameters such as inflation, interest rates, exchange rates and generation capacity, and major reviews every five years when all of the inputs were reviewed with the stakeholders.
There had been public outcry that the privitasation of the power sector had not yielded positive result and called for a mid-term review of the process or total reversal.
"It is either the Federal Government do a mid-term review of the privatisation process or total reversal of the privatisation. We did not get it right and you cannot give something on anything.
Our correspondent also recalls that the power sector was privatised in November 2013, with six power generation plants and 11 electricity distribution companies handed over to the private sector.
The Federal Government, however, retained control of the Transmission Company of Nigeria (TCN).
The sector was unbundled and partially privatised to establish a competitive market intended to improve management and efficiency, attract private investment, increase generation, and provide a reliable and cost-efficient power supply.
Speaking on the increase, Mr Kunle Olubiyo, the President, Nigeria Consumer Protection Network said that electricity tariff was increased without giving Nigerians the opportunity to make inputs.
Olubiyo said that over the years, Nigerians and end users customers were being made to pay for systemic over bloated costs at the detriment of the citizenry and economy at large.
According to him, the impact of the recent crises in the energy market supply value chain and the recent increase in electricity tariff are quite enormous.
"In order not be left behind, the Nigerian Government should as a matter of urgency address the energy market supply gaps, " he said.
A resident of Kubwa, Mrs Ese Williams described the increase as unjustifiable, saying there was no improvement in power supply, so why the increase.
Williams said inspite of the increase in electricity tariff over the years, Nigerians had continued to live in darkness, in my area, you cannot even boast of having light for seven hours in a day.
"Its just so frustrating, I call on the Federal Government to revisit the privatisation of the sector, because it is not working as things are deteriorating, " she said.
Also reacting to the price hike, a resident of Lugbe, Mr Kola Jimoh, a mechanic said that he was shocked when he recharged his meter with N3,000, and got only 44 units instead of 50 units he usually gets when he recharges for the same amount.
"I was so shocked when I recharged my electricity meter with N3,000 only to discover I got just 44 units and before when I recharge N2.500 I get about 50 units.
"I don't understand how electricity tariff will be increased without notifying consumers," he said.
Mrs Ebuwa Ojo, a Banker, and resident in ACO, Estate along Airport Road, stressed the need for the regulatory bodies to check the DisCos. How can they continue increasing tariff every time .
" I am not happy about the increase, it is becoming too frequent and not that the money, or light is there."
Another consumer, a banker resident in Area 3, Mrs Titilayo Olowu said, "they increased electricity tariff without informing us.
"There is no official communication to us on the increase, this is not good enough. We have a right to know what is happening," he said.
Miss Sandra Offor, a Public Servant resident in Garki, Abuja said that she was not happy the way her meter was running,
She said that she spends about N16, 000 a week to recharge her prepaid meter.
"I don't even understand what is happening to my prepaid meter it is either the meter is bad or there is a problem.
Debarment Allowance: Irabor Urges Military Retirees For Patience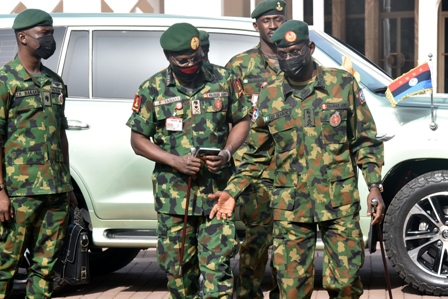 The Chief of Defence Staff (CDS), Gen. Lucky Irabor, has urged retired military officers to show understanding with the Federal Government in the effort to pay them the Security Debarment Allowance (SDA).
Irabor made the call at the 42nd Anniversary Dinner of the Nigerian Defence Academy (NDA) 28 Regular Course Welfare Association on Saturday in Abuja.
President Muhammadu Buhari had in 2017 approved the payment to the military retirees who retired before Nov. 9, 2017.
The deceased military retirees who were alive when the Manual of Financial Administration (MAFA) 2017 was signed, and non-pensionable retirees who retired before Nov. 9, 2017 but were only paid gratuities, are also to benefit.
The SDA, according to Military Pensions Board, was calculated as a function of 10 per cent of the retirees' annual basic salary as at the time of retirement, multiplied by the number of years served in the services.
The CDS cautioned those who had made unpalatable comments about the SDA to desist from misleading the junior ones, adding that the efforts of the government in that regard should be commended.
According to him, "there are a few toxic commentaries that have been made, which I believe are misrepresented and I think that those of us that are here hearing from me and those who actually know the right thing.
"While appreciating you for changing the orientation of those who have been passing those toxic comments, I need to also encourage that perhaps, they need to go to their creator for forgiveness.
"The reason I say this is, the policy that brought SDA into being was signed on Nov. 9, 2017 and the provisions made therein, caters for those who retired from that day onwards.
"There are issues around policies generally which certainly might not be the best but there will always be room for correction.
"It took the magnanimity of the Commander in Chief, of course a representation that was made to him by the minister, and he was magnanimous enough to look at it again and made the approval that everyone who once served the military should be catered for.
"I think that it is something that I believe is legendary and must be commended rather than having to vilify those who are making effort to ensure that entitlements as enunciated by virtue of that approval is made," he said.
Irabor further said that the resources disposition of the government should be considered, taking into cognisance the issues of military operations and issues surrounding its Table of Organisation and Equipment (TOE).
"It takes resources to be able to bring our TOE to a reasonable level, to be able to increase the military's fighting capacity," he said.
He added that greater attention must be paid to ensure that the tools needed to be able to perform optimally should be given attention.
"And so it was not an easy thing to now muster a total of N132 billion just to pay at once because there are other commitments of government.
"And so approval was given for it to be handled within the period of three to five years, which recently has also been modified for it to be covered in three years.
"So if some of us that should know now go to incite a few others to now to want to take up some kinds of demonstration, that perhaps needs some form of reconsideration
"The first tranche was made early this month, which of course we must continuously appreciate it and of course, the government for this feat.
"So I will like to use this medium to appeal to us, especially on that matter, for it to be put to rest, believing and trusting those who are implementing to faithfully implement it," he added.
Irabor also commended the retired officers for their invaluable contribution to the peace and stability of the country and urged them to continue to offer their quota even in retirement.
The President, 28 Regular Course Welfare Association, retired Rear Adm. Ndidi Agholor, thanked God for making it possible for them to remain in good health and be able to reunite to celebrate.
Agholor said the association was at its consolidation stage, having made impact in the society, adding that welfare of its members was its main focus at present.
On the debarment allowance, Agholor commended the Federal Government and the Ministry of Defence for being magnanimous in expanding the scope of SDA to cover all retired military personnel.
He said those of them who retired before 2017, when the SDA policy was formulated, were initially excluded, adding that reasons were advanced as to the use of their competencies and skills in retirement.
The president urged the veteran community to exercise patience while government continued to implement the debarment policy, which according to him, will have positive impact on them.
He assured the military authority of the readiness of the veterans to continue to help to secure the nation, especially in ensuring peaceful 2023 general elections.