S'South, S'East Govs Meet In Rivers, Sunday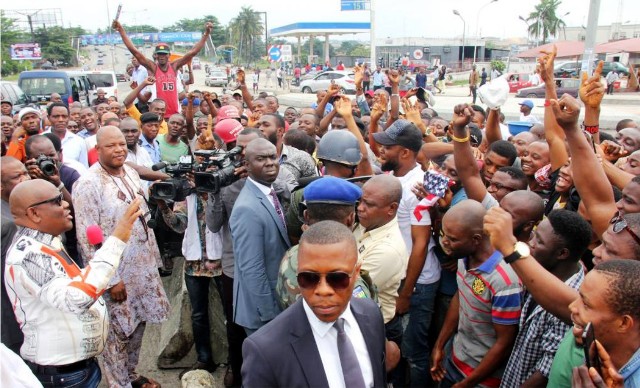 All is now set for the meeting of the governors from the South-South/South-East geo-political zones on August 27, 2017 in Port Harcourt.
A statement by the Interim Chairman of the South-South/South-East Governors' Forum and Governor of Akwa Ibom State, Udom Emmanuel, said that the meeting would hold at the Government House, Port Harcourt, Rivers State, at 7p.m.
Emmanuel said the meeting would provide another avenue for deliberation between the governors of the states in the regions on issues of regional and national interest, with a view to solidifying the ties that bind the people of the states together.
Emmanuel added that the meeting would also explore areas of economic, socio-cultural and political co-operation between the states to the overall benefit of the citizens and residents of the regions.
"I hereby extend an invitation to all the governors in the two regions to attend the meeting as a follow up to the successful inaugural meeting held in Enugu on July 9, 2017," he said.
It would be recalled that the governors had met on Sunday, July 9.
They discussed restructuring and re-echoed calls for the implementation of the 2014 national conference resolutions, among others.
They also said it was regrettable that the entire South-East has only five per cent allocation out of the entire power generated in the country.
Susan Serekara-Nwikhana
LGA Boss Vows To Deliver Fubara, Others In Rivers
The Chairman of Oyigbo Local Government Area in Rivers State, Hon. Akara Okechukwu, has reiterated that the Peoples Democratic Party (PDP) would win all positions from governor to state House of Assembly.
He stated that the foundation of victory had been laid by the Governor of the state, Chief Nyesom Wike, following his infrastructure development successes in the state.
Okechukwu said this while reacting after the state PDP campaign team visited his area, last Saturday, saying that the people of Oyigbowere ready to reciprocate what the present administration has done for the LGA in every aspect.
"I have no fear, and I am convinced that the Governorship candidate of PDP Siminialayi Fubara and other state candidates of the PDP will win.
"The people of Oyigbo have vowed to vote massively for PDP because that is the only way to pay back Governor Wike for his good works, mostly in Oyigbo.
"As I speak, 95percent of people living in the area have their Permanent Voters Cards (PVCs), and this indicates sure victory for our great party. I thank the people for coming out enmasse for the campaign, I am really happy," Okechukwu said.
Speaking, Chairman, Revenue Committee of the LGA, Senibo Daniel Chijindu, described the massive turn out as historic, saying that it was an indication of total victory.
"I will say that the massive turn out of people was historic because this is the first time people came out enmasse for campaign. Honestly, this is an indication that Oyigbo was 'Simplified' and was totally for PDP.
"Governor Wike has given Rivers State, a facelift in all ramifications. That is why Oyigbo people said they are for PDP in totality," he said.
The revenue boss advised those who register for PVC should go and collect their PVC because that is only way to sustain the good governance of PDP.
Also speaking, former commissioner for commerce and industry and stakeholder of PDP in Oyigbo, Hon. Nancy Nwankwo, said adequate sensitisation has been done for the importance of PVC and vote PDP.
According to her, women in Oyigbowere already prepared to celebrate the victory of SiminialayiFubara come May this year, saying they come out enmasse to vote for PDP.
"I am convinced that SimFubara will do better hence he is civil servant. He has proven his intellectual capacity faithful and truthful to replace Governor Wike," she said.
By: Tonye Orabere
NCDC Confirms 38 Deaths Of 123 Diphtheria Cases …Says Gaps In Vaccination Coverage Fuelling Outbreak
No fewer than 38 persons have died out of the 123 diphtheria cases recorded in Nigeria so far, the Nigeria Centre for Disease Control (NCDC), has confirmed.
The states currently facing the disease caused by serious infection of the nose and throat that is easily preventable by vaccine, are Kano, Lagos, Yobe and Osun, respectively.
The nation's disease control and prevention agency, which disclosed this at a ministerial press briefing, organised by the Federal Ministry of Health, said more cases of the disease were being expected in days ahead, as it spreads to other places.
Speaking through its Director of Special Duties, Dr Priscilla Ibekwe, NCDC said: "As of January 22, NCDC have 123 confirmed cases and 38 deaths. 100 cases are from Kano, with 32 deaths. In Lagos there are five cases with three deaths. In Yobe, there 17 confirmed cases and three deaths, and Osun has recorded one case with no death".
According to Ibekwe, besides clinically suspected cases, there have been laboratory-confirmed cases.
Ibekwe said the agency was working with state ministries of health and partners to enhance surveillance and response to the outbreak.
She said,"Given the sub-optimal coverage for the third dose of the diphtheria containing pentavalent vaccine (54percent – 2021 MICS & NICS) in the country, we expect more cases from more states.
"The centre has collaborated with the UK Health Security Agency (UKHSA) to organize a 5-day workshop on enhancing laboratory diagnosis of diphtheria in Nigeria for laboratory scientists working in NCDC's National Reference Laboratories and its lab network (this was planned before cases were reported as part of preparedness), and;
"Written to all states HCHs to institute immediate and necessary public health measures for timely detection and response to diphtheria at state level".
Speaking on measures being put in place to prevent the disease from spreading further, Ibekwe said NCDC has published a public health advisory, accessible on its website, which educates Nigerians on risk factors and offers advice.
She said:"Parents ensuring that their children are fully vaccinated against diphtheria with 3 doses of the pentavalent vaccine. Healthcare workers should maintain a high index of suspicion for diphtheria".
She also spoke on how to better understand and contain the prevailing global outbreaks of SARS-CoV-2 COVID-19 variants.
She said:"The sub-lineages i.e., XBB.1.5 partly responsible for the current increase in COVID-19 cases in the US and elsewhere countries have not yet been detected in the country.
"However, this variant has not been associated with increased severity of illness and now appears to be levelling off.
"The variants reported in China so far have been those circulating globally including in Nigeria for some time."
However, the Nigeria Centre of Disease Control and Prevention has attributed the current outbreak of diphtheria in some parts of Nigeria to a drop in the childhood vaccination coverage in some areas of the country.
The Director-General of the Agency, Dr Ifedayo Adetifa, who spoke about the development on a television programme, said that there were 34 deaths recorded over the weekend from the outbreak which hit four states.
He said due to the effectiveness of the childhood vaccination programme, most people have forgotten what it looks like.
He said, "Diphtheria, a vaccine preventable disease that used to be common decades ago is on the increase in some states in Nigeria. The fact that there is a resurgence suggests that there is significant reduction in vaccination coverage among pockets of the population and this reduced pockets of immunity has given rise to the cases we have seen.
"It is not a matter of diphtheria spreading from state to state, the bacteria that causes the disease is present everywhere and it spreads, and any state in which you find the disease now is likely to be associated with suboptimal vaccination rates, either in general or in particular in pockets of population. Failure of childhood vaccination in the failed states causing the diphtheria outbreaks.
"Kano has highest number of cases followed by Yobe, by weekend, there were 34 deaths in total."
He warned that although diphtheria was highly preventable and treatable, fatality can increase without antibiotics and appropriate conditions, including the diphtheria antitoxin. He assured that with early detection and prompt treatment, the fatal outcomes are usually low.
Adetifa stressed that the really severe cases require the diphtheria antitoxin, even as he assured that the NCDC had distributed vials of the antitoxin since December for use in Lagos and Kano states, and was planning to extend availability to every state where the disease cases are found.
"It is important that patients should be recognised early, and laboratory confirmation carried out so that treatment can commence immediately."
Adetifa said there were arrangements for trainings of personnel for laboratory diagnosis of the toxin including testing for most of the clinical effects.
"We are in a good state to help, but patients need to be recognised early and diagnosis made quickly and they are placed on the right treatment.
"We are using the National Primary Healthcare Development Agency, NPHCDA data to predict high risk states, there is connection with low socioeconomic situation, and we need to look out for healthcare workers who can be given courses of antibiotics.
Long-Hour Fasting, Danger To Kidney, NAFDAC Warns
The Director General of the National Agency for Food and Drug Administration and Control (NAFDAC), Prof. MojisolaAdeyeye, has advised Nigerians against subjecting themselves to long-hour fasting, saying it was risky to their kidneys.
Adeyeye, who attributed the high rate of kidney problems in Nigeria to prolonged fasting by some religious adherents, insisted that those subjecting themselves to prolonged fasting on religious grounds must moderate the act.
She spoke in Abuja, yesterday, while briefing the media on the breakthrough by her agency in tracking high consignments of Tramadol and other pharmaceuticals to the Republic of Benin.
On the high rate of kidney problems in the country, she said: "Kidney failure, we are a very religious country- Muslims and Christians fast a lot and it is part of the kidney problem.
"Your body has to have homeomistatic balance, meaning that the water level in your body must be enough to make your organs to function.
"Some people will fast for 10 or 20 days and drink only little water, the kidney is being punished. Now, if you put chemicals in it, it triples in exponential manner, it damages the kidney because the kidney doesn't have water to dilute and filter."
Adeyeye, who tasked Nigerians to fast but with common sense, added: "I fast but with common sense. We have to fast with common sense; otherwise we will pay with our kidneys."