Tonto's Father Returns Bride Price To Churchill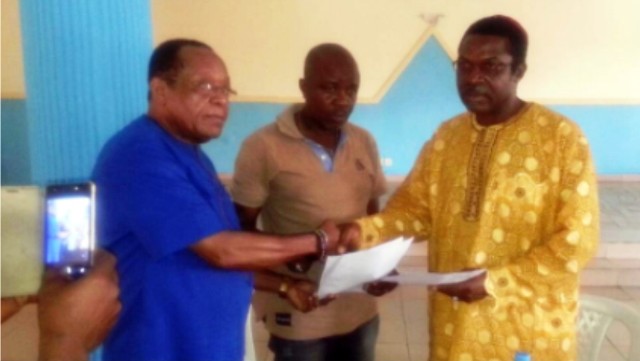 It is officially over between Nollywood actress, Tonto Dike, and her estranged husband, Oladunni Olakunle Churchill as Tonto's family has refunded Churchill's bride price on their daughter.  The money was given to Churchill's family's representative, Bishop Dare in Port Harcourt on Monday June 26, 2017.
The actress's earlier claims that she paid her bride price herself has been rubbished by the actress's father who revealed that  Olakunle Churchill fulfilled all traditional requirements before he got married to his daughter. He has, thus, refunded the bride price to Churchill's family, a move which has officially and traditionally annulled their traditional marriage.
In a new video, it was gathered that Churchill had requested for the bride price he paid on Tonto. This made Churchill's uncle, Bishop Dare to meet with Tonto Dike's father, Chief Sunny Dike in Port Harcourt to collect the bride price.
Recall that Tonto and Churchill had hoped to have their white wedding after the arrival of their son, but this could not hold as their marriage collapsed just after the arrival of the child, King Andre.  Tonto's bride price was paid on Saturday August 29, 2015 and returned in less than two years.
Duncan Mighty Cheats Death In Ghastly Car Accident
Rivers State-born singer, Duncan Mighty has survived a car accident while travelling to Uyo, Akwa Ibom State.
The self-acclaimed Port Harcourt First Son, on his Instagram account, thanked God for saving his life and Nigerians for praying for him.
He revealed that on January 2, 2022, his vehicle drove straight into the river after a failed brake.
He wrote, "God bless you for your prayers. 2nd January on our way to Uyo, our vehicle drove straight into the river after a trailer on a high speed failed brake, was the last thing I can remember.
"Next is seeing myself in the hospital. God made, no be man made."
Grammy Awards Postponed Indefinitely, As Omicron Variant Spreads
The 64th Grammy Awards has been postponed indefinitely amid an unprecedented wave of COVID Omicron variant.
Recording Academy announced that the awards was postponed indefinitely for safety reasons.
The awards show had been scheduled for January 31; no new date has been set yet.
CBS and Recording Academy in a statement said holding the show on January 31 simply contains too many risks given the uncertainty surrounding the Omicron variant.
Part of the statement read, "After careful consideration and analysis with city and state officials, health and safety experts, the artist community and our many partners, the Recording Academy and CBS have postponed the 64th Annual Grammy Awards Show."
CBS noted that the health and safety of those in our music community, the live audience, and those who tirelessly work to produce the award show remain our top priority.
"We look forward to celebrating Music's Biggest Night® on a future date, which will be announced soon," the statement read.
Yuletide: Emohua Turns To Carnival City …Commends Awuse's Magnanimity
The 2021 Yuletide celebration in Emohua Community, Rivers State was funfilled amidst glitz and glamour as the good people of the ancient town came out in their numbers to celebrate Christmas and new year under a peaceful atmosphere with gratitude to God and Ohna Sergent Awuse for a hitch free yuletide as the town literally turned to a carnival city.
The weeklong activities which started from December 23rd 2021 kicked off with the Ohna Awuse cup competition which featured six teams named after different countries. At the grand finale on January 4th 2022, South Africa defeated Ivory Coast with a lone goal and went home with the golden cup and N250,000 cash, while the second position went to Ivory Coast with a cash prize of N150,000, Egypt took third and got N100,000.
Speaking at the event, the Chairman, Organising Committee of the tournament, Mr Nnebuchi Woleru, thanked Ohna Awuse for sponsoring the tournament which has been in existence for the past six years. He described the soccer event as a unifying factor among the youths as the players were drawn from the eight villages in Emohua town. He stressed that they decided to name the teams after countries to avoid acrimony and rancour as was witnessed in previous tournaments.
According to Woleru, the football event helped to ensure peace in the community and contributed in curbing the menace of youth restiveness cultism and other social vices among the youths. He thanked Ohna Awuse for his foresight and for ensuring peace in the town.
Ohna Awuse noted that the purpose of the competition was to encourage the youths to discover and harness their potentials, promote peace and unity among the youths and to change the negative narrative and conduct for which they were known in the past. He thanked them for their peaceful conduct throughout the competition.
Ohna Awuse also ushered in the new year by hosting Ohna Emohua, Eleru-urie, Emohua Council of Chiefs, widows and the youths. He noted that 2022 was a year of peace, unity and freedom as he called for all hands to be on deck to move Emohua to the next level of development and peaceful coexistence.
The yuletide also witnessed masquerade displays and carnivals by the eight villages of Emohua. Speaking at one of the masquerade displays the Chairman of Ohna Mele Masquerade Dance, Mr Ifeanyi Iroh, thanked Ohna Awuse, Barr Chima Obinna and others for sponsoring the masquerade dance which he said had given them a sense of belonging and had helped to promote their age long culture and tradition.
Also speaking the youth Chairman and coordinator of Mgbuetor Carnival, Mr Anachor Emenike noted that the purpose of the carnival was to entertain the youths during the festive period and the carnival symbolises unity, peace and love among the youths. He thanked Hon Collins Amegl Opuel Wordu and other sponsores of the event for making their dream come true and urged others to emulate their kind gestures.
By: Jacob Obinna