NFF Will Not Neglect Grassroot Football Dev – Bewarang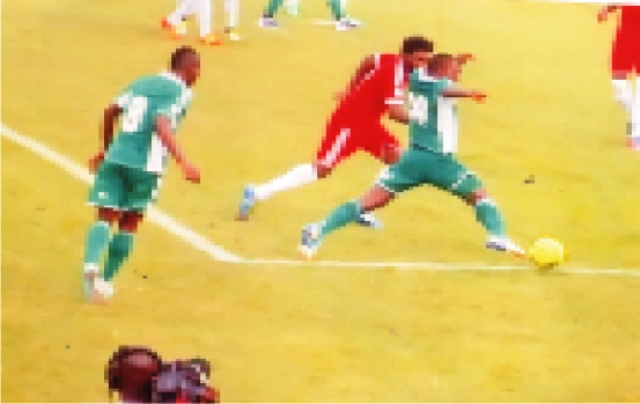 The new Technical Direc
tor of Nigeria Football Federation (NFF), yesterday Bitrus Bewarang,in Benin assured that the federation would not neglect developing football from the grassroots.
Bewarang told news Agency of Nigeria (NAN) this was necessary in order for the game to grow appropriately in the country.
He said zonal offices would be re-introduced across the country's geo-political zones in order to achieve this, saying this was necessary for effective supervision and monitoring of coaches and players.
Bewarang who bemoaned the present state of Nigerian football said grassroots football development was part of the drastic measures needed to turn things around for the better.
"To me, the present state of our football development is not acceptable. You will recall that we were fifth in the world and number one in Africa some years back.
"But now, we have fallen to number 17 in Africa and 70 in the world. That is not good at all.
"But the only way out of this is to develop the game at the grass root level.
"We are all aware of the performance of Clemens Westerhof in the history of Nigerian football. One of the reasons why he succeeded was because he looked in the direction of home-based players.
"It is for this reason that I will be looking at the direction of re-introducing zonal offices, where our coaches as well as the players will be properly supervised and monitored,'' he said.
The former Super Eagles assistant coach said his predecessor, the late Shaibu Amodu, did his best in his capacity as the National Technical Director, and had made his job easier.
"I only have to look at the files and add one or two things, in addition to what is already there,'' he said.
Bewarang, who is also the Chairman of Nigeria Coaches Association (NCA), decried the way Nigerian coaches were being treated in the country, in comparison to their foreign counterparts.
He said Nigerian coaches are capable of taking football to greater heights in the country if given time and the free hand to operate.
The NFF Technical Director expressed regrets that in spite of the positive impact made by some Nigerian coaches on the national teams, Nigerian coaches were still been viewed as inferior.
"We have good coaches, but the problem is that they are never given enough time, especially when handling the Super Eagles.
"You don't judge a coach by one or two matches lost. Westerhof succeeded because he was given a free hand and the time to tinker with the team.
"It is because of this poor condition Nigerian coaches work under that you see that over 70 per cent of us are hypertensive,'' he said.
Nigeria, Zambia Join WAFCON Train
Nine-time Women's Africa Cup of Nations winners, Nigeria became the final side to book their place at the 2024 tournament as qualifiers culminated this week.
The Super Falcons came from behind to beat Cape Verde 2-1 away from home, with Rasheedat Ajibade's injury-time winner clinching a 7-1 aggregate victory on Tuesday.
Barbra Banda was among Zambia's scorers as the Copper Queens, who finished third at last year's Nations Cup, thrashed Angola 6-0 at home to complete a 12-0 aggregate win.
However, two-time champions Equatorial Guinea will miss out on the 12-team finals following a 2-1 defeat away against DR Congo which saw the hosts progress 3-2 overall.
Botswana beat Kenya 1-0 to secure qualification for their second consecutive finals. while Ghana, Mali, Senegal, Tanzania and Tunisia all sealed their places in Morocco, who will host for the second time in a row.
The dates for the tournament, scheduled for next year, are yet to be announced.
Holders South Africa and Algeria secured their spots on Monday, with Banyana Banyana beating Burkina Faso 3-1 on aggregate and the North Africans sealing a 1-0 win in Burundi to progress 6-1 over the two legs.
Ghana will return to the finals for the first time since 2018 despite losing 1-0 away against Namibia, with the Black Queens going through 3-2 on aggregate.
Senegal, Tanzania and Tunisia also failed to win their away ties, but progressed against Egypt, Togo and Congo respectively.
Mali won 3-0 away against Guinea to round off a 10-2 victory overall.
Olowu Targets WABU Crown At GOtv Boxing Night 30
Super welterweight boxer, Taiwo 'Gentle Boy' Olowu, on Wednesday , said his target is to claim the West African Boxing Union (WABU) super welterweight title at GOtv Boxing Night 30 on December 26.
The enterprising boxer, who is the national welterweight title holder, will square up to top Ghanaian boxer, Michael Ansah, at the event slated for the Tafawa Balewa Square, Lagos.
Speaking ahead of the fight, 'Gentle Boy' boasted that he would ensure the Ghanaian returned to his country empty-handed.
"I aim to add this West African Boxing Union title to my national title. As a national champion, I cannot allow a foreigner to come and take this belt away in front of my fans. This is a big opportunity for me to be a WABU champion. Ansah will leave Nigeria empty-handed," he said.
The more experienced Ghanaian boxer has a record of 23 wins, 12 defeats, and three draws from 38 professional fights, while 'Gentle Boy' boasts 15 wins and one defeat from his 16 professional fights.
In another title fight, Sifon 'Best' Iwatt will battle Saheed Azeez for the national super flyweight title.
Also on the card for the night are five other national fights, including a female national cruiserweight challenge fight between national champion, Bolatito 'Black Tito' Oluwole and Blessing Abisoye.
Arabambi Ojo and Ibrahim 'Golden Boy' Opeyemi will slug it out in a national bantamweight challenge bout; Abdulafeez 'Big Name' Osoba will face Christopher Ucheji in a national super welterweight challenge fight, while Ayanfe Adeoye and Ahmed Ganiyu will duel in a national light welterweight category.
Nigeria Makes Final Team Of The Year Award
Nigeria made the final three shortlists for the 2023 Confederation of African Football's (CAF) Women's National Team of the Year award.
CAF announced the final three shortlist on their X handle yesterday.
The other two countries are reigning Women's Africa Cup of Nations champions South Africa and Morocco.
Nigeria, Morocco and South Africa featured at this year's FIFA women's World Cup in Australia and New Zealand.
The trio all reached the round of 16 at the tournament, which was won by Spain.
The winner will be announced on Monday, December 11, in Marrakech, Morocco.
Meanwhile, Nigeria's Super Falcons recently qualified for the 2024 WAFCON, hosted by Morocco.
A 7-1 aggregate win against Cape Verde ensured the Falcons will be making their 13th appearance at the tournament, which began in 1998 in Nigeria.