That St. Theresa Attack …Of JTF Alerts, What Was Not Done
Since the Islamist extremist group, commonly known as Boko Haram started its terror attacks on both public and private property in parts of Northern Nigeria, a lot of guesses have been made as to the group's real targets. Some say, members are merely misguided young Moslems trying in futility to rewrite the Koran in bloody letters, with education and the educated as enemies.
Others believe, the group's main agenda is mainly political, with rubbishing the Jonathan Presidency as a target, hence its tactical drive focused on making parts of the North utterly ungovernable.
In this school also, are those who feel that the Boko Haram terror group is being groomed as a negotiating template to drag political power back to the North.
Yet others simply see the Boko Haram as an Islamist insurgency bent on imposing Islam in parts of the North and if possible in the whole of Nigeria. This  third school of thought points to the  countless number of Christian deaths through attacks on Christian places of worship. It argues that the terror attacks are clearly directed at Christians, that other victims are merely secondary or accidental victims either because of their vocal condemnations, like in the case of mass media houses and some top government officials, that the terrorists reckon, had been impediments to their terrorist activities, when they should be supportive.
Those who share this line of thought very easily point to the fact that not a single mosque had been attacked, since the madness began more than two years ago, and that all Moslem deaths were purely accidental.
All three schools of thought do have their reasons for their conclusions but not once has any been explicit enough to engineer government's support to its course. That perhaps accounts for why government has repeatedly labelled the Boko Haram as terrorists merely driven by moral depravity and lust for human blood. They are neither true Moslems nor enemies of Christians but  enemies of civilised Nigeria, good conscience, communal living and indeed peace.
With this conviction, government has not considered deeply, those that form the weakest link of the vulnerable chain, those high-risk targets and hence the need to protect such areas. Otherwise, there  is no justification for the terror attacks, yesterday, on St Theresa's Catholic Church, Kaduna in which, a yet-to-be ascertained number of Christian-worshippers were killed.
Curiously, in what many Nigerians called a timely alert, the military had last week Tuesday warned of likely terror attacks by the Boko Haram sect. The Joint Task Force (JTF) said it  had uncovered a plot by Boko Haram Islamists to carry out "massive attacks" during the last Moslem holidays, with the help of foreign mercenaries.
"Information available to the Joint Task Force indicates that the Boko Haram terrorists are planning to launch massive attacks on military and civilian targets in Borno State, before, during and after the forthcoming salah celebrations," Lieutenant Colonel Sagir Musa was quoted as saying.
"The terrorists have invited foreign  mercenaries to assist them in the anticipated attacks", Sagir said, adding, "we know where they are coming from but we don't want to disclose that because we don't want to pre-empt our security arrangements to tackle them".
That warning would be one of very few that JTF had dished-out in recent times and with such confidence and certainty, and, if  you like, welcome assurance that the security institutions were indeed on top of the situation. It was unlike the assurances frequently given by them since 2009, after each of the sustained terror attacks by Boko Haram, believed to have left more than 2,800 people dead and counting.
Yes, Nigerian security forces had frequently exaggerated their success in cracking down on Boko Haram insurgents, but they sounded more convincing in their terror alert of last Tuesday, afterall, a military that is pre-informed of enemy attack must be counted upon to rise-up to their constitutional duties of protesting the nation and her peoples.
This is indeed why it came to many as a huge disappointment that in the midst of such alert and preparedness of the security forces to prevent such attacks, St Theresa Catholic Church in Kaduna could suffer such killings. What went wrong?
That no single attack was recorded all through the salah holidays when Moslems went about their usual prayers in public places  gave me some sigh of relief and nearly destroyed my skepticism of  such security-based assurance, when it mattered the most. So, why should a church again be a victim.
This attempt is not to impute lack of government protection for Christian places of worship, although the temptation to do so is very strong, it is instead to question of how well the security structure understands the most vulnerable of targets in this senseless Boko Haram siege.
Is anyone pretending not to know that Christian places of worship have been targeted repeatedly? Is any one feigning ignorance of the fact that not a single worship-day passes without a story of one bomb attack or another on a church in the North? How many mosques suffer such insecurity? Shouldn't that be enough reason for the security agencies to see the protection of churches in the  North as a major concern? These are the questions which answers tend to give credence to the sentiments expressed by the third school of thought earlier addressed. These are Nigerians who cannot be easily convinced that annihilation of Christians in the predominantly moslem North is not part of Boko Haram's agenda.
This is why none ought to undermine the likely consequences of silence in all these because of the unpleasant results of reprisals by groups, families and indeed churches of victims in all such attacks. Besides, a religious war is not one that Nigerian can manage, for many obvious reasons.
That is why I consider it unacceptable that Christian places of worship are frequently being targeted, with countless deaths but without any sure end to such hostilities.
The security institutions need to give Christians in the North enough reasons to believe that they too are covered by their arrangements, and not be made to believe that they are on their own.
For sure, there is no telling if the St. Theresa attack will be the last of such desecration of Christian places of worship in parts of the North, hence, the need for improved security of such facilities.
No doubt, an attack on any human being by another is condemnable but one on a faithful, in the presence of the Maker is most insane. Government must begin to see the Boko Haram for what it truly is and device appropriate  safeguards against further attacks on churches.
My Agony is that among victims of the St. Theresa Catholic Church, Kaduna attacks, were defenseless men, women and children whose deaths may never be avenged through a legal process of bringing to justice their killers. This is because, after more than two years, such killings, are merely dismissed as Boko Haram job, a name that means invincible and untouchable. For now.
Again, RSG Begins Unveiling, Flag-Off Of Nine Key Projects, 'Morrow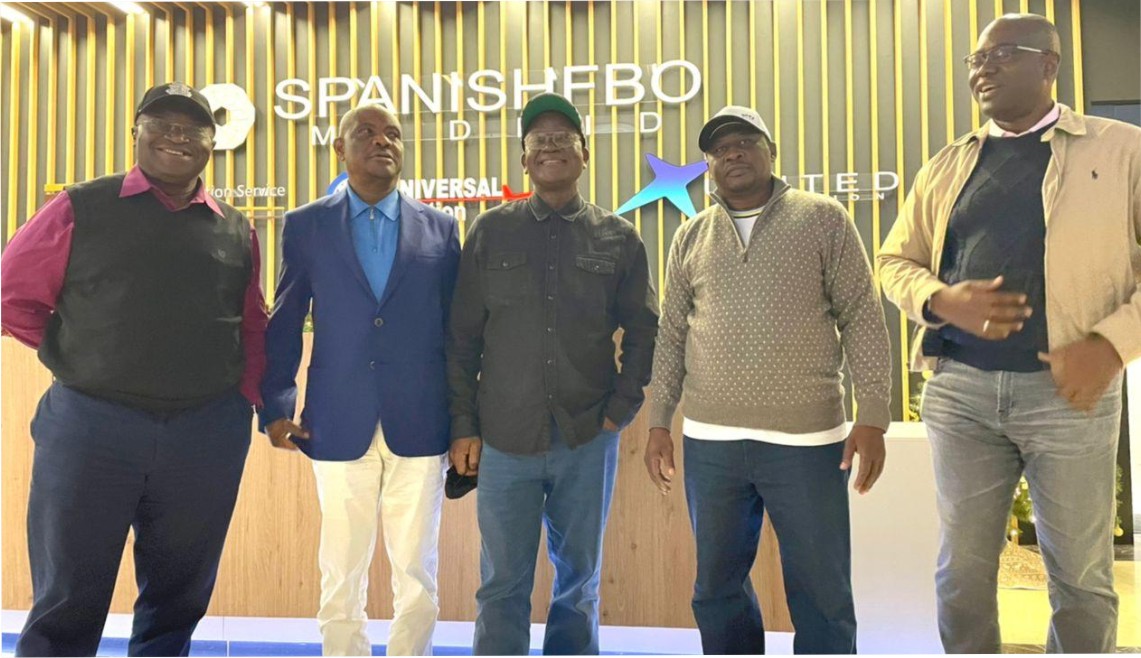 The Rivers State Government has rolled out the drums to herald another phase of official commissioning of key projects embarked upon by the Governor Nyesom Wike-led administration in the state.
A statement by the state government said that the process is in continuation of the commissioning and flag-off of projects by Governor Nyesom Wike.
It indicated that Rumuola flyover would be commissioned tomorrow, while the GRA flyover would be commissioned on Saturday.
The also stated that the government would commission the Ezimgbu Road on Monday, December 13, 2021; with another commissioning of Tombia Road Extension scheduled for Tuesday, December 14, 2021.
The statement said that the governor would commission the Safe Home, Borikiri, Port Harcourt on Wednesday, December 15; while on Thursday, December 16, 2021, the governor would commission the Odokwu internal roads.
Also, the governor would continue the flag-off of key infrastructure projects with Chokocho-Igbodo Road slated for Monday, December 20, 2021; Oyigbo-Okoloma Road on Wednesday, December 22, 2021; and Magistrates' Court Complex, Port Harcourt on Thursday, December 23, 2021.
Wike Justifies N7bn Libel Suit Against THISDAY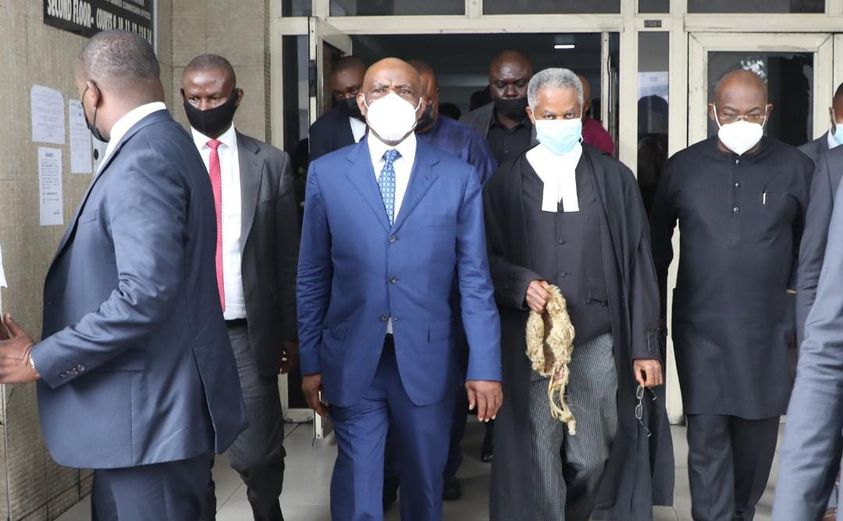 Rivers State Governor, Chief Nyesom Wike, yesterday, appeared before the state High Court in Port Harcourt, to testify as a witness in an N7billion libel suit against THISDAY Newspaper.
Wike said he was in court to seek justice and clear his name as a person from the malicious publication by THISDAY Newspaper, which portrayed him as deceitful, untrustworthy person, who exerts subterranean influences on judicial matters and over court sittings in Port Harcourt.
It would be recalled that Wike had in August, 2020, slammed a N7billion suit being damages for libel written and published in THISDAY's Tuesday, June 23, 2020 edition captioned, "With Wike, Obaseki Meets His PDP's Waterloo; Almost."
The defendants in the suit are THISDAY Newspapers Limited, Leaders and Company Limited, Davidson Iriekpan, Chuks Okocha and Adibe Emenyonu.
Wike, while testifying as witness in suit No. PHC/1505/CS/2020 before the court presided over by Justice A. Enebeli, asserted that the defendants maliciously and falsely portrayed him as an unreliable friend/person.
"When you say somebody cannot be trusted; that cannot be a fair comment. When you say somebody is influencing the Judiciary, that cannot be a fair comment", the governor said.
In his written statement on oath, Wike had stated that the defendants had accused him of influencing the decision of the court sitting in Port Harcourt that granted an injunction restraining Godwin Obaseki from participating in the primaries of Peoples Democratic Party (PDP) in Edo State in 2020.
He stated that the defendants maliciously accused him of undemocratically exerting influence on the primaries process of PDP in Edo State in aid of his ally, Omoregie Ogbeide-Ihama, who was the beneficiary of the court order restraining Obaseki from participating in the PDP primaries.
The governor, who told the court that he was not even aware of the aforementioned suit by Ogbeide-Ihama against Obaseki, said the publication was reckless, false and without regards for the truth.
According to him, contrary to well-known journalistic tradition and practices, the defendants did not investigate properly to ensure the information they relied on was accurate.
"They did not seek to verify the facts from me or in any manner oblige me with the opportunity to state my own side of the story before proceeding to make the false publication" the governor argued.
Wike stated that the defendants further denigrated him before the entire world as a fake democrat, who engages in meddling in the internal affairs of All Progressives Congress (APC) in order to get at his political foe, Chibuike Amaechi.
The governor explained that he was not a member of the APC and has had no hand in the internal crisis which has bedevilled the party both in Rivers State and all over Nigeria.
"By the letter of Messrs E.C. Ukala and Co., Solicitors, under the hand of Emmanuel C. Ukala, SAN, dated 23rd June, 2020, the defendants were given opportunity to retract, and recant the publication as well as to offer apology for the false publication but the defendants spurned the opportunity and ignored the letter completely."
The governor, while responding to claim by lawyer to the defendants, Turudu Ede, SAN, that the essence of the lawsuit was to intimidate and harass his clients, said the whole essence of the suit was to get justice and clear his name as a man of substantial character, honour and repute.
"The essence of the suit is to get justice since they (defendants) refused to retract the publication or apologise. So, I sued them to clear my name."
Speaking to journalists outside the court, one of the lawyers to Wike, Mr. Mark Agwu said his client was in court to seek legal redress.
"To challenge him as a person, it means you have made him untrustworthy, a deceit, a cheat, an influencer of the court, because the publication they made was that he had a role to play in influencing the outcome of that Federal High Court case. Nobody will take that lightly, and especially for a man who believes in the rule of law", Agwu added.
The court adjourned the matter for further hearing to 12th, 13th and 14th of January, 2022.
$130m Fraud: Rivers Sues Saipem SPA, Saipem Contracting Firm, Others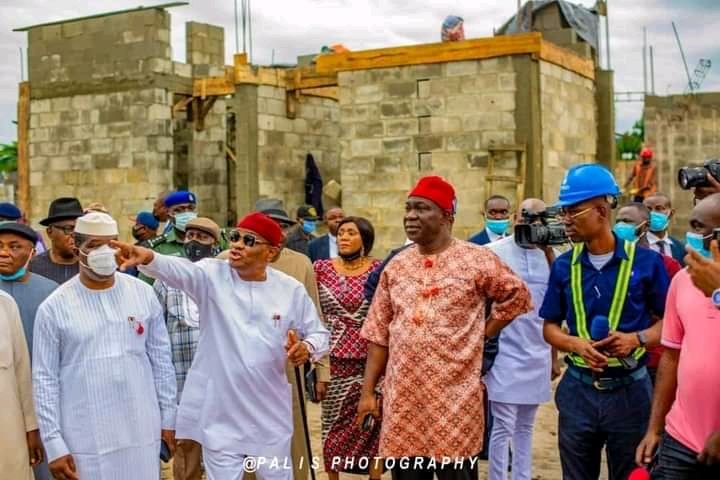 The Rivers State Government has charged two construction firms, Saipem SPA and Saipem Contracting Nigeria Ltd, to court over an alleged conspiracy to cheat and with intent to defraud the state of the sum of $130million, being advanced payment for the construction of the OCGT power plant in Port Harcourt.
In a 16-count criminal charge filed by the Director of Public Prosecution, C.F. Amadi for the Rivers State Attorney General, the state alleged that after collecting the said sum as advanced payment between 2011 and 2018, the defendants have not kept their obligation under the contract.
Others charged alongside the companies were Walter Peviana; Kelechi Sinteh Chinakwe; Giandomenico Zingali; Vitto Testaguzza and Davide Anelli, who are directors and officers of the companies.
The defendants are charged with various offences ranging from conspiracy, cheating and obtaining credit by false pretence, contrary to Section 518 (6) and (7) and punishable under Section 518 of the Criminal Code, Cap 37 Vol. 2 Laws of Rivers State of Nigeria, 1999, section 419A and punishable under Section 419 (A) (1) (b) of the Criminal Code, Cap 37 Vol. 2 Laws of Rivers State, amongst others.
Already, the Rivers State Government has issued a fiat to the law firm of Godwin Obla (SAN) to prosecute the matter before the state High court.
The defendants are equally charged for the offence of false Statements by Officials of Companies contrary to and punishable under Section 436 (b).
The prosecution specifically accused the defendants of obtaining credit of $130million by false pretences or other fraud contrary to Section 419A and punishable under Section 419 (A) (1) (b); obtaining credit of $20,467,942.00 by false pretences or other fraud contrary to Section 419A and punishable under Section 419 (A) (1) (b), obtaining credit of N7,000,000,000.00 only by false pretences or other fraud contrary to Section 419A and punishable under Section 419 (A) (1) (b).
They are charged for obtaining credit of N318,640,173.54, by false pretences or other fraud contrary to Section 419A and punishable under Section 419 (A) (1) (b); attempt to cheat $97million contrary to Section 508 and punishable under Section 509; attempt to cheat $15million contrary to Section 508 and punishable under Section 509; conspiracy to receive a credit of $97million by false pretences contrary to Section 518 (6) and punishable under Section 518; cheating $11million contrary to Section 421 and punishable under Section 421; cheating contrary to Section 421 and punishable under Section 421; cheating N110, 097, 416.51 contrary to Section 421 and punishable under Section 421; cheating by collecting sums attributable to shared facilities already paid for in AFAM Phase I in AFAM Phase II contrary to Section 421 and punishable under Section 421.
Obtaining N20, 467, 942 contrary to Section 421 and punishable under Section 421; obtaining credit of $60,168,936.00 by false pretences or other fraud, contrary to Section 419A and punishable under Section 419 (A) (1) (b); obtaining credit of $1,512,034.00 by false pretences or other fraud contrary to Section 419A and punishable under Section 419 (A) (1) (b) all of the Criminal Code Law of Rivers State, Cap 37 Vol. 2 Laws of Rivers State of Nigeria 1999.
According to the Proof of Evidence attached to the charge and the statement made by the Head, Power Generation/Mechanical of the Rivers State Ministry of Power, one Mr Temple Azunda M., the facts constituting the case in hand are as follows:
Saipem SPA and Saipem Contracting Nigeria Limited and other officers of the duo, herein the Defendants, are Italian companies which services have been retained by the Rivers State Government, herein RSG, in several projects, prominent amongst which is the AFAM Phase II Power Plant Project.
By an initial tripartite agreement made on the January 20, 2010, the RSG under the auspices of the Rivers State Ministry of Power entered a contract with Saipem Contracting Nigeria Limited, Saipem SPA for the construction of the OGCT power plant in Port Harcourt at a total cost of $119million consequent upon which the Rivers State Government made advance payments, in instalments, to Saipem Contracting Nigeria Ltd and Saipem SPA amounting in total to a sum of $130million in all which the Defendants have acknowledged receipt of.
The Defendants were to be given an initial mobilization of 20per cent of the total contract sum which the RSG paid.
It was part of the initial agreement – and indeed a condition sine qua non – that, to access the 2nd tranche of payment of 25per cent from the Rivers State Government, the Defendants would mandatorily have installed the Gas Turbine into the foundations as referenced in ATTACHMENT 1 to VO 007 which states that:
CONTRACTOR shall be entitled to a payment corresponding to 20per cent of the VO No. 007 LS PRICE upon mobilisation to site and commencement of bush clearing activities at SITE.
Upon commencement of bush clearing activities at the site, the contractor shall issue the invoice relevant to the above payment and the owner shall pay such invoice within 14 days from its issuance.
The parties agree that no deduction for recovery of advance payment shall apply on the payment due to the contractor for invoices issued by the contractor in accordance with this paragraph.