Strengthening U.S – Nigeria Trade Relations
Observers say that Nigeria-U.S. bilateral relations have come a long way and some of them note that the relations witnessed a dramatic boost in 1999 with the restoration of Nigeria's democracy.
Economists note that Nigeria's main export to the U.S. is crude oil, while its imports from the U.S. include machineries and engineering equipment.
In 2008, for example, Nigeria, which currently stands as the 14th largest trading partner of the U.S., had a volume of trade valued at 42.2 billion dollars (about N6.3 trillion) with the U.S.
Statistics showed that Nigerian goods exported to the U.S. that year amounted to 4.1 billion dollars (about N615 billion), while imports from the U.S. totalled 38.1 billion dollars (about N5.7 trillion).
The goods imported from the U.S. in 2008 include vehicles — 974 million dollars (about N146 billion), wheat — 930 million dollars (about N139.5 billion), mineral fuel (oil) — 416 million dollars (about N62.4 billion) and electrical equipment — 202 million dollars (about N30.3 billion).
Nigerian exports to the U.S. in 2008 totalled 38.1 billion U.S. dollars (about N5.7 trillion), reflecting a 16.2 per cent increase of 5.3 billion dollars (about N795 billion) over the 2007 figure.
However, economists note that Nigeria's export to the U.S. is predominantly crude oil, as its non-oil exports are somewhat insignificant.
As part of efforts to address this mono-product export and exploit fully other areas of the existing bilateral trade relations, the Trade and Investment Framework Agreement (TIFA) was signed between Nigeria and the U.S. in 2000.  The agreement is part of a comprehensive U.S. strategy to support the federal government's efforts to advance trade and economic development in Nigeria. 
In March 2009, at the 6th TIFA meeting in Washington, both countries agreed to hold an investment forum in the U.S. The major objective of the forum is to create a platform for American and Nigerian entrepreneurs to interact and strike profitable business deals.
It is also designed to provide a platform for the presentation of existing investment opportunities in Nigeria to U.S. corporate leaders and senior policy makers for consideration.
 The forum tagged: "1st U.S.A-Nigeria Business Forum'', was organised between April 12 and 20 in three U.S. cities – Atlanta, Houston and Chicago — by the Federal Ministry of Commerce and Industry, in collaboration with the U.S. Department of Trade and the U.S Embassy in Nigeria.
The forum was organised to fast-track action in efforts to enhance trade and investment relations between Nigeria and the U.S.
Chief Jubril Martins-Kuye, the Minister of Commerce and Industry, who led the Nigerian delegation to the forum, urged Nigerian and American businessmen to take advantage of the abundant investment opportunities existing in Nigeria. Martins-Kuye pledged the federal government's determination to improve the business environment and investment climate of Nigeria.
He said that the government had initiated some reforms in various sectors of the economy, particularly the power sector, to make the business environment more conducive to investors. "The various economic reforms initiated by the federal government, the anti-graft measures, transparency and the rule of law in place are meant to facilitate trade,'' he said.
The minister expressed the hope that the business forum would engender a quantum leap in trade and investments between the two countries.
"The Federal Government believes that the forum will boost U.S. investments in Nigeria and stimulate value-added non-oil exports from Nigeria,'' he said.
Martins-Kuye said that investments in the non-oil sector, especially through the Africa Growth and Opportunity Act (AGOA), which Nigeria had not fully taken advantage of since 2000 when it came into force, were imperative.
"It is very unfortunate that some countries with less potential are taking advantage of AGOA and Nigeria is still seriously lagging behind,'' he lamented.
Observers, nonetheless, express the happiness that the forum was able to X-ray and market the investment opportunities existing in the various sectors of the Nigerian economy.
The sectors presented to the U.S. market include tourism/hospitality, power/energy, solid minerals/mining, ICT/telecommunications, aviation/transport, SME development, banking and finance.
Others are infrastructure/construction, agriculture/agri-business, health/pharmaceuticals, oil/gas, marine/port development, environment and insurance.
The forum also gave some public agencies such as the Nigerian Export Processing Zone Authority (NEPZA), Nigerian Export Promotion Council (NEPC) and the Nigerian Investment Promotion Commission (NIPC) the chance to make presentations on existing investment opportunities.
NAFDAC, the Securities and Exchange Commission (SEC), the Nigerian Export-Import Bank (NEXIM) and the Raw Materials and Development Research Council (RMRDC), among others, also made presentations. 
NEPZA's Managing Director, Mr Sina Agboluaje, invited the U.S. business community to invest in the 25 free trade zones in Nigeria, assuring them that they would have the opportunity to repatriate their profits.
"The law governing the free trade zones in Nigeria allows investors to repatriate their profits, dividends and capital appreciation across the border,'' he said.
Agboluaje cited the benefits of investing in free trade zones as the reduction of initial capital outlay since infrastructural facilities like power, water and telecommunications were already in place in the zones.
He said that the fiscal incentives' regime in the free trade zones also enabled approved enterprises to produce cheaply with duty deferral on articles of trade.
"Our clarion call is for American investors to invest in the free zones in Nigeria.
"The Nigerian Government is making efforts in several directions to improve the trade environment in Nigeria, with the free zones functioning as centres of excellence for doing business,'' he said.
Agboluaje pledged that investors would be given the freedom to sell any proportion of their products in Nigeria even when the items were prohibited.
"They will be allowed for sale in Nigeria once it has up to 35 per cent value addition,'' he said However, the NEPC Chief Executive, Mr David Adulugba, decried Nigeria's low non-oil exports to the U.S., which were estimated at 1.8 billion dollars (about N 270 billion) in 2008.
He bemoaned the neglect of the non-oil sector, which, he recalled, made 97.4 per-cent contribution to the national economy in 1960, adding that the sector contributed as low as five per cent to the economy in 2008.
Adulugba said that Nigeria, blessed with rich natural resources, ought to use its natural endowment through exports to create employment.
"It is time for us to use our natural endowment to create wealth and employment,'' he said.
Adulugba, however, noted that the greatest problem confronting non-oil exports was that of products' packaging, since most products, regardless of how good they were, lacked proper presentation.
"A product must be able to sell itself on the shelf through proper packaging,'' he said.
The NEPC chief said that virtually all the 36 states of the country were blessed with one commodity and solid mineral deposit or the other. "All of these resources are lying fallow, begging for exploitation by investors,'' he said. Adulugba argued that Nigeria had the finest varieties of coffee and tea in the world, adding that the two crops were grown in commercial quantities on the Mambilla Plateau in Adamawa. He stressed that Nigeria had enormous investment opportunities in agro-allied industry, textiles, forest-based industry, leather, stone and mineral-based industries. One of the major constraints of exports to the U.S. has been identified as the lack of access to cheap finance for exporters.
"The constraints to Nigerian exporters include limited access to credit, infrastructure deficiencies, weak access to primary products, among others,'' he said.  A representative of the Nigerian Export Import Bank (NEXIM), Mrs Saratu Umar, called on Nigerian investors to avail themselves of the export finance opportunities offered by the bank.
She said that NEXIM was set up to provide credit risk to exporters through lending to exporters in local and foreign currencies.
Umar said that exporters were also being assisted with NEXIM's facilities to stock their commodities when they were off-season, so as to enable them sell the goods during favourable seasons.   
She said that Nigeria, being one of the notable importers of U.S. goods, should be able to do business with U.S. importers if good financial assistance outlets were available.
For Prof. Ade Adefuye, Nigeria's Ambassador to the U.S., the forum would afford American entrepreneurs the opportunity to understand the major economic reforms initiated by the Federal Government.
The ambassador, who was represented by Miss Lara Butto, an official of the Nigerian Embassy in Washington, stressed that the reforms were hinged on the government's determination to create a market-driven economy.
"For those of you who know little about Nigeria's economy, I am very optimistic that at the end of this forum, you will be able to understand our economic terrain. "You will also be able to appreciate our abundant human and natural resources, while resolving to partner with us in harnessing these resources. "Indeed, it has been proven that whichever form of investment is made in Nigeria, the returns have been very profitable,'' Adefuye said.
The general viewpoint on the U.S. side, however, was that apart from the forum, there has been scanty publicity on Nigerian investment opportunities.
It is pertinent to note that many entrepreneurs, including members of the Houston Citizens Chamber of Commerce in Houston and the Continental Africa Chamber of Commerce in Chicago, attended the forum.
Besides, officials of the U.S. Trade Department, the Illinois Department of Commerce and Economic Opportunity and the Corporate Council on Africa (CCA), among others, also participated in the forum.
Mr Kenny Efunpo, a Nigerian and a board member of Houston Citizens Chamber of Commerce, said that Nigerians in Houston should be encouraged to invest in Nigeria. He put their remittances in 2009 at about four million U.S. dollars (about N600 million).
Efunpo, who was the first African President of the African-American Chamber of Commerce from 2004 to 2005, said that some 250,000 Nigerians were living in Houston, adding that 25 per cent of the people were professionals. Efunpo, who is into oil and gas, said that the remittance figure was extracted from a Western Union report. "You will agree with me that it is a lot of revenue for Nigeria,'' he said.
He said that in the past, the 75-year-old Chamber had been trying to organise a trade mission to Nigeria to explore the investment opportunities in the country.
"It is very good that Nigeria has taken the initiative to come and see how we can improve the economic, industrial and political situation in the country.
"But the programme was not much publicised in the U.S., especially in Houston. If it was well publicised, more business people would have attended,'' he said. Efunpo said that in the next two months, the chamber would be leading a delegation of investors to Nigeria to explore investment opportunities in the construction, housing and real estate sectors.
He noted that the discussions between Nigerian and American businessmen at the forum were "meaningful'', adding that the forum would foster improved trade and investment relations between the two countries. 
However, some of the forum's participants attributed the low level of U.S. investments in Nigeria to the bad external image of Nigeria, promoted by the foreign press.
They, therefore, called on the Federal Government to embark on an aggressive image-laundering activity to change the erroneous public perception of Nigeria in the U.S.
For Mr Ademola Dada, the President of the Continental Africa Chamber of Commerce in Illinois, U.S., the forum would help to counter the negative perception of Nigeria created by the foreign media.
"We have to promote many face-to-face meetings like this continually since we cannot influence bad press about Nigeria,'' he said.
Dr Wale Ajifolokun, Managing Director of Air Cargo and Travel Agency in Chicago, said that Nigeria should strive to "boost its own ego and write its own story its own way.
"If you wait for people to write it for you, they will do that from their own perspectives, which may be wrong,'' he said.
Ajifolokun said that apart from the challenges of inadequate power supply, bad transportation and insecurity, Nigeria's bad image had been scaring away potential investors from the country.
Dr Adetunji Oyedele, an exporter, particularly called on the government to address the problems of insecurity and kidnapping in the country.
"The Ministry of Information needs to constantly sell the country to the outside world; a country needs to be sold to the whole world.
"Ironically, the only time they get to know about Nigeria is only when something bad has happened,'' he said.
For Chief David Olupitan, an international business consultant and co-founder of the 35-year-old Continental Africa Chamber of Commerce, the organisation of such a forum was long overdue. "It will go a long way in addressing some wrong perceptions about Nigeria,'' he said.
Olupitan, therefore, called on Nigerian entrepreneurs to promote their products in the U.S. through direct adverts or via such forum.
"Nobody can speak well of you than yourself; we need to start talking and shouting about ourselves and what we are doing,'' he said.
The U.S. policy makers, however, made some pledges which reflect the prospects of increasing trade and investment with Nigeria. Ms Julie Carducci, the Deputy Director, U.S. Department of Commerce, said that the department would intensify efforts to assist U.S. companies in finding new markets in Nigeria.
She said that the department supported U.S. companies' exports to Nigeria, while matchmaking the companies with their Nigerian counterparts.
She, therefore, urged Nigerian companies to work with their U.S. counterparts in efforts to export goods with the required American qualities to the U.S.
Carducci urged Nigerian companies to participate in the trade shows organised in the U.S. to further strengthen their investment opportunities.
The trade shows will take place in Houston, La Vegas, Dallas and New Orleans in August.
"We have in the past supported trade missions to Nigeria. We hope to organise more of such missions to further explore the investment opportunities in the country,'' she said.
Mary Roberts, the Deputy Director, Office of Trade and Investments in Chicago, welcomed the Nigerian delegation to Chicago, saying: "It is the largest city and centre of commerce for the entire world.
Roberts said that Illinois ranked 5th among the U.S. states concerning exports to Africa, while Nigeria ranked 4th among African countries getting Illinois exports.
Dr Cynthia Fontenet, an American businesswoman, said that the forum was timely, as both countries had a lot to benefit from each other.
She said that the U.S., with its high technology and industrial capacity, could benefit immensely from Nigeria with its enormous human and natural resources.
"This is bridging the gap and this connection with each other in commerce and industry is definitely the key to success,'' she said.
The U.S.-Nigeria Forum is the outcome of the Trade and Investment Agreement (TIFA), whose objective also include providing a platform for deliberating on how trade opportunities can be explored, while a balance of trade is achieved.
Gov Godswill Akpabio of Akwa Ibom, who was represented by the Commissioner for Commerce and Industry, Dr Emem Wills, said that the government had done a lot in making the state an investors' haven.
"In the last three years, the state has concentrated on the development of state's infrastructure, We constructed roads, our Independent Power Supply Project has been completed, we are liaising with the PHCN for distribution,'' Akpabio said.
The high point of the forum was the signing of a Memorandum of Understanding (MOU), between the Federal Government and the International Trade Centre, Houston, and the Continental Africa Chamber of Commerce, Chicago.  
One of the objectives of the agreement is to improve trade between Nigeria and the U.S., while enhancing value added oil and non-oil exports from Nigeria to the U.S.
The organisations will collaborate with Nigeria in promoting exportable products from Nigeria, under the Africa Growth and Opportunity Act (AGOA), to attract Foreign Direct Investment (FDI) into Nigeria from the U.S.  
All the same, industry operators have consistently harped on the need to improve the country's infrastructure, especially power, so as to create conducive environment for investors.
However, Mr David Adejuwon, the Acting Director of Trade, Ministry of Commerce and Industry, emphasized that potential investors should not wait for everything to be put in place before deciding to invest.
"If you have to wait for all challenges to go away, the investment space may not be available again,'' he said. (NANFeatures)
Grace Yusuf
Regulating Social Media Towards Peace Building
Can the social media space be regulated in a manner that it will give young people the opportunity to unleash positive energy on the society without stifling their voices? Experts say it is possible. Youths constitute the bulk of those who use the social media space for interactions, empowerment and self-actualization. They have leveraged advancements in information and communication technology as a medium of communication. Among the leading social media in Nigeria are Twitter, Facebook and Instagram. While youths may have limited political power to champion their views they can harness the potential in the social media to promote peace in Nigeria. Although the social media has its own negative sides, it also comes with numerous advantages, such as facilitating access to mentorship, socialization and creativity.
Through its networking mechanisms, social media spreads news faster and has wider reach than the conventional media. It encourages group participation in discussions and activities thereby providing a platform to push critical information and nurture ideas. Youths can take advantage of this uniqueness to propagate positive atmospheres such as peace and nation building. While many young people have used social media to create wealth, education and sourcing information and entertainment, many have used it to propagate violence conducts and other social vices. Experts say the Federal Government has a role to play in re-channeling youths' social media culture and orientation from the negative to the positive through proper regulation. The federal government is cognisant of this as demonstrated by the Minister of Information, Alhaji Lai Mohammed.
In June 2021 while appearing before a public hearing organised by the House of Representatives, Mohammed asked the lawmakers to amend the National Broadcasting Commission (NBC) act to empower the agency to regulate social and online media. The minister said: "Internet broadcasting and all online media should be included in this because we have a responsibility to monitor contents, including Twitter." Similarly, in June the National Information Technology Development Agency (NITDA) also announced a draft document for the Code of Practice for Interactive Computer Service Platforms/Internet Intermediaries and Conditions for Operating in Nigeria.
The code seeks to, among many others, compel online platforms to provide any backend information to assist government agencies for the purpose of investigating and prosecuting users who breach the provisions of the code.
Reinforcing these thoughts, Dr Bakut Bakut, Director-General, Institute for Peace and Conflict Resolution, IPCR, said: "Preventing the conflict of tomorrow means changing the mindset of the youth today." Bakut, who said this while delivering an address of welcome at a conference in Abuja recently, said the youth could be redirected to use the social media as a tool for peace building. According to him, youths use social media more frequently and are more likely to become victims of violence and can also be recruited by extremists.
The two-day conference, which was organised by IPCR in collaboration with the University of Ilorin Centre for Peace and Strategic Studies, CPSS, had as its theme, "Youth, Social Media and Community Peace building." "This is a significant issue because technology can either be a medium through which terrorists recruit young people or a means through which young men and women can help in building peace. "Although young people are crucial players in peace building, they have been excluded from the process and are instead thought of as `manipulable` tools for violent conflicts and social unrest," he said.
Bakut recalled the #EndSARS protest of October, 2020, which was organised by Nigerian Twitter users largely made up of youths against police brutality. He said it demonstrated that social media was dangerously spiraling out of control and a breeding ground for fake news, hate speech, misinformation and online incitement of unrest, hence the need to regulate it. He said the conference offered opportunities for fresh ideas to gain the youth's support for community peace building initiatives and incorporating social media, especially given the current insecurity concerns in Nigeria. Prof. Sulyman Abdulkareem, the immediate past Vice-Chancellor, University of Ilorin, while corroborating Bakut's view said regulating social media would curb online abuses and engage youths to promote peace.
Speaking on the topic, "Social Media Use and its implications on Community Peace building Among Nigerian Youths," he said that social media regulation was the best way to ensure that youths used social media positively. Represented by Prof. A.L. Azeez, Dean, Faculty of Mass Communication, University of Ilorin, Sulyman said the social media must be regulated if the youth's recklessness in using social media space would be drastically curtailed. "How can we make the youth to use the media positively; to empower themselves while at the same time deploying it for peace building? The best way is by controlling and regulating the social media space. "The regulation and control of social media space on grounds of humanity, peace and security are ostensibly plausible as such justifications have been invoked in Pakistan, Malaysia and India. "This is why many scholars of communication and peace have intensified their support and agitation for a legal framework for regulating Nigeria's social media space through the social media bill," he said.
The former vice-chancellor said that social media platforms should be used to facilitate virtual dialogues among stakeholders towards achieving peace and security. "The youth's use and adoption of social media should be aimed at promoting peaceful coexistence among various ethnic groups. "Through social media, the Nigerian youth should build strong consensus on issues that affect their lives and wellbeing. "No meaningful socioeconomic and human development can take place in a nation where its youth are preoccupied with sharing divisive and inciting rhetoric on social media," the don said. Prof. Eghosa Osaghae, the Director-General, Nigerian Institute of International Affairs (NIIA), underscored the need to directly engage the youth on peace building. "One of the ways that we can push these kinds of conversations concretely, going forward, would be to invite the youth to be part of this kind of debate," he said.
According to him, the Nigerian policy paper defines the youth as someone who is between the age of 15-30, which means he or she is under custody and not yet autonomous. "I will however extend that definition to mean that the youth is a social category, so a youth is he or she that a particular person says he or she is, notwithstanding age. "So if you have a consciousness of being young or old, that's who you are. There are people who are 40 but they already feel they are old, so let it be with them that they are old", he said. Prof. Oyeronke Olademo, Director, Centre for Peace and Strategic Studies. University of Ilorin, urged adults to use social media platforms to counter the negative narratives about youths and the country.
"For me, curbing the excesses of the youth on social media and redirecting them to peace building, requires that older persons should flood the cyber space with positive narratives. "This will overwhelm any negative narratives or fake news, which the youth may spread on these platforms," she said.
Experts say while it is important to regulate the social media space caution should be applied in doing so to avoid gagging the media, infringing on free speech and fundamental human rights.
By: Raphael Pepple
NDEP Gives Rivers Flood Victims Succour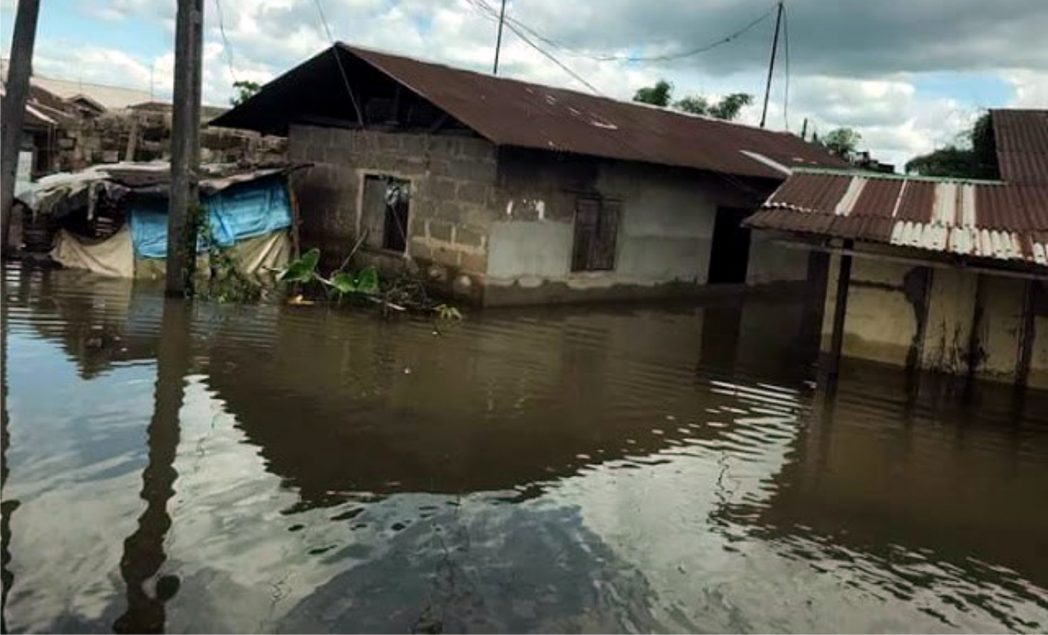 In a bid to alleviate the sufferings of flood victims in Rivers State, the Niger Delta region of Nigeria, the Niger Delta Exploration and Production (NDEP), has donated relief materials worth millions of naira to the state, affected communities as well as their host communities.
Presenting the items to the communities' representatives and governments in Port Harcourt City and Ahoada East Local Government Areas, respectively, the Company's Managing Director and Chief Executive Officer, (MD/CEO), Gbite Falade noted that the donations were made as part of the company's Corporate Social Responsibility (CSR), to its host state, local governments, communities and traditional institutions to help relieve the sufferings of the victims of the natural disaster.
Represented by the Manager, Security Services and Community Affairs, NDEP, Alhaji Umaru Buba Njobbo, Falade observed that the flood this year, was devasting as homes, properties, livestock, farmlands and humans were destroyed.
According to him, "in response to the impact of the flood, NDEP set up a task force to coordinate the distribution of relief materials to host community residents.The relief efforts of NDEP are aimed at cushioning the devastating effects of the flood on the residents, their properties and means of livelihood."
He pointed out that it was important that the three tiers of government took measures to curb flood disasters to reduce the devastating effects of future occurrences of natural disasters in the state.
The NDEP number one man reaffirmed the company's commitment to its host communities, adding that as a sustainable business, NDEP was aware that excellent peaceful co-existence with its host communities was pivotal to its vision, stressing that NDEP was empathetic its host communities and would always stand by in times of grave need.
The NDEP officials were received on arrival at the Palace of Kingdom, members of his chiefs-in-council, and the Chairman of Ahoada East Local Government Area, Hon Ben Eke.
Addressing the Eze Upata, Upata Kingdom, Dr. Felix Otuwarikpo in his palace, where the items were presented, the Manager, Security Services and Community Affairs, NDEP, Alhaji Umaru Buba Njobbo, stated, "We are here in respect of the flood that has ravaged the entire Nigeria and this side is one of the most affected areas so the company, Niger Delta Exploration and Production deem it fit that at least in its own small way should be able to sympathize with the victims and also assist the government, the traditional rulers, the local government councils which have been battling to help the people survive the period.
"The company earmarked some certain relief materials which part of it is going to be given to the Rivers State Government so that it can also reach other victims who are not within our areas of operations".
Furthermore, he said, "our coming here, with us we have some relief materials there is one that is meant for their attire Ekpeye because it cuts across Ahoada and some other areas, we are not unaware of that, so we have made provisions for all of that. We have also made provisions for the local government council because there are areas that are not also within our areas of operation that they would want to reach.
"We have made provision for Opata Kingdom because there are other areas within Opata that are not within our host communities so those people also need to be reached. We have also made provisions for all our host communities. We have also made provisions for Abua Odual Local Government Council. We have two host communities in Abua Odual LGA, we have made provisions for them, we have also made provision for the council to reach those areas that are not our operational area".
Receiving the items on behalf of the traditional council and the entire people, the Eze Upata, Dr Felix Otuwarikpo, thanked NDEP, for coming to the rescue of the flood victims in the Kingdom; nothing that the Upata had people had solicited assistance from a lot of companies, that the magnanimity of NDEP was unprecedented.
He said, "Today on behalf of the officer traditional council and the entire people of the Opata kingdom we thank the managing director of the Niger Delta exploration and Production Company, members of his management and the entire for coming to the aid of the flood victims in Opata Kingdom. We solicited for assistance from many companies but this is one company that has come out very bold and made this robust contribution to mitigate the suffering of our people.
He added that, "Government cannot do it alone; there is no society, no country that all responsibilities affecting the society is left to the government. The problem of flooding in Orashi Kingdom is much more than we imagined and given the quantum of water this year, assistance was sought from all over, and as usual, NDEP has not failed the people of Ekpeye.
"They have demonstrated that spirit of togetherness, they have shown that they are a responsible corporate organisation, and this should serve as a lesson for other companies; this is the way to go. When your communities are suffering, you identify with them; it is not all about reaping profits. We sincerely thank NDEP for coming to the aid of the people and we want to assure you that together, we will work to make the environment very peaceful for you to operate…you are not supporting only Upata people you are supporting the vision of Governor Nyesom Wike for a better Rivers State.
"Upata is a peaceful kingdom, and we will continue to ensure that there is peace in the Upata Kingdom," he assured the officials.
Also speaking, the Chairman, Ahoada Local Government Area, Hon Ben Eke, expressed appreciation to the management of NDEP for their show of love, pointing out that they have not only demonstrated responsibility, but have also indicated that they are a responsive corporate organisation.
He promised a conducive environment for the company to ply their trade, while thanking the company for their kind gesture, saying, "We will on our part ensure that they do their business here without any form of molestation or harassment from anybody. So, may I once more thank you for what you have done I pray for you that you continue to go forward from strength to strength" and assured that "these items first will go to the Eze Ekpeye, Logbo-in-Council. Let me tell you the materials will get to the affected victims".
On his part, the representative of Abua/Odual Local Government Area, Dr. Kikpoye Gogo thanked the firm for being the first company to identify with the people of Abual/Odua in their trying period, noting that their local government area hosts other oil firms, but NDEP was the only firm that had given them a helping hand to ensure that "you ameliorate our pain in respect of the flood.
He assured the company that the materials would properly distributed to the real victims in their domain and promised to ensure a conducive environment for the company to continue to do their business.
Responding to questions from pressmen, the Eze Upata, noted that 97 per cent of mud houses in the area had been swept away by the great waters, stating that as part of their post flood measures, the displaced persons would be allowed to stay at the camps longer than expected, while the household items would also be given to them as part of rehabilitation measures.
Also responding to journalists, the council Chairman, Hon Ben Eke, said there were plans to resettle the farmers especially the women through a post flood scheme tagged Back to Farm, where seedlings would be provided for over 200 women farmers between December 2022 and February 2023 to enable them return to their farms.
The company provided the five affected LGAs, including Ahoada East, Ahoada West, Ogba/Egbema/Ndoni, Abua/Odual and Emuoha local governments areas with 15 truck-loads of food, toiletries and sanitary items as well as sleeping materials, comprising, 600 bags of rice, 600 mattresses, 600 pillows, 600 blankets, 600 mosquito nets, 15 cows, 720 cartons of noodles, 600 cartons of drinking water, 120 cartons of soap, 120 cartons of tomato paste, 120 cartons of sugar, powder milk and cocoa beverage.
The beneficiary communities include Ogbele, Omaraka, Otari, Obumeze, Oshiugbokor, Rumuekpe, Omerelu and Rumuji.
Niger Delta Exploration and Production, is the operator of Oil Mining Licence (OML)- 53 and OML- 54 in Ahoada and Abua/Odual,operational activities spread to neighbouring local governments and communities around the area.
By: Tonye Nria-Dappa
Breast Cancer And Lifestyle Modification
As over 2,000  benefit from breast cancer self examination training, health experts have said that breast cancer disease kills about  40 women daily  in Nigeria hence the need for women and men to be mindful of the factors that cause the dreaded ailment which is described as the disease of the genes. They outlined some factors that trigger changes on the genes to include: unhealthy lifestyle, exposure to some dangerous health chemicals and radiations, heredity as well as viruses. They also fingered breast cancer as  one of the commonest killer disease and leading in death in Nigeria, which often occur  in one out of every 10 women and in one out of every 100 men.  Some of the common symptoms of breast cancer were named to include a lump or lumps in the breast, bloody discharge from the nipple and changes in the shapes of the breasts, size, reddishness or texture around the nipple. The stage four breast cancer, also known as the advanced breast cancer or Metastatic breast cancer spreads beyond the breast and around the lymph nodes to other parts of the body; most times to the bones, lungs, brain or liver. In a bid to increase awareness campaign on breast Cancer, a leading medical consultancy firm in Nigeria and a Non-governmental organisation, Diamond Helix Medical Assistance Limited (DHMA), have taken their sensitisation and awareness campaign programme on cancer disease to over 2,000 staff at the Headquarters and state branch of the Niger Delta Development Commission (NDDC) in Rivers State.
Speaking during the health seminar training with the theme: ''Breast Cancer And Lifestyle Modification for prevention Of Breast Cancer,' held at both the NDDC Headquarters and State branch in Rivers State, October 31, 2022, Head of Department, Obstetrics and Gynaecology, University of Port Harcourt Teaching Hospital (UPTH), Professor Rosemary … says about 40 women die daily of breast cancer in Nigeria as a result there is need for increase in awareness on what must be done to stop further spread of this deadly disease in the country. "Because of increase in awareness, the number of cancer victims are also decreasing. Victims are now ready to come out of their closets to show how bad it is on them so that they can get treated and well again. All must be intentional about doing something to prevent it from further spread as well reducing the number of people that die as a result of it.
Professor Ogu described cancer as a disease in which abnormal cells divide uncontrollably and destroy body tissue, adding that this disease occurs when an abnormal cells starts growing in genes, explaining the different stages of breast cancer to be from stage 0 to stage 4. Pointing out some of the causes of breast cancer in both men and women to include unhealthy eating habit, such as consuming more of junk foods instead of eating more organic foodsfoods. Overweight is  a strong risk factor,  therefore there is the  need to maintainin  good weight by doing some 150 minutes physical exercise breaking it into 30 minutes daily. She explained that exercise lowers estrogen as well as other hormones levels, reduce inflammation, enhances the immune system, reduces stress and insulin levels which in turn ultimately reduces cancer risk, among others. Meanwhile, different types of cancer exist today,  the most common types of cancer were named as follows: Breast cancer; described  as  such   formed  in the cells of the breasts; Prostate cancer, a cancer in a man's prostate, a small walnut-sized gland that produces seminal fluid; Basal cell cancer, a type of skin cancer that begins in the basal cells; Melanoma, the most serious type of skin cancer.
The Professor explained more types of cancer disease to include Colon cancer, a cancer of the colon or rectum, located at the digestive tract's lower end; Lung cancer, a cancer that begins in the lungs and most often occurs in people who smoke, Leukemia, a cancer of blood-forming tissues, hindering the body's ability to fight infection; Lymphoma, a cancer of the lymphatic system, among others. Prof Ogu, pointed out some of the preventive methods for cancer disease as follows: Self Breast Examination; practice a good eating habit by avoiding fatty foods; do 30 minutes exercise like just jumping in your room everyday; avoid smoking; avoid taking much alcohol; marry early to have your children before age 28, breastfeed your babies properly; maintain good emotional health by getting enough sleep daily. "The preventive methods are practice good diet, love high fiber diet. This is to say that one must eat the natural foods, do exercises everyday take 30 minutes every day to walk or jump to help reduce hormonal levels, stress as well as cancer causing agents in the body. "Reducing alcohol consumption and ensuring to have enough sleep,   reduced stress can prevent cancer in the body," Prof Ogu added.
She revealed that there are different stages in a good sleep,  of all these stages, the most important stage to ones' health is when the cell is actually repairing itselves. For her, the Doctors, Pharmacists, Individuals, Medical team, Family and friends, the government, the survivors must know their major roles to play to stop the spread of the deadly scourge. She charged participants on the need to do self breast examination daily, adding that they cannot prevent it, but they can detect it early through breast self examination, thereby leading to early treatment which is key to surviving it. She further charged government at all levels to create more breast centres as well as mastectomy boutiques, so that it would encourage victims to open up and willing to remove their breast, especially when that becomes the very best option as the victim life depends on it for survival. Also speaking Dr Ireju Ajie added that the same symptoms oberseved in women were almost likely to be the same in men, noting that breast sizes does not affect these symptoms. Dr Ajie charged participants to always observe daily Breast Examination as well as those already diagnosed positive to visit any nearby hospital for their routine Mammographic checks, stressing that these were the only way to fight the scourge. On her side, one of the participants, a victim of multiple lumps, confirmed that not all lumps were cancer.
She explained how she traveled abroad for test and was diagnosed of multiple lumps, amidst of fears, when the result came out, she was cancer free, she thus charged everyone to invest more on their health by going for regular check ups as well as doing the necessary tests needed to keep fit, saying that: "It is one who is alive that will eat, beautify the body to look good. "When I traveled out for medical test based on my health challenge, I was diagnosed of multiple lumps and asked to stay back beyond my earlier plans and less cash at hand, but I had no option, but to sell all my jewelries and called my people in Nigeria to assist with some cash to get my health back and today by God's special grace I am alive and healthy." It is worthy to note that Diamond Helix Medical Assistance (DHMA) Ltd is a leading medical consultancy firm in Nigeria, since 2008, DHMA has successfully built a reputation as the pioneer of medical assistance service in the country. Diamond Helix actively works to improve healthcare in the nation by providing Healthcare consulting, Hospital planning and design services, Wellness promotion, Continuing Medical Education and creating platforms for global healthcare deliberations.  They advised that if there arise any suspicion about breast cancer such individual should visit the Medical Women Association of Nigeria (MWAN) Mammogram Centre, located at Obio Cottage Hospital, Trans-Amadi in Port Harcourt.
By : Susan Serekara-Nwikhana