Amaechi Moves Forward: Renders Account
The Civic Centre along Moscow Road Port Harcourt was filled to the brim when Governor, Rt. Hon. Chibuike Amaechi came with his lovely wife, Judith Amaechi and other executive members of his executive council came to render account to the people of Rivers State on his stewardship for the past two years.
Falling back on his mission statement which stated thus and I quote "Our Mission is to serve our people with humility and render transparent and accountable services. We shall use our God given resources to improve the quality of life of the present and future generations and empower our people in a peaceful, just and harmonious society under God.
Declaring Governor Amaechi said that by God's divine providence he assumed office as Governor on October 26, 2009, during the wilderness period preceding the landmark judgement of the Supreme Court which was instrumental to his installation, vowed to God that everyday of his four years, he will be committed to the service of the people of Rivers State and to the best of his abilities strive to keep this vow.
He revealed, "I have never desired power for personal aggrandisement if any ambition, it was an opportunity to serve.
"The challenges of Governance are far more arduous than you ever imagine. Each day revealed new challenges and new obstacles and each has been taken as an opportunity to explore possibilities for improvement.
Rt. Hon. Amaechi said that the period under review has been eventful, giving it a good shot but much more remains to be done.
He said the following is a fair objective and balanced sector account of our stewardship in the past two years, comprising complete disclosure of the revenue profile of the state by the various Ministries Departments and Agencies.
His Excellency Governor Amaechi told the people of Rivers State that the Greater Port Harcourt City Project is now on stream. The vision is to transform the Greater Port Harcourt Area into a world class city, internationally recognised for excellence and the preferred destination for investors and tourism.
Pursuant to this a sum of N50,000,000,000.00 (Fifty billion naira) is provided for the Authority in this year's fiscal appropriation.
On the education sector in the state Rt. Hon. Amaechi contended that it has witnessed a tremendous infrastructural decay over time which declared a state of emergency in the sector currently we are building 250 Model Primary Schools across the state when completed will provide modern facilities and equipment for use by pupil and teachers in the state. Some of which include but not limited to classrooms, (14) libraries, Auditoriums, Toilets (16) staff common rooms, headmasters offices. The first phase of the 250 model primary school at advanced stages with each work plan pursued vigorously.
Model Secondary Schools in the same view is currently built for each local government area in the state which will provide facilities such as laboratory/workshop (2) Dormitory (6) Twin Bathroom (6) Town House (2) Sports Fields, Demonstration Farm and other modern facilities. Construction work has commenced in majority of the local government areas while process to commence in other local government are being explored.
On Health, the Governor explained that they have adopted a system of health care with provision of quality and standard health facility. Provision of efficient effective and affordable health services.
Availability of well qualified and motivated staff at all health facilities and provision of health services in vulnerable groups at government cost.
Embarked on the construction of 160 primary health centres replacing the dilapidated ones. So far six (6) has been commissioned and are in use. They are Churchill Road Port Harcourt, Okochiri Okrika, Okija in Diobu, Elekahia Port Harcourt, Ndoni and Rumueme. Forty-five (45) others are in various stages of completion.
Finally, Governor Amaechi told the people of Rivers State that two hundred doctors (200) had been employed.
On transportation, this is built on a holistic reform. Embarking on the following. Building of the 1st phase of bus stops consisting 59 bus stops along Lagos bus stop, Aba Road on the Aba Road corridors.
The next phase Ikwerre Road corridor, Education bus stop, Rumuokoro is being projected for 2009.
Development of site for construction of four (4) mega ultra modern terminals. Development of 50 taxis as internal mass transit within Port Harcourt metropolis etc. "My Administration has strived relentlessly to ensure that Rivers State meets its energy need through a sustainable framework that will support the state's economic growth.
Aligning the Port Harcourt new transport scheme with the Greater Port Harcourt, master plan, construction of monorail in Port Harcourt purchase of (5) fire water taxis from Portugal, two are already delivered.
On Ministry of Works, the Governor of Rivers State said that he has mandated the ministry to build sustainable roads and infrastructure that will drive economic growth with the aim to leverage on world class infrastructure to attract investors.
In the past twenty four years we have made strides in this sector, 15 metres of Road under construction, 10 major bridges under construction, 20 minor bridges under construction, 4 flyover interchange under construction, 5 land reclamation shore protection (Andoni), Opobo, Buguma, Abalama, Olombie, Owukiri Island.
A minimum of N100 billion is invested annually on roads, and bridge infrastructures. 2 major markets and shopping malls are under construction. 70% of roads in rural areas, 30% on Greater Port Harcourt metropolis currently on ground. A total of 25 roads duly completed.
Finally, Governor Amaechi told the good people of Rivers State that they are aware of the enormous socio-economic problems and will continue by God's grace to do his utmost best to improve the quality of lives of the people of Rivers State.
Restating his commitment to service to the good people of Rivers State. He said without the tremendous Goodwill and Support you have shown us, these past two years and not much would have been accomplished.
We do not and will never take your support for granted. Our legitimacy is founded on your continued support as we were one year ago we remain committed to your well being and welfare and we remain focused on serving you better." Amaechi said.
Rt. Hon. Chibuike Rotimi Amaechi's brief history. Those days as a child we used to make ends meet in his family. Humility has been his watchword. He fetches water, hawks, and plays his street ball with his friends. But whatever God has destined to be must surely come to be.
Rt. Hon. Chibuike Rotimi Amaechi was born on May 27 1965 in a small village setting known as Umordu-Ubima in Ikwerre Ethnic nation of the present Ikwerre Local Government Area of Rivers State Nigeria.
Endowed with high intelligence and a fertile mind. He started his primary education at St. Theresa Primary School Ubima where he obtained his First School Leaving Certificate in 1976. He later attended the Government Secondary School Okolobiri now in Bayelsa State where he sat and passed his West African School Certificate Examination in 1982. Thereafter he gained admission into the University of Port Harcourt and graduated in 1987 with a Bachelor of Arts Degree in English. He later obtained a master degree in English from the same university.
While in the university he exhibited great leadership potentials and was elected President of the National Union of Rivers State Students (NURSS), the platform he peaceable organised and co-ordinate the affairs of Rivers State Students. This is possibly his exposure to practical politics. He worked briefly as PRO to Pamo Clinics in Port Harcourt. Became Speaker of Rivers House of Assembly for eight years and was declared as the best speaker in Nigeria.
Julie Jumbo
What to Look for in a Marijuana Smoking Device
Though there are various ways to enjoy marijuana, smoking remains the most popular way to get high. This method also happens to have the most devices available.
When buying a smoking device, you must get a high-quality product. Not all apparatuses are made the same way and provide the same doses. Various studies prove that the device you use is equally important as the weed itself and can make the overall smoking experience better.
Buying a suitable smoking device is all about understanding your preferences and tailoring accessories accordingly.
The Main Types of Pipes
There are many ways for cannabis users to smoke marijuana. A hand pipe, also known as a dry pipe or bowl, is a convenient and easy method to smoke weed, especially for people who occasionally smoke. Featuring a small chamber, a hand pipe delivers harsher hits than other types of marijuana pipes.
On the other hand, a water pipe or a bong is ideal for experienced users. From small designs to large, water pipes, unlike hand pipes, contain specific chambers to hold water and deliver a smoother experience.
The one-hitter is a tiny and discrete pipe designed for a single inhalation or, as the name suggests, one hit. One-hitters are popular because they help users control the dosage of their marijuana intake.
And then, there are portable vape or vape pens that offer a smoke-free experience. Vape pens are a discreet way of getting your fix when on the go.
How To Choose A Good Dry Pipe
Whether you are looking to get high at home or while hanging out with friends, pipes make consuming cannabis much easier and quicker than packing blunts or rolling joints. As they are practical, every marijuana user must have at least one good dry pipe. With so many different pipes available at various price ranges, you should consider multiple factors to find a suitable dry pipe.
The first thing you should consider is size. The size directly translates to portability. For those who travel a lot, a pipe smaller in size might be ideal. In contrast, if you plan to use the dry pipe as a tabletop centerpiece, you might want something bigger.
Additionally, smoking pipes are made from different materials. While commonly made from glass, marijuana smoking pipes can also be made from wood, metal, or ceramic. Typically, glass pipes are the best option for marijuana smokers as you will be treated to smooth and flavorful smoke regardless of the strain.
You should also take into consideration your budget when looking to buy a marijuana dry pipe. Remember that a low price doesn't always translate to a low-quality product. You will still be able to land some great deals if you look around.
How To Choose A Good Water Pipe
To find a good water pipe, size is the first thing you should consider. If you are passing the bong with your friends, a larger bong might be a better option. On the other hand, if it is for more personal use, choose a smaller one.
Secondly, think about the material. Cannabis users often prefer glass as it provides the cleanest and the purest-tasting hits. However, it can easily break and is usually pricey. So, for a rowdier situation, an acrylic water pipe might be a better option.
How To Choose A Good One Hitter
If you are looking to buy a one-hitter, the pipe's material is the primary concern as one-hitters are all generally the same size. The material can affect flavor and durability, so you must choose wisely. The common materials used to make one-hitters are glass, acrylic, and metal.
One-hitters made from glass offer an unparalleled flavor, while those made from acrylic and metal can make the hit less flavorful.
Furthermore, one-hitters highlight various features like a removable bowl, self-ashing mechanism, design that allows for easier cleaning, and heat resistance.
How To Choose A Good Portable Vape
Unlike desktop vapes, portable vapes are easy to carry around and use discreetly. What's more, they tend to be less expensive and versatile, making them an ideal option for beginners. When looking for a portable vape pen, you should consider if they are made for vaping dry herb or wax.
The next thing you should consider is battery life. This factor is vital if you are on the go without access to a device charger. A few vaporizers come with external batteries, while others have long battery lives.
Furthermore, you should consider things like temperature control and the type of heating—conduction or convection. Also, see if the vape pen is easy to clean or not. Lastly, look at the price. As you will be holding onto your vaporizer for a while, it is a good idea to invest in a quality product from a certified seller like WeedSmart, a Canadian marijuana dispensary.
Explore the Arena of Marijuana Smoking Devices
With a wide array of marijuana smoking devices available on the market, it might be daunting to decide the one that's best for you. The right choice for you will depend on your needs and what you think might be the best for you. If you don't like a specific device's feel, you can always look for other options.
Once upon a time, there lived a poor widow and her son, Jack. One day, Jack's mother told him to sell their only cow. Jack went to the market and on the way, he met a man who wanted to buy his cow. Jack asked, "What will you give me in return for my cow?" The man answered, "I will give you five magic beans!" Jack took the magic beans and gave the man the cow. But when he reached home,  Jack's mother was very angry. She said, "You fool! He took away your cow and gave you some beans!" She threw the beans out of the window. Jack was very sad and went to sleep without dinner.
The next day, when Jack woke up in the morning and looked out of the window, he saw that a huge beanstalk had grown from his magic beans! He climbed up the beanstalk and reached a kingdom in the sky. There lived a giant and his wife. Jack went inside the house and found the giant's wife in the kitchen. Jack said, "Could you please give me something to eat? I am so hungry!" The kind wife gave him bread and some milk.
While he was eating, the giant came home. The giant was very big and looked very fearsome. Jack was terrified and went and hid inside. The giant cried, "Fee-fi-fo-fum, I smell the blood of an Englishman. Be he alive, or be he dead, I'll grind his bones to make my bread!" The wife said, "There is no boy in here!" So, the giant ate his food and then, went to his room. He took out his sacks of gold coins, counted them and kept them aside. Then,  he went to sleep. In the night, Jack crept out of his hiding place, took one sack of gold coins and climbed down the beanstalk. At home, he gave the coins to his mother. His mother was very happy and they lived well for sometime.
He climbed the beanstalk and went to the giant's house again. Once again, Jack asked the giant's wife for food, but while he was eating, the giant returned. Jack leapt up in fright and went and hid under the bed. The giant cried, "Fee-fifo-fum, I smell the blood of an Englishman. Be he alive, or be he dead, I'll grind his bones to make my bread!" The wife said, "There is no boy in here!" The giant ate his food and went to his room. There, he took out a hen. He shouted, "Lay!" and the hen laid a golden egg. When the giant fell asleep, Jack took the hen and climbed down the beanstalk. Jack's mother was very happy with him.
After some days, Jack once again climbed the beanstalk and went to the giant's castle. For the third time, Jack met the giant's wife and asked for some food. Once again, the giant's wife gave him bread and milk. But while Jack was eating, the giant came home. "Fee-fi-fo-fum, I smell the blood of an Englishman. Be he alive, or be he dead, I'll grind his bones to make my bread!" cried the giant. "Don't be silly! There is no boy in here!" said his wife.
The giant had a magical harp that could play beautiful songs. While the giant slept, Jack took the harp and was about to leave. Suddenly, the magic harp cried, "Help master! A boy is stealing me!" The giant woke up and saw Jack with the harp. Furious, he ran after Jack. But Jack was too fast for him. He ran down the beanstalk and reached home. The giant followed him down. Jack quickly ran inside his house and fetched an axe. He began to chop the beanstalk. The giant fell and died.
Jack and his mother were now very rich and they lived happily ever after.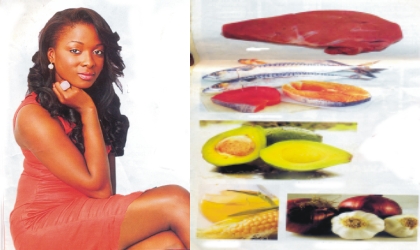 With the harmattan season drawing closer, there is the need for ladies particularly to become sensitive to their skins in terms of applications in the most natural ways in order to overcome the season and remain radiant and attractive. Here are some tips for you.
Symptoms: The skin is evenly dry and there can be a tendency to chafing (more so during this period).
There is both water and oil loss in the skin. This may seem to be a matter of little concern but it can be a sign of more serious problems like essential fatty acide deficiency that can result in cardiovascular disease such as stroke, heart attack etc.
Dry Skin can also be a sign of an underactive thyrond.
If you are supplementing with Vitamin A in amounts over 100,000 units daily, dry skin may be the first warning of overdose. It is dangerous to take too much of vitamin A.
Natural Remedies:
Diet and Nutrients –
*Eat a nutritious diet of vegetables, fruit, grains, seeds, legumes and nuts. High sulfur foods like garlic, onions and asparagus help keep the skin smooth and youthful.
*Avoid animal fats, hydrogenated oils and fried foods
*The situation to this problem is not superficial creams which contain Vaseline or aluminum but obtaining enough unsaturated fatty acids in the diet. These would be uncooked vegetable oils, such as wheat germ oil, corn oil, seseme seed oil and soy oil. Take additional Vitamin E Supplementation of about 800-1,200 units a day.
*If you are not taking supplemental Vitamin A, begin taking a moderate amount (not over 25,000 units a day for a few days. Carrot juice (or 15 mg beta carotene daily) will also help.
*Take a B-Complex Supplement, Vitamin C (1,000mg 2-3 times) daily and zinc (15mg daily).
Applications:
*'Misting' is helpful. Spray your face with a fine mist of water atleast three times a day. To increase the effect, add some aloe Vera to the mist water.
If you do, you must not spray into the eyes.
*For your shower, rinse off every day with lukewarm water using as little soap as possible. Do not use hot water.
*For itchy skin, add vinegar to the bath water and take two tablespoon of vegetable oil daily. Helpful herbs include yarrow, violet and margoram. Dry-brush message your skin, to tone it up.
*Add two to three drops of lavender essential oil to warm water and apply a warm compress to your face.
This will hydrate the skin and stimulate the water and oil glands.
*Ripe, mashed avoicado alone or mixed with ripe banana is an excellent moistening mask. It will deep over the throat and face (except the eye area). Wait 10-15 minutes, then rinse off.
*Drink an adequate amount of water and keep the house or room cooler.