Ford Posts Profit After Debt Reduction Promises To Break Even 2011
Ford Motor posted a $2.3 billion quarterly net profit, mainly due to gains from a $10 billion debt-reduction plan, and said it was on track to at least break even in 2011, sending its shares up 10 percent.
Ford posted an operating loss for the quarter that was better than analysts expected, excluding a net gain of $2.8 billion from one-time items that included the debt-reduction actions, despite reeling global markets that helped push US rivals General Motors and Chrysler into bankruptcy.
Ford expects the US economy to start to come back in the third quarter, with further improvement in the fourth quarter and into 2010, but it is "still a very fragile economy," Chief Executive Alan Mulally said in a conference call.
An overall and North American profit in 2011 would be the first such mark for the US automaker since 2004.
Ford posted a net profit of 69 cents per share for the second quarter, versus a net loss of $2.7 billion, or $3.89 per share, a year earlier.
The loss from continuing operations and excluding one-time items was $638 million, or 21 cents per share. Analysts on average had expected a loss of 50 cents per share on that basis, according to Reuters Estimates.
Revenue fell to $27.2 billion in the quarter, from $38.2 billion a year earlier. Analysts had expected $23.39 billion.
Ford said its auto business burned through $1 billion in cash in the second quarter, an easing from the first quarter's $3.7 billion outflow. The automaker said it expects cash flow to improve the rest of the year.
"The cash burn is really being wiped off quickly," said Erich Merkle, president of auto consulting firm Autoconomy.com. "They are well ahead of schedule. I think Ford returning to profitability will be sooner than most expect."
Ford cut its automotive debt by about $10 billion by completing a series of transactions in early April, and raised $1.6 billion through a public stock offering in May, using proceeds to support funding for a US union retiree healthcare trust. It expects to pursue more balance sheet improvements.
Meanwhile, Ford executives have said the company has sufficient liquidity to complete a turnaround plan, leaving investors focused on cash preservation and debt reduction.
The automotive business ended June with $21.0 billion in cash, compared with $21.3 billion at the end of March. Its debt burden stood at $26.1 billion at the end of June, down from $32.1 billion at the end of March.
The company borrowed $23 billion in 2006, secured by most of its remaining assets, including the Blue Oval logo, to support a multilayered restructuring and now carries a far heavier debt burden than post-bankruptcy GM and Chrysler.
Ford posted losses totaling $30 billion from 2006 through 2008 – including a company record of $14.7 billion last year – and reported a $1.43 billion loss in the first quarter.
The Dearborn, Michigan-based automaker has been navigating a US downturn now in its fourth year with industry sales reaching their worst levels in three decades. It has not taken emergency US government loans.
Ford's US sales fell about 33 percent in the first half of 2009, the best result among the top six-selling automakers.
Overall, Ford expects US auto industry sales of 10.5 million to 11 million vehicles in 2009, including medium and heavy duty trucks. Ford's planning assumptions for 2010 call for US industry sales of 12.5 million vehicles next year.
The automaker is restructuring to operate profitably in a smaller US auto market and to meet an expected increase in consumer preferences for cars over larger SUVs and pickup trucks that drove profits a decade ago.
About 1,000 United Auto Workers-represented hourly employees accepted buyouts or early retirements in its latest offer, leaving Ford with about 47,000 hourly workers, a level it is comfortable with, the automaker said.
In recent weeks, Ford also reached an agreement with the UAW to adjust its funding options for the retiree healthcare trust, known as a Voluntary Employee Beneficiary Association.
The agreement gives Ford the option to make half of its required contributions in stock at the market rate for payments due in 2009, 2010 and 2011, rather than a fixed stock price, making it potentially less dilutive with the shares rising.
The automaker remains in talks with the UAW on other issues to ensure that Ford has a labor cost parity following the concessions the union granted to GM and Chrysler.
The automaker has sold several businesses to raise cash and focus its operations including its Aston Martin, Jaguar and Land Rover brands from its former premier auto group. Ford is also entertaining offers for its Volvo brand.
Booth said Ford was talking to a number of interested parties for Volvo, the Swedish luxury car brand that is the last member left from its premier auto group.
Ford Credit, the automaker's captive financing arm, reported net income of $413 million in the quarter, up from a $1.4 billion net loss a year earlier.
Ford shares were up 65 cents or 10.2 percent at $7.03 on Thursday on the New York Stock Exchange, a 14-month high.
NSE Begins Week On Negative Note, Loses N19.49bn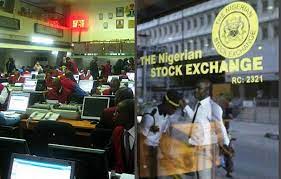 The Nigerian stock market began the week on a negative note as banking and consumer goods stocks, among others, triggered a N19.49bn loss.
At the end of trading on the floor of the Nigerian  Exchange Limited , the NGX All-Share Index dropped by 0.09 per cent to end at 43,270.94 basis points, while the market capitalisation declined to N22.58tn.
Market activities were mixed as the total volume of shares traded decreased by 30.19 per cent while the value traded rose by 34.05 per cent.
A total of 213.13 million shares valued at N2.36bn were exchanged in 4,105 deals, compared to 305.32 million shares worth N3.58bn in 4,450 deals last Friday.
FCMB Group Plc topped the traded stocks in terms of volume, accounting for 27.43 per cent of the total volume of trades while Airtel Africa Plc emerged as the most traded stock by value, representing 28.81 per cent of the total value of trades on the exchange.
14 firms gained compared to 21 losers.
AIICO Insurance Plc was the biggest gainer for the day, topping the gainers' chart with a price appreciation of 8.57 per cent to N0.76 per share.
It was followed by LivingTrust Mortgage Bank Plc with a rise of 7.95 per cent, ending the day at N0.95 per share.
Analysing by sectors, three of the five major indices closed lower, led by NGX Oil & Gas (-0.56 per cent), NGX Consumer Goods (-0.23 per cent) and NGX Banking (0.18 per cent).
But the insurance (0.82 per cent) and industrial goods (0.002 per cent) indices gained at the end of trading.
… Introduces TIES To Boost  Business Loan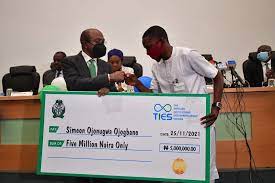 The Central Bank of Nigeria (CBN) has introduced the Tertiary Institutions Entrepreneurship Scheme (TIES), which provides undergraduates and graduates with a platform to access loans.
The TIES' underlying aim is to provide access to capital for Nigerian undergraduates and graduates with innovative entrepreneurial and technological ideas from polytechnics and universities.
TIES intends to shift undergraduates and graduates away from white-collar job pursuits and towards a culture of entrepreneurship development for economic development and job creation.
In a national biennial entrepreneurship competition, the Developmental Component would be distributed in the form of awards to Nigerian polytechnics and universities.
The competition aims to increase undergraduates' awareness and visibility of high-impact entrepreneurial/technological concepts, foster entrepreneurial talent hunts in Nigerian polytechnics and universities, and encourage commercially viable and transformative technologies.
Interested Nigerian polytechnics and universities shall apply to participate in the national biennial entrepreneurship competition on a dedicated online portal.
Outlining brief details of the project, potential impact and evidence of originality of project, CBN said it is an innovation for students entrepreneurs.
CITN Applauds FG, Tax Authorities On Fiscal Policy Decisions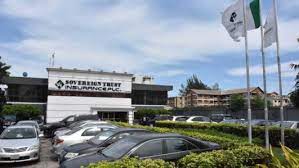 The Chartered Institute of Taxation of Nigeria (CITN) has lauded the Federal Government and tax authorities on the giant strides made on fiscal policy decisions and tax administration measures initiated this year in the area of Finance Act 2021 and the introduction of TaxPromax solution.
President of the institute, Adesina Adedayo, who gave the commendation at the institute's yearly award ceremony at the weekend in Lagos, assured the government and tax authorities of aligning with the measures and promised to provide professional thoughts and insights on ways through which they could achieve an efficient and effective Nigerian tax system.
Adedayo emphasised the need to address the database, adding that without knowing who the tax-payers are, there is no way they can take money from unknown tax-payers.
Database is the aspect we have been emphasising on as an institute and in doing this, there are so many of pockets of data we have. All the data must be harmonised to have a simple unique tax-payers identification number," he said.