Focus On Nigeria's Literary Arts Tradition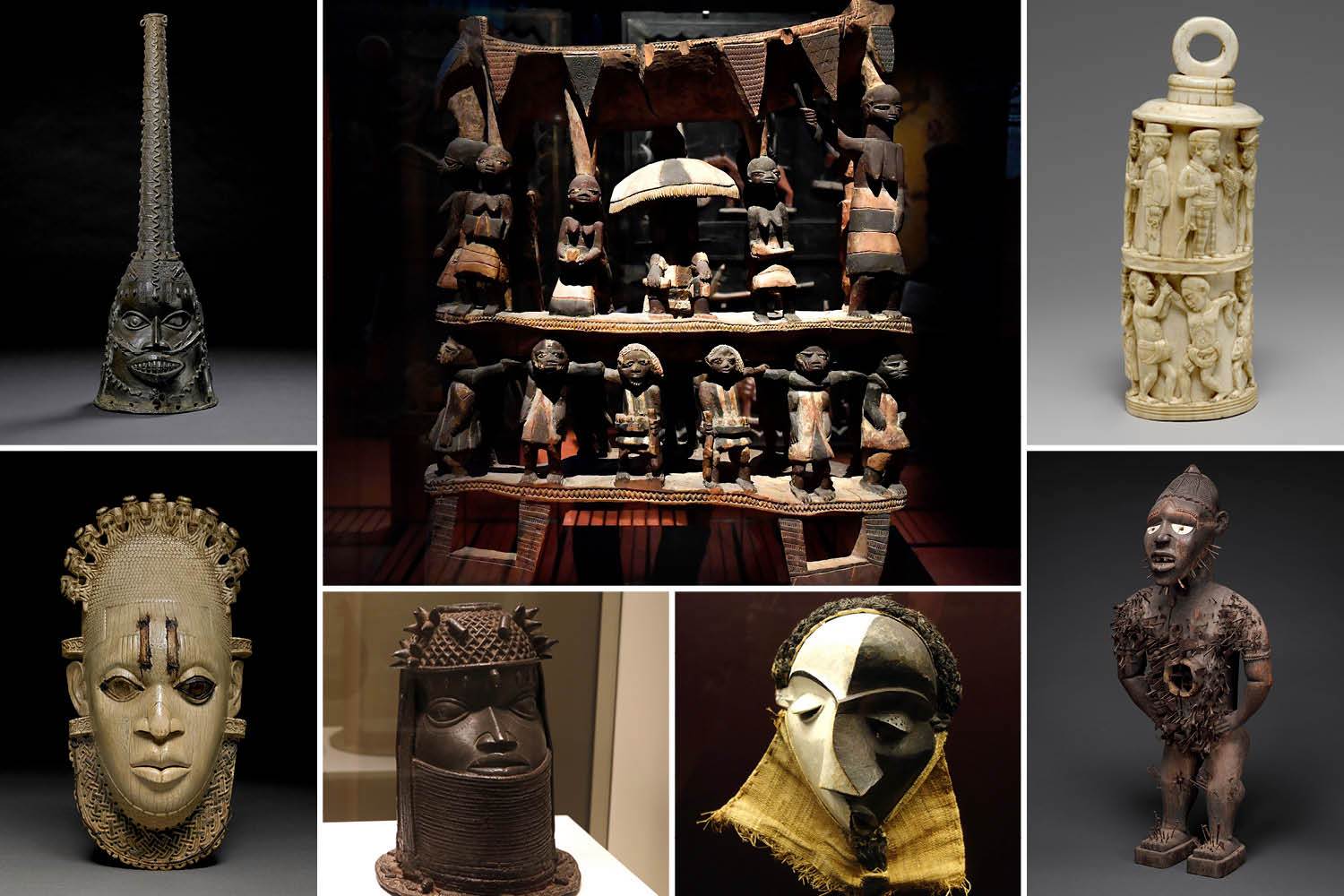 Nigeria's Art and Literary traditions go back to thousands of years. And while some of it are tied to religious purposes, there are many objects that are used for every purposes. Different tribes in Nigeria excelled at different arts, although there are many traditions that span the entire region.
Archeologists have found evidence of pottery dating back to 100BC and Terracotta waves from about 800AD. Many of these pots have complicated carvings on them in many cultures, the potters were women, the terracotta was also used to make sculptures, but these statutes and figurines were also made from other materials such as bronze, brass, ceramic and copper.
Masks were also an important part of Nigerian culture, most of these masks were made from wood and printed in a variety of styles.
The Yoruba masks are probably the most well known( or at least the most well preserved).
Nigerians are also known for their brightly coloured cloths. The dyes are made from a number of natural plants in order to set the colour they are looking for. There are differences in the dying and weaving techniques among different tribes, of course there are other smaller carvings and handicrafts that are also created by Nigerian artists.
Word carvings and handicrafts that are also created by Nigerian artists such as wood carvings, Ivory carvings and woven baskets are also found commonly in the homes.
There are many Nigerian artistes who are quite known for their works in a variety of mediums, a few of the more prominent ones today include: Victoria Udondian (painter, fashion designer), Emeka Okereke (painter, photographer), Adamu Waziri (animator for Bino and Fino), Kari Ohiri (photographer), Wura Natasha Ogunji (performance artiste), Lucky Azubuike (photography, performing artiste), Maria Kure (painter), Adaka Ntah (performance artiste), OtobongNkanga (photographer, painter, performance artiste) and Nnanna Okorie (sculptor).
Literature in Nigeria is mainly written English, but there are many writers who write in number of other regional languages like Hausa, Urhoghbo, 1960 and Yoruba.
Scholars have divided Nigerian literature into four periods (from about 10th – 19th century) followed by the Sokoto period (19th – 20th century) colonial period (Early part of the 20th century) and post independence period (later part of 20th century date).
There were many writers who emerged from the earliest period, who laid the ground work for writers for centuries to come.
Some of the most important writers to emerge from the period include Ibn Furtu (late 1500s), Mohammed Ibm Masani (1600s) and SheukeJubric Ibn Umar (1700s).
Today, there have been many 20th and 21th centuries writers, who have had tremendous impact on not only Nigerian and Anglophone literature in and out of itself but on international levels as well.
Probably one the most well known authors from Nigeria is Chinua Achebe, probably one of the most well known writers from Nigeria. His famous novels include Things Fall Apart, No Longer At Ease, Arrow of God, Chike and the River, among others. Chinua Achebe also wrote several other stories and poem including: Anthills of the Savannah, the sacrificial Egg and other stories, A man of the People, Girls at War, Beware Soul Brothers, Morning Yet On Creation Day, The Trouble with Nigeria, The Flute, The Dream as well as the classical novel, There Was A Country, a personal history of Biafra amongst several other works of literature.
Achebe is sometimes referred to as the father of modern African literature. In 2007, he was awarded The Main Booker Prize for his lifetime achievements and influence to African literature.
Another Nigerian author worth mentioning is Prof Wole Soyinka. He has written many plays and several memoires, poetry collections, essays and a couple of novels. Wole Soyinka was recognised for his contribution to literature in 1986 as he accepted The Noble Prize for Literature. This made him the first African to be awarded the prize.
By: Jacob Obinna
Firm Partners Parents Association On Education Plan
Leadway Assurance has partnered with the Association of Parents of Private School Students (APPSS) to launch an education insurance policy plan tagged the 'Group Education Protection Plan (GEPP)'.
The bespoke education plan, which was launched at the Children's Day event hosted at Eliud International School in Port Harcourt on Thursday, May 27, 2021, is designed to help parents protect their children's future from possible socio-economic disruption in schooling due to unplanned or unforeseen events, such as the death of a parent or guardian, life threatening critical illness, total and permanent disability resulting from personal accidents.
With this partnership, the parents are guaranteed the fulfilment of bequeathing their children quality and life-defining education, no matter what life throws at them.
This unique alliance mandates Leadway Assurance to assume the payment of the children's fees for the agreed remaining school terms from the point the sponsoring parent or guardian dies or contracts a critical illness or disability.
Speaking on the initiative, Head of Life Retail, Leadway Assurance, Bolorunduro Saliu, said, "This policy reflects the organisation's proactive steps towards mitigating the risk parents face of failing to achieve their dream of bequeathing quality education to their children due to circumstances that are beyond their control, especially death or permanent disability.
"We are pleased to work with a forward-looking association that is keen to proactively take smart financial decisions for their children's assured future.
Our partnership with APPSS provides every parent under the association the assurance that, should the most unnerving life situation occur, there is guaranteed peace of mind regarding the completion of your child's education", he added.
He further stated, "The intention of this policy is to have a solution that protects the parents which in turn protects the education of their children in case of any eventuality. This product is designed to provide an actionable and affordable solution to ensuring that our children, being the future of the society, have proactive measures put in place to ensure that their journey to greatness was not halted abruptly."
Also, commenting on the partnership, National President, Association of Parents of Private School Students (APPSS), Dr Ovy Chukwuma, said, "Leadway Assurance has magnanimously created this programme at a very affordable premium and high sum, assured to cater for the payment of fees for children in private schools nationwide from Nursery to Secondary Levels.
The programme is designed to be driven by our Children Education Promotion and Protection Ambassadors (CEPPA), a project to provide parents, schools, and society at large an opportunity to be involved in the process of quality children education delivery in the country", he added.
The GEPP partnership was officially inaugurated on Thursday, May 27, 2021, in Port Harcourt, Nigeria, commemorating this year's Children's Day.
Leadway Assurance is one of Nigeria's foremost insurance service companies with a reputation for service efficiency and customer reliability.
The organisation is committed to providing innovative ways to equip every Nigerian with the tools needed to mitigate risks whilst adopting insurance as a top choice for wealth creation.
'Your Reaction Matters More Than What Happens To You'
Once  a time, a daughter complained to her father that her life was miserable and that she didn't know how she was going to make it. She was tired of fighting and struggling all the time. It seemed just as one problem was solved, another one soon followed.
Her father, a  reknown chef, took her to the kitchen. He filled three pots with water and placed each on a high fire. Once the three pots began to boil, he placed potatoes in one pot, eggs in the second pot, and ground coffee beans in the third pot.
He then let them sit and boil, without saying a word to his daughter. The daughter, moaned and impatiently waited, wondering what he was doing.
After twenty minutes he turned off the burners. He took the potatoes out of the pot and placed them in a bowl. He pulled the boiled eggs out and placed them in a bowl.
He then ladled the coffee out and placed it in a cup. Turning to her he asked. 'Daughter, what do you see?'
'Potatoes, eggs, and coffee,' she hastily replied.
'Look closer,' he said, 'and touch the potatoes.' She did and noted that they were soft. He then asked her to take an egg and break it. After pulling off the shell, she observed the hard-boiled egg. Finally, he asked her to sip the coffee. Its rich aroma brought a smile to her face.
'Father, what does this mean?' she asked.
He then explained that the potatoes, the eggs and coffee beans had each faced the same adversity– the boiling water.
However, each one reacted differently.
The potato went in strong, hard, and unrelenting, but in boiling water, it became soft and weak.
The egg was fragile, with the thin outer shell protecting its liquid interior until it was put in the boiling water. Then the inside of the egg became hard.
However, the ground coffee beans were unique. After they were exposed to the boiling water, they changed the water and created something new.
'Which are you,' he asked his daughter. 'When adversity knocks on your door, how do you respond? Are you a potato, an egg, or a coffee bean?'
Why Youths Must Pay A Price For Success
Youths today desire to be like Daniel in the Bible, but they are not ready to pay the price in order to earn a reward.Daniel in the Bible was a successful, wise, intelligent, knowledgeable, consecrated, and a committed person.The Bible records that he was 10 times better than others.
Today, parents name  their children, Daniel because of the divine and excellent spirit in him and the way he was successful.We try to be like those who have excelled but we are not ready to do what they did before they  succeeded ,we are not ready to pay the price for success.
Life is wonderful but the world itself is "colourful".
Today, the acronym, "This World No Balance" turns to be a popular slogan of many youths today.They feel relaxing,weak,and tired. When they try and fail, they never try to continue or to keep moving forward,they are discouraged and taken off balance because of little trials, failure, etc.
They forget about the story of Ben Carson who was buried in failure and dullness in his school days,but now he is one of the best medical doctors we have,and they also forget about the story of Michael Faraday who failed 999 times just to bring about the existence of electricity in the world,but he was not shaken, discouraged or stopped trying.
His aspiration, inspiration, dreams and zeal never dried up or died in him,but he consistently persevered and strived to attain to achieve his purpose and goal.
Today,youths shouldn't just sit back and complain about their backgrounds,level of education, psychological capabilities and abilities,we should not forget that Daniel was a slave but yet was found victorious.Joseph was a slave before he became the Prime Minister in Egypt.We should just try our best,read our books,go for predominant skill acquisition,engage in meaningful things,we should strive, persevere,aspire,inspire and have the zeal for success and goal oriented .We should fight back with success when life offers us failure, fight back with victory when life offers us defeat,and we should fight back with positive when life offers us negative.Then I believe with all these at heart ,the popular slogan will change from "A Disbalance Life  To A Balance  Life".
 As youths,we should remember that no good thing comes easily,and no good thing comes without paying a price.If youths today can chant their perspectives and believe,then success will be sure and secured for youths and failure will be a thing of the past.Youths today can be successful like David, Job,Joseph, Michael Faraday,Ben Carson and other successful men and women in the world.
See You at throne Of Success!!
By: Wisdom God'swork
 God'swork is a student of  Community Secondary School,
Kalio-Ama, Okrika LGA, Rivers State.