Ekporo Resettlement:The Opinion Of A Fractured Party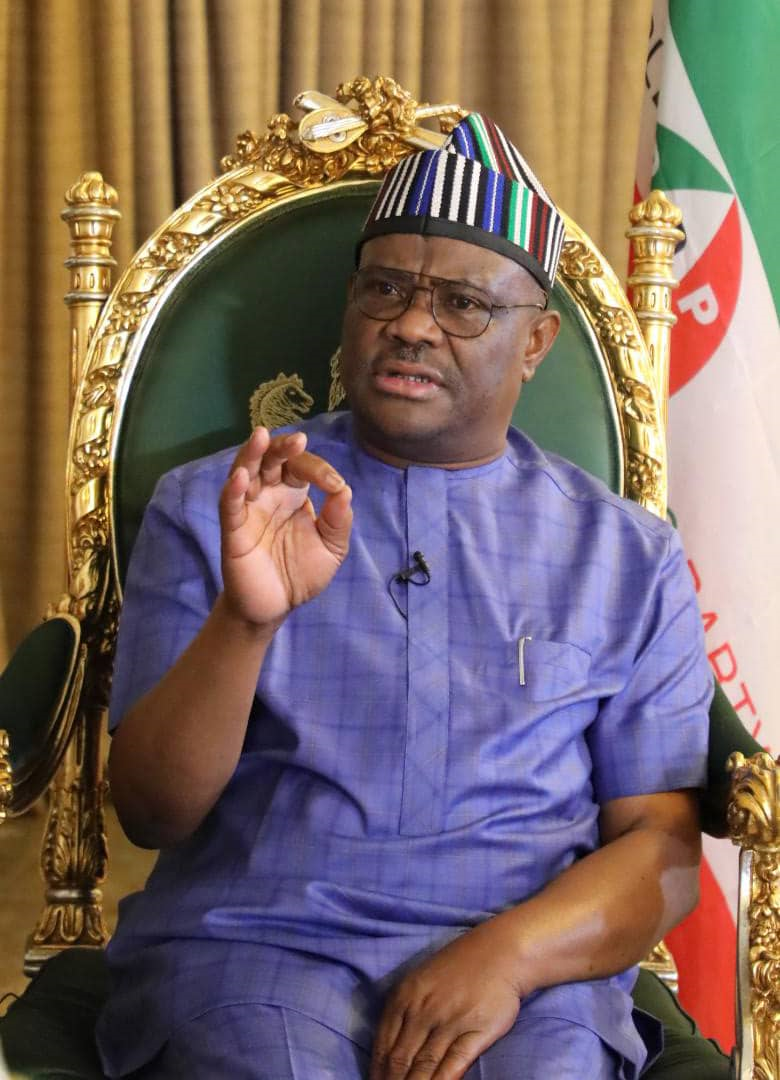 Our attention has been drawn to a recent press release titled: "Ekporo resettlement: Wike goofed – APC" signed by Chief Ogbonna Nwuke, the spokesman of a factional strand of the fractured and dismembered Rivers State All Progressives Congress, APC.
The press statement apparently refered to the highly commendable and well received release of N400million for the resettlement of the people of Ekporo, in Eleme Local Government Area, who had been sacked from their homestead for over seven years now.
Ordinarily, we wouldn't have glorified such purile, juvenile tripe with a response but we are indeed amazed that Chief Ogbonna Nwuke is still inebriated and wallowing in the psychological hangover of a brotherly donation by Rivers State to Sokoto state; a matter over which many discerning Rivers people have already had their say one way or the other and since moved on to other pressing issues.
Ogbonna Nwuke said in his press statement that: "We are shocked by the move made by the State Government to release the sum of N400 million for the resettlement of the Ekporo people…" and we are left wondering why he and his people are shocked. Is it that Ekporo people do not deserve to be ressettled with N400million or that the money is too much for them?
First of all, there's absolutely no basis for comparison between what the Rivers government did for the government of Sokoto state and what it has done for the people of Ekporo community. The communal conflict that displaced Ekporo people predates the Governor Nyesom Wike's administration and while the major clash that sacked the people from their homestead occured about eight years ago, Ekporo people are still bonafide Rivers people and have been living and operating in different parts of Rivers State.
Prominent sons of Ekporo like Chief Precious Ngelale, who served in the cabinet of President Olusegun Obasanjo from 1999-2003, first as Minister of State, Water Resources and later Minister of Commerce as well as his son, Ajuri Ngele, who is one of the more vociferous spokespersons of the APC and the President Buhari regime, are all very much aware of the long drawn conflict in the community because this is and has been a purely Rivers problem over the years.
We are quite astounded therefore by the sheer magnitude of narcissism in a logic that says "Our thinking is that the action of the Rivers State Government…. has justified our principled position that Rivers money is not good enough for the use of Rivers people' and then proceeds to equate a one-off brotherly donation of N500million to another state government, with the release of N400million to resettle one small community in a state where the government is building flyovers, roads, markets, hospitals, legacy infrastructure, paying workers salaries regularly and addressing all manner of expenditure issues, all worth several billions of naira every month.
It is indeed quite obvious, from this kind of thinking, grounded on the flippant cliche of "charity begins at home not abroad,' that Chief Ogbonna Nwuke has probably lost his marbles temporarily, after putting forth this kind of skewed and jaundiced reasoning.
We are quite surprised that a man like Ogbonna Nwuke, who has been in government before and even held the sensitive position of Information Commissioner, is well aware of the fact that government does not just wake up and pronounce a donation or the release of funds for a major initiative like the resettlement of an integral community whose indigenes have been dislocated and dispersed by a communal conflict.
Unfortunately, Ogbonna Nwuke is feigning pathetic ignorance that he is not privy to the kind of comprehensive discussion and the steadfast negotiations, commitments and agreements which has now culminated to this first step of resettling the Ekporo community and is ultimately structured to achieve the desired objective of the Governor Nyesom Wike administration which is entrenching a more sustainable and harmonious coexistence of the communities involved and ensuring a satisfactory, mutually agreeable closure to the conflict that has reoccured sporadically in that area for over 60 years.
Of course we will not join issues with the brazen lie that: only 16 stalls were burnt in the Sokoto market in which the Rivers State Government doled away N500 million", but suffice it to state categorical that the tour of the burnt makert which Governor Nyesom Wike, his host, Governor Aminu Tambuwal and many distinguished and responsible individuals and the collosal damage and destruction caused by the carnage, was beamed on national television networks for Nigerians to see.
We are rather disappointed by the fact that Chief Ogbonna Nwuke would opt to mortgage and diminish whatever modicum of the last vestiges of his hitherto respectable reputation on the altar of partisan propaganda by spewing such hogwash, in order to score cheap political points over a matter as weighty as a clear threat to the existence of a proud Rivers community. Pity.
As for the N400million released by the Rivers State Government for the Ekporo ressetlment programme, we are at a loss to understand how, according to Ogbonna Nwuke, Governor Wike could have "goofed" by releasing money to facilitate the speedy resettlement of Rivers people in Rivers State, who had been displaced from their traditional homestead for so many years.
For the records, Governor Nyesom Wike, on February 18, 2021, released the sum of N400 million for members of Ekporo community in Eleme Local Government to rebuild the Ekporo community and compensate families who were fatally affected by the inter-communal clashes eight years ago.
Governor Wike, who was represented by the Secretary to the State Government, Dr. Tammy Danagogo at a meeting in Port Harcourt, with the Elders and Stakeholders of Eleme community said the money is for the development and resettlement of the Ekporo people who have suffered as refugees in other communities as their own community was rendered uninhabitable.
While stressing that it is the desire of the Nyesom Ezenwo Wike administration to ensure that communities remain peaceful and enjoy the infrastructural prosperity of the state, Dr. Danagogo urged indigenes of the state to continue to toe the line of peace as conflict and war will only brew devastation and under-development, even as he pledged that the Rivers Government will continue to foster inter-communal coexistence and peace in order to build a safe and secure state for all.
"We expect you to work with Government on beneficial plans to utilize this funds in terms of primary infrastructure and resettlement of the people back into their community", he said.
Former Senator representing Rivers South-East, Senator Olaka Nwogu, who was present at the meeting thanked the Governor for his magnanimity, and for remembering to resettle the people of Ekporo back into their community.
"It is with profound gratitude we are here to thank His Excellency for what he has done. It is historic and important because it touches each and every one of us that it is in our time, we lost one of our most vibrant communities and also in our time that this community is being recovered. The entire people of Eleme are grateful", he said.
Others who attended the meeting included the member representing Eleme Constituency in the State House of Assembly, Hon. Igwe Aforji, the former Commissioner of Culture, Mr. Marcus Nle-Ejii, a Former Eleme LGA Chairman Chief Ejoor N. Ejoor; the Paramount Ruler of Ekporo, His Royal Highness, Emere Samuel Obe in addition to other stake holders.
Infact Ogbonna Nwuke's unhappiness and disenchantment with the commendable initiative to return and resettle the long suffering people of Ekporo, who have been living in exile for many years, is not only a glaring reflection of the wickedness and disdain which his faction of the APC has for Ekporo and by extension Eleme people, for obvious reasons, but is also a clear confirmation and indictment of the previous administration's complicity in instigating the provocations and tacitly fuelling the aggravations which accelerated and escalated the crisis.
Rivers people will recall that the Ekporo crisis which sacked the indigenes and scattered them all over Rivers State, occured in the middle of the second term of the last administration and because the leaders of the state at that time were more embroiled in their war of attrition and crude obsession to pull down President Goodluck Jonathan and attack everyone and anything associated with him, they only paid lip service to the conflict, with a dubious show of tokenism by setting up a laughable committee comprising the Divisional Police Officers in the area, with representatives from the troubled communities, for such a serious matter over which lives had been lost, properties destroyed and people displaced.
Of course nothing tangible came out or was even meant to come out of the Committee and the great exodus was intensified. Ekporo community was deserted during Amaechi's regime and the people who dispersed to other parts of the state are still in exile to date, until this laudable, courageous initiative and timely intervention by Governor Nyesom Wike to bring them back home.
This overwhelming feeling of joy and happiness at the imminent return of Ekporo people to their community, was succinctly captured during the meeting between the Rivers Government with Eleme stakeholders, by the King of Eleme, His Majesty King (Dr) Philip Osaro Obele, Oneh-eh Eleme XI, who affirmed that what Governor Wike has done is very historic because the people of Ekporo can be peacefully settle back into their homes after years of living as refugees.
"We lost one of our communities for over seven years and today we are bringing back that community. Members of the Ekporo community have been refugees in other areas despite the situation that there is no war now. What has happened today is very historic.
"I use this opportunity to express our profound gratitude to His Excellency Governor Nyesom Ezenwo Wike for this historic decision and also congratulate the Eleme political class that you have added another cap to your feathers as you did not allow one of your communities to be extinct for life".
Indeed, what the gesture to resettle Ekporo people has shown is that no matter what he does outside, the protection, welfare, unity and harmonious coexistence of all Rivers people and communities, no matter how small, remains a top priority for Governor Nyesom Wike, in addition of course to the delivery of democracy dividends and the inauguration of amazing and fantastic legacy infrastructure projects to Rivers people, with the next round of commissioning set to commence on March 1st, 2021.
Ibim is Special Assistant (Media) to the Commissioner for Information and Communications, Rivers State.
The Editor In A Time Of Crisis
This topic reminds me of two recent personal incidents. I was in the office on the morning of Tuesday, July 13 when a colleague rushed in with his phone.
He seemed quite animated, but there was also an edge of anxiety about him as he thrust his phone forward, stopping mid-speech, and asking me to speak with the caller. I didn't know who it was. So, I motioned to my colleague to end the call first and sit down.
He did, collected himself, and spoke. A federal minister, one of the very influential ones in this government, had just called him to complain about LEADERSHIP's lead story for that day, entitled, "Nigeria moves to tackle terrorists with robots".
He said the minister was livid that our story was an expose for Boko Haram and a great disservice to Nigeria's war on terror. Even if the editor did not know, how come Azu, the Editor-In-Chief, also failed spectacularly to see that that story was leaking a vital state secret to the enemy?
I called the minister back on my colleague's line. In vain did I try to explain that the story was actually a report from the Senate's plenary. It was open and live. We were obliged, like other newspapers, to cover and report it.
In any case, why should a story about the planned use of drones be deemed a national security breach, when the military routinely calls press conferences to announce its order of, payment for and arrival dates of US-manufactured Tucano jets, one of its prized assets in the war on Boko Haram?
But the minister is not alone, as I found from this second incident days ago. A statement on behalf of the government by the Senior Special Assistant to President Muhammadu Buhari and former President of the NGE, Malam Garba Shehu, on Monday, suggests very clearly that the government seriously thinks that the media has insecurity on its speed dial, stored with the shorthand: if it bleeds, it leads.
For example, the government said, if only the press would replace the ubiquitous phrase "rising insecurity" with "declining insecurity", we might indeed begin to witness not only a decline in insecurity, but also a totally different perception of the decade-and-a-half-long war on terror. And doubtless too, we might also begin to see, without the malicious veil of bias, the great strides that Buhari has made in degrading, if not exterminating, Boko Haram.
But wait a minute. Is the media as powerful as it is often acclaimed and its forces as potent and even malevolent as the Morning Journal at the hands of William Randolph Hearst in the 20th century? Are media managers, especially editors, supposed to descend the conflict arena as mediators, partisans, neutrals or agents of peace? Or as a combination of these?
Or was the US late-night show legend, Jon Stewart, right when he told the New York Times recently that when journalists pose as change agents, it's either they're taking themselves too seriously or perhaps those who believe them are taking them too seriously?
I'm not sure I have the answers. But I would be silly to think that you are here for the gospel of Peace Journalism, after which you would return to a world where the journalistic lamb and the societal lion would lie side by side. It would be naïve to believe – or even think – so when journalism itself, if not politics, is facing a conflict of obsolescence.
Buzz words, key words
It may be useful, at this stage, to explain the context in which I would be using three key words: conflict, mediator, and editor.
First, conflict. When interests clash and disagreement occurs, and such disagreementsescalate, we have conflict. Although the basis for conflict, whether at individual or societal level, might vary, most conflicts are as a result of differences in opinion and scarcity of resources.
Here, I am dealing with conflicts involving groups defined by political affiliation, ethnicity, nationality, religion and other social identities. Over the past three decades, we can say that these conflicts have reached staggering proportions.
There is hardly any region of the world where there is no violent conflict. And there is hardly any sub-region within Africa where there is no violence from conflicts.
If we look closely at groups that may operate to trigger or constrain violent struggles, politicians and faith leaders are high on the list. And we have seen how easily any or a combination of these groups can devolve into or stoke fanaticism, extremism and demagoguery.
Unfortunately, conflicts around the world have cost too many lives, brought too much suffering to too many ordinary people and have displaced even more, depriving them of their homes and livelihoods.
In 2003, Roy and Judy Eidelson'sDangerous Ideas identified five individual-level core beliefs and group-level worldviews which, according to their research, propel groups towards conflict. The five core beliefs are superiority, injustice, vulnerability, distrust and helplessness.
Time will not permit me to do an extensive review of this interesting theory or to deploy it as an analytic tool to deconstruct the Nigerian situation. Briefly, however, this theory explains why beliefs and worldviews, such as injustice and ethnocentrism – and not the media – are drivers of conflicts in Nigeria since independence till the present time.
Mediation, the second key word, is a voluntary process in which an impartial intermediary (the mediator) facilitates communication and promotes reconciliation between the parties which will allow them to reach a mutually acceptable agreement.
Mediation is often the next step if negotiation proves unsuccessful. In mediation, the parties in a conflict or their representatives have an opportunity to explain their views of the dispute. Mediation helps each side better understand the other's point of view.
And the third, editor? One of the most pragmatic definitions I have known is the one by my teacher, Professor Olatunji Dare. He described the editor as "the one who decides what gets published." If you find a better description, please send it my way.
How do these three factors interact and interrelate? What roles do their interactions play in the emergence of conflicts, and where exactly does the press stand in the mix?
Watchdog and warfare
The press is said to be the watchdog of society; it is supposed to sound the alarm when all is not well, to bark when the bad guys are roaming the block.
While it may be sensible to assume that the editor, guided by the basic professional requirements of accuracy, balance, fairness, objectivity and facts should exercise reasonable judgment, there is the temptation to over-estimate the role of the media in building consensus or mediating peace.
But which editor – which Nigerian editor – so desirous to cultivate peace and build consensus, can try any of the top non-journalist, media influencers for size? Yemi Alade, Tiwa Savage, and Funke Akindele have among them, 42.3 million followers on Instagram alone – and that was before the Tiwa sex tape!
The top 10 Nigerian editors don't come close, even if you throw in their media houses to make the number and add their entire social media footprint to the bargain! If current warfare is for hearts and minds and the cyberspace is the theatre, how can editors influence outcomes with such limited reach?
Outside textbooks or what officialdom may mislead you to believe, the job of "holding the line", to use the phrase by journalist and Nobel Peace Prize laureate, Maria Ressa, is messier and far more complicated in real life than it is at a lecture.
That said, the media is like a double-edged sword, and in some ways, too, like fire – it can help to cook a meal; it can also set the house alight. The media can act as both a catalyst in conflict prevention, while it could also potentially inflame it.
In the context of our discussion, conflict, mediation and the media may be seen as connected dots on different points of a long, wobbly line.
When conflicts break out, between state and non-state actors for example, as the case is between Boko Haram and the Federal Government, battles are not limited to the warfront. Each party engages in a struggle for mindshare with the editor and the press caught in the middle.
The parties in a conflict are often concerned with making sure that the majority of people are on "their" side. And at the centre of that battle is who controls the narrative in the media and public spaces. As a result, there is a lot of potential for misrepresenting facts in the struggle for control and distribution of information.
Conflicting parties understand that information is power and insight can impact public discourse. They know that perception can be influenced by access to the media, as the Taliban have amply demonstrated in their second coming in Afghanistan. Key actors in a conflict thus seek to manipulate public perception;depending on their relative position of power and/or control of resources, they seek to either minimise or exaggerate a conflict.
As Steven Livingston, professor of Media and Public and International Affairs at the George Washington University put it, weak actors in a conflict tend to use the media to "socialise" a conflict, while actors in a dominant position tend to use the media to "privatise" it.
By using the media to socialise the conflict, weak actors in a conflict solicit and enlist supporters in their cause against a greater power by highlighting the perception of being the "victim" and painting a picture of suffering. On the other hand, by using the media to privatise the conflict, dominant actors in a conflict limit attention to or awareness of the conflict.
The former uses the media coverage to draw attention while the latter uses the same media coverage to downplay the conflict.
From available analyses, international media err more on the side of actors who socialise conflict than those who privatise it. Conversely, local media more often pitches its camp more with the dominant actors than it does with the weak actors. It is therefore dangerous for a third party in a conflict to base its response on the substance and timing of the information received from one or a few sources of information.
After all, it was Harry S. Truman, the 33rd president of the United States, who once said, "You can never get all the facts from just one newspaper, and unless you have all the facts, you cannot make proper judgments about what is going on."
Role of the media in conflict
The editor does not exist in a vacuum. To understand the role of the editor in a conflict – or peace in time – it might be useful to first examine his or her role in the workplace, since editors are by and large, catalysts in the media space.
In a paper by Joseph Olusegun Adebayo and Blessing Makwambeni, entitled, "The limits of peace journalism", the authors examined the role of the press in three elections in Kenya – in 2008, 2013 and 2017.
They concluded that while reportage in the Kenyan press was implicated in the violence that pushed the country to the brink of war in 2008, by brazenly taking sides and pitching ethnic groups against each other, the press played a significantly positive role five years later in the next election.
In a twist of irony, however, the same press which was hailed for professionalism and restraint in 2013, was condemned yet again in 2017 for "sacrificing democracy on the altar of peace." It was accused of downplaying massive rigging and election fraud for fear that such reportage might stoke violence. It appears that heads or tails, the press loses!
One eyed-town, one-eyed king
Why, in spite of its shortcomings and limitations, is so much faith invested in the ability of the press to "hold the line" and perhaps also act as a catalyst for conflict resolution and consensus building?
Section 22 of the 1999 constitution requires the press to hold the government accountable. It's also important to keep in mind that the press played an important historical role not only in helping the country attain political independence, but also as a champion of the common cause during decades of military rule when freedom of speech was severely abridged. So, there is both a statutory and a historical imperative for the press to shine the light.
The draw towards the press could also be as a result of a growing loss of confidence in other mechanisms for conflict management and resolution. The police are overworked and underpaid, the courts are not better off, while other mechanisms for mediation and arbitration are either comatose or out-of-reach.
If the Nigerian fish is rotting from the head, it would be gratuitous to claim that the press is in good health. The misery of some editors who may even strive for professionalism, is compounded by largely compromised ownership structures, redundancies, poor remuneration, and a weak ethical fiber further undermined by poor regulation; not to mention the onslaught of fake news, which appears to have significantly tarred civic spaces and tainted journalism in the eyes of outsiders.
The media is, by and large, plagued by the same social malaise threatening other segments of society, except that perhaps there remains a flicker hope that in the plurality and diversity of the press and drawing from its rich historical legacy, there might yet be redemption.
Out of the ashes, the Editor
The question is how? How might the press regain lost grounds, rebuild confidence and win back public trust, which is an essential tool in its role as:
a) Information provider and interpreter
b) Watchdog and gatekeeper
c) Policy influencer and agenda setter
d) Promoter of peace and bridge builder
There are some institutional changes that might help not just the newsroom, but also the editor, become more efficient and effective.
The most urgent, for me, is a professional framework. The Nigerian Media Council Bill is trash. It should be left in the garbage heap to suffer the slow, painful death that it deserves. But there's a vacuum. Once the local Ombudsman announced by the Newspaper Proprietors Association of Nigeria (NPAN), is up and running, the association should move quickly to establish a co-regulatory framework for the industry, with South Africa as a useful model. The watchdog cannot – and should not – be above transparency, if it hopes to win public confidence.
Also, as the recent collaborative work on the Pandora Papers has shown, editors can work with colleagues across boundaries to share resources for the common good. The redundancy level in a number of Nigerian media houses – idle presses, huge office spaces, large inventory of unsold print copies, and the trove of unused daily news content – is extraordinary. Yet empty pride keeps them not only from introspection, but also from the economies of scale that could come from sharing resources.
The 21st century editor is at a crossroads. In the journal, "International media and conflict resolution: Making the connection", John Pauly, a communication scholar at Marquette University, wrote: "Traditionally, journalists viewed themselves as disinterested witnesses or observers to conflict, present only to report on facts. More recently, the public journalism model has advocated that journalists take a more active role in educating and helping the public craft solutions to the problems of the day."
As the editor iterates, integrates and manages interfaces, developing electronic copies of newspapers and streaming content to ensure presence on virtual platforms in order to escape the conflict of obsolescence, he or she also needs to navigate with caution, checking, cross-checking and fact-checking.
He or she is an easier prey for politicians, demagogues, extremists andYahoo Boys on virtual space than he is vulnerable to the recalcitrant vendor or distributor in the street corner.
Moreover, the citizen journalist more often than not, does not know or play by the rules of institutional journalism. These are challenges that confront editors and will test their capacity beyond the theories of mass communications.
How successfully journalists manage the innovations and issues technology throw at them would determine whether or not and now far they succeed as mediators.
To paraphrase Pauly, journalists and editors need to take a more active role in educating and helping the public find solutions to the problems of the day. In other words, the continued relevance of journalism, whether in peace time or in time of crisis, lies just as much on its inventiveness as in how it reinforces the agency of the citizen.
That is where journalism should its stand. Not with extremists, fanatics and demagogues. And certainly not with politicians who love to fake outrage in the daytime, but at sunset find time for photo ops with bandits strapped to the teeth with deadly weapons.
We can and should find our own way.
By: Azu Ishiekwene
Ishiekwene is the Editor-in-Chief of LEADERSHIP
(This is a slightly modified paper he presented at the 17 Annual Conference of the Nigerian Guild of Editors in Abuja on October 21, 2012).
NIPR And Burden Of Insecurity On Nigeria's Reputation, Dev
One dominant issue that has premiered the global space in recent times is the negative effect of the daring security challenges, not only on the rationale of citizens, but also on the reputation of the Nigeria nation and its consequent effect on the development of the country.
The devastating effects of escalating violent crimes such as terrorism, banditry, kidnapping, armed robbery, ritual killings among others on the country, since the inception of the current democracy in 1999, have done terrible damage to the reputation of the Nigerian nation in the global community.
According to reports by Statista 2021, as at 2019, Nigeria ranked second coming after Afghanistan as the terrorism most impacted country with a total of 1,245 fatalities. Afghanistan came first with 5,725 fatalities while Somalia came behind Nigeria with a record of 569 deaths.
The level of insecurity observed in the country has led to some countries such as the United States, United Kingdom and others, listing Nigeria as an unsafe place to travel to. This year, the UAE refused work permit applications from Nigeria because of the involvement of citizens in profile crimes.
Burdened by the negative impact of this daring challenges, the Rivers State Chapter of the Nigerian Institute of Public Relations (NIPR), at its 2021 conference cum annual general meeting held in Port Harcourt on September 23, elicited public discourse on Nigeria's security challenges and to proffer solutions to the impact of the challenges on the reputation and development of the Nation.
The State chapter of the Institute, established in 1963 and chartered by decree 16 of June 1990, assembled stakeholders drawn from the public and private sectors in the Nigerian project within and outside the state, to brainstorm on a well thought out theme: "Nigeria's security situation: a factor in reputation and national development."
The thought provoking theme of the conference brought to the front burner the daring security situation currently bedevilling the Nigerian State and how it's devastating effects on the reputation could be remedied for meaningful national development.
Welcoming participants to the conference, the Rivers State Chapter Chairman of the NIPR, Pastor Paulinus Nsirim told the audience that, as a responsive organisation to national development, the chapter had chosen the theme of the conference as its own contribution to the national discourse.
With great expectations, Nsirim told the gathering that the purpose for the conference was to set agenda for moulding public opinion.
"We are excited as a chapter that we will use this conference to begin to show a roadmap for security situation in Nigeria and national development."
He urged participants to contribute robustly to the conversation with high expectations that the conference wasn't going to end a talk shop but was going to produce a blueprint that would guide national discourse.
"It is our expectation that the fallout of the conference will re-engineer national security, re-engineer national development with the aim to put our country on the path of rapid growth," the chairman charged participants.
Rivers State Governor, Nyesom Wike, who was special guest at the conference, noted that time had come for deliberate effort by image managers to begin to rebrand Nigeria considering the hydra-headed security challenges that are adversely affecting the nations socio-economic, political and security development.
Represented by the Secretary to the State Government, Dr. Tammy Danagogo, the governor stated that the survival of Nigeria's sovereignty is presently burdened by security challenges and urged members of the NIPR to rise up to their challenging career of reputation management in addressing the nation's challenges.
"We need to seat up to make our people and government realize that everyone must rise to the dare challenges of our country. As PR and media managers, you have crucial roles to play in terms of national development.
"I strongly recommend that all hands must be on deck, especially reputation managers such as members of the NIPR to call on the Government and all stakeholders to begin to act in ways that will help revive the battered image, security, and economy of our dear nation.
He assured that the Rivers State Government on its part, would continue to support security agencies to ensure a safe and secured environment for the economic prosperity of all. "We have set up the Rivers State Neighbourhood watch, Operation Sting and revived the C4i, as an effort to provide security, stimulate growth, development and prosperity of all", he said.
He noted that the administration in implementing the NEW Rivers Vision blueprint, has also embarked on a deliberate infrastructural development and urban renewal effort to attract local and foreign investment to stimulate the economy of the state.
Earlier, Nsirim, who also doubles as the state Commissioner for Information and Communications, had disclosed that the relationship between the Rivers State Government and the State Chapter of NIPR has blossomed during the Governor Nyesom Wike's administration.
The commissioner noted that Wike, as a visionary leader, had changed the landscape of the State infrastructure and various developmental projects that touch the life of the ordinary man.
"We are proud of being associated with the NEW administration and the giant strides he has recorded and continue to record until 2023, he said.
Taking his turn to address the conference earlier, the President of NIPR, Mallam Muktar Sirajo, noted that the issues of security were of urgent national interest that needed the attention of all Nigerians.
"You can agree that there was a country we all enjoyed living in without fear and looked at one another as brothers and sisters and without asking questions. You will agree with me the situation is no longer the same. As an institute that regulate the practice of public relations and at the core of its mandate is relationship building, we feel that it is a duty incumbent on us to build our bridges.
"It is unfortunate that we have come to this path… but we believe that the basis of coming together cannot be served if there is no communication between the component parts to fix the country.
A cerebral Public Relations practitioner and the keynote address presenter, Dr. Ike Neliaku diagnosed the topic as a worry by the NIPR about the security situation in Nigeria and its implication on the nation's reputational capital and national development.
He majored his presentation on two issues at the core of the theme-Insecurity and Reputation, expected to land on their implications for national development. Therefore, simplified the topic of his presentation to, Insecurity, Reputation and National Development.
Speaking on insecurity, Neliaku observed that three critical issues have shaped and influenced the trajectory of the Nigerian State and the welfare of citizens in the last twelve years which he listed as insecurity.
He gave statistics of the security situation presents adding that insecurity caused over 70,000 deaths in Nigeria between 2012 and 2020.
"Since 2011, Boko Haram insurgency has led to 37,500 deaths, 2.5million displacement, and 244,000 refugees."
He disclosed from statistics that in just two years, farmers-herder clashes claimed 10,000 lives and resulted in the displacement of 300,000 people. "Nigeria has one of the world's worst kidnap-for-ransom with 685 kidnaps reported in the first of quarter of 2019 alone."
He noted that between June 2021 and March 2020, Nigerians paid about $18.34million as ransom and that militancy in the Niger Delta has resulted in kidnapping, unrest, and economic distortion.
"Indeed, any part of the nation that appears safe, including military formations and the territory of our national sovereignty which are not spared, are considered rather an act of God's benevolence and love for mankind than the efficacy of security agencies.
"The question that bugged my mind at some point was, what has not happened in Nigeria in the last 10 years? In my lifetime I heard about money been stolen, bicycle stolen, motorcycle stolen, small car stolen, big lorry stolen, ship stolen, human parts stolen full human beings stolen.
"In spite of all this, I may not have been as shocked when I heard that soldiers had been stolen from their barracks and other formations. Need we any further proof that we are really in troubled times where only the mercy of Almighty God can save us, Dr. Neliaku lamented.
He listed human rights violations by State armed forces and cybercrime as other vices that dragged Nigeria's reputation into the mod and hindered development. "In December, 2020, the office of the Prosecutor of the International Criminal Court concluded that war crimes and crimes against humanity had been committed by Boko Haram and the Nigerian military and that Nigerian authorities had failed to investigate and prosecute these crimes, therefore warranting a full investigation.
He said 2018 report has it that commercial banks in Nigeria lost a cumulative sum of N15 Billion to electronic fraud and cybercrime. "Nigeria's Consumers Awareness and Financial Enlightenment Initiative has projected a US$6 trillion loss by 2030 to cybercrime within and outside Nigeria. These crimes are committed mostly through phishing and identity theft."
Neliaku traced causes of insecurity in Nigeria to include rising rate of unemployment, religious and ethnic differences, corruption, weak security apparatus, porous borders, marginalisation and inequalities in resource distribution, and bad governance and poor leadership.
The key note speaker also identified vicious attacks on the family unit which he said has led to near complete collapse of family values. "In the course of struggling for survival, parents have abandoned their responsibilities in raising quality 'seeds' to preserve the true heritage of what a responsible family should stand for."
He blamed the increasing rate of drug addiction and other vices in society on the failure of the State to meet its expectation to the youths. "This is one of the things that have laid the foundation for massive acceptance of criminality by the youths."
Neliaku listed Shoprite, Mr. Price Woolworths, Etisalat, HSBC and UBS, Tiger Brands, and Truworths as companies that have closed business in Nigeria in the face of escalating insecurity.
"Businesses are the vehicle for economic activities that would lead to national economic development. It therefore follows that businesses play a great role in the process of development and such role can be hampered in the absence of adequate security as we find in Nigeria," he said.
He also observed that one of the greatest impacts of insecurity in any society is the creation of climate of fear and culture of uncertainty in the hearts of citizens.
"A high level of insecurity makes it difficult for citizens to plan effectively and make creative decisions and take effective control of their operating environment," he asserted.
He finally submitted that the rising insecurity situation in Nigeria had impacted and would continue to impact negatively on corporate and national reputation, with concomitant consequences on individuals and national development unless the people have a rethink of their nationhood by rebuilding their relationship.
By: Amieyeofori Ibim
Ibim, Special Assistant on Media to Rivers State Commissioner for Information and Communications, resides in Port Harcourt.
Nigeria @ 61: So Far, So Fair
Nigeria's Independence movement started when she became a British Protectorate in 1901. The period of British rule lasted until 1960, when an independence movement led to the country being granted freedom. The Independence movement in Nigeria emerged first in 1920 under the influence of Herbert Macaulay who is considered the founder of Nigerian nationalism.
The nation's independence was achieved by an act of the British parliament and she became an independent country within the Commonwealth on October 1, 1960.
Actually, in 1953, Anthony Enahoro, became the first to move the motion for Nigeria's independence which was eventually granted in 1960 after several political setbacks and defeats in parliament. As a result of this, Enahoro has been regarded by academics and many Nigerians as the Father of Nigerian State.
When Nigeria was granted independence a new constitution established a federal system with an elected Prime Minister and ceremonial head of state. The NCNC was headed by Dr Nnamdi Azikiwe who had taken control after Macaulay's death in 1946. He formed a coalition with Abubakar Tafawa Balewa's NPC after neither party won a majority in the 1959 election. Balewa continued to serve as the Prime Minster, a position he held since 1957, while Azikiwe took the largely ceremonial position of President of the Senate. Following a well supervised referendum, the northern part of the Trust Territory of the Cameroons joined Northern Nigeria in June, 1901, while in October, the Southern Cameroons united with Cameroon to form the Federal Republic of Cameroons.
On October 1, 1963, Nigeria became a republic. Azikiwe became president of the country, although as prime minister, Balewa was still more powerful.
On October 1, 1960, Nigeria was conceived as it officially gained independence from the British colonial masters. A lot of things have changed in 61 years especially as regards the political landscape.
However, the labour of our heroes who made Nigeria's independence possible can never be forgotten. From Tafawa Balewa, to Azikiwe, the country's first elected President, they made the fight for Nigeria's independence look like their personal struggle.
Ahmadu Bello was the first and only premier of the northern region who ruled from 1954 to 1966. As the leader of the Northern Peoples Congress (NPC), he led the party to a majority victory in the pre-independent parliamentary election of 1959. As Sardauna of Sokoto, he was a formidable force behind the throne and was considered one of the most powerful men in Nigeria.
The historic 1959 general election, which effectively ushered in Nigeria's Independence in 1960, saw an alliance between the NPC under Bello to forge an alliance with the National Council of Nigeria and the Cameroons (NCNC) under the leadership of Nnamdi Azikiwe, which resulted in Nigeria's first indigenous Federal Government Ahmadu Bello chose to remain the premier of northern Nigeria and always preferred to be among his people in the north. His reign was cut short in the January 1966 coup, when he was assassinated by Major Chukwuma Nzeogwu in a coup which toppled Nigeria post-independence government.
Nnamdi Azikiwe was a leading figure of modern Nigerian nationalism who spent a better part of his life working to end British control of Nigeria, both as a journalist and a politician. He served as the last Governor-General of Nigeria from 1960-1963 as well as the country's first elected president from 1963 to 1966 during the First Republic. He joined politics in 1944 and later co-founded NCNC after a successful stint as a journalist, he became active in politics in 1944.
The great Zik inspired the Zikist Movement, a radical revolutionary and multi-ethnic youth body which championed the Nigerian struggle against imperialism and the belief that Nigerians and indeed Africans should manage their own affairs. Back in the 1940s, Nnamdi Azikiwe championed Nigeria's Independence from British rule and in 1943, joined other West African editors to sign a memorandum to raise awareness about political independence. They also called for socio-political reforms that would include a repeal of the crown colony system, installing a representative system in regions and granting independence to West African colonies under the British rule.
Tafawa Balewa was among those who fought for Nigeria independence. After the NPC won the pre-independence parliamentary election, Tafawa Balewa, being the vice president of the party, emerged Nigeria first prime minister. A position he held till January 1966, when he was killed in the coup. In the 50s, he was actually involved in the campaign for indigenous rule and discussions on constitutional reforms which ultimately led to independence in 1960.
Obafemi Awolowo, the first premier of the western region from 1954 to 1960, was another nationalist who played active role in the struggle for Nigeria's independence.
Anthony Enahoro according to reports was the first politician to move the motion supporting Nigeria's independence in the parliament in 1953, although ended up unsuccessfully. The early agitation for self-rule suffered setback and at a time, caused the northern members of parliament to stage a walkout from the legislative chamber.
Despite the fact that his motion suffered setbacks, it contributed to a new movement in the parliament that sustained the pressure on the British colonial masters for Nigerian independence. There were also similar motions from Balewa and former deputy premier of the western region, Remilekun Fani-Kayode, which all resulted in Nigeria's independence in 1960.
As part of the struggle for Nigeria's independence, women were not left out even as they confronted the British maladministration. Mostly, women from the southern part of Nigeria, carried out the Aba Women Riot. The women in a riot rebelled against economic and socio-political oppression on the colonial masters in Nigeria. Such things as the imposition of tax on market women and the dictatorial powers of the warrant chiefs who were in power. Following the introduction of indirect rule system of government. In November 1929, thousands of women assembled in Calabar and Owerri from where they took over major roads and streets in protests. Some of the warrant chiefs where forced to resign, following the riot, which was seen as the first major uprising against the British rule in Nigeria.
Margaret Ekpo of Calabar, led women in the eastern part of Nigeria during the pre-independence era while Funmilayo Ransome Kuti took control of the western part of Nigeria. Funmilayo Ransome Kuti organised and mobilised women to resist any colonisation during the pre-colonial era. That was when colonial masters refused to give permit for demonstrations in some parts of Nigeria.
Nigeria's Independence Day came on the 1st of October 1960. Indeed, Nigerians at the time were joyful for being liberated from the hands of their colonial masters. Reports have that it was a symbolic day. Since then, the day had always been celebrated. A day Nigeria, which was amalgamated by joining the southern and northern protectorate by Lord Frederick Lugard got recognition. It was like people being granted their heart desire. Since Nigeria got independence, one can say that she has sustained it.
Nigeria's independence was achieved through dialogue and negotiation rather than confrontation. Clubs and weapons were not used to achieve what we know today as independence. Since then, Nigerians have continued to govern themselves as a nation bound in freedom, love and unity.
Some of the elderstatesmen who ensured that Nigeria's dream was achieved have passed on but their legacies still live on. Even as the nation celebrates independence annually, they are also remembered for the good works they did in their time.
When it was clear that Nigeria had attained Independence after series of constitutional proceedings with the United Kingdom, it was the night preceding October 1, 1960, that British Union Jack gradually descended from Nigeria's parliament building and Nigerians Green-White-Green ascended. Princess Alexandra of Kent, who represented the Queen of England, handed over the constitutional instrument of Nigeria's Independence to Tafawa Balewa. He became the prime minister
Independence day is significant as it is celebrated on every 1st October annually to mark Nigeria's proclamation of independence from British rule. It is also important because it is used by Nigerians to decide on its economic, political and cultural fortunes. It is significant in that all states positions would be occupied by Nigerians and that the economy would be invigorated so that an egalitarian society would be created.
Achieving independence in Nigeria means that all the nations cultural practices would be restored and that anything foreign that did not respect their way of life would be jettisoned. As Nigeria became independent, it was assumed that people could exercise their franchise to choose and vote into power those they think will perform well as they vote them into power. But this is not the case as many have testified. Slowly, corruption has continued to rise.
Instead of helping Nigerians, some persons entrenched corruption. There are those who don't care about the feelings of the masses. Whether Nigeria is independent or not, as far as they are concerned, the British can come back and let it be as if nothing worked since 1960. There are also people who lack faith in the survival of the country. As Nigeria marks 61st birthday, it is time to take stock and ask where we got it right or wrong. Nigeria after gaining independence in 1960 is not totally independent. The country still depends on importation of foods, power generation and supply and others. Other basic things of life are still being sought overseas like medicare.
If Nigeria is really independent, she should not import certain items for consumption. She should provide for her youths. Various systems should be strengthened. At 61, Nigeria should not still be grappling with leadership challenges.
As Nigeria commemorates her 61st birthday, hatred, mediocracy, tribalism, ethnicity and division in religious beliefs should be avoided. Bribery and corruption must stop to exist. Nigeria with her abundant human and material resources should be able to compete favourably with other countries. The issue of kidnapping, killings, banditry, armed robbery, insurgency to mention but a few should be discouraged.
By: Eunice Choko Kayode