Flooding: Experts Task States On Preventive Measures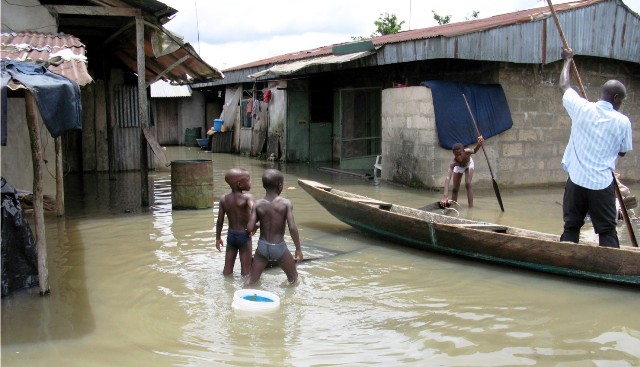 Environmental experts have advised state governments to put up measures to forestall negative impact of flooding ahead of rainy seasons in the future.
The environmentalists said that the reactionary measures put up by states at the thick of flooding incidents had not paid off as flooding causalities across the states had increased.
They gave the advice while speaking with newsmen in Lagos, against the backdrop of warnings of heavier rainfall in 2020 by the Nigeria Hydrological Services Agency (NHISA).
NHISA had earlier advised states to avoid fire brigade approach to flooding.
Toyin Oshaniwa, the Executive Director, Nature Care Resource Centre, (NCRC) Lagos, said: "flooding will always present a problem to many states across the nation due to both natural and man-made factors.
"Lagos state by virtue of its low lying landscape is highly prone to flooding.
"It is therefore essential for every state and stakeholders to act and take proactive measures in reducing the impacts of flooding in 2020.
"The strategy for 2020 flood management across states should be built on Private-Public Partnership, especially in the areas of restoration of urban storm water lines.
"This can be achieved through the construction and reclamation of canals and anti-drainage barriers," he said.
He added that practicing flood prevention when flooding already occurred should be discarded saying it only amounted to window dressing with no positive bearing on the victims.
Similarly, Mr Ane Leslie-Adogame, of Sustainable Research and Action for Environmental Development (SRADev Nigeria), said that states should prioritise the issue of flooding.
Leslie-Adogame, listed pragmatic steps towards checking flooding to include: structural and non-structural approaches for effective flood risk assessment, management and adaptation.
He said that there was urgent need to strengthen flood disaster early warnings and advocacy mechanisms both at states and local levels in addition to the need for proactive measures to maintain drainage channels regularly.
"States or locations without drainage infrastructure should be given due attention, thus construction or upgrading of drainage channels.
"There should be a strong policy towards indiscriminate dumping of refuse and obstruction of drainage channels.
"There should be continuous cleaning and de-silting of primary and secondary canals across the state to allow free flow of storm water and evacuation of traders on drainage channels.
"There should be a clear budgetary provision for flood management in states.
"State governments should commission urgent urban flood vulnerability mapping, to aid proper flood disaster planning systems," he said.
Ms Omobola Eko, Convener Urban Tree Revival Team (UTRT), said that the culture of tree planting and maintenance of forest buffer zones would aid the flood prevention campaign.
She said that states should raise awareness on the importance of wetlands through knowledge products.
NAN reports that many states were devastated by the seasonal flooding that occurred in 2012, and subsequent years since then.
The prediction by the Nigerian Meteorological Agency (NIMET) had predicted that the onset of the rainy season in the southern part of Nigeria would begin from Feb. 24 while in the North the earliest would be by June 22.
The rainfall would begin to cease from the North going by the prediction from Sept. 26 downwards to the South by December 28.
African Ministers To Support, Track Nigeria's WASH Commitment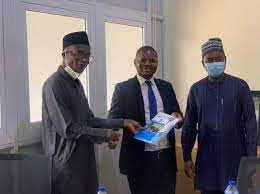 African Ministers' Council on Water (AMCOW), has pledged commitment to support Nigeria in actualising its Sanitation And Water For All (SWA) with a view to improving sanitation and hygiene by 2025.
AMCOW's Acting Executive Secretary, Mr Thomas Banda, said this while receiving members of the Society for Water and Sanitation (NEWSAN) in Abuja.
The Tide source reports that the Federal Government, through the Minister of Water Resources, Suleiman Adamu, had in 2019, pledged the creation of a $122 billion Water, Sanitation and Hygiene (WASH) fund to meet the country's target.
Banda urged member states to align its National sanitation policies in line with the sustainable development goals.
He said that the newly released African Sanitation Policy Guidelines (ASPG) was a continental guideline that prescribed the benchmark on what a sanitation policy should look like.
"We urge our member states to sit back and review their sanitation policies that are already in place, From our statistics, most of these sanitation policies that were reviewed were done during the MDGs.
"But now that we are talking about the SDGs, for us to achieve the SDG six on accelerated access to sanitation, we really need to make sure that these sanitation policies are very much focused on the SDGs and not the MDGs.
"We also noted that there are quite a lot of gaps in existing policies in the countries, a lot of countries do not have sanitation policy guidelines at all.
"So, we developed the continental ASPG to provide some guidelines to member states, so that they can come up with their own tailor-made sanitation policies," Bandan said.
He commended NEWSAN on its activities towards supporting the country in scaling up access to improved sanitation and hygiene and pledged to continue to advocate continentally.
He noted that AMCOW's mandate was continental and Nigeria's mandate was just one out of its 55 member states, saying the continental progress report done annually showed that Nigeria had some positive trends that showed it was moving in the right trajectory.
"We have heard about the Clean Nigeria campaign, it is a very good initiative and many other indicators that show that it is moving well, but just like any other member states, there are still some challenges.
"A lot of investment gaps, if we are to achieve our water and sanitation related goals in the SDGs, we still have a lot of things to achieve by closing the investment gaps.
"It has been quite a positive visit, ideas have been exchanged, AMCOW as a continental organisation can put in a voice to member states' aspirations domestically".
Mr Benson Attah, NEWSAN's National Coordinator, said the visit was an advocacy to support government's effort and track commitments made to the Sanitation and Water for All in 2019 which it proposed the establishment of a WASH fund for the country.
Forum Links Insecurity In West Africa To Global Warming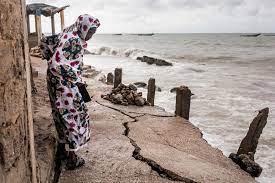 The present challenges of insecurity in the West Africa region has been linked to global warming.
This was one of the issues discussed at  a security seminar organised by Coastal Awareness Initiative in Port Harcourt.
The seminar also warned against further vandalisation of oil and gas facilities in the region.
Representative of the Nigerian Maritime Administration and Safety Agency, NIMASA, Olufemi Adetimehin, said West Africa region will experience more crises until the issue of global warming was addressed.
Adetimehinwho's topic was titled, Global warming in West African Global Communities, said most Rivers in West Africa are drying up.
He particularly said the Lake Chad has lost more than 80 percent of its capacities adding that the situation has led to mass job losses in the region.
According to him, fishing activities as well as farming have been affected by the situation of the Lake Chad
The expert also said the condition of the lake has led to mass migration of herder's south ward which has resulted in clashes with farmers in the local Communities in the region.
He also said that the activities of terrorist groups have been boasted as more young people are being recruited by terrorist groups in the region.
He listed other effects of climate change in the region to include, food scarcity, increase in malaria infection and increase in sea level which poses threat to coastal communities.
Also speaking, representative of the Nigerian Navy S,O.Emiola said the Navy will improve its synergy with sister security Agencies to improve security on the water ways.
He however said the issues of security on the water ways should not be left alone to one agency.
Representative of the Nigerian Ports Authority called on boat drivers to avoid stormy weather, while use of navigational aid should be encouraged.
He also warned against overspeeding.
Also speaking, Commander Rivers Coast Guard, Captain Amari Godwin, said the event was part of the organization's activities to sensitise communities on the importance of safety along the water ways.
Godwin said, his group was ready to collaborate with relevant organisations to ensure maritime safety in the state.
Earlier, the overall commander Coastal Awareness Initiative, Captain Chukwuemeka Ndubuisi, said the seminar was to sensitise communities on the dangers of pipeline vandalisation.
Ndubuisi said the event also aimed at promoting healthy and sustainable environment in the Nigerian territorial waters ways.
Also speaking, former councilor, ward four, Port Harcourt city, Mrs Blessings Okowu, urged for the establishment of the Rivers State Coast Guard.
By: John Bibor
Stakeholders Want End To Kpo Fire Business
Some stakeholders in Port Harcourt City and environs have urged the government to check the proliferation of illegal refineries, popularly known as "kpo fire" in the country.
A cross section of stakeholders, who spoke in a voxpop with The Tide said, apart from the environment, the illegal business was an act of economic sabotage.
 They noted that the sooner the government called this economic sabotagers to order, the better it is for the society.
  Mr Joseph Adejo, said the business constitutes a great danger to the society.
He said illegal burning of crude has destroyed the environment. " If you go to some riverine communities, you cannot see any life vegetation, government should stop it", he said.
He also called on the government to enact  a law to check the trend.
 Also speaking, another respondent, Miss Joy Oneke, described kpo fire as an illegal business and called on the government to check the trend.
She also said the situation, was affecting the economy of the riverine areas.
According to her ," kpo fire" business is an evil that should not be encouraged.
 Also speaking, Mrs Eunice Etido said, the proliferation of illegal refineries was a risk to the society, adding that even sooth incident in Port Harcourt environs was being caused by the incesant burning of petroleum products.
 Etido called on the government to check the trend. 
She said fishing business was not booming because of the "kpo fire", adding that even the mangrove vegetations are all dead.
She also condemned the attitude of the security agencies who burnt and spilled some contents of seized illegal products to the river.
For an environmentalist, miss Blessing Dike, government should rise up to the challenge of checking the proliferation of the business.
By: Inimgba Favour Victor, Elendu-Obochi Esther & Iyanaa Ibama Oribim