FG Expresses Shock Over Eddie Ugboma's Death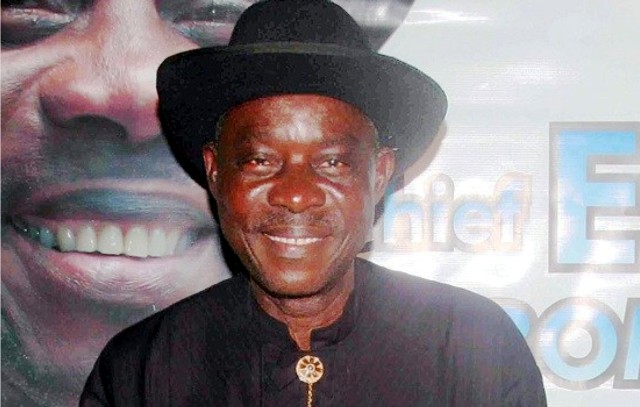 The Federal Government has expressed shock and sadness over the death of Veteran Nollywood Movie Producer, Eddie Ugboma. In a statement on Sunday by Segun Adeyemi, Special Assistant to the Minister of Information and Culture, Lai Mohammed, the Federal Government described the movie maker as a worthy pioneer of today's burgeoning Nollywood Industry.
Mohammed said the fact that Chief Ugboma lived a purposeful life and left his foot print in the sands of time is a soothing consolation for all who knew him.
"In his lifetime, Chief Ugboma produced a member of avant-garde movies that blazed the trail and fired the imagination of those who would later become the top producers in today's Nollywood.
"In away, the success of the industry is a tribute to him and his co-producer", the minister said.
The minister expressed the Federal Gover-nment's condolence to family and friends of the late film maker and prayed that God will grant him eternal rest and comfort his family.
Five Interesting Nollywood Movies To Watch In August
Below are the current Nollywood movies making waves in the big screen across the country.They include
Sade Takes Lagos
Genre: Drama
Release Date: August 16, 2019
Actors: Alex Ekubo, Seun Akindele, Tana Adelana etc
Synopsis: A girl decides to take a vacation to Lagos after her parents separated with the hope of making it big in her music career. She is faced with challenges.
Once Upon A Night
Director: Gbolahan Akitunde
Genre: Thriller
Release date: August 16, 2019
Actors: Wale Ojo, Kiki Omeibi, Ade Bantu Daniel Egwede etc.
Symopsis: A psychology student with a fear of being alone imprisoned himself for one night to once and for all face his demons only, not all these demons only not all these demons are unreal.
The Reunion
Director: Thomas Odia
Genre: Drama
Release date: August 16, 2019
Actors: Steve Onu, Femi Jacobs, Mercy Johnson-Okojie, Tana Adelana, Mercy Aigbe, Jiide Kosoko (Prince), Frederick Leonard etc.
Synopsis: Four friends from the high school reunite to plan the 50th anniversary of their alma mater. As the battle of superiority stirs up, another issues from the past are revisited, secrets are revealed that threaten to tear up their seemingly perfect lives.
Love Is Yellow
Director: Kayode Kasum
Genre: Drama/Romance
Release date: August 16,2019
Actors: Bimbo Ademoye, Mofe Duncan, Timi Egbuson, Paul Utomi, etc.
Synopsis: Fighting for what you believe in can be one hell of a task, but your life will only be hell if you've never tried life as it serves us the good, the bad and the urgly in different colours. Love is yellow portrays the smuggle and pursuit of happiness in Lagos, Oladayo, a technician finds a reason to shake off the dust from his once shiny Lagos dream.
5. Wings Of A Dove
Director: Omoni Oboli
Genre: Drama
Actors: Omoni Oboli, Amal Umar, Zack Orji Sani Danja, Yakubu Mohammed, Marther Felix etc.
Synopsis: The movie is an emotionally charged story of a married off girls to much older men at the ages of 13 and 14 and all they want is freedom to be children. It takes you to an emotional roller coaster of the loss of childhood innocence. The consequences of being in a forced arranged marriage and the hope and dire need of a future that is stolen from them.
New Club Opens In Emohua Amid Funfare
It was fun galore and music extravaganza last Sunday, August 11, 2019 in Emohua Community in Emohua Local Government Area of Rivers State as a large crowd of fun seekers stormed Rumuobasi-Rumuche Community to witness and celebrate the opening of a long awaited new relaxation joint called Stepple Gate Motel amidst wining, dining and dancing till dawn.
In his opening address at the event, the Managing Director of the Motel, Mr. Endurance Wosu disclosed that the clamour by the youths for a relaxation and recreational joint in the community informed his decision to open the entertainment hang out to cater for the hospitality needs of the people as well as create employment for the youths.
The Director, who also runs other hospitality out-lets such as Aboby Hustle Point and 'Precious Guest House,' all located within the community, stressed that as peace had returned to Emohua Community, he was sure of positive changes that would transform the community and attract investment.
Wosu reiterated that the motel would provide variety of services such as lodging accommodation, catering, variety and special events night, live band Makossa and Pole dancers as well as night club in order to provide all round fun and relaxation for the customers under tight security.
Also speaking, the resident Disc Jockey (DJ), Mr. Anachor Mini popularly known as 'DJ Omega' (Darikputu Igbigi) described the new motel as a welcome development that would provide opportunity for people to unwind. He noted that the club would also help to curb youth restiveness as they would now have a place to relax and mingle.
One of the customers to the motel who is also the Managing Director of Mini Wax Electrical Ventures, Prince Patrick Ogundu Mini, stressed that the motel signals the beginning of a new dawn of development in the area as it would attract people within and outside the community as well as ensure the promotion of peaceful co-existence.
A former Vice Chairman of Emohua youths, Mr. Vincent Iberi, also known as Don Colonel thanked God for the peace in Emohua Community. He maintained that the new Stepple Gate Motel was a harbinger of positive changes in the area. He assured of the cooperation and patronage of the youths.
Davido, Others Mourn DJ Arafat
Ivory Coast-born music star, DJ Arafat has passed away after a fatal car accident. The death of the popular music star has saddened many of his fans both at have and abroad, including Nigerians. Arafat's fans took to the social media to mourn his death, wishing him a peaceful rest.
It was gathered that the popular Ivorian music star, Houon Angel Didier, popularly known by his stage name DJ Arafat, passed away on Monday, August 12, the 33-year-old artiste sustained injuries from the accident which occurred on Sunday August 11.
Nigerian singer, Davido took to the social media to mourn his death, Davido has been joined by many of Arafat's Nigerian fans to mourn the singer's death on social media. They took to their twitter accounts to wish him a peaceful rest in the afterlife.