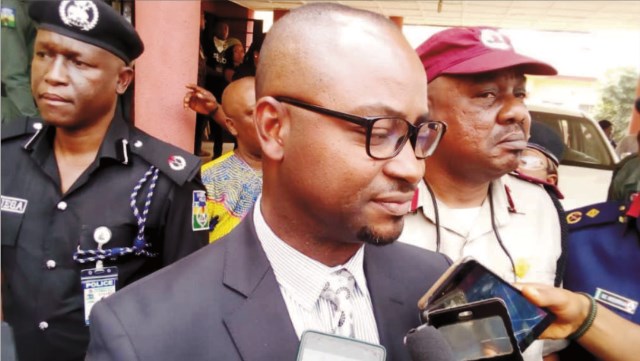 The Rivers State Governor, Chief Nyesom Wike has told President Muhammadu Buhari that Rivers people will never support violence as being orchestrated by leaders of Rivers APC.
Speaking during an interactive session between President Muhammadu Buhari and traditional rulers of Rivers State in Port Harcourt, yesterday, Wike said leaders who have imported war songs will not succeed.
The Minister of Transportation, Chibuike Rotimi Amaechi at the APC presidential campaign rally, sang a war song in Igbo Language, threatening to unleash violence on Rivers State during the forthcoming elections.
"Rivers State does not believe in violence and we will not support any dance for violence.
"Those who sing other people's song for violence, they know what they achieve. They know what they gain", he said.
Wike assured Nigerians that the evil plots to fuel violence by the APC will fail.
"I want to assure the President that Rivers State is a peaceful state. It will never be a violent state. I will not support violence and Rivers people will not support violence", he said.
In his address, Chairman of Rivers State Council of Traditional Rulers, King Dandeson Douglas-Jaja urged President Muhammadu Buhari to ensure that security agencies act professionally during the forthcoming elections.
He said that security agencies should not join the fray and complicate the issues of electoral violence.
The Rivers traditional rulers lamented the closure of the seaports in Rivers State which have negatively affected the economy of the area.
They called for restructuring of the country so that all parts of the federation will grow at their own pace and control their resources.
The traditional rulers called for free, fair and credible polls in Rivers State.
They appealed to the President to check the tide of violence in the country.
President Muhammadu Buhari stated that law enforcement agencies would be asked to respect Nigerians and that elections will be free and fair.
The President said nobody will be allowed to intimidate people, adding that the snatching of ballot boxes will be discouraged.
Buhari said that his administration has achieved the three cardinal points of his 2015 campaign.
He said that security, economy and fight against corruption have witnessed improvements.
Meanwhile, No fewer than 54 gubernatorial candidates of various political parties in Rivers State have given reason for the decision to drop their ambition and support the re-election of Governor Nyesom Wike in the March 2, 2019 Governorship Election.
In a 7-paragraph document jointly signed by all the 54 guber candidates, last Monday, they said they were impressed with what Wike has achieved during his subsisting first term in office.
They described the governor as a visionary leader who has left no one in doubt that he has capacity to actualize the dreams of the founding fathers of the state, adding that he had done this through people-oriented projects and visible accomplishments.
They declared thus: "Having consulted amongst ourselves and with our respective stakeholders in the State, we have unanimously agreed that it is in the best interest of the state and the continued peaceful development and progress of people to support the re-election bid of the PDP Governorship candidate and work with him to accomplish even more".
The roll call of the governorship candidates who appended their signatures in the document include, Ihunwo Samuel Nkem (ID); Emmanuel Nwabrije (DPP); Deacon Enyi Princewill (NNPP); Chief Collins Ndegwe (PPC); Prince Kalada Allwell (ABP); Arc. Olowu Messiah (ANN); Dr (Mrs.) Tepikor Anastesia (NCP); Boma Edmund Jacks (PPA) and Chief T.I. Robinson (RBNP).
Others are, Aleso Akpere (GPN); Ezekiel A. Nyenmegwe (JMPP); Igboechi Mac A. (NLMP); Sampson Leader S. (LPN); Elem Chinweike (HDP); Echezolam Nweke (ACD); Onyema Chinedu (NAC); Chimeka Nmerukini (SNC); Rev. Orutula Achira (DPC); Oprasua Johnbull (DA); Ichenwo Uchechukwu (AD); Nwarochi Franklin (NUP) and Maru Napoleon (APA).
Also in the list are, Amb. Clifford Edanuko (PPP); Inye P. Dokubo (AGAP); Emesiobi Elvis Moses (CAP); Enefaa Amachree (MRDD); Ohia Prince Obi (APGA); Henry Robinson (NPC); Tamunopiriala Jumbo (PAC); Prince O. Onumbu (UPP); Michael Onwanze (C4C); Cornelius Ngedo (ANP); Wokekoro Dike (AAP) and Gimbe Baritor (RP).
The list also includes, Kemka S. Elenwo (ANDP); Barr (Mrs.) Rebecca R. Brown (BNPP); Omangima Idoniboyedim (YPP); Owhonda Obunezi (WTPN); Ekeji Chinweri (MMN); Hon. Ben C. Ogbobula (ZLP); Ngaye Benebo (UPN); Ali Omah Godpower (PPN); Ugochika Ogbo (NEPP) and Comrade Chukwuladi Ahiakwo (FJP).
The list further includes, Morrison Briggs (PT); Miller C. Ogwu (ACPN); Derefaka Ajubo (PCP); Ejukwu Eze C. (PN); Chief Kukay Barine (APU); Rowland Opusunju (PRP); Henry T. Tomii (YES); Deekae K. Richard (ASD) and Charles C. Uchegbu Esq. (MAJA).
The governorship candidates, in the resolution, said they have also communicated their decision to Wike, adding that they have 'unanimously, voluntarily and wholeheartedly' adopted Wike's candidature.