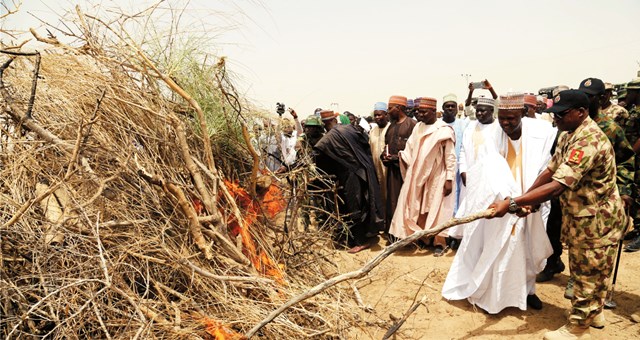 Farmers in Ogba/Egbema/Ndoni and Ahoada West Local Government Areas of Rivers State have decried massive destruction of food crops by the recent flood in the area.
The farmers also said that over 2000 hectares of farmland were affected by the flood in the area.
Speaking with The Tide in an exclusive interview in the area, Sunday, some of the victims said they had lost over N500 million worth of farms produce, including their farm's implements in the ongoing flood deserter.
At Akinima, the headquarters of Ahoada West Local Government Area of the State, a farmer, Mr Kingsley Odili, said his 20 hectares of plantain plantation, including the cassava farm were sacked by the flood.
Odili, said he was forced by the flood to harvest some pre-matured crops like cassava, yam and plantain which could not be sold to recover the loan he obtained from the bank for the farming season.
He called on both the State and Federal governments to come to his aids.
Also speaking, Mrs Kate Joram said there would be serious famine in the area next year, if the flood-affected farmland is not properly addressed by governments.
She said already the new crops that supposed to be harvested next year for food production were all damaged by the flood and that there was no assurance that the flood would recede soon for replanting.
"Because of the flood, we are forced to harvest our crops prematurely, and this flood that has affected many farmland would definitely cause serious famine in the land by next year.
"A bag of cassava that sold for about N2,5000, now sells for N200.00 only, meaning that farmers in the area would be imporvished by next year.
"We are calling on governments, corporate bodies and individuals to come to the victims aids, especially the farmers", Mrs Joram lamented.
Meanwhile, the Chairman of Ogba/Egbema/Ndoni Local Government Area of Rivers State, Hon. Victor Odili said 10 communities were affected by the flood in the area.
According to him, the affected areas includes Akinima, Ogbogene, Agwee, Isikwa, Asimonite, Otu Eche and Asi-Asagha.
He said the local government council has already provided some centres in the area as Internal Displaced Persons (IDP) camps for the affected members of the communities.