Why Are Some Nigerians Eager To Migrate?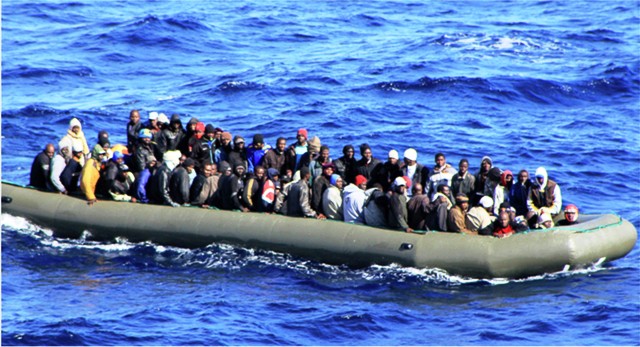 Joyce Esosa, 29, is from Edo but finds herself roaming the streets of Abuja after an attempt to migrate to another country without valid documents failed.
Earlier, she had also made frantic efforts to study medicine in one of the nation's universities but she was not lucky and she believes something ought to be done quickly because she is ageing.
She finally got involved in discussions with some friends on how Nigerians move to other countries to seek job and comfort in most of European countries, especially, Spain, via crossing the Mediterranean Sea in Libya coasts to the country.
Migrants preparing to cross to Europe through the Mediterranean Sea
Telling her story to justify her decision to travel out, she says "each day in Nigeria feels like hell for me and all I want is an opportunity to travel abroad and make a better living.
"I have nine siblings and I am the third; my father died years back and my mother is a petty plantain trader; life has been very difficult for the family.
"Two of my siblings died due to lack of money; the first one died in an accident where she hawked sachet water.
"Eight months after, I lost the second to a sickness that required blood transfusion and because the family did not have money to buy blood, he had to die.
"I decided to seek a better life for both myself and family at all cost, I ran away from home four years ago.
"I made several attempts to travel out of the country but it never worked out when a friend took me up in Abuja, promising to help me to get a job, only for her to introduce me to different men.''
Similarly, 34-year old Musa Ahmed, a commercial motorcycle operator from Zamfara believes that people are willing to do anything to improve their living standard, attributing the development to level of poverty in the country.
"That is why the crime is high in Nigeria because it hurts a lot to see your loved ones suffering and you can't help or do much.
"I live in an uncompleted building with my family; I was a farmer back in Zamfara now in Cross River. I relocated because I wanted a better life for myself and for my family.
"Life is not getting better here either for me and my family, I ride motorcycle in which each drop is N50 and I make at least N1, 500 per day, but it is usually not enough.
"If government can create opportunities and bring down the cost of living, things will get better and Nigerians will not waste time in seeking comfort elsewhere,'' he said.
Observers, therefore, note that poverty, lack of job opportunities and uncertainty about life, somewhat, contribute to the desire of some Nigerians to flee the country.
The note that although government authorities and other stakeholders have been warning against illegal migration on many occasions, some people are bent on such mission that, in most cases, can end in regret.
Yet, statistics from European Union show that Nigeria has the fifth highest number of citizens illegally migrating to Europe in the search for illusive greener pastures.
Worried by the development, the Chief Executive Officer of a non-governmental organisation, Connected Development, Mr Hamzat Lawal, called on the youth to leverage on the climate change to create sustainable job opportunities using emerging technology instead of travelling overseas.
Lawal noted that climate change was a 21st century problem which could also have its advantages to check illegal migration.
He said as much as climate change was viewed as a problem, it was also an opportunity for the country to manage its limited and scare resources.
"We can generate electricity from solar energy or sunlight. We can use new and emerging technology to cook and reduce greenhouse gas; this is how it can become an opportunity.
"Climate change has affected our economy negatively; also our forest cover has been depleted over time by people cutting down trees for fire or furniture.
"The Lake Chad region which used to be a business hub for Nigeria and even other African countries, where they have fishermen and women doing businesses, is no longer so.
"This means that the young energetic people have now migrated and left the region in search of greener pasture whereas they can use new and emerging technology created by climate change to develop in their own country,'' he said.
Lawal said migration of Nigerians had also increased because of the economic crisis in the country, observing that there were still hope and opportunities.
"We are losing talents and young minds that are supposed to build our growing economy because people are leaving the country because of lack of opportunities,'' he said.
"Government needs to look at how we can thrive by tapping into new and emerging technologies such as the clean cooking stoves that emit lesser greenhouse gas to engage the youth.
"If we can invest more in solar technology, build capacity and also reduce taxes to businesses, it will create value and jobs.
"If there is an enabling environment where there is hope of prosperity, people will not want to travel out of the country.
"People will not want to leave their comfort zone to undertake the risk of travelling for days and putting their lives in danger.
"But, because things are not the way they should be, that is why people are willing to take all manner of risks to better their lives; simply because they believe that there is hope and prosperity on the other side,'' he observed.
In the light of this, Mr Nnimmo Bassey, an environmentalist, advised the Federal Government to implement existing expert research findings to recharge the Lake Chad basin.
Bassey, the Executive Director, Environmental Rights Action, an environmental rights advocacy group, observed that it was a good development that Germany offered to pump 18 billion Euros to recharge the Lake Chad Basin.
He said implementing the research findings, already analysed by experts, would contribute to the success of the project.
The environmentalist, who attributed the shrinking of the lake largely to climate change, said that research had been conducted over the years on ways to tackle the problem.
Bassey, therefore, commended Nigerian and German governments for their efforts to revive the lake, noting that vibrant Lake Chad business communities would, to some extent, check illegal migration among Nigerian youths.
"We do not have details of what the assistance from Germany will be directed to, but we hope it addresses the research findings of appropriate bodies that have worked on the challenge.
"There is the need to rebuild the overall environment but this must be phased with short, medium and long term outlays.
"Efforts must be made holistically with all countries in the Lake Chad basin playing their roles.
"There is urgent need for us to step up our watershed management because sometimes, we tend to think that water supply is inexhaustible,'' he said.
Bassey suggested intensive planting of indigenous trees and crops that were well adapted to the region to protect watersheds and the environment.
All the same, concerned citizens believe that implementation of good policies and making the governance process more citizen-friendly, are some of the methods of discouraging more Nigerians from travelling abroad illegally.
Onyegbula writes for News Agency of Nigeria.
Jessica Onyegbula
IITA Develops New Potato Variety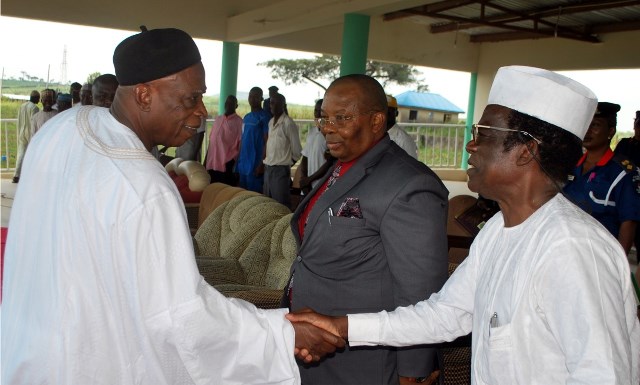 Empowering, Novel, Agri-Business Led, Employment, Technologies for African Agricultural Transformation (ENABLE TAAT) has recently developed Orange Fleshed Sweet Potato (OFSP) species to tackle malnutrition and reduce diabetes in Africa.
The ENABLE TAAT Field Trainer of the International Institute of Tropical Agriculture (IITA),  Mr Murtalab Adedamola, made this known in Ibadan yesterday.
He said that the development of the potato species was one of the plans of IITA, aimed at combating malnutrition and attaining food security in Africa.  Adedamola said that OFSP was different from the Irish potato, adding that it contained a lot of water, Vitamin A, high carotene and low level of sugar. "It has two varieties – King J and Mothers' Delight, and it can be used for baking cake, snacks and bread.
"It is stress-free, its cultivation cycle is within three months; it is not a tuber but a root and it does not go deep into the soil like cassava.
"The growth continues even after harvesting, it is good for children and diabetic patients because of its low level of sugar. Farmers can plant a hectare with just 500kg. vines of OFSP, which multiplies.
"They should cut the vines together, bundle them together, weigh them and then plant them. Farmers can plant at a depth of 20 or 25 cm and at an angle of 45 degrees because the spacing can determine the yield," he said.  Adedamola advised farmers to always apply MPK fertiliser to the crop after two weeks of planting, as the exercise would go a long way to improve the yield if the crop had access to water.  The field trainer said that the maintenance of an OFSP farm would not require much weeding, adding that the soil would crack while its flowers would shoot out to signal the appropriate time for harvesting.  He, however, warned that the King J variety of OFSP was better grown in the northern parts of the country, while the cultivation of the Mothers' Delight type would thrive in the South.
"In Cameroon, we have four varieties of OFSP and in Cote d'Ivoire, there are six varieties. Farmers are planting it already but the produce lacks market because people are not aware of its numerous benefits. "When people learn about its benefits, they will start patronising the farmers well; we will definitely have more varieties of it in Nigeria because it is a crop that can transform the livelihood of potato farmers perfectly,'' he added.
Assembly Approves N1.5bn Agric Loan
The Niger State House of Assembly has passed a resolution granting approval to the state government to access a N1.5bn facility for the implementation of the Accelerated Agricultural Development Scheme (AADS).
The House passed the resolution yesterday following the presentation of the report of Joint Committees on Finance and Agriculture.
Presenting the report, Chairman of the Joint Committee, Alhaji Abdullahi Mammagi, said it interfaced with relevant stakeholders to ascertain the justification for the request made.
Mammagi noted that the facility was being offered at an interest rate of nine per cent per annum and 60 months repayment period by the Central Bank of Nigeria.
"From the interface held, the committee found that the Federal Government had offered a window of facility to states to support implementation of AADS in states.
"The CBN, through Zenith Bank has offered to provide the of N1.5bn. The facility is offered for a period of 60 months, at an interest rate of nine per cent per annum.
"This is deemed to be highly competitive in terms of what obtains in the banking industry.
"Niger State has keyed into the programme as its implementation would stimulate and support socio-economic development in the state," he added.
According to him, the repayment cost was manageable, adding that it would not be too much burden on the monthly cash flow of the state.
Similarly, the House commenced debate on the 2019 budget by the governor.
NGO Urges FG To Increase Agric Financing
The Fresh and Young Brains Development Initiative (FBIN), an NGO, has appealed to the Federal Government to increase its funding on agriculture, especially for women and youth farmers to increase their yields.
The Founder of the initiative,  Mrs Nkiruka Nnaemego, made the call on Monday in Abuja at the Yfarm National Colloquium on Attracting Public Financing in Sustainable Agriculture for Youth and Women Small Scale Farmers.
Nnaemego said that the Nigerian government had committed to the 2014 Malabo Principles of ensuring increase in public funding to at least 10 per cent of the national budget to the agricultural sector.
According to her, this will enable the countries effectively implement their programmes to reduce hunger and increase productivity among in Africa.
She said that this commitment had not been achieved and it was affecting the productivity of small scale farmers, who consisted of about 70 per cent of the country's farming population.
"This colloquium provides a unique platform for stakeholders in agriculture to brainstorm on innovative models and approaches for attracting public financing and government involvement in agriculture.
"From the Malabo declaration, which African Heads of State agreed to commit 10 per cent of their countries' budgets to agriculture, it is unfortunately that Nigeria is still below three per cent.
"Agriculture is the way to go now since the country is looking for other options aside oil. We need to increase finance in agriculture.
"Although the Federal Government is trying, but it should try harder," she said.
She explained that Yfarm project's goal was to promote a youth/women-led agribusiness society by reducing poverty, thereby increasing active youth/women participation in sustainable agriculture by 2020.
She said that Yfarm Project had been at the forefront of policy advocacy, media engagement, capacity building and mentoring of rural and vulnerable youth/women in some parts of Africa.
"We celebrate outstanding youths and women, provide access to markets and business networking through our National and African Youth Agric Festivals and Concerts," she stated.
The Project Coordinator, Food and Agriculture, Actionaid Nigeria,  Mr Azubike Nwokoye appealed to the Federal Government to create an enabling environment to attract private investment. He further urged government at all levels to do their parts by increasing public financing on agriculture across all areas with  comparative advantages.
farming season?
"That is a failure in its own already."
Soni appealed to the government to make available inputs by January not in April and May when such inputs were not needed.
The Programme Officer, Food and Agriculture Organisation (FAO)  Mr Alphonsus Onwuemeka said that agriculture was in the concurrent list and urged the state governments to play their parts to lessen the burden on the Federal Government.
He acknowledged the Federal Government's support to agriculture and urged women to take advantage of the gender unit created by government at the Ministry of Agriculture to handle women challenges.