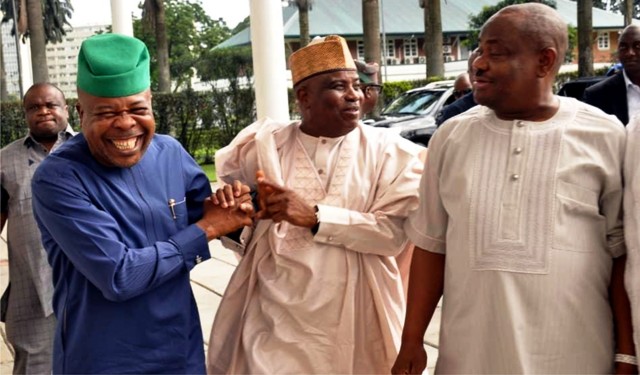 The Rivers State Governor, Chief Nyesom Wike has declared that no official of the Rivers State Government would appear before the Economic and Financial Crimes Commission (EFCC) over her politically motivated investigations until the commission approaches the Court of Appeal to set aside the 2007 Judgment barring the commission from investigating the state.
In a statement, yesterday, Special Assistant to the Rivers State Governor on Electronic Media, Simeon Nwakaudu quoted Wike as describing the alleged action of the EFCC as a "political witch-hunt".
The governor declared: "We are not afraid of their probe and they have no power to probe us.
"No government official will appear before the EFCC until they set aside the court judgement of Rivers State Government against them in 2007. We cannot be intimidated.
"They filed for leave to appeal the judgment at the Court of Appeal. Until they set aside the judgment, we will not come."
Wike said that the media trial by the EFCC would amount to nothing, pointing out that the Rivers State Government was aware of the move before it even started.
"We are aware of their tricks. They should not bother engaging in media trial because it will not work. This is mere political witch-hunt.
"They must obey the law. We have filed another action against the EFCC. Because they have been served, they are telling the Press that they have started investigating Rivers State Government.
"This media war by the EFCC will not work. We stand on the rule of law", Wike stated.
It would be recalled that while speaking on the freezing of Akwa Ibom State and Benue State accounts recently at the Government House, Port Harcourt, Wike said that the ultimate target of the APC-led Federal Government was Rivers State, where they have already detailed the EFCC to carry out very unconstitutional activities.
He said: "There is no worse impunity than for the EFCC to shutdown a tier of government through the freezing of the accounts of two state governments.
"An agency of Federal Government has frozen the accounts of Akwa Ibom and Benue State governments. This is the worst coup against the constitution and the law-abiding people of those states.
"But the target is not Benue or Akwa Ibom states. The real target is Rivers State. The EFCC as a federal agency has no business with state funds. That is the responsibility of the state House of Assembly".
He said that Rivers State Government under former Rivers State Governor, Dr Peter Odili obtained got a court judgment that the EFCC has no constitutional power to investigate state funds, pointing out that the EFCC was yet to vacate that order at a superior court.
Wike noted that the APC-led Federal Government has continued to use the EFCC for illegal actions in Rivers State, despite the Attorney General of Rivers State writing to the EFCC and attaching the said judgement against the federal agency.