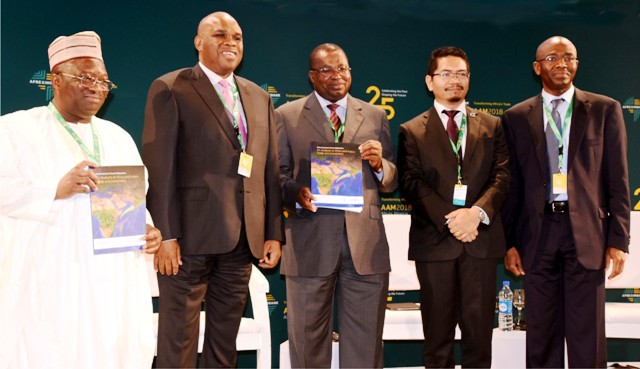 Acting President Yemi Osinbajo has launched the MSME Clinic as part of efforts to encourage the contributions of MSMEs to the country's economic growth.
The acting president said he was delighted to reward and recognise outstanding MSMEs as they represent remarkable examples of Nigeria's entrepreneurship, creativity and innovation.
According to him, efforts are underway to double government's commitment to ensuring that MSMEs find an enabling environment to thrive.
He said that in addition to the one-stop-shop launched in some states to carry the MSMEs clinics intervention, the Federal Government would soon launch its shared facilities for MSMEs initiative.
Osinbajo said the initiative would be in partnership with the Bank of Industry (BOI), Federal Inland Revenue Service (FIRS), Nigerian Export-Import Bank (NEXIM) and the Nigerian Export Promotion Council (NEPC).
"This initiatives will provide MSME access to fully equipped cluster style facilities for which they can pay an affordable fee to operate.
"These facilities would have been pre-certified by relevant agencies like NAFDAC, Standards Organisation of Nigeria (SON), Industrial Training Fund (ITF) and NEPC thereby removing the layers of bureaucracy that in the past held back many aspiring entrepreneurs.
"In the shared facilities, you already have the requisite licences that regulate your operation. So, using the facilities means that you will not go through all the regulatory bureaucracies.
"We will also partner with the Central Bank of Nigeria (CBN) and commercial banks to launch a credit facility that will make available to MSMEs loans from N2m to N10m with a period of five to seven years with little or no collateral.
"The interest rate will be five percent. All that you need is to provide the committee with a bankable business proposal and guarantor,'' he said.
Osinbajo said that the Federal Government was also exploring an initiative by CAC to allow a special window of 90 days for MSMEs which had not registered their businesses to do so at a highly subisidised price.
He said he was aware of complaints from some states and warned that he would not tolerate the shirking of responsibilities from agencies on the one-stop- shop for MSMEs.
Earlier in her remark, the Minister of State for Industry, Trade and Investment,Hajiya Aisha Abubakar had commended Osinbajo over the MSME clinics initiative and awards.
She said that efforts were being made to give the MSMEs expert advice on legal, accounting among other areas to strengthen their businesses.
The awards were in 12 categories, NEXIM Bank Excellence Award in Agriculture, won by Promaka Farms, Imo State; NAFDAC / SON Excellence Award in Beauty and Wellnesss won by Yelwa Shea Butter, Sokoto; DBN/ITF Award on Fashion and Style won by Hanbows, Oyo State.
Others are CBN Young MSME Award won by Chrisblo Glimmer Touch, Cross River State and MSMEs of the Year Award won by Bennie Agro Machineries, Plateau State; NEPC Award in Creative Arts, CAC Award on Furniture and Wood Works, SMEDAN Awards on Leather works, BOI Award on Manufacturing.
Also featured was NITDA Award on Technology Innovation, FIRS Award on Non-Profit Service to Humanity and Most Friendly MSME State won by Abia State. The event attracted the Governor of Plateau State, Simon Lalong, Deputy Governor of Abia, Mr Ude Oko Chukwu and the Deputy Governor of Cross River State, Prof. Ivara Esu.