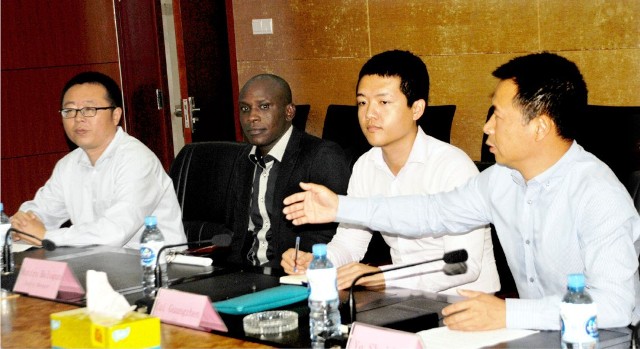 Available statistics obtained from National Bureau of Statistics (NBS) indicates that Nigeria has a trade deficit of more than N6 trillion with China between 2013 and 2016.
Economists observe that such trade imbalance has continued to grow in recent times, becoming a source of concern, even as  the Federal Government intensifies efforts at diversifying the Nigerian economy to boost export profile.
According to them, the statistics also show that out of Nigeria's total import bill of N29 trillion between 2013 and 2016, China alone accounted for N6.41 trillion.
They note that this indicates a huge gap when compared with N714.97 billion worth of goods Nigeria exported to China within the period, expressing concern that Nigeria's import from China is high.
Also, stakeholders argue that the huge import from foreign countries, apart from China, is responsible for the closure of local manufacturing companies such as textile and garment factories.
Worried by this development, President Muhammadu Buhari recently expressed concern about the imbalance in Nigeria-China trade.
At the opening of a Nigeria-China Business/Investment Forum in Beijing in 2016, he observed that trade relations between Nigeria and China rose from 2.8 billion dollars in 2005 to 14.9 billion dollars in 2015.
He pointed out that Nigeria accounted for only 8.3 per cent of the trade volume between China and Africa in 2015.
To address this, the president directed the establishment of technical committees on new China-Nigeria Joint Projects.
He also called on the Nigerian and Chinese business communities to work towards reducing the trade imbalance between the two countries.
"Although the Nigerian and Chinese business communities have recorded tremendous successes in bilateral trade, there is a large trade imbalance in favour of China as Chinese exports represent some 80 per cent of the total bilateral trade volumes. This gap needs to be reduced.
"Therefore, I would like to challenge the business communities in both countries to work together to reduce the trade imbalance.
"You must also imbibe the spirit of having a mutually beneficial relationship in your business transactions.
"You must not see Nigeria as a consumer market alone, but as an investment destination where goods can be manufactured and consumed locally,'' Buhari said.
Sharing similar opinion,  the President of Manufacturers Association of Nigeria, Dr Frank Jacobs, noted that the issue of trade imbalance between Nigeria and China was not a new development.
He pointed out that while about 87 per cent of Nigeria's exports to China were oil and gas products, China imports to Nigeria were machinery, equipment, manufactured commodities, textiles and even toothpicks.
"It is therefore logical to say that the imbalance exists because Nigeria's export of oil and gas to China has gone down and besides, we do not have capital goods to export to China.
"While imports from China alone accounted for 21.43 per cent of Nigeria's total imports in the last four years, exports to China accounted for only 1.48 per cent of Nigeria's total exports during the period.
"The amount of money Nigerians spend on importing goods from China alone in the last four years could have financed Nigeria's 2013 federal budget,'' he said.
He, however, observed that Nigeria might not be able to keep the trade volume higher because Nigeria's manufactured products were not competitive.
In his view, the President of the Abuja Chamber of Commerce and Industry, Mr Tony Ejinkeonye, said the trade imbalance between Nigeria and China was likely to keep on widening unless Nigeria improved its locally manufactured goods.
"To narrow the trade imbalance in the interest of local manufacturers, Nigerians must learn to patronise made in Nigeria goods and services.
"Limiting foreign trade to those goods that could not be made in Nigeria; initiation economic reforms with focus on price, ownership and subsidies for farmers will work in that regard too.
"Also, the establishment of special economic zones for the purpose of attracting foreign direct investment and importing high-technology products into Nigeria will boost Nigeria-China trade relations,'' he said.
Similarly,  Head of History Department, Kaduna State University, Dr Terhemba Wuam, said the government should address issues that affected Nigeria-China trade relations.
"Nigeria's leaders ought to take advantage of its closeness with the Asian giant to shore up its economic fortunes,'' he noted.
One of the participants in a related event in Kaduna recently, Dr Bello Ibrahim of the Department of Sociology, Bayero University, Kano, said Nigeria should review its economic, cultural and social policies with China.
"There are lots of opportunities for growth. Nigeria must capitalise on the mass potential for such growth.
"A lot needs to be done in the areas of policy design, institution building, human capital, entrepreneurship and leadership capabilities, so as to tap the potential.
"Nigeria also needs to develop a comprehensive strategy to effectively balance its engagement with China and the focus should be on plans for sustainable development that resonates with its citizens,'' Ibrahim said.
Another participant, Prof. Ibrahim James of History Department, Kaduna State University, observed that substandard Chinese products were in Nigerian markets and blamed it on poor economic policies.
"Nigerian importers connive with some Chinese companies to produce and import substandard goods into the country.
"This is only possible where policies are either not strong enough or implementation and enforcement are marred with corruption,'' he said.
Sharing similar sentiments, Dr Zara Kwaghe of the Department of History and International Studies, Federal University, Lafia, said the volume of trade between the two countries was in favour of China.
"We have been relating with the Chinese government in the area of education, economy and infrastructural development, but the partnership has remained permanently lopsided in favour of China.
"Nigeria has remained a huge market for Chinese products. It is time to look beyond just consuming Chinese products to something much more beneficial,'' she said.
She called on government to come up with policies to balance the lopsided relationship through technology transfer.
In the same vein, retired Air Cmdr. Emmanuel Jekada, former Director of Studies, National Institute for Policy and Strategic Studies, Jos, observed that Nigeria had consistently remained at the disadvantage in its trade partnership with China.
"But, we can do better, if we can effectively make the best out of the relationship, particularly in the area of infrastructural development and industrialisation,'' he said.
Prof. Abdullahi Ashafa of History Department Kaduna State University, nonetheless, attributed China's success to huge investment in education and urged Nigerian government to do same.
The Vice-Chancellor of the university, Prof. Mohammad Tanko, therefore, assured the public that the university would continue to promote academic discourse that could draw the attention of policy makers to effective strategy that would accelerate national development.
Yemi writes from News Agency of Nigeria.
Philip Yatai