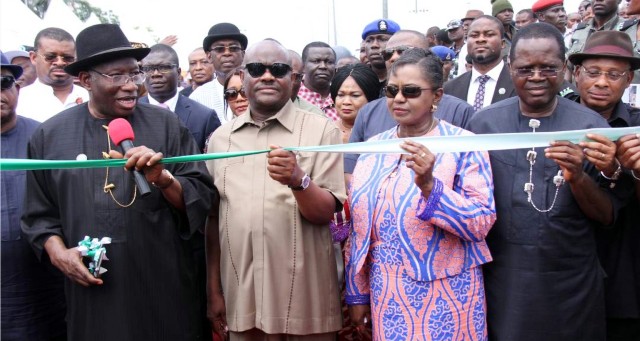 The Rivers State House of Assembly has summoned Halliburton Energy Services to appear before it to explain why it would discriminate against Rivers State people working in the company.
The House made the resolution at plenary, yesterday, after considering a motion brought before it by members representing Obio/Akpor Constituency 1 and 2, Hon Martin Amaewhule and Michael Chinda, respectively.
Also to appear before the House are the Trade Union Congress (TUC), Nigeria Labour Congress (NLC), National Union of Petroleum and Natural Gas Workers (NUPENG), Petroleum and Natural Gas Senior Staff Association of Nigeria (PENGASSAN) and the Rivers State Attorney General and Commissioner for Justice, Emmanuel Aguma (SAN).
The Speaker of the House, Rt Hon Ikuinyi Owaji Ibani, explained that the reason for inviting the labour unions and the government's law officer was to make the investigation holistic and have a broader view of what transpired "and how it has impacted  negatively on our people".
The speaker noted that the company would be used as a test case to stop all manner of inhuman treatment that Rivers people have been subjected to in the past.
While presenting the motion, Amaewhule, who is the majority leader of the House, had complained that Halliburton, a company situate at Plot 158, Trans Amadi Industrial Layout, Port Harcourt, has a characteristic manner of systematically discriminating against Rivers people.
"It is with a heavy heart that I bring this motion to halt the systematic discrimination against Rivers indigenes in Halliburton Energy Services before this honourable Assembly for consideration", he said.
He expressed worry at the several petitions on the deliberate design by the said company to allegedly ensure that Rivers people are kept out of managerial positions despite the fact that "Rivers is the home to the main operational base of this company.
"Mr Speaker, the office of the majority leader has been privileged with information that this company allegedly declares redundancy without due regard for laid down procedures and practices respecting the disengagement of the services of employees.
"What is worrisome is that this same redundancy excuse, on which the company rests when it comes to relieving Rivers State indigenes of their jobs, seems not to apply to indigenes of other states. This practice is simply not acceptable as Halliburton owes the host communities and the state, the corporate social responsibility to employ and retain qualified Rivers State indigenes at any level in the company", he said, alleging that, Rivers people, apart from being sacked indiscriminately, are never allowed to occupy managerial positions.
He said, "these unhealthy actions by Halliburton" the vast unhealthy practices against Rivers people by different organizations, noting that it was unconstitutional and unacceptable.
According to him, it derides every sense of nationhood and dignity to see people being discriminated in their own state, while citing Section 42(2) of the Constitution which frowns at discrimination and stipulates that no citizen of Nigeria shall be subjected to any disability or deprivation merely by reason of the circumstances of birth.
He called on the House to condemn the action and invite the top management of the company to explain the "vexed issue of constitutional breach and discrimination against Rivers State indigenes."
In his contribution, member representing Asari-Toru Constituency 2, Hon Enemi George, lamented that it was reprehensible and a new form of internal colonialism that people would be made strangers in their own land.
"Mr Speaker, they are not orphans and those of us who have the privilege to sit within the four walls of this hallowed chamber have a responsibility to protect these people, speak on their behalf and bite, if necessary.
"We cannot continue to fold our hands and watch our people suffer in the hands of these companies, every day, one IOC. We have a responsibility to create an enabling environment for their business to succeed, while we do that, I always say that they too must learn to play by the rules and do their own part of the bargain.
"They hardly pay taxes, they evade taxes, I have seen situations where they operate in Rivers State but remit their PAYE taxes to other states, they are taking us for granted, they are insulting us, and as a House of Assembly today, we must begin to reverse this trend, if not,  Mr Speaker, it would come to a point when we even cannot control it", he lamented.
He wondered how youth restiveness can be contained when the people who have the corporate social responsibility to ensure that the youth are employed are the ones who make sure they are not employed.
The lawmaker urged the House "to take decisive actions and let the companies know that they operate under an environment governed by people who are responsible to ensure that the society functions in a manner that the law has prescribed".
Others who condemned the act, include Hon Abinye Pepple (Bonny Constituency) and Deputy Speaker, Marshal Uwom (Abua Odual constituency).
While Pepple urged the House to rise to the occasion and "stop this madness and modern-day slavery against Rivers people", the Minority Leader, Ferdinand Anabraba, pleaded with his colleagues not to be quick to condemn the actions of the company based on the allegations but give the management fair hearing.