Don Tasks FG, Engineers On Research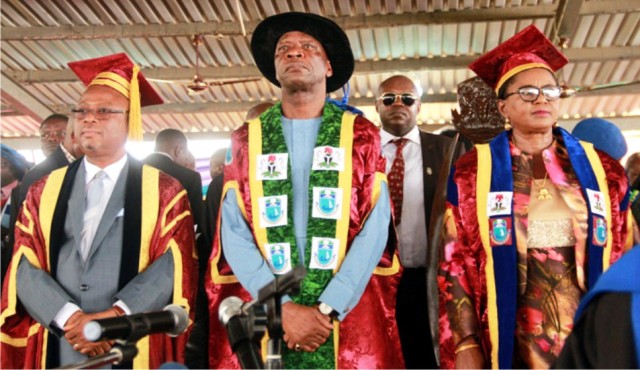 A University teacher, Prof. Mike Onyekonwu has called on the Federal Government and Nigerian engineers to invest more on research in order to take the lead in world oil and gas reserves.
Onyekonwu who is a Senior Lecturer in the Department of Petroleum Engineering, University of Port Harcourt made the all in a paper titled: "Adding Value Through Research: A Case of the Oil and Gas Industry." was presented at the technical section of a monthly meeting of the Nigerian Society of Engineers (NSE), Port Harcourt branch recently said Africa and Nigeria were major players in the world's oil and gas industry, but yet there are no research centres.
According to him, "oil and gas is one of the most commonly used and important commodities in the world," adding that "Africa and Nigeria can add value to the oil and gas industry through research by collaborating between the oil and gas industry, academia and government to the benefit of all the parties involved."
He noted that there were several research areas of interest to the oil and gas industry in Nigeria if the billions of dollars and naira were spent in research and development for energy.
The university lecturer also maintained that there were several achievements of research in the oil and gas industry in Africa and Nigeria, and frowned that research in this areas had been neglected; stressing that the way forward is a collaborative effort by the industry, government and the academia to key in for the benefit of all.
Onyekonwu further stated that, "value can be added in quantity or in quality research find-facts, fuel knowledge and solves problems as  value can be added to the oil and gas industry through research."
The oil and gas industry has three sectors, it provides more than 50 percent of the world's energy and is very important," he opined.
The Professor in Department of Petroleum Engineering in University of Port Harcourt also explained that the three key areas of oil and gas industry include upstream sector which has to do with exploration and production, and midstream is for transportation, refining and processing while downstream sector has to do with distribution and retail sales, and harped that time has come for research into the sector more.
Collins Barasimeye
NANS Lauds College For Reinstating Students Unionism
The National Association of Nigeria Students on Saturday commended the Management of the College of Health Sciences and Technology, Ijero-Ekiti, for the restoration of students union activities in the college.
Students' unionism was suspended in the college in 2013.
Mr Olanrewaju Olamide, NANS Chairman in Ekiti State gave the commendation in a statement issued on Saturday in Ado-Ekiti while reacting to students' union election held in the college on September 8.
At the end of the election, Victor Osadare emerged as president, having polled 506 votes to defeat his closest rival, Damilola Oyejide who polled 298 votes.
Olamide expressed confidence that the union and her newly elected officers would thrive under the leadership of the college's provost, Dr Cecilia Adebayo.
He commended the efforts of the Deputy Provost, Mr Kayode Abolarin, the Dean, Students Affairs, Mr Michael Adewumi as well as the college's Electoral Board Members for the successful conduct of the election.
According to him, the high level of transparency displayed in ensuring that students were freely allowed to exercise their franchise is highly commendable.
Olamide also commended the outgoing caretaker executives of the students union for the selfless services rendered during their administration.
The new executives will be inaugurated tomorrow, September 14.
Students Want STEM Introduced At Primary Level
Some students have underscored the need to introduce Science, Technology, Engineering and Mathematics (STEM) in their curriculum right from the primary level to stimulate their interest in the fields.
They stated this on Saturday at the STEM showcase organised by the Pan African University of Life and Earth Sciences Institute (PAULESI), University of Ibadan, in collaboration with Co-Creation Hub (CCH) to mark the African Union Day celebration.
It was gathered that the 110 students, mainly drawn from both secondary and primary schools in Ibadan were introduced to Robotics and Artificial Intelligence, 3D design and scientific-practical to solve real-life problems.
Anuoluwapo Okunneye, a JSS III student of UCH Staff School, Ibadan, said learning on how some scientific practical work and what he can do with it was exciting for him.
"I learnt about things like crafts and other robotics that can be made with scraps at home, thereby recycling what was initially considered as waste.
"I learnt in practical ways how mechanical energy turns to mechanical and the light energy that can be used to power appliances.
"This is an edge for me to start thinking of how to deploy all I have learnt to solve problems in my environment, especially the problem of waste management," Okunneye said.
Another student, Inioluwa Ireniyi, a JSS II student said "the event has opened my mind to the fact that I can be an engineer, that STEM is not only for males, but that I can excel there too.
"That I can be an inventor also and I would like to solve the problem of light for Nigeria by inventing a machine from renewable sources that switches itself on whenever there is a power outage.
Isabella Akinyede, a Primary Four pupil of Richmab International School, said she was fascinated about how robotics and artificial intelligence were used to make things work.
"I would like to become a medical doctor in the future and use the knowledge I am gaining in STEM to make things better," Akinyede said.
Also, Michael Oladunjoye, a Primary Six pupil of Rolis International School, Ibadan said he would like to become a physicist and the event has further stimulated his interest in STEM.
"I would like to develop more in this field and also build machines that will ease work when I grow up," Oladunjoye said.
In her address, the Director, PAULESI, Prof. Titilayo Akinlabi, said as a professor of Mechanical Engineering, there was the need to encourage many more students, right from their tender age into STEM.
According to her, this would turn them into solutions providers and make them compete favorably with their counterparts worldwide, especially girls whose numbers are few in the STEM field.
"For the young girl-child here today, for you to know that it is possible to be a woman and excel in STEM fields and even be at the top of your career," Akinlabi said.
In an interview, Mr Abraham Akpan, the Programme Manager, Co-Creation Hub, said that the company organised community engagement projects for communities and stakeholders to drive technology toward problem-solving in the country.
According to him, the programme focused on students from age 10 to 16 years old, to have firsthand knowledge of what STEM was all about.
"As technology and youths are taking over our world, students need to have hands-on knowledge and this is our way of contributing and impacting our world," Akpan said.
Attacks On Schools, Threat To Nigeria's Future -UN
The United Nations has said that the incessant attacks on schools by insurgents across the nation in recent times remains a threat to the nation's future.
The United Nations in partnership with major stakeholders in the education sector and Civil Society Organisations (CSOs), said the attacks on schools has affected hundreds of children in a number of states of the federation.
This was the fallout from the deliberations marking the 2021 International Day To Protect Education From Attack, held last Thursday.
Speaking at the Virtual Roundtable Discussion organised by the United Nations Children's Education Fund(UNICEF) and the Nigerian Institute of International Affairs (NIA), the Executive Secretary, National Universities Commission (NUC), Prof Peter Okebukola described the situation as a disgrace to the nation's education sector and stressed the need for the end of the trend to safeguard the nation's future. 
Okebukola, who is also the Chairman of the event called for the mobilisation of both the government and its citizenry to rise to the occasion by harnessing every machinery to end the trend.
"We have to equip our military even as we cut supply and logistics to the insurgents attacking our schools. We must use education to prevent education from attack. We must take extreme countermeasures to mobilise everything that we have to take the battle to the end. Funding of our schools and support for traumatised schools are also key. We must train school personnel on intelligence gathering", he said.
While noting that education was the antidote to poverty and ignorance as well as unlocking natural resources, the NUC boss harped on public awareness which he said would help to stem the tide of attacks on schools.
"My desire is that we raise public awareness. It is not that the public is not aware but we want to raise it from where it is today to a higher heights so that all stakeholders in education which includes everyone in Nigeria and across the globe to be more alert to the fact that education is the key to unlock natural resources.
It is also the antidote to poverty and ignorance. It is at the heart of the development of countries. So, we are not going to sit here today to bemoan our situation but we are going to raise awareness as we indicate roles the government and everyone of us will play", Okebukola said.
By: Lady Godknows Ogbulu