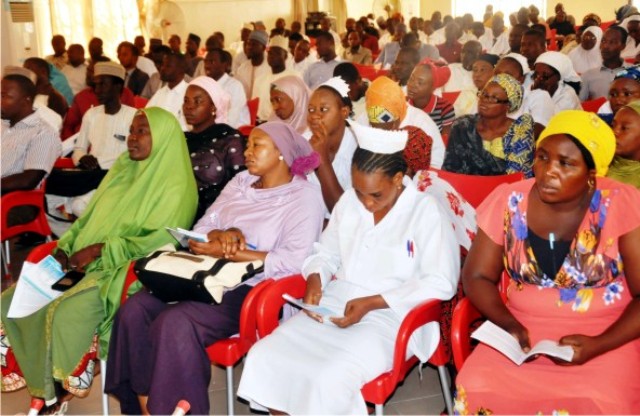 President Muhammadu Buhari has stated that his administration is committed to putting the health of Nigerians as a top priority with a more focus on the people living in the rural areas and the vulnerable population such as women, children under the age of five and the elderly.
President Buhari who made the assertion at the official flag off of the Primary Health Care Revitalisation Programme and Commissioning of the Kuchigoro Primary Health Care Centre, said this would be achieved in collaboration with national and international partners.
President Buhari said "I am aware that out of pocket payment for health constitute over 70 per cent of total health expenditure. This is more than the globally recommended 30-40 per cent.
However, only less than five per cent of the total population is covered by any kind of health insurance or risk protection mechanism which is against the recommended 90 per cent coverage by the World Health Organisation. Our vision is to reverse this unsatisfactory situation and better care for the poor and needy".
"Our administration in recognition of this promised to revitalize one primary Health care centre in each of the political wards in the country. So far, we have commencd the revitqalisation of one primary health care in each senatorial zone in the country. Our vision is to revitalize 10,000 primary health care facilities in Nigeria using a phased approach. The first phase of this approach is what we are flagging off today. It will signal the revitalization of the first 109 primary healthcare facilities across the 36 states and the Federal Capital Territory (FCT), he said.
While noting that the provision in the Natural Health Act, 2014 for the Basic Health Care Provision in the national Health Act, 2014 for the Basic Health Care Provision Fund was in the process if implementation, the president assured Nigerians that government would continue to ensure that great numbers of Nigerians have access to quality basic healthcare services.
He said "the provision of quality healthcare services will reverse the poor health indices in the country. I am hopeful that our women will no more be dying needlessly during child birth, our children will no more be dying needlessly as a result of vaccine preventable diseases or common ailment, access to healthcare will not be limited because of lack of money to pay".
Lady Godknows Ogbulu