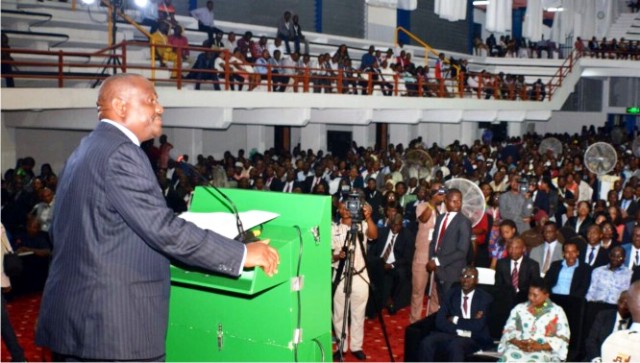 Being a  text of an address by Rivers State Governor, Chief Nyesom Wike, CON, at the opening ceremony of the 2016 Annual General Conference of the Nigeria Bar Association  at the Alfred Diete Spiff Civic Centre, Port Harcourt,  on Sunday, 21st August, 2016.
Protocol
It is a great pleasure for me to welcome all of you
to Port Harcourt, Rivers State, for the 2016 Annual General Conference of our association, the Nigerian Bar Association (NBA). Similarly, I also welcome all the international delegates and friends of the NBA from other parts of Africa and beyond that have come for this conference.
As the Governor of this State, let me thank the outgoing President, Austin Alegeh, SAN, and the National Executive Committee of the NBA for bringing this august conference to Port Harcourt. As the Chairman of the Local Organizing Committee, I assure you of a memorable Conference.
If you are a frequent visitor to Rivers State, you'll notice that this is the fourth major conference the State has hosted in the month of August 2016. We started with the Annual General Meeting of the Magistrates Association of Nigeria. Then came the Annual Conference of the Nigerian Guild of Editors, and the most recent National Convention of the Peoples Democratic Party (PDP) respectively.
Before these Conferences, we had successfully hosted the Africa Movie and Academy Awards, which attracted awardees and delegates from across Africa and beyond, as well as the first national Convention of the PDP. In September, we are also expected to host the West African Architecture Festival, which is expected to attract about 1500 national and international delegates from the West African region and the African Union of Architects to Port Harcourt City.You would agree with me that never in history has Rivers State been so attractive to national and international conferences and events.
As you know, conferences and events of this magnitude are always a boost to local tourism and especially, the hospitality industry. Just image how much revenue the over 10,000 delegates to this conference would inject into the State's economy through hotel occupancy and patronage of the locals for goods and services. Besides and most importantly too, these conferences are illuminating indicators of the peace and tranquility that Rivers State enjoys since the inception of our administration.
Therefore, I wish to reiterate that Rivers State under our watch is more than happy to host as many events of such substance because the benefits far outweigh the challenges and efforts. And so,to Mr. President of the NBA, thank you once again, for the opportunity you gave to us to host this year's NBAConference. You have by this conference helped, once again, to expose the blatant lies by fifth columnists on state of insecurity in Rivers State. Again, we wish to appeal to our detractors that instead of adversely running the State down with lies and unfounded rumours, why not join efforts with us to develop our State and provide a brighter future for our children and grand children.
As I look across this august gathering with pride and satisfaction, so much crosses my mind.
First, it is a rare privilege and honour to chair the Local Organizing Committee of this all important general meeting and to address such critical segment of the Nigerian society – lawyers, Magistrates, Judges, academicians, business moguls and administrators all bonded together as distinguished members of the legal profession.
Second, as a learned colleague, I most sincerely admire and respect each and every one of us for the things that you do to earn your living and the values that we all signify as members of the noble profession.
Third, I must confess that no other profession has had so much influence on my life more than the legal profession just as I remain grateful for the contributions many of you have made to my political career.
This year's theme: "Democracy and Economic Development" is thought-provoking. Although I am not one of the keynote speakers, my interest in the topic impels me to share some of my thoughts on the subject matter with you even as I wait to drink from the fountain of knowledge the conference speakers and discussants.
My starting point is that there is some consensus that liberal democracy fares better at fostering political freedoms and economic prosperity. Although countries have different political trajectories, ours is a constitutional democracy, which not only guarantees basic democratic rights but also constraints the actions of political authorities.
Also, Nigeria, like several other countries, has accepted the ideal of democracy just as the founders of our Constitution believed in the positive correlation between democratically inclusive political systems and successful economic development. Perhaps, that was why they inserted the nation's economic objectives under chapter two of the Constitution. Furthermore, as an incurable optimist, I think that everyone of us also believe it is still possible to achieve economic prosperity under our democracy.
Arguably, the phenomenal economic progress and prosperity enjoyed by citizens in liberal western democracies lends credence to the hope we easily invest in the connection between democracy and economic development, notwithstanding the fact that non-democratic systems in places like China have also proven to be beneficial to economic development.
However, after 17 years of experimentation,can we truly say that Nigeria's economy has prospered under our constitutional democracy? My answer, which I believe, is shared by most of you, is a straight no. Most of us hold the view thatNigeria is lagging far behind its potential in economic development despite the huge human and material resources at its disposal.
As I had earlier mentioned, our Constitution provides and guarantees fundamental democratic platitudes. However, constitutional guarantees, no mater how progressive, are barely a collection of words. It is the government; nay, a responsible government and the people that will make them effective to affect positive economic, social and political outcomes.
And so, the mere fact that we are now a democracy would not translate to economic prosperity without more. This must be coupled with a practicable vision driven by viable policies, targeted investments, and trade, which in turn must be supported by appropriate economic incentives such as legal protection of business and property rights, adequate public infrastructure, and security of lives and capital investments.
Thus, while the correlation between democracy and economic development is strong, the missing link, in relation to Nigeria, lies more in our inability to leverage on the democratic system and its values to drive economic development through a synergetic partnership and shared responsibilities between governments at all levels and the private sector.
Clearly, we make mistakes whenever we fail to recognize that democracy is never a mechanical condition. Besides distributing political voices more broadly with the common good as the measure, democracy also entails a host of complex demands, including responsible governance, respect for the rule of law, respect for human rights, including socio-economic rights, and an independent judiciary.
Democracy also allows for the proper exercise of democratic rights, including voting and having the votes count, peaceful protests and criticism from opposition parties and other elements as necessary stimulus for effective service delivery and accountability.
Therefore, our inability as a nation to entrenchand practice the bedrock values and demands of democracy is largely responsible for most of the development challenges confronting us as a nation.
In  law, we say the facts speak for themselves. And so, how democratic is Nigeria when governments at all levels are apt not to have any sense of responsibility; when the law and the justice system is easily compromised and incapable of protecting the weak from the powerful; when the electoral process is fraught with impunity;when security agencies become overly partisan; when viable opposition parties and voices are frequently emasculated; when those who defy the law easily escape accountability; when our courts readily become the centre rings of a circus for either the State or the powerful to abuse the judicial process.
The point must not be lost that as Nigerians, we all want to live in a country that is safe, secure and prosperous, a country where all are equal before the law, where we all enjoy our God-given freedoms of thought, religion and action, where no one or region is deliberately left behind and the benefits of economic growth are justly distributed, and where we exercise our democratic rights to freely and fairly hire and fire our leaders.
But 56 years after independence our country is still largely enmeshed in the throes of economic, social, and political conflictsand violence just as some of our political leaders freely personalize power, literarily expropriate public resources, and operate either above or outside the law to deny us our democratic rights, including development to the people. There are too many examples to recall on this, but let me mention a few.
In Rivers State, a former Governor in utter display of executive lawlessness closed down the courts against the people.This action not only denied over six million Rivers people access to justice but also brought untold economic and social hardship to the State, the business community, as well as lawyers who practise in the State and their families.
We forget often that we pay a heavy price as a society whenever our justice system fails to deliver outcomes that deter and punish crime and criminal behavior irrespective of status. In Rivers State, an Attorney-General abused his powers to withdraw criminal charges against a former legislator who was standing trial for assault and attempted murder of his colleague. Worse still, the centrally controlled police command is presently shielding the said legislator from prosecution and so the victim remains agonizingly frustrated and helpless without justice.
Rivers State is the only State of the country not represented in the Senate due to recurrent failure of the Independent National Electoral Commission (INEC) to conduct peaceful, free and fair elections in the State since 2015. Yet, the National Assembly and the rest of the country are unperturbed by this development, maybe because, as Rivers people and a minority, we do not deserve to have our voices raised and heard in the National Assembly in the first place.
Instead of accepting responsibility for their incompetence and inefficiencies, the same INEC that supposedly conducted 'peaceful elections' in the entire North-East geo-political zone at the time when the entire area was seriously engulfed and devastated by the Boko Haram insurgency is now using superficial threats of insecurity as the reason for their deliberate refusal to conduct the outstanding re-run elections in Rivers State.
On March 21 2016, the entire world heard from INEC that it had totally cancelled and called-off the re-run elections in eight local government areas of the Rivers State, including Tai Local Government Area, at about 1100 hours due to widespread irregularities and violence.
Fives months after, the same INEC has now turned 360 degrees to claim that they now have collated results of the re-run for Tai Local Government Area,for an election that was publicly cancelled and therefore, never held in the first place.
In their characteristic manner they ignored our protest, and have, instead, informed us that they will use the fabricated results, which undeservedly placed their adopted candidates at an advantage over and above other more viable candidates in that constituency despite a restraining order from the High Court.
Now, is this not political robbery acting out so shamelessly? Is INEC under Professor Mahmud not guilty of duplicity and odious conduct? What behaviour from an electoral body can be more obnoxious and provocative than this one? How can anyone place his or her trust on INEC to conduct free and fair rerun elections in Rivers State?
Five days ago, the Nigerian Police deceitfully took sides in an internal party dispute to prevent the opposition Peoples Democratic Party (PDP) from holding its elective convention in Port Harcourt despite the existence of countervailing orders from two judges of the Port Harcourt Division of the Federal High Court, directing the Inspector General of Police, who was a party on record, to secure and protect the convention and which orders were duly served on the Police.
The attempt by the Nigerian Police to explain away or to justify this scandalous action on the subsequent and prejudiced orders of Justice Okon Abang of the Abuja Division of the Federal High Court flies in the face of logic and the law.
The Honorable Justice Okon Abang sat until about 1700 hours, took a short break, and delivered his controversial judgment at about 1800 hours. At which time the Convention venue had already been sealed by a large contingent of security personnel personally led by the Rivers State Commissioner of Police (CP) and the State Director of the Department of State Security (SDDSS).  The question is: when was the enrolled order prepared, vetted, signed, served and or transmitted to the Police in Port Harcourt for enforcement in a matter in which they were never sued or joined as parties?
And because a PDP convention must be prevented from holding, the lives and property of Rivers people became inconsequentialin the reckoning of the CP and the SDDSS.
That was why in their desperation to enforce an insidious "order from above" they threw caution to the wind, and against every sense of rationality, mobilized the entire fleet of Armored Personnel Carriers and other operational vehicles from other parts of the State to the the Port Harcourt Civic Centre just to prevent a harmless party meeting from holding, and in the process left an entire State literally exposed and vulnerable to the mercy of criminals.
For us, there is nothing surprising about the treacherous actions of the CP, the SDDSS and their collaborators. At any rate, we are more than convinced that these are telltale signs of what they and INEC would unleash at the people of Rivers State during the re-run legislative elections they have promised us, would hold few weeks from now.
But as they regale over their 'conquest' of the Port Harcourt Civic Centre on that ill-fated day, let them not forget that,in matters of elections, Rivers people are sufficiently mobilized to resist any rigging arrangements at the pending re-run elections. A word, they say should be enough for the wise!
All too often, State Governors are unduly blamed for security challenges in States. But we all know that Governors are all but fictional Chief Security Officers, relevant only for the financial support they could give to an operationally challenged security substructure.
In Rivers State, politics and partisan considerations now determine the posting of senior security officers to the State. In particular, having signed-in onto the unholy conspiracy to undermine our administration, the Security High Command in Abuja prefers to make deployments that are intended to shore up the political fortunes of a degraded political opposition at the expense of providing effective security cover to the State and its people.
With an average turnover of less than three months, the present CP is the fifth police chief they have posted to Rivers State since we assumed office.
Recently, the Inspector  General of Police (IGP), despite our protestations, posted some questionable senior police officers to command and control very critical security formations in the State. While we acknowledge the IGP's right to post and transfer at his will, the concerns we raised about the character and competence of these particular officers and the motive behind their sudden redeployment to Rivers State are legitimate and remain unaddressed.
We strongly believe that by their behavioral antecedents and unabated hostility towards our government, these characters would rather work hard to sabotage and compromise peace and security in Rivers State in order to satisfy the demands of the political opposition that procured their posting, and for which interest they had and are still committed to promote and protect. Consequently, we hope the world would know whom and where to hold responsible should the security situation suddenly deteriorates in Rivers State.
Regrettably, in these and many other acts of impunity perpetrated either directly or indirectly against the people of Rivers State, and elsewhere across the country,by national institutions funded and sustained with taxpayers money, the NBA has maintained a worrisome degree of silence and indifference, despite the clear danger they pose to the survival and progress of this country.
As a free citizen of this country, my take is that we must all undertake to fight and defeat impunity to enable democracy flourish and deliver good governance and economic prosperity to our people.
Therefore, I wish to emphasize that part of our individual and corporate roles, as members of the NBA, is to protect our democracy from being destroyed by leaders who hold the system in contempt, using our voices, the law and the justice system as our basic tools.
Indeed, we elevate society and our profession when we fight to uphold democracy; when we fight at all times for the independence and integrity of our justice system, when we fight to protect universal access to our courts; when we fight for free and fair elections; and when we defend the constitutional rights of all Nigerians to peacefully congregate for lawful purposes.
At the same time, we stand condemned when we take our democracy for granted and do nothing when undemocratic forces subvert the rule of law, assault our democratic freedoms,hold everyone of us down as captives; and when we keep mute in the face of continuing injustice and repression.
Time was when the NBA not only acted as the conscience of the nation, never afraid to take principled positions on critical national issues, and never tired of fighting to entrench the rule of law, judicial independence, electoral reforms and public accountability.
Therefore, at a time when trust in our democratic institutions, including the National Assembly, the Justice system and even the legal profession has been shaken, I wish to remind you that your roles as members of the NBA, as officers of the Court, and as the stewards of the law and justice is more important now than before.
History is replete with institutions that have diminished into irrelevance because they no longer served the public interest. May this not be our portion as we emerge from this conference united and resolved to fight for the systemic change we need, to continuously uphold our dearest values, and by standing for justice and on the side of the people in all circumstances.
Learned Colleagues, as a lawyer in public service, permit me to shed some lights on the difference our administration has made in the service of Rivers State since we were voted into power a little over a year ago.
Let me start with the judiciary. We inherited a judiciary that was severely disabled and abandoned by the previous administration. For over a year, the State High Court had no clear administrative head, andan overly powerful Governor closed down all State Courts, while judicial infrastructure badly damaged, as a result of the long closure.
As we came in, we proceeded to systematically tackle each and every of these challenges with a high sense of urgency. Today, I am proud to report that we successfully resolved the leadership impasse within the provisions of our laws andre-opened the courts for full judicial activities within our first three days in office.
Furthermore, we chose to be different and exemplary in the appointment of judicial officers to head our courts. While my predecessor defied the law and the National Judicial Council (NJC)and attempted in vain to foist his confidant on the State as the Chief Judge, we meticulously followed the law and convention to appoint the most senior Judges to that exalted office.  As a result, we have successfully appointment two female Chief Judges of the State in quick succession based on the law within the last one year.
It is also instructive to note that the current Chief Judge of the State, Honourable Justice Adama Iye Iyayi-Lamikanra is not an indigene of Rivers State. But because we are committed to merit, due process, and the law, we gladly recommended her to the NJC and had her confirmedand appointed without hesitation. I wonder how many States in Nigeria could uphold, reward, and extend equal rights and privileges to non-indigenes in their services.
Having restored stability to the judiciary we proceeded to tackle the systemic problems affecting speedy and effective administration of justice, including the welfare of judicial officers.
As I speak, we have since ensured financial autonomy for the State's judiciary. With this change, the State's Chief Judge and the President of the Customary Court of Appeal no longer depend on irregular executive patronage to fund their development programmes.
We have also been active in improving judicial infrastructure. Our execution records show that we have spent over one billion naira to fund various judicial projects, including the rehabilitationand furnishing of existing courts and judges' quarters as well as the construction of new court halls in the State's High Court complex.
On welfare of judicial officers, we just concluded the acquisition of land for the construction of residential houses for judges and other judicial officers. Two months ago, we procured and distributed 57 new vehicles to every magistrate in the State's magistracy.
Furthermore, we are doing everything to increase the number of judges and magistrates in order to reduce their workloads and the time frame for the trial of cases. Last year, we got approval for the appointment of two High Court Judges and one Judge for the Customary Court of Appeal. We are intensifying to have more judges approved and appointed for the State this year.
Our intention to make Rivers State a regional judicial hub has motivated us to also extend our interventions to Federal Courts in the State. As I speak, we have almost completed the construction of a new modern two-story court building, which we intend to donate to the Federal High Court, all things being equal.
Barely four days ago, we received the nod from the President of the Court of Appeal to comprehensively renovate the Court of Appeal Complex in Port Harcourt. We will soon award the contract and ensure that work is completed in recorded time.
The bench and the bar are the inseparable pillars of the justice process. Thus, as a government, the welfare of both bodies remains dear to us. Accordingly, we have supported and will also continue to support the bar at the national and State levels.
To this end, we have constructed one of the most modern Law Centres in the country for the Port Harcourt Bar. The imposing three story building has some of the most adoring halls, offices and facilities you can ever dream of, including a 1200 capacity auditorium/gallery, ICT room, lawyers changing rooms, multi purpose hall, cafeteria/server points, kitchen, storage room, human rights general office, senior lawyers lounge/meeting room, ADR room, a lift and conveniences.
We donated six 25-seater buses to FIDA and the five existing branches of the NBA in Rivers State to enhance movement for the executive and members of the association and the various branches.
We contributed to the building of the NBA's national secretariat in Abuja. In appreciation, the fifth floor of that magnificent building has been designated as Rivers State floor, and we shall name the halls therein after prominent members of the legal profession from the State, dead or alive,who distinguished themselves both in their professional career and in their services to Rivers State and the nation.
Furthermore, we have since completed the long abandoned faculty of law complex in the Rivers State University of Science and Technology and named it after our own doyen of the legal profession, the first Senior Advocate of Nigeria, former Attorney-General of the Federation of Nigeria and finest legal luminary of all times, the late Dr. Nabo Graham Douglas. Recently, the facilities in the faculty were adjudged to be the best in the entire West African sub-region.
As a government, wefeel very strongly about the state of our criminal justice system. With delayed trials, lack of or inadequate legal representations for defendants, long detentions without trials, and overcrowded prisons, the criminal justice system is fast becoming a mill for injustice instead of delivering justice to the defendant and society.
We have therefore initiated necessary reforms, including domesticating the Administration of Criminal Justice Act 2015 with necessary modifications to achieve speedy and fair trial of criminal cases and reduce the tendencies for criminal behavior by inculcating respect for the law in our people.
We have also strengthened the law against hostage taking by amending it to provide for stiffer penalties, including the forfeiture of assets or profits derived either directly or indirectly from kidnap operations.
We have also made great strides in some other areas of priorities, such as the provision of road infrastructure, improving security,housing, and workers welfare.
At a time when most States are not paying salaries, we decided to prioritize the welfare of workers in the State. As I speak, we did not only clear the huge backlog of salaries owed to civil servants, pensioners, primary health workers and the State football teams by the previous administration; we are up to date in our salary obligations to civil servants, except those who still have issues to clear with our biometric staff audit exercise.
Those of you who were in Rivers State before our administration must be familiar with the state of our roads in Rivers State. We took over roads that had become death traps with deep potholes serving as hot spots for hostage taking and other criminal activities. We also inherited several other major economically viable roads, which the previous administration abandoned soon after they were started.
However, we have since completed the most ambitious road rehabilitation programme ever undertaking in the State with our operation zero pothole programme.Today, most of the roads and streets in Rivers State have been transformed to become some of the smoothest you can drive on in the country.
Besides road rehabilitations, we have also constructed or reconstructed over 20 new roads and bridges while several more roads and other projects are going on, including the 16 km Sakpenwa – Bori road, which straddles three Ogoni Local Governments Areas of Tai, Gokana and Khana, the dualization of Elelenwo-Akpajo-Eleme road, Trans-Amadi road, the Oil mill-Elelenwo-Akpajo road, the Igwuruta-Etche-Chokocho road, the Obiri Ikwerre – Airport road, the Port Harcourt Ecumenical Centre, and the Port Harcourt Pleasure Park. We recently awarded contract for the expansion and rehabilitation of the Bonny/Bille Waterside jetty.
So far, we have injected over N80 billion into the state economy by funding the provision of roads and other critical infrastructure. This has gone a long way to reflate the state economy, create jobs in the construction industry and provide empowerment for local venders and suppliers.
Also, despite the frustrations, we have prioritised funding for security services and operations in the state more than any other state. In the last one year, we have not only provided over 100 operational/patrol vehicles to strengthen the state's security sub-structure but also ensured regular funding for the logistical and operational needs of the state.
Although we are not where we want to be, we are happy that security has improved much more and Rivers State is substantically more peaceful, safe and secured than before for residents, businesses and visitors.
Those who are objective know that Rivers State has been free from the wanton attacks and destruction of the country's hydrocarbon infrastructure by the resurgent militants due to our efforts to keep Rivers State peaceful and secure our national economic assets for which we deserve to be commended and encouraged.
On the whole, what we have achieved in the last one year with the lean resources at our disposal goes to demonstrate what is possible under a responsive and responsible leadership.
As we look forward to the future, I want to promise you that it can only be better for Rivers State.
Finally, I hope that you will all have a fulfilling time in Rivers State. Remember, all work and no play makes Jack a dull boy. So, while you participate in conference activities, also find some time to go round Port Harcourt City to feel and absorb the life, ambience, peace and peculiar Rivers hospitality.
Thank you a lot  and may God bless you all.