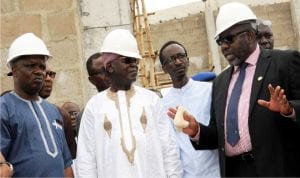 The immediate past Local
Government chairman of Nkanu East Council Area of Enugu State, Pastor Sam Iyiogwe has dismissed allegations of N200 billion fraud leveled against him during his tenure in office, describing the allegation as  wicked and  malicious.
He said the allegation which was the handiwork of his political enemies, was deliberately manufactured to tarnish his good image.
Addressing newsmen in Enugu recently, Iyogwe, who vacated his chairmanship position on January 4 this year said, he "decided to clear the air on the evil publication and disabuse the minds of innocent public.
"And I wish to categorically state that the publication is just an attempt to damage an innocent man's name and to rubbish my hard earned character and to defame my family name.
"So I wish to state that all the allegations were borne out of hatred, envy, strife, jealousy and there is no atom of truth in all mentioned.
"Ordinarily I expected the management of the newspapers that published the sponsored report to sack the authors of that story; incidentally the petitioner who wrote the EFCC and ICPC is not somebody I need to respond to because of his character, behavior and antecedents which are well known in and around Enugu state.
He disclosed that the petition at the EFCC was written by a former chairman of the council who he alleged wanted him to share the council's allocation having failed as a chairman himself but he was more interested in attending to the pains of  my people.
"That is the height of stupidity and act of irresponsibility in people just to dent your brothers' image simply because I refused to accept to wicked bargain for me to share Nkanu East money for you who served for four good years and did nothing.
"It is laughable for one to allege N200 billion frauds in a local government within a period of four years because even the state government has not received such amount within such a period.
"From their allegation it means I stole N4.3bn monthly; a local government?
"Also, I do not know the shopping complex they are talking about, because I and my family have not, anywhere in the world owned a shopping plaza.
" I wish to categorically state that I never bought; I never built any shopping plaza in Enugu or anywhere in the world.
"I have never registered any company as a filling station; I never bought, I never operated one; I am not into any partnership with anyone anywhere in the world.
"So it's left for the authors of this petitions and publications to prove to the whole world where these things exist.
"They say that I pay my wife N1.5m monthly; I don't know how they came with that kind of information.
" The accounts section of the council is there for verification; the auditors are there, the ministry is there to check every kobo we spent.
"More so, contrary to their claims it is a known fact in Enugu State that when I was leaving on 4th January 2016 that Nkanu East happened to be the only local government that wasn't owing salaries to staff, and I got a commendation for that"
"And I believe it was part of the reasons with my numerous projects around the communities of Nkanu East that made His Excellency Rt. Hon. Ifeanyi Ugwuanyi within few days of my leaving office appointed me to work with him", he said.