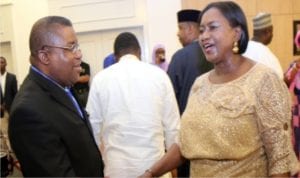 The Rivers State chapter of the Peoples Democratic Party (PDP) has elected a new executive to run the affairs of the party in the state.
The executive emerged yesterday at the state convention held at the Dr Obi Wali International Conference Centre in Port Harcourt, the Rivers State capital.
Speaking after the election, the state Governor, Chief Nyesom Wike, called on the new executive of the Peoples Democracy Party(PDP) to beat record of the past executive members.
The governor observed that Rivers State was among the 13 states governed by PDP that was not divided, and commended the party members for their steadfastness in moving the party forward.
Adding that the state remains the heart of the PDP in the country, the governor enjoined members to work hard in order to get back the reins of Federal Government in 2019.
Wike maintained that the PDP-led government in the state will do all in its powers to better the lot of the people, saying "We will fulfill our promises because we have a covenant with Rivers people".
In the next few weeks, Wike hinted that the state government will showcase its achievements in the past one year as part of fulfillment of its electoral promises.
Consequently, Wike has hinted that the state will organise one of the best national conventions of the party.
This weekend, however, a zonal congress to be held in Port Harcourt is expected to usher in the National Convention slated for 21st of May.
Earlier, Chairman of the party in the state, Bro Felix Obuah, commended stalwarts and members of the party for sustaining the party.
Obuah, who re-contested again and the only candidate for the chairman, said in his first tenure he made huge progress with the unveiling of new conference hall, winning the guber elections and re-run elections, constant and up-to-date payment of staff salaries, training of party staff and members abroad, among others.
He, however, noted that the party still has challenges, and therefore, called on members to remain committed towards clinching the Federal Government in 2019.
Outgoing Secretary of the party, Chief Ibibia Walter, said with the support of the governor and the people, the party was able to defeat the All Progressives Congress (APC) despite the effort put in by the past governor in the state.
He expressed the hope that the new leadership of the party will sustain the achievement and put the party on strong footing to win more elections in the future.
About 27 offices were contested during the convention, as Governor Wike, his deputy, Dr Ipalibo Harry Banigo, Deputy National Chairman of the party, Prince Uche Secondus, and others voted in the elections.