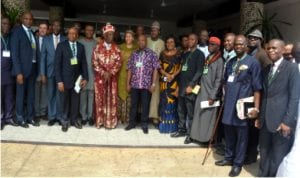 The  Delta State Commis
sioner for Environment,  Chief John Nani, has advised residents to comply with the regulations provided by the state waste management board in order to ensure clean environment.
Nani, who spoke in an interview with newsmen in Asaba on Sunday, said that residents were yet to fully embrace the new environmental law.
The commissioner said that the new regulations provided for a new waste disposal system.
He noted that some residents had continued to dump waste at unauthorised locations in Asaba and other cities, just to avoid paying waste disposal fees.
"We have a dump site at Ibusa and we have the Private Sector Partners (PSPs) who collect the waste from the points of generation to deposit at the dump site.
"Lots of the residents do not want to key into the new waste management system for proper evacuation of their refuse.
"We have noticed that people cut corners rather than do the right thing and that is unlawful.
"We ask the residents to pay their bills into the specified bank account to enable government to pay the PSPs as and when due.
"This will also help government to monitor the process, check irregularities and prevent unauthorised persons from defrauding them," he said.
The commissioner said that the ministry had sensitised the people through the media on the need to properly dispose their waste and pay their waste disposal fees.
"Yes, we know we can only minimize crime; so, we have set up a task force to move round the towns to check all these nasty behaviours of some people.
"There is also an advocacy for all residents, stalls, offices and companies to have waste bins in front of their apartments.
"Soon, we will begin to use Point of Sales (POS) machines to enable the residents to pay their bills in the comfort of their homes, using their Automated Teller Machine (ATM) cards.
"We have warned them not to pay cash to anybody, but pay to the bank just as they pay their electricity and other bills.
"The residents' compliance level for payment of waste bills in the state is still very low," Nani said.