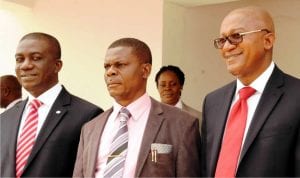 No fewer than 514
resident of Otukwu Village in Emene Community, near Enugu  have  benefited from a free medical outreach organised by 39 base services Group of the Nigerian Air Force, an official has said.
The outreach, which is part of activities marking the Nigerian Air Force (NAF) 52nd Anniversary, included: free medical education, checks, distribution of insecticide treated nets, eye test, de-worming of children and drugs.
The Commander of NAF Base, Air Commodore Ebenezer Alade, said that the exercise was part of the civil social responsibility of NAF.
Alade, who was represented by Squadron Leader Helen Godos, said that the exercise  was also meant to improve the relationship between residents of Enugu State and NAF.
By celebrating it in this way, by providing medical outreach in this village (Otukwu village in Emene Community); we see today as a special day to also reach out as part  of our social  responsibility to our neighbouring communities.
Anywhere Air Force exists, we try to extend the hand of love to our neighbouring communities.
"And we have come here to offer medical help to them in form of giving them health  talk, health talk on malaria, health talk on Lassa fever and (other) diseases the villagers need to know (about) and take precaution.
So, we have done that already.
And we have also given  medical  first-aid check and the ones we cannot handle here, we refer them to the specialist hospital, Enugu.
Responding, the Chairman of Otukwu Village, Chief Godwin Ugwu, thanked NAF for attending to their  medical needs.
Ugwu noted that the outreach had exposed  people of the community, especially the elderly to know that some of them  were suffering from high blood pressure as well as  diabetes.
"We are  grateful  because the Air Force people, they remembered us today.
"And some of our people, they did not even know they  are having some sicknesses, they are finding out today like high blood pressure and diabetes.
"But they now know. They (Air Force Medical team) have already told  us how to manage it. That is the benefit we got from  them  today.
"We are praying that God will give them (Nigerian Air Force) more grace so that they will reach other communities."
Our correspondent  reports that malaria  and high blood pressure were the most prevalent ailments diagnosed in the outreach.