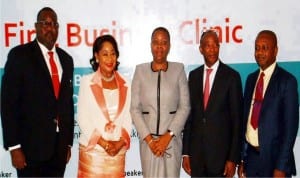 The Vice President, Prof.
Yemi Osinbajo and the United Kingdom Minister for International Development, Hon. Nick Hurd, are billed to grace this year's edition of the Nigerian Energy Forum.
According to a statement by the organizers, Hurd who had confirmed his interest to attend, is expected to make a presentation titled 'sustainable energy in Africa – Rising to the challenge'.
On his own part, Osinbajo would be the Chief Host of the forum and also formally open the event with a keynote speech entitled, 'sustainable Energy for All Nigerians-Grand Challenges, Big Opportunities'.
The forum is to formally open on April 12 at the Oriental Hotel in Lagos.
The statement noted that the event will address the grand challenges and big opportunities for sustainable energy development in Nigeria.
On day one, there will be the opening plenary session, energy innovation exhibition, four super sessions and Sustainable Energy Dinner. The Super Sessions will focus on: The Energy Policy Landscape; Strategic Development of the Nigerian Gas and Electricity Infrastructure; Sustainable Energy for National Development', and Financing the Energy System.
The statement said, Day two would open with special session on capacity building for regional energy sustainability, which is to facilitate sustainable development of regional energy resources for increased energy access.
Four technical sessions are expected to hold with focus on: improved energy services for large industries and manufacturers; smarter grids and innovative metering solutions; meeting the sustainable energy for All Goals; and opportunities for Research Development and Innovation.
Over 50 speakers and experts as well as 300 delegates across the world are expected to attend the event.
Chris Oluoh