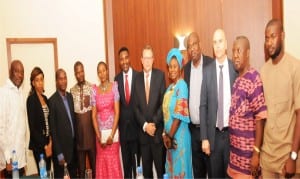 The apex Igbo socio,
cultural body, Ohanaeze Ndigbo, has tongue lashed promoters of the outlawed Radio Biafra, accusing them of deliberately feeding the world with falsehood.
Secretary General of the organization, Dr. Joe Nworgu, in a statement in Enugu yesterday, rebuked the Radio Biafra promoters over what he described as "their penchant for telling lies and causing disaffection among the people."
The Ohaneze secretary, expressed dismay that rather than feed the people with the truth, the station had continued to saturate the airwaves with hate messages and lies aimed at inciting the Igbo people of the South-east Nigeria and South-south geo-political zones against themselves.
He therefore cautioned those behind Radio Biafra to apply decorum and project the truth in their struggle for Biafra, stressing that their penchant for lies and deceit would never help their struggle.
The Igbo apex socio cultural body's position followed the news that had saturated the airwaves by Radio Biafra since Saturday alleging that Ohanaeze leadership had aborted the actualisation of Biafra.
The station was further quoted to have said that "some white men from America who came to deliver the United Nation's certificate of recognition and independence of the Republic of Biafra had after meeting with Ohanaeze Ndigbo in Enugu last Friday, withdrawn the certificate."
Nworgu, had also described the purported visit of the delegation from the United Nations as a ruse, stressing that the meeting the leadership of the body held in Enugu had nothing to do with the independence of Biafra.
The statement read:"since a few days ago, when Radio Biafra carried the news item that the Ohanaeze Ndigbo had aborted the actualisation of Biafra as a country, numerous text messages and telephone calls have been received by the Secretary General, Nworgu.
"The alleged visit by some white people from America to hold a meeting with Ndigbo through Ohanaeze with the intent of delivering a United Nation's certificate of recognition and independence of the Republic of Biafra is a ruse.
"The news item is a mere fabrication and is ill-motivated," the statement said.
Ohanaeze explained that on Friday, February 26, "the new United States Consul General in Nigeria, John Bray and his team had a meeting with Ohanaeze Ndigbo at Nike Lake Hotel.
"This was part of His Excellency's familiarisation tour of the country, he was in the southeast.
"He had meetings with the governors in the various states. In Enugu, the headquarters of Ohaaneze, he had a meeting with us on Igbo perception of Nigeria.
" This meeting is what has been distorted to be 'some white men from America came to give Biafrans independence. Of course, this cannot be the process of granting anybody independence."
Ohaneze, however appealed to the radio station and Igbo young men and women to be analytical in their utterances and be cautious in their actions.