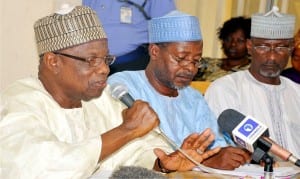 Chieftains of the
Peoples Democratic Party (PDP) in Rivers State have condemned the recent arrest of the National Deputy Chairman of the party, Prince Uche Secondus by the Economic and Financial Crimes Commission (EFCC).
Secondus was arrested by EFCC on Wednesday in Abuja for reasons yet to  be disclosed by the commission.
The Tide, however, learnt that the former PDP boss was arrested and detained by the EFCC on alleged receipt of 23 choice vehicles from a business associate of ex-Minister of Petroleum Resources, Mrs Diezani Allison Madueke.
The Secretary of the Greater Port Harcourt City Authority (GPHCA), Barr Erastus Awortu while reacting, described the arrest of Secondus as political witch-hunting by the ruling party in the country.
Barr Awortu, who described Secondus as a transparent and blameless leader, said the Federal Government's  anti-corruption drive was only targeting  PDP chieftains ahead of  the March 19, 2016  National and State Assembles re-run election in the state.
According to him, no amount of intimidation would deter PDP from winning all the re-run elections in the state under free and fair atmosphere.
Also on the Secondus' arrest, the PDP Chairman in Andoni Local Government Area of Rivers State, Hon Victor Ere, described the allegation against the National PDP chieftain as baseless and fake, alleging it was all a political calculation to weaken  the party in the forthcoming re-run election in the state.
He called on PDP supporters in Andoni to remain calm, assuring that Secondus who is from the area, would regain his freedom to serve the party in  the forthcoming re-run elections in the state.
But, a traditional ruler in the state, who spoke to The Tide under the condition of anonymity differed that the arrest of Prince Secondus was politically motivated as some PDP chieftains have alleged.
According to him, Secondus is a  politician and  business-mogul and  if by careless dealing, he was caught by the EFCC, he should be allowed to be interrogated.
He, however, called on the EFCC to be transparent and just in the prosecution of those under its custody, irrespective of party affiliations.
Enoch Epelle