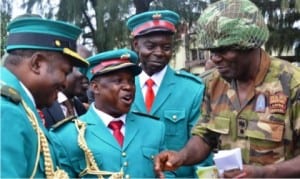 Former Minister of Power,
Prof. Chinedu Nebo, has urged Nigerians to undergo regular psychiatric test before seeking any socio-political and economic positions.
Nebo made the call yesterday at a workshop organised by the Federal Neuropsychiatric Hospital in collaboration with the West African College of Nursing in Enugu.
He said that this had become necessary as many Nigerians were affected with several levels of mental disorder.
According to him, over 64 million Nigerians suffer from the afflictions of mental illnesses, adding that they deserved urgent attention.
"Governments have built diagnostic centres, dialysis and ophthalmological centres but pay less attention to psychiatric and mental institutions,'' he said.
Nebo attributed poverty, high level of unemployment and other social pressure as the major cause of mental disorder to human health.
He commended the Federal Neuropsychiatric Hospital, Enugu, and West African College of Nursing, for initiating the interface between the people in government and the mental health practitioners.
The professor listed the causes of mental illness to include genetic composition of individual, trauma associated with brain injury and environmental stresses.
"They can be managed effectively to restore good health to the affected individuals given the available resources and government willingness to support mental health workers,'' Nebo said.
He decried the non-implementation of the 1991 National Mental Health Policy by late Prof. Olukoye Ransome-Kuti, aimed at incorporating mental health into national healthcare system at all levels.
Nebo, therefore, called on governments to fund and manage mental health system effectively in order to reduce its high rate in the country.
In a message to the workshop, Governor Ifeanyi Ugwuanyi of Enugu State, pledged government's willingness to support mental healthcare in the state.
Ugwuanyi, who was represented by the Commissioner for Special Duties and Intergovernmental Matters, Rita Mba, thanked the management of the hospital for organising the training.