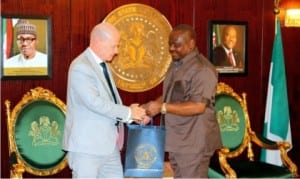 The Caretaker Com
mittee Chairman of the Port Harcourt City Council, Barrister Clifford Oparaodu, says the people of Rivers State will not regret the mandate given to the Peoples Democratic Party (PDP) in the state as the present administration is working on how to fast track development at the grassroots.
Barrister Oparaodu, who stated this on Tuesday while inaugurating three committees at the conference room of the council, urged the committees to assist the council in realising the aspirations of the New Vision of Governor Nyesom Wike in the state capital.
Oparaodu said the inauguration of the committees was borne out of desire to improve development in the state capital, urging the committees members to assist the council and the police to maintain peace in their various communities.
The three committees are Technical Committee, Streets Naming Committee and Committee on Community Development.
He said that the choice of members of the committees was facilitated by their hardwork and their standing in their various communities.
The council boss reminded the committees on the importance of security and urged them to advise the council on any matter that will ensure development.
He, however, warned members of the committees not to be political on issues.
According to him, "everybody must be involved and carried along. We must form synergy to promote peace so that the government will not fail in delivering dividends of democracy to the people."
Explaining the functions of the committees, Oparaodu said "the Technical Committee is to assist the council formulate policies, the Committee On Development is to help maintain peace in their domain while the Street Naming committee is to look at the indiscriminate numbering of plots and renaming of streets in the city of Port Harcourt."
Earlier, Dr Levy Kalagbor, Innocent Wigodo and Evans Ogoloma on behalf of their committees, commended the council boss for the appointment and promised not to fail in the vision of transforming the state capital.
They promised to go back to their communities and ensure that peace was maintained.