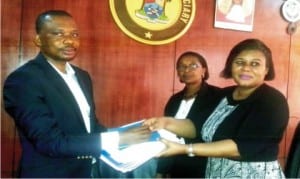 The Nigeria Football
Federation (NFF) has moved to seek partnership with the Nigerian Stock Exchange (NSE) on how to make the nation's football attractive to corporate Nigeria for investment.
The newly appointed Super Eagles Coach, Sunday Oliseh, made this known on Monday when he visited the NSE floor.
The Super Eagles coach who discussed with the leadership of the exchange noted his intention to make his team attractive in order to attract sponsorship and investment from Nigerians, adding that this is the only way to move the football industry forward.
Oliseh, who was in the company of NFF President, Amaju Pinnick and other top ranking football officials, said he will try his best to make his team as "attractive as possible in order to attract right patronage across the board".
The coach was given the honour of ringing the closing bell for the day's business at the capital market.
In his contribution, the NFF President Amaju Pinnick said the visit to the capital market was expected to kick start a working relationship between corporate Nigeria and Nigerian football.
Pinnick noted that the goal of his administration is to ensure that Nigerian football clubs are listed on  the exchange.
He said the desire would be accomplished in his tenure, adding that it is a gradual process and that this is the first time that a football figure is given the honour of ringing the market's closing bell.
It would be recalled that Oliseh was appointed the head coach of the Eagles on July 9, 2015 following the sack of Stephen Keshi.