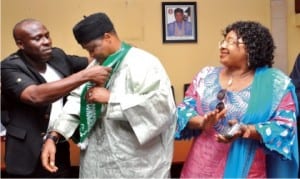 A Polytechnic Don, Dr
Obasi, O.Oko, has among others identified constraints emenating  from the statute setting up polytechnics and discrimination as key challenges facing polytechnic education in Nigeria.
Dr Obasi, who stated this at a conference on polytechnic education organised by the Rivers State College of Arts and Science (RIVCAS) Chapter of Academic Staff Union of Polytechnics (ASUP), last Thursday, hinted that "the key challenge of polytechnics in Nigeria is the result of the statute establishing polytechnic education.
The statute which established the system has been static, while the system itself has been dynamic.
"The statute  established polytechnics as a two-tier institutional Cul de Sac, or close system, with no opportunity beyond Higher National Diploma (HND) in the system, a situation that compels practically-oriented graduate of practical system, who desires further studies to cross over to a theoretical system (university)," he said.
In this same vein, he said, low-level academic staff (technologists), who desires higher education have no opportunity of doing so in the system.
He also stated that discrimination of Polytechnic education as being inferior to university education is another major challenge of polytechnics.
"Since the colonial era, there has been a lingering conception of technical education as inferior to the theoretical one, and it is meant for dullards and school dropouts.
"This low or negative image of technical education in the minds of people rubs off on the polytechnic system, thereby discouraging potential candidates, who, consequently, opt for university education," he said.
In order to tackle these and other challenges, Dr Obasi, in his lead paper titled "Polytechnic Education System for Science and Technology in an Emerging Economy, Nigeria in perspective," proffered solutions.
The solutions include a review of the Decree  or Acts establishing the Polytechnics with a view to eliminating the structural and other constraints inherent in the statute, and providing untrammeled career path for graduates of the system.
He also called for the recognition of polytechnic education as not necessarily been inferior to university education, as it offers a definite career direction which, unlike university  education, places emphasis on practice rather than theory.
Obasi further called for the establishment of a separate regulatory body for polytechnics and adequate funding," accompanied by scrupulous monitoring to ensure judicious use of allocated funds."
In his address, Chairman of ASUP in RIVCAS, Comrade Victor Osai, extolled the potentials of polytechnic education, saying that "if optimised, it will bring about sustainable development.
"Moreso, as the education subsector is meant to produce job creators and not job seekers," he said.
Earlier in his welcome address, the Acting Provost of RIVCAS, Dr Samuel Kalagbor urged lecturers and participants of the conference to strive towards excellence in their field of endeavours.
"Management will do its best to provide sustainable grants and allowance for research and technological activities, subject to availability of resources", he said.
The occasion was the 3rd National Conference of Polytechnics, which was held from August 12-14, 2015.
Stories by Sogbeba Dokubo