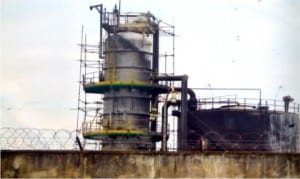 Stakeholders in the Nigerian Ports Authority Eastern Ports Command, have been assured of adequate safety and security of lives and property in the Eastern Ports.
The assurance was given by the new Commissioner of Police, Eastern Ports, Ebojune Joshua Ibine, after taking over from his predecessor, Jame Olatunji Caulkrick in Port Harcourt Port recently.
The Tide reports that until his redeployment, Ebojune Ibine was the Commissioner of Police Provost at the Force Headquarters, Abuja, while his predecessor, Jame Caulkrick has been elevated and redeployed as the Assistant Inspector-General of Police (A.I.G.), Marttime, Lagos.
Ibine stress the need for stakeholders to support and co-operate with his administration, promising to improve on the existing structures put on ground by his predecessor, with a view to ensuring a safe business environment in the Eastern Ports.
He warned those who do not have business at the ports under his Command to stay away so as not to disrupt the smooth delivery of goods and services in the Eastern Ports Command, as culprits would be visited by the full wrath of the law, he added.
Ibine, also advised officers of his Command to carry out their duties without fear or favour pointing out that any officer found wanting would be dealt with according to Police laid down procedures.
The Commissioner who is a course 13 member of the famous Police Staff College in Jos, Plateau State, posited that with the support and co-operation of all and sundry the ports would experience hitch-free service delivery.
Kinika Mpi