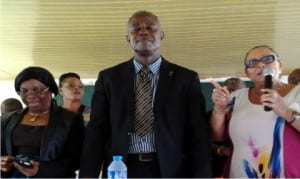 New Acting Provost of
the Rivers State College of Arts and Science (RIVCAS), Dr. Samuel Kalagbor has declared zero tolerance against poor work ethics among staff of the institution.
Dr. Kalagbor, who stated his stance against poor work attitude among staff on Thursday in his meiden meeting with staff of the College, said it will no longer be encouraged.
"We have observed poor work ethics amongst many of our staff. I want to encourage us that it is no longer business as usual," he said.
For the non-academic staff, the Acting Provost urged them to ensure that they are regular and punctual to work and also obtain permission from their relevant bosses if they must leave the office before closing time.
On the part of the academic staff, he noted that some of them do not teach their course outline in a semester, but still expect to be paid.
To counter this attitude, therefore, he said "the academic board has come up with a design on the way to tackle such persons."
He also charged the Head of  Departments and Directors to be responsible to their duties by ensuring that all staff working under them carryout their duties effectively.
"For the HODs and Directors, time has come, so, stand on your feet. If you don't do your work, and others don't do their work, this college will not move forward", he said.
One area in which he hinted that his focus will be on is what he called "a deliberate policy of compulsory imposition of books on students" and sale of handouts, which he said had been banned in the school long ago.
"Some are in the habit of going to other institutions to get books,  top their own profits, and sell to students.
"Such practice debases your intellectualism.  If you sit down you can write books.  So, we are going to strengthen the committee on assessement and regulations of sale of books… we will not entertain this, Dr. Kalagbor said.
"It will be recalled that the Rivers State Governor, Chief Nyesom  Wike appointed Acting Provost of RIVCAS on the 3rd of August, 2015.
Sogbeba Dokubo