'Mathematical Principles, Solution To Human Activities'
A Port Harcourt- based
Mathematician, Mrs Orolobo Paul-Worika says every human activities revolve around mathematics and application of principles is an antidote to most socio-economic activities.
Paul-Woika made this assertion last week at the American Mathematics Competition (AMC) Award Ceremony for South-South and South-East Region held at Grace Land International School, Port Harcourt.
In her pubic lecture titled," Mathematics, the Antidote to Economic Meltdown "noted that mathematics being the mother of sciences and the gateway to technology posseses the major tools used in the interpretation of human activities.
Mentioning Arittmetic, Algebra, Geometry, and statistics amongst other branches of mathematics, she explained that as a house wife, farmer, builder, transporter, administrator or whatever involvement, the world revolves around mathematics.
She noted that inability of member of the society as well as poor attitude to mathematic culture has led to a lot of problems besieging the society today.
She particularly remarked that when people do not care to collect receipts during business transactions, issues of fiscal indiscipline and fraud in public offices occure.
She maintained that the emphasis on mathematics should not be limited to classroom study as a subject but be applied in daily endeavours saying it guarantees logical and analytical thinking.
Earlier in his welcome speech, the President, African Mathematical Union, Prof. Adewale Solarin urged students not to be dreaded by mathematics as there are modern simplified ways of teaching it to make even a dull student understand.
Solarin who was represented at the event by Mr. Ogbayomi  Olukayode lauded Gracelend International  School for producing students who have won many awards at such international competitions and urged other schools to emulate her.
2021 UTME: Lagos Candidates Want Security Beefed Up Around School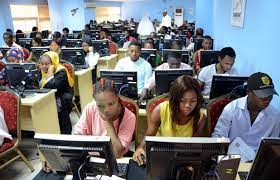 Candidates writing the 2021 Unified Tertiary Matriculation Examination (UTME) have called on the government and other stakeholders to strengthen security around schools so as not to jeopardise quest for education.
The candidates were expressing their concerns in separate interviews with The Tide source shortly after the day-one of the examination in some centres visited in Lagos.
Our correspondent reports that about 1.5 candidates registered for the examination organised by the Joint Admissions and Matriculation Board (JAMB), which would be conducted in 758 centres across the country.
Miss Emmanuela Onah, who said she hoped to study Medicine at the
Babcock University in Ogun, said that she was looking forward to an excellent performance at the examination.
Onah is, however, worried about the increasing level of insecurity bedeviling the country.
According to her, the increasing attack on schools is becoming worrisome and could affect the zeal for the quest for knowledge acquisition among children of school age.
Another candidate, Chidera Mbagwu, remarked that education was the right of every child and, therefore, the need for government to do everything possible to improve facilities and other learning aids in schools, especially the universities and polytechnics.
She noted that constant attacks on schools by gunmen must be confronted headlong if the country must realise its quest for accelerated development.
Hoping to study Law, Mbagwu was optimistic that the issue of security in the country generally would improve soon in order to restore normalcy in every sector of the economy.
"Right now, I have just taken the examination but my hope and prayer is for all these kidnappings and killings, both in and outside school environment, to stop because it is threatening our existence as a people and dampening our quest for higher learning,'' she said.
Paula Wilson, another candidate who sat for the examination, emphasised the need for governments at both the state and local government levels, to partner the Federal Government in building skills acquisition centres in all schools across the country.
"For me, I think gone are such days when people used to rely heavily
on their academic qualifications to make it in life.
"All that have changed now, going by the situations we find ourselves in now.
"I want to urge governments, at all levels, to assist us in the
direction of skills so that we can engage ourselves meaningfully and
be able to fend for ourselves, without waiting for any job
opportunity.
"This, to my belief, will go a long way in reducing poverty,
unemployment, restiveness and other vices among youths,'' she stated.
(NAN)
ASUU Threatens Industrial Action Over Non-Payment Of Members' Salaries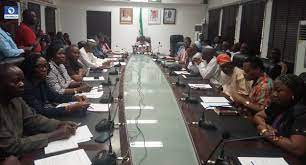 The Academic Staff Union of Universities (ASUU), has threatened to embark on an industrial action if the 13 months' salaries of over 1,000 of its members across the country are not paid.
Chairman, University of Jos chapter of the union, Dr. Lazarus Maigoro, who stated this in a statement on Saturday, in Jos, added that the Federal Government had also withheld the check-off dues of the affected members.
He accused Ahmed Idris, the Accountant General of Federation (AGF) for systematically denying the lecturers their remuneration, even after government and the union had reached an agreement on non-victimisation of its members following their last strike.
The chairman alleged that the affected members were being threatened to either enrol into the Integrated Payroll and Personnel Information System (IPPIS) platform, or have their salaries withheld.
He explained that despite the directives of President Muhammadu Buhari, that members of the union be paid their full remuneration, the AGF had denied the affected union members their pay, in complete violation of the terms of the agreement signed between the union and government.
Maigoro said that the office of the AGF had continued to feed the public and some sections of government with false reasons over the matter, such as incorrect BVN numbers, incorrectly spelt names and their sequential arrangement, among others.
He, however, added that such excuses were not tenable, because the bursary departments of their various institutions had submitted the names severally to the authorities, but the problem had continued to persist.
"ASUU wants to bring to the attention of the Nigerian public the deliberate, systematic and unpatriotic actions of the Accountant General of the Federation, Ahmed Idris, on the future of education in Nigeria.
" Idris, from all intent and purposes, is bent on withholding the salaries of over 1,000 members of ASUU spread across the country, with more than 100 of such lecturers being members of our branch at the University of Jos.
"This is simply because they participated in the last strike and refused to enrol in the much discredited IPPIS, despite the non-victimisation clause signed in the Memorandum of Action (MoA) that led to the suspension of the strike in December 2020.
"Despite the directive given by Mr President to pay the salaries of all lecturers, the AGF has refused to pay their salaries, for periods ranging from four to thirteen months, respectively.
"More worrisome is the fact that while the AGF is refusing to pay the salaries, his staff are busy calling the affected lecturers and insisting they have to register with IPPIS before they are paid; some are even asked to forfeit a part of their salaries in order to be paid. So, it is very clear that this is a deliberate act on the part of the AGF and his staff.
"Many of our members at the University of Jos have not been paid salaries from February 2020 to date. How they are expected to go to the classroom and teach beats my imagination.
Maigoro also said that the inability of government to pay other allowances, such as sabbatical, visiting, part time and contract staff was also destroying the university system in the country.
"Apart from the refusal to pay the salaries of our members, the lack of payment of allowances of sabbatical, visiting, part-time, contract staff is further killing the federal universities in Nigeria, and this is all because of IPPIS.
"We hope that whatever decision the union takes, will not be misconstrued by the Nigerian public, especially seeing the seeming silence of the public and the government over the complete violation of our 2020 MoA," he said
Maigoro called on President Buhari to wade into the matter, in order to save the affected members, as well as the future of education in Nigeria.
Cleric Cautions On Students' Access To Social Media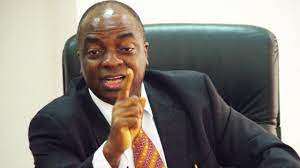 Chancellor, Landmark University, Omu-Aran, Kwara State, Bishop David Oyedepo, last Friday called for urgent steps to check students' unfettered access to social media.
"We must wake up from our slumber to deal with this monster. It unconsciously robs people of their future by robbing them of their time,'' Oyedepo, said at the 7th Convocation of the institution.
He was speaking on: "Combating the challenge of education without integration.''
"This social media saga has eroded the substance of destiny of most youths today. What is supposed to be a plus has suddenly become a major minus.
"This is because everything of value delivers through investment of time.
"Suddenly, we are faced with a generation on the wrong side of history; the honour of this generation has been wiped off,'' the Founder of Living Faith Church Worldwide, said.
Oyedepo stressed that social media content that did not add value should be restricted.
"They chat all day with no time left to think, plan, programme and engage productively in the pursuit of any task.
"Many youths spend less than 10 to 20 per cent of their time on their tasks per day. They can never match a generation that spends 70 per cent to 80 per cent of their time on their tasks.
"We must device means to put a check on free access to social media particularly those that are not adding values.'' he insisted.
Oyedepo advised parents of the graduating students to give them free hand to develop themselves to become self-sufficient and self-reliant.
"Give your sons, daughters, or wards the opportunity to develop their wings, and I know that many will soar much higher than their parents,'' he said.
In a keynote address, Mr Alphonsus Inyang, Group Managing Director of a private company expressed the need for the country to pursue and promote agriculture that is knowledge driven and fully mechanised.