A teenager, commonly
called Jame, has a noticeable scar on her neck which she attributed to an injury she got from her mistress.
Narrating her experience, she recalled that the mistress threw hot substance at her when she failed to wake up early enough recently to do her chores.
"She told me to wake up by 4 a.m. daily to dress and clean up places after which I should take her children to school.
I got this scar on a day I was tired and slept off which affected the normal routine. She got angry and I received this as punishment.
"Although I long to go to school, I dare not mention such a plan to my mistress, it is only in my prayers to God to see me through and let it come to a reality," she said.
Observers note that Jane's experience typifies cases of child labour and abuse that are rampant, especially in developing countries.
They recall that the International Labour Organisation (ILO) disapproves child labour, describing it as "work that deprives children of their childhood, their potential and their dignity that is harmful to physical and mental development".
The organisation notes that child labour involves children being enslaved, separated from their families, exposed to serious hazards and illnesses.
According to it, in its most extreme forms, such children are left to fend for themselves on the streets at a very early age.
It observes that more than 120 million children, between the ages of five and 14, are involved in child labour worldwide, with boys and girls in this age group almost equally affected.
The organisation, nonetheless, attributes the prevalence of child labour to poverty and lack of decent work for adults.
Supporting ILO, observers note that poverty among parents has subjected many children to outright abstaining from school to use their early years in life to engage in hard labour.
They also observe that on many occasions, some children combine school and work but often to the detriment of their education.
They, therefore, recommend free and compulsory education as a method of eradicating child labour.
According to them, inadequate education and skills among adults are more likely to result in poorly paid and insecure work.
"This will in turn bring a high probability that their children will as well end up in child labour," they observe.
In the light of this, concerned citizens insist that stakeholders should raise awareness on methods of discouraging child labour during the World Day against Child Labour which is observed on every June 12.
ILO dedicates the day to creating awareness on the plight of child labourers world-wide and providing suggestions on how to eradicate it.
Sharing similar opinion, the United Nations Children Fund (UNICEF), says child labour remains a major source of concern in Nigeria.
It notes that the statistics from ILO indicates that the number of working children under the age of 14 in Nigeria is more than15 million.
"The high level of diverse and tedious jobs that children execute in dangerous circumstances is particularly worrisome.
"These jobs include being street vendors, beggars, car washers, apprentice mechanics, hairdressers and bus conductors, among others, while most of them work as domestic servants.
"Major causes of child labour are widespread poverty, rapid urbanisation, breakdown in extended family affiliations, high school drop-out rates and lack of enforcement of legal instruments meant to protect children," it observes.
To tackle child labour effectively, Mr Geoffrey Njoku, the Communication Specialist of the fund, called on state governments to domesticate the Child Rights ACT (CRA).
He said that the domestication of the act by states would provide the essential legal framework to address issues affecting children.
He insisted that the protection of children's rights should be a collective responsibility of the government, civil society organisations, media, international development partners and parents.
"Government at all levels has the task to ensure that the rights of children are placed on top priority of their agenda for proper development," he said.
This opinion notwithstanding, Dr Mac-John Nwaobiala, the Permanent Secretary, Federal Ministry of Education, expressed concern on the refusal of many states across the country to adopt CRA.
"We also express concern about the increasing number of children hawking wares on the streets during school hours," he said.
He explained that CRA "stipulates among others that children of school-age must be enrolled in school and not subjected to any form of child labour."
In its efforts to check child labour, the National Agency for the Prohibition of Trafficking in Persons and other related Offences, warns parents against engaging their children in various forms of domestic servitude.
Mr Orakwe Arinze, the spokesperson of the agency, insisted that such actions constituted violation of the fundamental rights of children which attract punishment.
"It is the right of every child to be given quality education and good care. If children must be given out, they should be given to relatives who can give them parental care.
"Parents should engage their children and wards in constructive activities that would improve their lot," he said.
He observed that using children as domestic servants promoted human trafficking.
"A lot of human traffickers approach parents with the assurance to assist them to train their children or wards.
"In the long run, they end up using the children to make money by using them as domestic servants and prostitutes, among other dirty jobs," he said.a
In whatever approach chosen for fighting child labour, UNICEF insists that since the causes of child labour are complex, solutions must be comprehensive and must involve the widest possible range of partners in each society.
Sharang writes for News Agency of Nigeria (NAN).
Naomi Sharang

Imperative Of Overhauling Nigeria's Security Agencies
Recurring terrorists' killings, banditry, kidnapping, deadly farmer-herder clashes and other related crimes across the country, have, no doubt, reached embarrassing situation. These dastardly incidents have also elicited hue and cry, prayers and suggestions on how to contain the incidents.
Security agencies have upped their ante fighting with tenacity to curb crime and tackle terrorism in various theatres, while President Muhammadu Buhari, has reiterated his administration's commitment of protecting the lives and property of Nigerians.
Vice President Yemi Osinbajo, recently reassured of government's commitment to protect lives and property, when he announced that more personnel would be recruited for the nation's security agencies. He said that more weapons would be acquired to tackle the hydra-headed problem, adding that more would be done to ramp up surveillance and intelligence gathering.
Osinbajo spoke when he hosted clergymen from the northern part of Nigeria, under the aegis of Arewa Pastors' Forum for Peace. The vice president said the Federal Government was committed towards containing the threats and security concerns in the country. The vice president assured the pastors that the Federal Government was doing everything that needed to be done.
"We are handling security well, and as you know, including military deployment in diverse fields, like the Boko Haram in the North-East. In fact, we have to recruit more into the army, and much faster than we ever did because we need men on the ground and resources to buy more arms, to buy more platforms.
" At the last meeting of the National Security Council, we had discussions on how to beef up the military's platforms. How do we beef up the numbers? How do we recruit more men and women into the army? How do we collaborate more with local vigilante, the Civilian Joint Task Force (CJTF) and all that.
"So, there is a lot going on in terms of trying to beef up security; the security situation is one that is very challenging. We are also looking at aspects of surveillance, how we can do more aerial surveillance using drones and electronic devices to improve surveillance," he said.
Osinbajo assured the clergymen that the Federal Government was also committed to finding lasting solutions to the perennial crisis in communities in the North and other parts of the country, including the ones bothering on religious prejudices. He urged the group to also come up with ideas and thoughts on how to ensure lasting peace in the country.
President of the forum, Bishop Mbayo Japhet, said the group's visit to the Presidential Villa was to support the administration and the vice president. The bishop described  Osinbajo as an apostle of peace.
President Buhari, at the recent inauguration of two Nigeria Air Force Agusta 109 Power Helicopter and Mi-17 E Helicopter at the Eagle Square, Abuja, said the military would be re-professionalised and re-equipped to meet the growing exigencies of security in the country. He assured Nigerians that the promise of ending terrorism would be realised. The president urged the Nigeria Air Force to ensure discipline in their operations, and a strong maintenance culture that would enable the nation to derive maximum benefits from the newly acquired helicopters.
"We promise to re-professionalise and re-equip the armed forces and security agencies to effectively discharge their duties to our nation. Professionalism, capacity building and adequately equipping the armed forces and other security agencies are a major policy thrust of the administration. I have no doubt that the deployment of these Agusta 109P gunships and the M-17E Helicopter would add impetus to the combat efficiency of the Air Force in combating our contemporary security challenges.''
Buhari said that two earlier inaugurated Agusta 109 Power Helicopter gunships, which were procured from Italy over a year ago, had made impact on the war against terrorism. He commended the support of the governments of Italy and the Russian Federation, and efforts of the Italian and Russian ambassadors to Nigeria, at sustaining the strategic partnership which facilitated this acquisition.
"I want to, once again, salute the resolve of our armed forces and the invaluable contributions of all security agencies for their efforts towards the decimation of Boko Haram. Your contributions in internal security, peace keeping and humanitarian operations in places like The Gambia, Guinea, Mozambique, Liberia, Sierra Leone, Mali, Guinea Bissau and Cameroon have not only been a source of pride to us as a nation, but has also projected us as a reliable regional power.
"During my inaugural speech as President, I promised to put an end to Boko Haram insurgency, kidnapping and other forms of criminalities that have bedevilled our country. You will all agree with me that the successes we have achieved so far, have restored our pride and honour, the world over,''Buhari said.
The president appreciated Nigerians for their support to the military and other security agencies against terrorism, banditry and kidnapping, adding that the security challenges would be collectively won.
On his part, the Minister of Defence, Bashir Salihi Magashi, said the purchase of the helicopters further demonstrated the administration's commitment to bringing the security challenges in the country under control.
Sharing a similar sentiment, the Chief of Air Staff, Air Marshal Sadique Abubakar, said the visionary approval to purchase more aircraft for the Air Force since 2015 had impacted positively on the fight against terrorism and other crimes.
"Your excellency's government has so far procured and inducted 22 aircraft. And the service is expecting 17 additional platforms including 12 x Super Tulcanos from the US,'' he said.
Inspector General of Police, Mohammed Adamu, recently ordered the deployment of aerial surveillance helicopters to major cities in the South-West and North-West. He said that the Police air wing operational base in Abuja, would cater for Abuja–Kaduna highways and the adjoining states in the North-West and North-Central.
The National Assembly, on its part, strongly agreed on the urgency of boosting the capacity of Nigeria's security agencies to enable them tackle the security challenges. The leadership of the National Assembly recently met with President Buhari over the security issues in the country and other matters of governance. Speaking afterwards, Senate President, Ahmed Lawan, said that there was need to provide solution on how to tackle the security challenges in the intermediate and the long term.
"We should be able to come up with some strategies, the road map to ensure that we secure the lives and properties of Nigerians. We believe that it is imperative that we are able to provide those necessary equipment and welfare for the armed forces of this country and the police, to ensure that they are able to operate and perform efficiently and effectively,'' he said.
According to Lawan, in order to minimise the casualties of the armed forces and improve efficiency, technology should be applied.
Security analysts are of the view that, aside enlisting more men and procuring more weapons, revving up intelligence gathering is also critical as this will keep security personnel ahead of the criminals or terrorists as the case may be.
Okoronkwo is of the News Agency of Nigeria (NAN)
By: Chijioke Okoronkwo

NEW Rivers: Promotion Of Workers' Welfare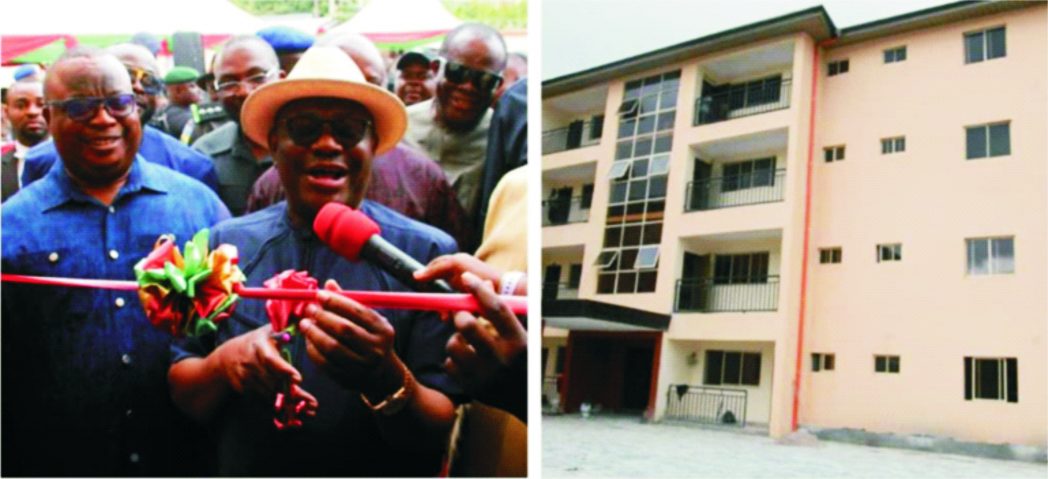 All across the country, Rivers State Governor,  Nyesom Ezenwo Wike is known as Mr Projects.  He is popular for his commitment  to expanding  the frontiers  of infrastructural development of Rivers State.  But there is an aspect of Governor Wike's performance  that is not as pronounced. His commitment  to workers' welfare.
Many have forgotten  that Governor Wike took over the reins of leadership at a time the morale of Rivers workers was at its lowest level.  The immediate past APC Administration owed the workers three months salary arrears. Even Pensioners were owed four months arrears.
Governor Wike cleared the arrears and has since placed workers welfare on his top priority list. He has always opened a line for dialogue  and settlement of disputes that arise in the course of government-workers relationship.
The Rivers State Government has built and completed  the Ultra-modern Secretariat of the Nigeria Labour Congress (NLC). The Former NLC Secretariat was gutted  by fire in 2015. Since then, the Rivers NLC operated from makeshift  facilities.
On 29th June, 2018, Governor Wike invited the NLC President,  Comrade Ayuba Wabba to lay the Foundation of a new Secretariat.  That Secretariat is now being  used by Rivers workers.  The State Government  is also constructing another Secretariat  for the Trade Union Congress (TUC). That Secretariat is almost ready for Commissioning.
During the commencement  of construction,  Governor Wike said that the State Government embarked on the construction of the  two secretariats  in appreciation of the cordial working relationship with Rivers workers.
"We have worked harmoniously with labour. They have not troubled this administration with unnecessary strikes . In order to build stability, we have set up a structure that will enhance the performance of labour.
"This project must be completed by December.  I don't want to hear excuses.  The contractor has been mobilised.  We will also build a secretariat for the Trade Union Congress ".
Performing the flag off, NLC President, Comrade Ayuba Wabba lauded the Rivers State Governor for taking steps to improve the working condition of workers.
"This will go down in history as a landmark as you are one of the governors who has worked with Labour for a better society".
He said that the partnership between labour and the Rivers State Government will lead to faster development in Rivers State.
"Once workers are happy, they will put in their best and the state will benefit in terms of development ".
The NLC President added that the congress was overwhelmed by the gesture of the Rivers State Government, which will advance the productive relationship between Labour and the Government.
"Workers and employers are supposed to be partners in progress. It is when we partner together that we will be able to deliver on our various mandates. This is commendable and I urge that it should continue", the NLC President said.
Rivers State NLC Chairman, Comrade Beatrice Itubor said by constructing the Rivers State Secretariat of the congress, Governor Wike has shown goodwill, which will be reciprocated by the workers.
The NLC Secretariat built by the Wike Administration  is a three-storey building with conference halls, offices, stores and multiple staircases.
The Secretariat was commissioned as part of the first 100days of the second term of Governor Wike.  It emphasised the commitment of the Rivers State Governor to the welfare of workers.
Speaking at the Commissioning of the NLC Secretariat,   Governor Wike said that his administration will continue  to partner with labour for the development of Rivers State.
He said that the State Government resolved to create enabling environment for labour leaders to work towards improving labour/government relations.
Rivers State Governor,  Nyesom Ezenwo Wike called on the leadership of labour in the state to always place the interest of Rivers State above other considerations in their engagements with the State Government.
"For me, Rivers first  before  any other thing. Before you go on strike or declare any dispute with the Rivers State Government,  look through and check what the implications would be for Rivers State.
. Chairman of NLC Rivers State,  Comrade Beatrice Itubo commended the Rivers State Governor for building the Secretariat despite recent economic challenges.  She said that labour is committed  to improving  synergy with the State Government for the development of the State.
Representative of the NLC President,  Dr Comfort Okoh said Governor Wike is the authentic leader who is needed at the national level to advance national growth.
Aside the Secretariat,  Governor Wike recently commissioned a Civil Servants Quarters  in the heart of Old GRA in Port Harcourt.  Last year, the Governor unveiled another Civil Servants Quarters at Lagos Street,  Port Harcourt and Doctors Quarters at the GRA.
Governor Wike said that his administration remains committed to ensuring that civil servants live in beautiful and secured residential Quarters.
" See where you are going to live free of charge.  Assuming you are going to pay house rent here in Old GRA,  you know it will be very costly.
"This is a very secured environment.  Government is here for you. To give you the best. You also have to contribute your own quota as Civil Servants."
Governor Wike urged Rivers civil servants to reciprocate the commitment of the State Government to their welfare. He said that they are under obligation to give their best to the state.
"Work for the people of the state. Civil servants should reciprocate and work for the people of Rivers State.
"I dont know any State that can say they have these  facilities. This is the third time. We built one at Lagos Street,  we built the Doctors Quarters and then this one.
"You have no excuse not to contribute the best. Take this property as your own and keep it clean. Civil servants I give that challenge   keep your environment clean. "
The Rivers State Governor assured workers that his Administration will invest in the development of more housing quarters for civil servants.
"We will build more houses for civil servants to stay . Take it as your personal building."
Governor Wike pointed out that Judges Quarters, constructed by his Administration,  is  one of the most beautiful residential estates  in the country.  He said that Judges Quarters will soon be commissioned.
The commitment to workers  welfare does not mean that there are no areas for further engagement.  It simply means that Governor Wike is ever willing to address workers needs within the available resources and with the required speed necessary at all times.
The harmony that exists cannot be underestimated.  Several states are owing salaries and pensions,  running into years. While State Economies are collapsing across the country,  Rivers State is waxing stronger.
Much as the opposition is unwilling to recognise this fact, they appreciate  the truth that Governor Wike has enhanced  working conditions and stabilised the work environment.
The key projects developed by Governor  Wike will serve as the premise for further partnership between the State Government and Rivers workers.
Nwakaudu is Special Assistant to Rivers State Governor on Electronic Media.
Simeon Nwakaudu

Using Weather Forecast To Boost Agric
The Nigerian Meteorological Agency (NiMet) predicts a below-normal rainfall, dwindling amount and duration in many parts of the country.
Observers, therefore, posit that the pattern of rainfall can affect food production except there is sensitisation to climate-smart agricultural practices and proper weather information dissemination to the farmers.
Climate-Smart Agriculture (CSA) is an approach for transforming and reorienting agricultural systems to support food security under the new realities of climate change.
Researchers believe that widespread changes in rainfall and temperature patterns threaten agricultural production and increase the vulnerability of people who are dependent on agriculture for their livelihoods.
According to them, the threats can be reduced by increasing the adaptive capacity of farmers as well as increasing resilience and resource use efficiency in agricultural production systems.
They note that CSA promotes coordinated actions by farmers, researchers, private sector, civil society and policymakers towards climate-resilient pathways.
Minister of State for Aviation, Sen. Hadi Sirika, while reviewing NiMet's report admits that the country is expected to experience a below-normal rainfall season.
He observes that rains are expected to start late, especially in the northern part of the country while the south eastern zone as well as the coastal areas will experience a normal onset of the rains.
He notes that most of the northern states will experience earlier-than-normal end growing season while shorter length of the growing season is predicted for most parts of the country.
He also says that there will be frequent and severe dry spell over the northern region during the rainy season.
"Dry spell will be more frequent and severe, ranging from 10 to 18 days in some parts of the extreme north around June and July, while the little dry season or (August break) in parts of the south is expected to be pronounced.
"The expected below normal rainfall in parts of the country does not rule out the possibility of isolated flash floods due to high intensity rainfall at the peak of the season, especially in places that are naturally prone to flooding.
"In every season, dry spells occur and in certain cases, lead to crop losses; farmers and other stakeholders are advised to get in touch with NiMet to access meteorological updates within the growing season.
"This is because these are risk factors for farmers in the affected areas and have to be carefully and scientifically managed.
According to Sirika, early release of the SRP before the beginning of the rainy season is to ensure effective harnessing of the climate resource.
He agrees that such information will further guarantee minimal losses from associated hazards, which are becoming quite devastating in this era of climate change.
He says that an increase of at least 30 per cent agricultural yields can be achieved if relevant meteorological information is utilised.
Similarly, Prof. Sani Mashi, the director-general of NiMet, says that farmers in the northern part of the country, mostly the Sahel zones are advised not to plant early as the country is likely to experience late onset of rains.
Mashi explains that early cessation of rains in the northern part will lead to shorter length of growing season and recommends  early provision and access to improved and drought resistant variety seeds.
"Normal onset is expected over coastal and some south-east states while the earliest onset date is predicted to be from March 7 around the coastal region of the south-south region.
"The onset dates are expected to change northwards with areas around Maiduguri, Sokoto, Katsina, Dutse, Potiskum, Kano and Nguru having onset of rains from June 16.
"The earliest cessation dates are expected to be from September 29 around the north-western parts of the country while most of the north is expected to witness cessation dates within October,'' he explains.
He explains further that while the growing season is expected to end between late October and mid-November, parts of the central and southern states are expected to experience end of the season by mid-November to early December while the season is expected to end by late December along the coast.
According to him, governments at all levels are advised to embark on awareness and sensitisation of farmers and other stakeholders on CSA practices such as on-farm water harvesting structures, soil and water conservation practices and land preservation.
"Farmers are also encouraged to make provision for irrigation water during the predicted periods of dry spell.
"The warmer-than-normal temperatures predicted in February and April are expected to affect livestock in some parts of the country, particularly the northern states where rainfall has not yet established.
"Decrease in fodder production from dry land, increase in vector-borne diseases, internal parasite infestation and mortality rate is likely to increase during these months due to temperature fluctuations, shell quality and egg weight in layers may also be affected.
"The colder-than-normal daytime temperatures in March may affect day old chicks and increase feed conversion ratio in layers and broilers while the spread of heat-related diseases is likely to increase as a result of the predicted warmer conditions in most parts of the country.
"Good veterinary practices for livestock vaccination, fisheries and aquaculture management should be adhered to because fish production is likely to be adversely affected as a result of warmer-than- normal conditions especially in the northern part of the country,'' he warns.
Ogbaje writes for the News Agency of Nigeria.