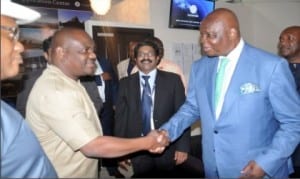 The Rivers State House of Assembly may pass a bill for the demotion of some first class traditional rulers in the state as the legislators yesterday moved to repeal the Rivers State Council of Traditional Rulers Law, 2014, even as the House assured that it would sanitize and bring respect to traditional stools.
The Eighth Assembly had in its sitting yesterday accused the Seventh Assembly of contributing to the crisis experienced across the state, by  the rash enactment of several laws, which they claimed, were  not in the overall interest of the people of the state.
The state Governor, Chief Nyesom Wike, had presented an executive bill to the legislature, yesterday, seeking to repeal the Council of Traditional Rulers Law,2014 passed by the Seventh Assembly..
During the debate, lawmakers, who contributed to the issue, flayed the Seventh Assembly for always being in a hurry to pass bills into law to "massage the ego of  the past executive.
Three of the principal officers of the House, the Leader, Hon Martin Amaewhule, representing Obio/Akpor 1,the Deputy Leader, Hon. Lolo Donabari, representing Khana 1,  and the Chief Whip, Hon. Evans Bipi, representing Ogu/Bolo constituency, as well as others, maintained that the law, which the executive bill wanted to repeal, was not in the interest of the state.
In their separate submissions, the lawmakers pointed out that it was disheartening that  the last administration "disjointed and balkernized" traditional stools in the state.
According to the lawmakers, enactment of the law caused infractions against the state, and should be thoroughly addressed in the interest of Rivers people.
They stressed that the law, which the executive bill sought to repeal, demystified traditional stools and turned traditional rulers to politicians.
Also, the legislators pointed out that the Assembly should regulate the appointment of traditional rulers to forestall crisis in the communities.
In his ruling, Speaker of the House, Rt. Hon. Ikuinyi-Owaji Ibani, disclosed that he was a victim of 'traditional sadism', emphasizing that, if customs and norms of the people were respected, chieftaincy   squabbles should not exist.
The Speaker therefore appointed a seven-man ad-hoc committee headed by Hon Jones Ogbonda, representing Port Harcourt1, to conduct a public hearing.
It would be recalled that the House, last week, repealed the Rivers State High Court Law 2014.
The state governor has since signed the bill into law. The law now replaces the law which allowed the Chief Registrar of the State High Court to assigned cases in the absence of a Chief Judge.