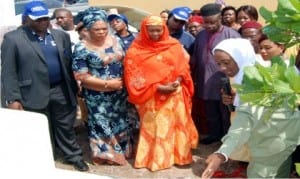 We normally trek
about one hour to neighbouring communities that have boreholes to get water for our daily needs.
"When our female children are having their menstrual period, many of them don't go to school because there is no water for them to clean themselves properly," says resident of Umachi community in Igboeze North Local Government Area of Enugu State, Mrs Celestina Ani.
Corroborating the woman's claims, UNICEF says that the lack of safe, separate and private sanitation and washing facilities in schools is one of the factors preventing girls from attending school, particularly when they are menstruating.
The report says women and girls pay the heaviest price for poor sanitation of communities, adding that shortage of water particularly affects the sanitation of several households.
This is because the people's access to Water, Sanitation and Hygiene (WASH) is certainly critical to the socio-economic development of any community.
The significance of WASH in communities was exposed vividly during a tour of some communities in Igboeze North Local Government Area in Enugu State by some journalists, under the aegis of WaterAid Nigeria.
WaterAid is an international organisation that promotes healthy living in communities across the world via improved access to safe drinking water, sanitation and hygiene.
In Nigeria, the agency operates in over 200 communities in six focal states — Bauchi, Benue, Ekiti, Enugu, Jigawa and Plateau.
Chief Moses Abugu, a community leader who spoke on behalf of the traditional ruler of Umachi community, Igwe Louis Umoro, said that there were three cholera-induced deaths in the community this year.
"We used to have old boreholes but they are no longer functioning.
"In this community, we are mostly palm-wine tappers, farmers and `Okada' (motorcycle) riders. We do not have electricity and good roads.
"The government should come to our aid and if they do, we promise to employ the services of our youths to guard and maintain the equipment," Abugu said.
Another community member, Mr Benedict Ali, said: "We don't have water; some of us buy water from water tankers that come here twice in a week.
"About three families can come together and contribute money to buy a full water tanker load, which costs about N7, 000 to N10,000, and then share it accordingly," he said.
Ali also bemoaned the bad state of the roads in the neighbourhood, which often frustrated water tankers to get into the community, describing it as a major challenge facing efforts to get water for the community's use.
During a visit to Ekposhi community, also in Igboeze North Local Government Area of the state, the residents lamented the rise in water-borne diseases due to the dearth of pipe-borne water.
A community member, Mr Basil Onuh, said that the lack of pipe-borne water in the community had also encouraged open defecation in the area.
"Sometimes, when we go to the bush to defecate, we are often attacked by dangerous snakes and scorpions. Recently, we dug a pit where we can store water during rainfall.
"Some of us have contracted different kinds of diseases through this practice and we wish it could stop. This has also affected our livelihoods because we cannot water our crops during the dry season," he said.
Mrs Helen Urama, who sells "Okpa" (a variety of bean cake), said: "It is only when we have money to buy water that our children go to school. I get the water which I use in cooking my `Okpa' anywhere I can get it."
Two teachers at the local primary schools, Mr Saliru Idoko and Mr Isaac Ossai, said that some of the schools in the community did not have toilets, thereby forcing the pupils to engage in open defecation.
"Even though every family has been mandated to build pit toilets in our community, we still contract different kinds of infections," said Mrs Ngozi Idoko, a resident of Ekposhi community.
"We plead with the federal and state governments to give us water so as to improve our standard of living."
The Chairman of the National Task Group on Sanitation (NTGS), Mr Samuel Ome, said that it was sad that open defecation still remained a big challenge across the country.
He stressed that many urban settlements even lacked basic hygiene facilities, thereby resulting in open defecation, which posed a threat to life, as faeces were often washed into drinking water sources, thereby contaminating the water.
He underscored the need for Nigerians to cultivate clean habits, stressing that the people should always strive to exhibit good personal hygiene.
"Sanitation starts with the individual, those things you do involuntarily become your attitude.
"You wake up in the morning, you use the toilet, you flush the toilet, you brush your teeth, you wash your body before going to work; nobody prompts you to do it, you do it voluntarily.
Kolade writes for News Agency of Nigeria.
Tosin Kolade