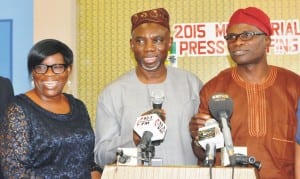 The operations of Arik Air was yesterday paralysed by the Federal Airport Authority of Nigeria (FAAN) in what the orgainsation described as high indebtedness by the airline.
The Tide learnt that FAAN had written several letters to the airline to pay the over N2billion debt for services rendered to the airline but the correspondences were ignored by Arik management.
The grounding of the airlines operations yesterday caused serious disappointment to passengers at the Port Harcourt International Airport, Omagwa, as travelers, who had arrived to catch their 8.45am flights waited endlessly for hours.
The situation was made worse as the Port Harcourt office claimed not to be aware of the cause of the flight delay, and merely announced the delay to be due to operational reasons.
The Tide gathered that when the indefinite waiting became unbearable, passengers made contact with Abuja only to  realize that the staff were merely misleading them and the outcome was rowdy situation which culminated in the refund of  money to them.
A female passenger, who was visibly angry with Arik staff for concealing such information, almost assaulted the manager because the nearest flight to Abuja was for 7.15pm when her 4.00pm appointment in the Federal Capital City would have been over, as she would be flying  abroad on Friday (today).
Other passengers, however, decided to go through Lagos before connecting Abuja with the corresponding expenditure and time wasting as the only Aero flight to Abuja had been fully booked.
Efforts by our correspondent to speak to Port Harcourt Arik Air manager was not successful as she claimed to be too busy attending to passengers and ordering the refund of certified payments.
The Head, Corporate Communications of FAAN at the Port Harcourt International Airport, Mr Ola Ogundolapo, told The Tide that the management of Arik Air had issues of none payment for services rendered to it by FAAN worth over N2.5billion and other agencies locally and overseas
Mr Ogundolapo also disclosed that the indigenous carrier had not paid staff for the past four months, adding that Arik management had been stubborn on issues of payment for services rendered by other orgainsations.
Another FAAN staff, told The Tide that Arik Air needed to be disciplined for its excesses, noting that what caused discovering air suspension that was only lifted about 24 hours before the Arik grounding was not as grave as what the airline was doing.
He predicted that going by the sign posts that are becoming noticeable, the airline may have a short life span in operation.