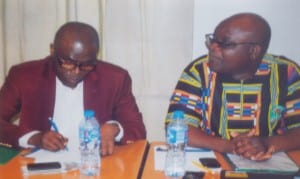 The recent World Bank
rating of one of the cottage hospitals in Rivers, the Obio Cottage Hospital (OCH) in Obio/Akpor Local Government Area, as a model, in healthcare delivery not only in Nigeria but the world at large, was indeed a cheering news to the people and residents of the state and the nation.
World Bank said, a thorough investigation based on universal indicators on access to efficient and effective healthcare services to community members through sustainable operated healthcare facilities, Obio hospital came out with impressive result compared to what obtains in other healthcare facilities in Nigeria in particular and in the world at large.
Disclosing this at the fifth anniversary of OCH recently in Port Harcourt, Dr Olumide Okunola representing the International Financial Corporation/World Bank said the outcome of the research was heartwarming and attributed it to the approach of Community Health Insurance Scheme which gave the community people sense of ownership of the facilities.
"He said World Health Organisation (WHO) ranked Nigeria's health system first out of 191 countries, with data indicating that Infant Mortality (110 deaths/1000 live births) and maternality (1500/100000 live births) rates being among the worst in the world.  More disturbing was the fact that 70 per cent of the health care expenditures are out of pocket expenses by those who could ill afford it.
Out of concern for the high cost of health services especially in the oil-rich Niger Delta, Communities under its 1A cluster, Shell Petroleum Development Company of Nigeria (SPDC), the Rivers State Government sought a more effective healthcare delivery for the people and residents of the IA Cluster communities and came up with Community Health Insurance Scheme (CHIS) and signed an operational Memorandum of Understanding (MoU).
Under this CHIS initiative, with a paltry N10,000 enrollment fee per person, per year, one enjoys comprehensive primary and secondary care, including caesarean section and in-patient care, home visit termed healthcare at the doorsteps as well as other numerous client support services.
This is a far cry of what obtains today in other health institutions, both private and public are considered.
The success story is that Obio Cottage Hospital which, like other public health centres, grew from a facility concerned with mere immunization centre has 45,000 enroled persons, 3488 safely delivered babies in 2014, with an average of 270 monthly as against 10 before the scheme. It also recorded 3,108 caesarean sections, 1243 surgeries and 100 per cent uptake of ante-natal care, HIV counseling and testing, amongst other impressive records.
Excited by the success of the scheme, the Executive Secretary, Rivers State Primary Health Care Management Board, Dr Claribel Abam described the feat as an amazing milestone in five years of uninterrupted community-based health insurance scheme implementation in the Niger Delta. She commended the stakeholders for making one of the state's facilities take a pride of place not only in Nigeria but in the world.
Abam, in her comment at the occasion said, "with the community-based Health Insurance Scheme, Obio is now a reference point both nationally and internationally", and stressed that since the inception of this scheme in 2010 the facility has recorded a progressive increase in the number of clients while the state government's health personnel which form part of the effort have built capacity and become role models in efficient management of health systems.
Reactions from some international figures who paid visitations to OCH based on the wonderful record set, show expressions of satisfaction and amazement.
"Fantastic!! Great Ambience, Committed Staff, well stocked pharmacies, efficient record keeping and great public, private partnership. A model for Nigeria", said a Senior Health Specialist of the World Bank, Dinerh Nav.
A Member of Parliament, in United Kingdom and Secretary All Party Parliamentary Group, Nigeria, UK Parliament, James Doddridge said, "I was amazed to see so much being achieved in one small site.  This clinic is truly a model for healthcare, not just in Nigeria but worldwide".
Tracing the origin of the CHIS, the Chairman 1A Cluster Development Board, Chief Joseph Amadi, said the beginning was tough and challenging especially with the board not knowing where to raise fund.  "But with the little we had, the people were enthusiastic and Shell was a willing technical partner and great support from the Rivers State Government".
Amadi expressed joy that just like a mustard seed, the initiative began to grow from grass to grace such that today it has become one initiative viewed by even the World Health Organisation as a model and the way to go in the effort of delivery quality and efficient healthcare services to the people.
The board chairman explained that provision of standard healthcare particularly to the poor rural people is a challenge in view of the high cost of medical services today and stressed that the CHIS idea is a clear proof that such rural people can be assured of quality health services if they pool their little resources under Community Health Insurance System.
"It requires an all inclusive involvement of the people, the government and other partners and a clear understanding of the importance of dependence of one another is paramount for the success of any such scheme. I am happy so also the people and other partners that today the scheme is a total success worth emulating", he stated.
The Regional Community Health Manager, Community Health Department SPDC, Dr Babatunde Fakunle said as part of SPDC's commitment to the quality health of its host communities (Shell Industrial Area (1A) it partnered with the  people, Obio/Akpor Local Government and the Rivers State Government to launch Niger Delta's first Community Health Insurance Scheme (CHIS) was introduced for indigenes and non-indigenes resident in the 1A communities consisting of Oginigba, Rumuobiakani, Rumuomasi and Rumuozeolu, using Obio Primary Healthcare Centre as the healthcare provider for the scheme.
Fakunle said Obio Cottage Hospital through the CHIS has become a big success and that the scheme has proved itself a wonderful initiative and we are interested in getting it replicated in our other host communities to boost healthcare in the Niger Delta.
The Chief Medical Director of Obio Cottage Hospital, Dr Umejiego Chigozie said the success so far recorded is not the end point because it is about quality, noting that when you set a high standard, the challenge is how to sustain the record set so that you do not fall back.
He said Obio is extending services to other centres around with surgeries and other complex services to enable them enjoy the quality services as found in OCH.
On those poor persons who still are unable to afford the N10,000 enrollment fee, the CMD said there is Indigenes Committee put in place and that the committee investigates such complaints and if actually such people are unable to afford, a special fund set aside annually would be used to complement the shortfall from those who are unable to afford the official  enrollment fee of N10,000 per person per year.
He also disclosed that the centre is undergoing expansion in terms of structure and facilities to contain the growing number of persons enrolling and for improved services.
To complement the regular power outages in public electricity supply, the CMD also revealed that wind and solar energy systems have been installed.
"The green energy project is an economically friendly, power dependable and efficient solution to modern day hospital requirement for our environment.  It ensures an uninterrupted power supply 24 hours as Analysts believe that with the over one hundred primary health centres built across Rivers State by the Governor Rotimi Amaechi's administration, the Community Health Insurance initiative could be a wonderful complete to high quality and efficient healthcare service delivery.
Chuma Akazie advised the Rivers State Government and other state governments in the Niger Delta region to include the Community Health Insurance in their system.
Akazie, a business consultant said the people especially the low income earners would enjoy same high quality healthcare as provided by OCH if they pool their resources and risks together in the insurance scheme.
"Today, large number of the poor masses besiege spiritual homes, unorthodox practitioners for their health challenges because of the high cost of drugs and other health services.  And this systems have resulted in many avoidable deaths which could otherwise by resolved through the Community Health Insurance initiative.
The impact of the initiative has elected the Obio Cottage Hospital to a medical research centre as record shows that both Braithwaite Memorial Hospital (BMH) and University of Port Harcourt Teaching Hospital (UPTH) have signed Memorandum of Understanding with OCH in research relating to attitude of staff while not less than 20 publications and abstracts at various levels of medical researches including PHD students are so far recorded.
Chris Oluoh