'Together, We've Built Strong Rivers State'
The Rivers State Governor, Chibuike Rotimi Amaechi, has said that the landmark achievements of his administration could not have been recorded without the tacit support and commitment of Rivers people to make the state safe, and build strong foundation for a virile, prosperous state.
Amaechi, who said this during his state-wide broadcast to mark Nigeria's 54th Independence Anniversary, added that "like athletes in a race, we are running to win. We must continue to run to breast the tape; reach the finish line strong. Our persecutions, our travails and betrayals make our resolve stronger".
According to him, "when we came to office in October, 2007, we committed ourselves to building a Rivers State of Possibilities, where none will be discriminated against. We set for ourselves a target and a goal to leave our state better than we met it. It was indeed, a big challenge but seven years after, we can present a commendable score-sheet to the Glory of God."
The governor recalled the security situation in the state when the administration came on board in 2007, saying that, "insecurity was at its peak, military and police checkpoints dotted every street and lane. We were forced to raise our hands on our way home at the end of a hard day's job. Our humanity was debased as much as our pride was assaulted. We lost our dignity as armed gangs roamed our streets, maimed and killed our children and relations at will. Their armed leaders became our lords and masters. The first casualty was our life, then, the economy of our state, then; our hope of giving our children a better tomorrow seemed bleak. Protected by their arms, our children became conscripts in a war they never triggered. Weeping parents, disembowelled and dismembered bodies littered our communities and waterfronts.
"We knew as a government that we had a responsibility to protect lives and properties. We were clear in our minds that we owed it to you the electorate to fulfil our oath of office. We were not going to let any challenge hinder us. So, we chose to confront the criminals who had stolen our peace. Not because we were strong, but because we loved our people. We chased them, not with arms and ammunition, but with bravery and the boldness of our fathers. We soon made our streets safe again, life returned to our biggest city, Port Harcourt, and our communities. Our economy again began to blossom and those investors chased away began a return to our state. Today, our state thrives as Nigeria's second biggest economy."
The state chief executive officer listed some of the achievements of the administration in the education sector, saying that "When we came into office, Rivers State public schools were no better than a sanctuary of the unlearned. Classrooms over-crowded. Teachers' morale was at its lowest. Seven years later, we have changed all that. Not only have we built 500 of the best model primary schools in Africa, but have carried out the largest, single recruitment exercise ever undertaken by any Nigerian tier of government since October 1, 1960. We employed 13, 210 classroom teachers. With our free education programme, we are have rekindled hope of the poorest of our people. Today, our children learn under the most cordial environment, their teachers robustly gingered to give in their best. Another 1,964 Rivers State students are overseas on the Governor's Special Scholarship."
He also said that under his administration, "Our civil servants today take home their due as we have opted for fraud-free system supported by a diligent procurement process. In all modesty, our record of achievements proves our prudence. Our policy on infrastructure has been robust as we have completed 90 per cent of the Phase 1A of the Rivers State Monorail. We have fared reasonably well with our road infrastructure having completed 2 major interchanges, 2 flyovers, 25 bridges, and 5 shore protection projects. We have also completed, 890 kilometres of the on-going 1,424 kilometres, of road projects across the state. In the water sector, while we await the Federal Government's final approvals of our ADB and World Bank loans, this administration has built 1,200 cu metres tank storage capacity, carried out 64.95km reticulation; and completed 6 water projects with 62 beneficiary communities."
In the health sector, Amaechi, who is also the chairman, Nigeria Governors' Forum (NGF), said, "Our programs in the health sector have been of world standard. So far, we have  completed three new specialist hospitals, 112 model primary healthcare centres. Also on-going are a new College of Nursing and Midwifery, an orthopaedic hospital, a cardiovascular hospital, all at the old UPTH site, and a mother-and-child hospital. To achieve effective healthcare, aside the infrastructure, we have employed 820 medical staff, 100 non-medical staff and 218 medical emergency workers."
On other milestones, Amaechi said, "agriculture has also received intense attention with over 33,000 jobs created in this sector out of which 25,520 jobs are small holder farmers in all the 319 wards of the state. We have also made substantial investments in other sectors for which we are beginning to see gains. Today, through deliberate policies of government, we have focused global attention on Rivers State. Today, our city, Port Harcourt, is the UNESCO World Book Capital 2014, a feat never recorded in sub-Saharan Africa. We have become the modern Venice where knowledge thrives with culture."
He noted the great success recorded by the state in the fight against Ebola Virus Diseas, stressing that, "The disease came with its dread, but to the glory of God, we defied its fangs, fought for our people and won. Though we lost two persons, one to the Ebola virus and the other to a heart condition, we have become a fact to the world that Ebola can be defeated."
The state governor, therefore, used the opportunity to, "salute our local and international partners, men and women for their support in combatting this epidemic. We salute the Honourable Minister for Health, Professor Onyebuchi Chukwu, who showed immense commitment; teams from the World Health Organisation, UNICEF, Doctors Without Borders, Centre for Disease Control, Georgia, Atlanta, the vibrant Port Harcourt press and all medical volunteers. We owe you a debt of gratitude," adding that "The success we have recorded is a testimonial to the great things that can happen when we all work together."
On the 2015 general elections, Amaechi cautioned that "our politicians and their followers" to realise "that a kingdom divided against self cannot stand. If we maim and kill the people we aspire to lead, whom would we then govern?" appealing that "Let's run our campaigns in the best manner pursue our electioneering with respect for one another."
The governor explained that "the history of Nigeria cannot be written without Rivers State, as our fathers had fought for her freedom from colonialism," adding that "at negotiations for Nigeria's independence, the voices of our people sounded fair and firm. Where others chose to procrastinate, our progenitors chose immediacy. Where others feared the foe, our natives dared the enemy.
"We have always been a people who cherish and adore their freedom. From the brave King Jaja of Opobo who showed great skill in commerce and government, to the warlord, King Amachree of the great Kalabari kingdom; from Queen Kambassa of the Ancient Bonny kingdom, a woman who steered loyalty and respect beyond the shores of the Atlantic Ocean, to Chief Harold Dappa Biriye, Dr. Paul Birabi, Eze Emmanuel Oriji, Chief Jonas Nwuke, Dr. Obi Wali, and the fearless Ken Saro-Wiwa, our land has never lacked men and women eager to take their destinies in their hands and steer the ship of state to safety."
While recalling the contributions of the founding fathers of the state, Amaechi commended his friends, associates and foes for their support and criticisms over the last seven years of his administration, saying that their efforts have helped the administration, in no small measure to record the monumental breakthroughs so far in the history of the state.
"We must salute the courage of our people and the team members in the administration. We remain grateful to our paramount and traditional rulers, elders, federal and state lawmakers, members of the Christian and Islamic clergy, women and youth groups, civil society organisations, civil and public servants, children, orphans, widows, and widowers. We must also salute those who have antagonised our genuine efforts, those who have turned our love for our state into an instrument of hate, for the various roles they have played in this course of history," the governor said.
Nelson Chukwudi
90% Of Money Laundered Via Real Estate, EFCC Reveals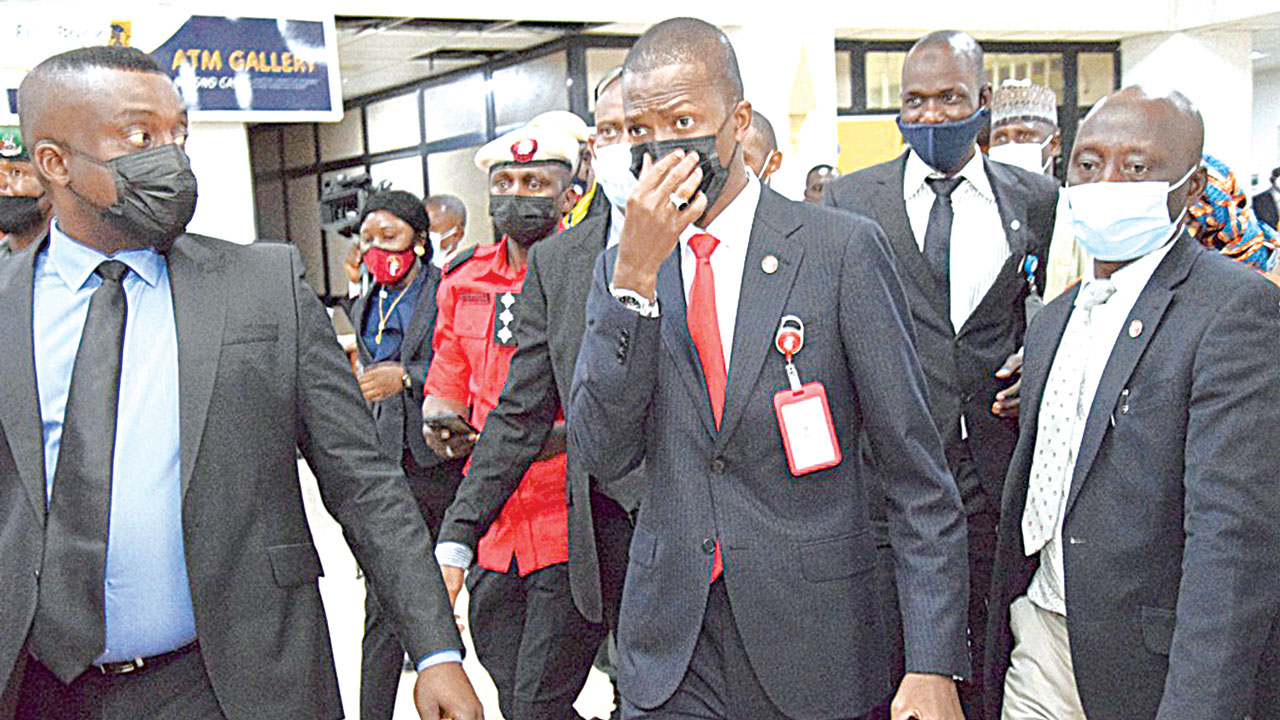 The Economic and Financial Crimes Commission (EFCC) says about 90 per cent of money laundering is done through the real estate sector.
The commission's Chairman, Abdulrasheed Bawa, stated this while featuring on Channels TV's Sunrise Daily, yesterday,
According to him, although the sector is monitored via the special control unit, more needed to be done.
According to Bawa, "One of the problems we have now is the real estate. 90 to 100 per cent of the resources are being laundered through the real estate."
He said there are so many issues involved, but that they were working with the National Assembly to stop what he called "the gate keepers" as there would be reduction in looting if there is no one to launder the money.
Bawa, the EFCC boss, gave an example of a minister who expressed interest in a $37.5million property a bank manager put up for sale.
He said, "The bank sent a vehicle to her house and in the first instance $20million was evacuated from her house.
"They paid a developer and a lawyer set up a special purpose vehicle, where the title documents were transferred into.
"And he (the lawyer) is posing as the owner of the property. You see the problem. This is just one of many; it is happening daily."
The EFCC chairman also revealed that he receives death threats often.
Asked to respond to President Muhammadu Buhari's frequent "Corruption is fighting back" expression, Bawa said he was in New York, USA, last week, when someone called to threaten him.
"Last week, I was in New York when a senior citizen received a phone call from somebody that is not even under investigation.
"The young man said, 'I am going to kill him (Bawa), I am going to kill him'.
"I get death threats. So, it is real. Corruption can fight back," he said.
On corruption in the civil service, he said there were a lot of gaps, especially in contracts processing, naming "emergency contracts" as one.
Bawa said, "A particular agency is notorious for that. They have turned all their contracts to emergency contracts."
However, he said, EFCC has strategies in place to check corruptions, one of which is "corruption risk assessments of MDAs".
According to him, "I have written to the minister and would soon commence the process of corruption risk assessments of all the parastatals and agencies under the Ministry of Petroleum Resources to look at their vulnerability to fraud and advise them accordingly."
Asked if the scope of corruption in the country overwhelms him, Bawa, the EFCC boss said, "Yes, and no."
We've Spent N9bn To Upgrade RSUTH, Wike Confirms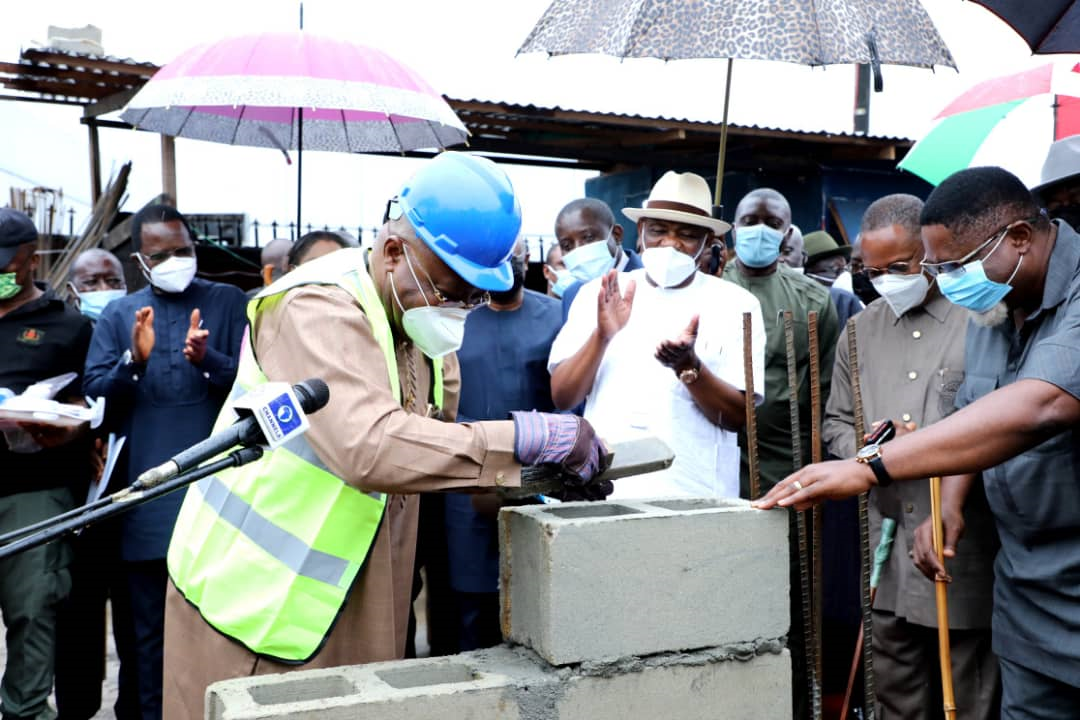 The Rivers State Governor, Chief Nyesom Wike, says his administration has spent N9billion in upgrading structures and installation of new equipment at the Rivers State University Teaching Hospital (RSUTH).
He said the fact that 40 per cent of the 2021 budget of the state is dedicated to provision of quality healthcare delivery was a further demonstration of the priority placed on the sector.
Wike made the explanation at the foundation laying ceremony for the construction of a Renal Centre at RSUTH, last Friday.
The governor said he made promise to Rivers people that the best would be provided to them in all sectors of the society within his capability because of the mandate they gave to him.
"As we came on here, I just looked around and I see the changes in this teaching hospital. I can say that we have put not less than N9billion in this teaching hospital.
"If you look at the budget, the health sector alone, what it's taking from the Rivers State Government is not less than 40 percent of the 2021 budget."
Speaking further, Wike said the state government cannot afford to implement free medical service programme in the present economic circumstance.
While dismissing the request for a subvention for RSUTH, Wike, however, commended the chief medical director and his team for their commitment to turnaround the fortunes of RSUTH.
"I have never seen anywhere that health services can be totally free. They're telling me that people who come here can't pay. I have never declared that this state is going to take over the health fees of anybody."
Also speaking, the former Minister of Transport, Dr. Abiye Sekibo, who performed the flag-off, noted that Wike's achievements in the health sector in particular, surpass what former governors of the state had done.
Sekibo said that the governor has given equal attention to every section of the health sector by providing complete health infrastructure that was positioning the state as a medical tourism destination in Nigeria.
Earlier, the Rivers State Commissioner for Health, Prof Princewill Chike, lauded Governor Nyesom Wike for his interest in the health of Rivers people.
He noted that the renal centre, when completed, would become another landmark development project in the health sector that would handle and manage all kidney-related ailments.
In his remarks, the Chief Medical Director of the Rivers State University Teaching Hospital, Dr. Friday Aaron, commended Wike for approving the renal centre.
Aaron explained that chronic kidney disease was a major burden globally with estimated 14 million cases in Nigeria.
According to him, over 240,000 of these cases require renal replacement therapy in the form of dialysis and renal transplant.
The CMD said the building that would house the centre was expected to be completed in six months and consists of two floors.
The ground floor, according to him, would house the haemodialysis unit with eight haemodialysis machines.
He further explained that the first floor of the centre would house the surgical component where most of the sophisticated equipment for kidney transplant would be installed.
Aaron said Wike has released the funds required to build, equip the centre as well as for the training of personnel locally and internationally.
Power Generation Falls 23% To 3,172MW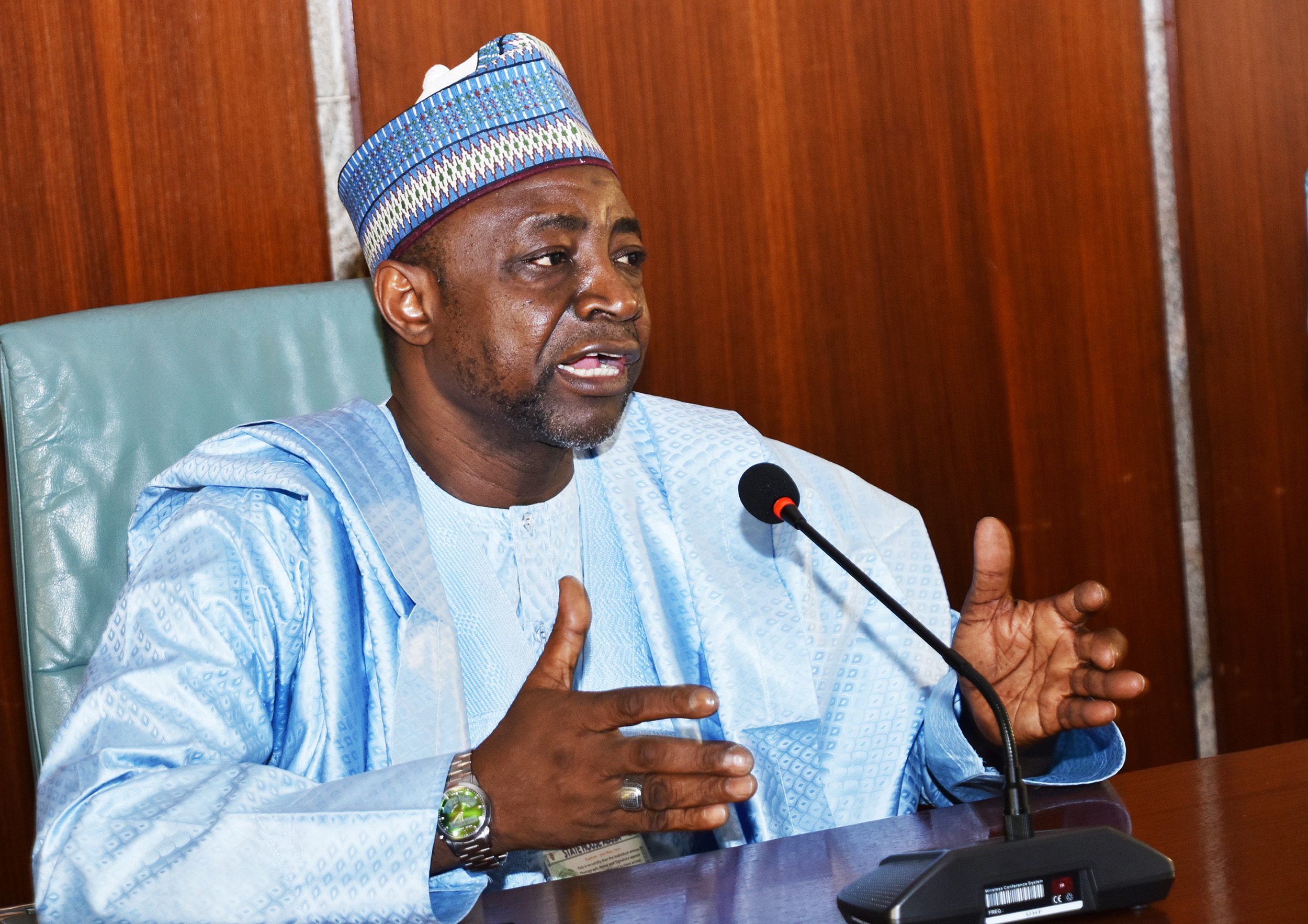 Power supply in Nigeria has failed to improve on last week's performance, as it fell by 22.9 per cent from peak generation of 4,115Megawatts on Saturday to 3,172.20MW as at 5pm, yesterday, latest data from the System Operator has shown.
According to the data, most power plants were operating far below capacity due to gas shortage with Olorunsogo Power Plant 335MW capacity; and Sapele Power Plant, 450MW capacity; completely out.
Egbin was generating at 746MW; Omoku 37.20; Omotosho (NIPP) at 105MW; while Afam was generating at 80MW.
The data showed that on the average power generation in the past seven days were 4,120.9MW on Sunday, June 6; 4,249.4 on Monday, June 7; 4,000.9MW on Tuesday, June 8; 3,720.7 on Wednesday, June 9; 3,517 on Thursday, June 10; 3,765MW on Friday, June 11; and 4,115MW on Saturday, June 12.
The International Oil Companies (IOCs), had last warned that despite Nigeria's huge gas reserves a lot needs to be done to attract investment to the sector to develop gas reserves to boost power generation in the country.
Speaking at the just concluded Nigeria International Petroleum Summit, the Chair, Shell Companies in Nigeria/MD SPDC, Osagie Okunbor, said with 203trillion Cubic Feet of gas reserves, what was needed in the country is to deliver projects that would produce the gas.
"The challenge is not just growing the reserves but in producing these reserves for the benefits of our country. Essentially growing the reserves and delivering on the production is a function of two or three elements.
"I like to see infrastructure that is required for the development of these resources at two levels. Soft infrastructure is often the one that is more important than and that is the one that is actually drives most of what you see at site."
"Soft infrastructure refers to the enabling environment and nothing pleases me as much seeing both the Senate President and the speaker of the house give very firm commitments about trying to pass the PIB this month.
"That is probably the big one of the enabling environment to provide the kind of stability we also need all sorts of other issues we need to that we have discussed severally in terms of sanctity of contract, stable policies and collaboration and I think we are well on our way there", he added.