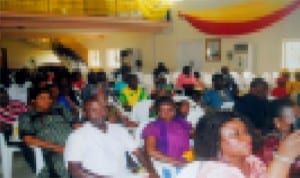 The Managing  Director/Chief Executive Officer of the Rivers State Microfinance Agency (RIMA), Mr. Innocent Iyalla harry has assured that the N200 billion Small and Medium Enterprises (SMEs) fund by the federal government, when accessed would be used to grow, businesses in the state.
Harry made this known during an event organised by the Redemption Ministries International Church Port Harcourt for micro entrepreneurs and loan beneficiaries in the Church.
The RIMA boss noted the effort of both the federal and state governments in providing fund for the growth of entrepreneurs, adding that so far the agency has assisted about 8,000 micro entrepreneurs in the state.
He said that RIMA is always willing to assist the entrepreneurs with soft loans for their businesses as agric loan is also part of federal government's assistance to grow SMEs.
"I want to use this opportunity to inform the general public of the incorporation of a microfinance Bank by the Rivers State Government through RIMA", he said.
He urged the trained entrepreneurs to be proactive with the skill acquired, and the need for them to utilize the opportunity to grow their businesses in the state.
Harry commended the effort of Governor Amaechi in providing the right vehicle through RIMA to grow the microfinance sector of the state.
He , however, urged the loan beneficiaries to display high level of integrity to their prospective customers in order to win their trust and to be the best in their skills, adding that the agency's loan was not a grant but a collateral-free repayable loan.
In her response, the co-ordinator of the programme Mrs Grace Briggs commended RIMA for the loan and said that the interest of the Church in growing their members' businesses is responsible for the annual entrepreneurs training.
Chianugo Ikejemba