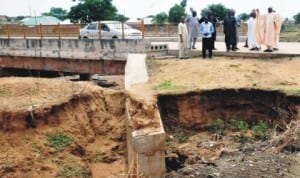 Democracy translates to change and development
or what we see as good governance and responsive government. It is the ability for government and its officials to meet the yearnings, hopes and aspirations of the entire populace. Sadly, however, the present administration has hardly lived to its billings and promises since the advent of civil rule in 1989. From the Obasanjo administration to Yar'adua's to the present Goodluck administration the story is the same.
The Jonathan administration promised improving the power sector form its dismal level to a sustainable level that could ensure consistent and stable power supply. Yet still, about fourteen (14) years on, the power sector is believed gulped well over $30 billion without any considerable, reasonable improvement in the number of megawatts. That is in terms of transmission, generation and distribution.
Interestingly, the federal government claims it has a roadmap to rejuvenate the entire sector, unbundling and totally selling or privatizing the various subsidiaries that will emerge. It's disheartening that Nigerians up till now both in the cities and villages have not seen any remarkable change in power. A lot of them are either self-employed, artisans, semi-skilled or micro-small scale entrepreneurs who depend on electricity power for daily sustenance and survival.
Another area where the present administration has not fared well as expected is in the fight against corruption. Though there's the Economic and Financial Crimes Commission (EFCC) and Independent Corrupt Practices Commission (ICPC), charged with the responsibility to stem the tide of corrupt practices in government by public office holders, not a few will agree that they have failed the nation. It is unbelievable and disappointing that a government that prides itself as the largest in Africa and one that fights corruption has supervised and encouraged massive looting and mismanagement of federal government's funds in a manner that is unprecedented in the country's chequered history.
Under this present administration, it is believed that at least about $4 billion is unaccounted for so far. And surprisingly the annual budget was not passed or announced until about June. Also, during Yar'adua's administration, there was a strong case of some 3.5 billion USD of federal government funds unaccounted for. One really begins to wonder what kind of plans or fight the government has against corruption.
Be that as it may, under the watch of the Obasanjo-led government, there was the satellite launch which was never debated on the floor of the National Assembly. Even though under a democracy there is supposed to be checks and balance from the different arms of government. So for an estimated N3.8 trillion to expended on the project without due process beats one's imagination indeed.
There is also the case of about $16 billion said to be missing from the federation account during that administration, from the petroleum sector. So far in the light of these facts, has failed the people of Nigeria and has not delivered on their campaign promises as well as on many other developmental programmes and goals.
On the Millennium Development Goals (MDG's) government's performance could be better and rated above what is now compared to what is expected. Next, the issue of roads, most federal roads and even state roads like the Enugu – Abuja/Jos Expressway and the East – West Road have remained unattended to for over a decade inexplicable reasons. Is it incompetence or mismanagement or even non-availability of funds? Only government can explain this anomaly?
Additionally, on the education – sector, most of our educational institutions are in a dilapidated state. This was why the Academic Staff Union of Universities (ASUU) embarked on a protracted strike across the entire country last year, demanding for adequate funding of higher education, the payment of some allowances earlier agreed upon, among others. More than that most of these schools lack basic facilities like  lecture theatres, students' hostels, basic teaching aids, transport, utilities –electricity/water etc.
At the post – primary level and primary school levels there's so much rot as there are no desks, apart from the poor and un-conducive learning environment for school pupils etc.
Ayooso writes on contemporary issues.
Samson Ayooso