Overcoming Security Challenge For Nigerian Military
Whatever happens in Nigeria, the military should never allow religious sentiments or extremism to infiltrate the barracks. Soldiers and security personnel are such as physical security from God for mankind on earth. That is why they should never allow religion to play a decisive role in their operations. If that is allowed, then the country is finished. May God forbid!
This is not to discourage the freedom of religion among Nigerians. Though there has been a latent struggle of supremacy between Muslims and Christians in the security outfits, that tendency should not be displayed during operations for the interest of the entire nation. An unconfirmed report that a soldier was betrayed by his co-soldiers on religious grounds during the recent Kaduna reprisal attacks on innocent citizens does not signal well for the Nigerian military. The said soldier who was of an opposite religion among the many soldiers was identified, caught, tied up and murdered in cold blood in the presence of his colleagues. A quite horrific betrayal!
A critical analysis of all the happenings in Nigeria shows that religion has been a readily destructive tool employed by people who have found how extremist some Nigerians are to matters of religion. Go to places of work. Go to even markets. Go to schools. Nigerians mock their fellow citizens. "These Boko Haram people", is severally used to mock innocent Muslim faithfuls. Words such as "nyamiri" and "arne" should cease to be part of the lexicon in the barracks because they are used to jeer fellow citizens. And nearly every violence in Nigeria is intertwined into one religion or the other.
Many qualified citizens have been denied admission and recruitment into the security outfits on religious grounds in the areas where a religion is in minority. Nigerians now carried religious tags in search of jobs. It is commonplace the intrigues in securing a slot in the NDA for instance. And so it is in most government agencies. That is a task the security chief must overcome to give all Nigerians the true sense of belonging.
Most of the security problems in the country as of today have religious undertone. There is need to enforce enhanced moral instructions in the nation's security. The military is a well-established institution that is well respected because of its maintenance of high level of discipline and loyalty to constituted authority. They have defended the nation's integrity and democracy. They have assisted the police in maintaining law and order.
These Nigerians have proved patriotism and need not to preach religious bigotry amongst themselves. They should, therefore, focus on effective and efficient enforcement of democratic governance for peace, stability and development of the country. They cannot afford to mortgage their togetherness, respect for law, discipline and national interest for religion. If this dangerous trend is not checkmated, the effect of insecurity in the nation could be more devastating when the civilians are completely undone.
During the recent crisis in Kaduna, it was reported of how some Muslims and Christians saved their counterparts without regards to religion. NEMA's Search and Rescue teams received members of the Christian faithful who took refuge in some Muslim homes just as it evacuated some Muslims that were harboured by their Christian neighbours. It was also reported in Port Harcourt where followers of both religions marched against religious violence.
The highest echelon of government should practically display religious indifference in their dealings to move the country forward. By so doing, the insurgence by Boko Haram, kidnappings by the misled citizens, militancy, massive corruption and bribery scandals could be mitigated. Boko Haram has created confusion and threats to the nation unity. But as many strongly believe, it will be over when it will be over.
In his national issue discourse number 346 titled, "The Christian Answer to Boko Haram", Dr. Aliyu U. Tilde, held that the circle of cowardice among the Nigerian elites in facing the reality can continue forever except Nigerians find a way to cancel the negatives and arrive at a positive digit. The fact is that retaliation could only serve as a deterrent for a short while. It often produces a vicious cycle of violence. Christians in some communities carry out war crimes against Muslims. Boko Haram says it retaliates but under the hidden tactic of bombings. Then Christians retaliate in areas they too think Muslims are weak. Both do it against innocent citizens, against places of worship, against God, though purportedly in the name of God.
Christian leaders and opinion shapers have appealed to Muslim leaders to use their weight to restrain Boko Haram. But sincerely, which citizen would restrain any Nigerian that carries arms today? There is none. In the same vein, I have heard many Berom leaders saying that their youths are beyond their control. When some chiefs of Niger Delta tried to stop its militants from terrorist activities in the mid-nineties, the youths accused them of complicity and murdered them. Right now, Nigeria has a high deficit of willing martyrs among its leaders.
The truth, he says, is that when it comes to violence, the answer lies with the law and nothing else. The law it is that can cancel those negatives. It is the instrument that stripped all citizens of the right to possess firearms. Muslims, as I have maintained, should, in the absence of any interest to bring the criminals that have been perpetrating crimes against them to justice locally, refer the matter to the International Court of Justice. They must be prepared to walk the ladder to its top. Armed with hard evidence like the ones we mentioned earlier, it is inconceivable that they will not be offered justice there. So the question of their retaliation is cancelled, ab initio.
Christians on their part must also resort to the law and support it. They must ensure that the law enforcement agencies that they control have risen to the challenge. They must also be patient with them until they succeed without complicating matters through retaliation. And Nigerians would remain together long after the guns of Boko Haram and those of Christian fanatics are put to silence.
Legislators in Akwa Ibom and Delta State Houses of Assembly have asked President Goodluck Jonathan to identify the sponsors of the Boko Haram sect and deal with them accordingly. In a resolution at a joint session of the Assemblies presided over by the Akwa Ibom Speaker, Rt. Hon. Samuel Ikon and his Delta State counterpart, Rt. Hon. Victor Ochei, the lawmakers said the call became necessary to protect the corporate existence of the country.
In her column of Wednesday, June 20, 2012, Hannatu Musawa, under a title "They don't really care about us", argued that towards the end of 2011, the presidency announced that he knew who the sponsors of the Boko Haram offensive were and that some were in government. "But till this day, we have not seen those people exposed and brought to full justice. Instead, the one man who the world has identified to have been instrumental in igniting the initial conflict with the original Boko Haram, Senator Ali Modu Sheriff, appears to enjoy a sort of presidential protection", she claimed.
Sharon Faliya Cham in his article, "As the Church slept…The Trilogy", expressed a firm conviction that the problem bedeviling the church today in Nigeria is rooted in the church's neglect of the first teachings of the Lord Jesus Christ in the book of Matthew chapter 5 verse 9 which says, "Blessed are the peacemakers: for they shall be called the children of God."  She believes it has come to full display in Nigeria. "This Scripture is a loud call to the church to be a just and firm arbitrator on all matters of dispute on earth, be it on the economy, education, land disputes, marriage, trade disputes and political disputes.
Ed Silvoso, great man of God and sound teacher of the purpose of the church, in his book titled, 'Transformation', said, "We usually do not approach the world as peacemakers. Quite the contrary, we tend to preach a gospel of condemnation. However, every time we bring an end to a hostile situation in the world by accessing the power of God, whether that situation be sickness, problems in marriage, oppression, systemic poverty, or financial challenges in the workplace, we are recognised as peacemakers, because that is what peacemakers do. The failure of the church to act as an unbiased peacemaker was very glaring in the 2011 general elections where a greater portion of the church took sides, even at a time of great political dispute over the zoning arrangement", she posited.
Cham asserts that he who sows love will reap love, and in the same manner he sows hostility will reap hostility. According to her, it is a divine law and there is no way God can shut His eyes and ears or take away His hands from the fulfillment of His own laws. That is why the quest for peace, she said, is much more than prayers to God for peace, rather it should be worked for. "The Bible says faith without works is dead. So praying for peace without working for peace is vain and dead; it becomes a mere exercise in futility. Christians in Nigeria are well known for praying for peace, but almost absent on the field of ensuring justice without which there cannot be peace."
Muhammad Ajah is a writer, author, and advocate of good governance based in Abuja.
Muhammad Ajah
Does NBA really understand the difference between an Annual Conference and a regular Seminar/Workshop/Talkshow?
Dear Benchers, silks, Professors seniors and colleagues, please I have a question.The SPIDEL Annual Conference 2021 has come and gone. Question bothering me are, what specific benefits has the conference brought towards improving or promoting the welfare, security and economic advancement of lawyers in Nigeria? How would the outcome of the conference positively impact the lives of lawyers in Nigeria? Of what benefits to the welfare of members of the NBA, are the topics discussed at the conference? How for example has the presence of Bala Mohammed, Rochas Okorocha, Aisha Yesufu, Dino Melaye, Seyi Makinde, etc contributed to solving or will contribute to solving any one or more of the many challenges facing members of the NBA?
Recall that the NBA was set up primarily to: Advance the interest of lawyers in Nigeria; Create opportunities for lawyers to prosper; Promote peace, unity and oneness among the various segments within the profession. Redress any noticed injustice to any segments of the profession; Assist in making legal education and law practice in Nigeria better; Guard jealously all jobs and rights exclusive to lawyers in Nigeria; Make lawyers more relevant and useful to society; etc. Now, in what ways would the papers delivered and the talkshows witnessed at the Ibadan SPIDEL conference 2021 help achieve any one of these and others objectives of the NBA?
Meanwhile, you are not unaware that (1). Majority of Nigerian Lawyers are jobless, and indeed feel frustrated, disenchanted and disappointed as a result. Meanwhile countless untapped/unopened opportunities exist for employment for many lawyers in Nigeria. Nigeria is the only country without legal departments in LGA'S and without lawyers working as full-time Legal officers in the LGA's. Nigeria is the only country without legal sections or Legal Departments in its police departments and formations. Happily, section 66 (3) NPFEA, 2020 has directed the mandatory posting of Lawyers as fulltime employees to all police Stations in the country. What is the NBA waiting for to liaise with relevant stakeholders to see that this beautiful mandate is implemented without any delays, with a view to creating job opportunities for lawyers in Nigeria as well as improving the human rights conditions and records of the various Police locations across the country in addition to decongesting our courts by controlling and minimising the filing of frivolous criminal charges? Why didn't the SPIDEL Conference 2020 look at any of these? In Nigeria, over 90 percent of all the MDA's (Ministries, Departments and Agencies) have no legal departments and no lawyers in their employment as Legal officers. Over 60 percent of all high and higher schools in Nigeria have no legal departments and no lawyers in their employment as legal officers. Beside these, many aspects of the traditional jobs of the Nigerian lawyers are being taken away (stolen) by intruding non lawyers and foreigners. Very soon, unless something drastic is done to stop this ugly trend, lawyers in Nigeria may have only little or no jobs to call their own. Even deeds, land agreements, tenancies are now drafted by non lawyers with impunity. Lest I forget, illiterate land agents charge and are paid much more than Lawyers are paid in conveyancing which is the lawyer's traditional job space.
I had suggested and expected that the SPIDEL conference should have been devoted to talking about one or more of the many problems that weigh the NBA and Nigerian lawyers down with a view to dispassionately discussing same in a manner that would bring about some positive results that would directly and positively affect members of the NBA. Same suggestions I had made (without success) in 2019 and in 2020.
In summary, what exactly is the benefit of the just concluded SPIDEL conference to the Nigerian lawyer? Which of the countless problems facing the Nigerian lawyers did the SPIDEL conference look at? Do we really understand the difference between an Annual General Conference of a professional association and a mere seminar/webinar or worshop? I used to think that when an association organises a Conference for its members, it is devoted to looking at the various aspects of the internal affairs of the association and the lives of its members with a view to looking at ways of finding solutions to the association's challenges and also discussing how to move the association and its members forward. I thought that an annual general Conference is akin to an "annual retreat" where only issues directly affecting the organisation/association and its members are focused on. Occasional webinars, seminars and workshops on the other hand may be devoted to discussing issues generally affecting society, in line with the objects of the affected association. In the case of the NBA, all of its Conferences, webinars, seminars and workshops are organised and devoted almost entirely to discussing problems bedevilling other people, with no or little attention paid to the challenges directly facing the NBA and its members. Please, I pray, can the promising Akpata administration, in line with its campaign promises, try to do something different for the Nigerian lawyers and his profession. My own survey shows that majority of Nigerian lawyers are disappointed with succesive NBA Leaderships, and are therefore disenchanted and rapidly loosing interest in the affairs of the NBA. Major reason: the NBA hardly cares about the internal challenges of its own members, but are more concerned about and fighting vigorously about the headaches of other people. Example: I commend NBA's efforts towards ensuring financial Autonomy for the Judiciaries in Nigeria; I commend the NBA for assisting JUSUN over 90 percent of whose members are not Lawyers. I support financial autonomy for the Judiciary. But, please, don't you think that if the NBA should apply the same vigour and energy with which NBA fights for JUSUN, towards fighting to (1) create more opportunities for employment for the teeming population of unemployed/jobless lawyers in Nigeria, things would be better for the profession. If the NBA should devote half of such efforts to fighting off worsening encroachments and intrusions by non lawyers into the legal practice Space, lawyers wouldn't remain the same in Nigeria. Think about this, especially about the difference between a Conference and a seminar or workshop. My friend says NBA Conferences are achieving their Objectives because NBA Conferences are"for networking and closing deals". Okay, my answer is this: _"are we saying it is not possible to discuss these critical issues directly affecting the organisization and its members (issues that promote our own welfare) and still do the (1) networking, (2) Closing of deals, (3) etc…? Please note that I am not against conferences. I am a lover of conferences. All I am suggesting is that topics discussed at these conferences ought to focus primarily on issues directly affecting the NBA and its members." Do not forget, the NBA was set up primarily to make lawyers better. When would the NBA come home to start fighting for its members, as the NBA usually fights for other people—non lawyers? When?
I remain yours faithfully.
By: Sylvester Udemezue
Udemezue is a contributor
Appraising Contributions Of Justice Omereji To Rivers State Judiciary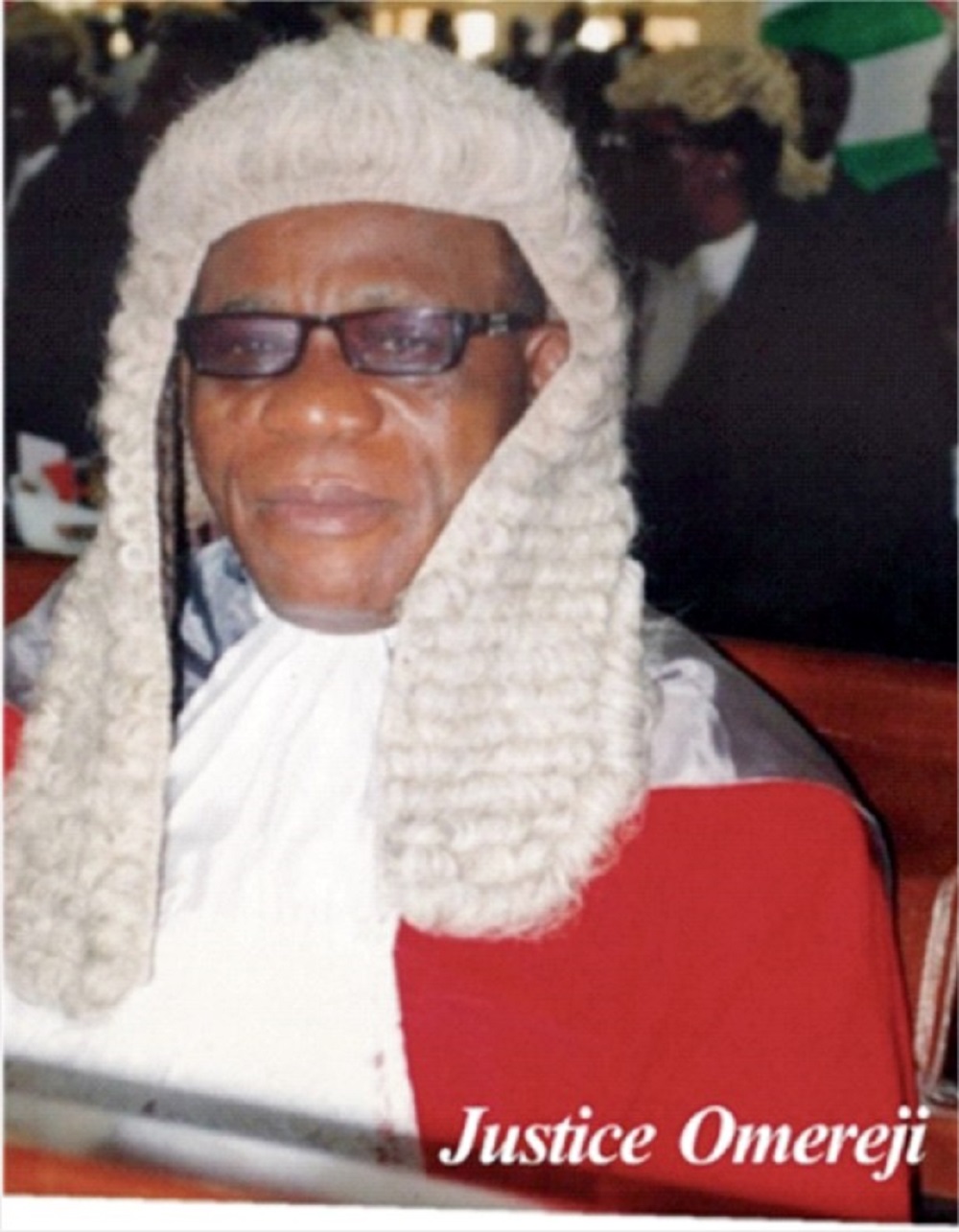 Honourable Justice George Omereji (rtd) is one judge that needs no introduction in the Rivers State Judiciary where he stood out in the bench like a colossus to dispense justice to all.
Justice Omereji was bold, astute and incorruptible. He was well acquainted with the real nitty-gritty of justice dispensation probably because he had served as a magistrate long before he was appointed a judge of the Rivers State Judiciary.
The legal luminary, who hails from Egbeda in Emohua Local Government Area of Rivers State, exuded an aura of discipline at the bench such that no attorney could go to his court unprepared. He also ensured that lawyers maintained both the dress code and courtroom decorum.
Sir Omereji was always in the news while he served as a judge because of his unwillingness to bend. He asserted himself well and carved out a niche in the annals of judicial officers.
The eminent jurist did not only preside over matters with clinical detachment, he taught lawyers what they ought to do or needed to have done in certain circumstances.
Speaking with The Tide in Port Harcourt on Monday, Blessing Enyie (Esq), noted that Justice Omereji while serving in the bench had established himself as a good judge.
Mr. Enyie, who resides at Elele in Ikwerre Local Government Area of the state, pointed out that the eminent jurist displayed proper judicial temperament, patience, courtesy, open-mindedness and tact as he conducted his trials.
He averred that Justice Omereji expounded the law in a manner that brought peace to parties in a conflict or dispute. 
Sir Omereji once remarked at one of his court sessions thus; "When you see parties disobeying the law, it is their lawyers that have encouraged them to do so. According to him, the ordinary person fears the coercive powers of the court.
He was ready to bring to book any person no matter how highly placed who was in breach of the law. Indeed, some lawyers dreaded to appear before Justice Omereji. 
However, his insistence on propriety and justice belied his benevolence. The legal luminary is a kind man and has touched many who have come in contact with him.
Justice Omereji, a graduate of the University of Lagos, was revered while in the bench because of his sagacity, boldness and forthrightness. He treaded where others could not. He so much believes in justice.
Throughout his career in the bench, the eminent, jurist had neither exhibited acts of nepotism nor tribalism little wonder then, that he was chosen as the Chairman of the judicial commission of inquiry to investigate RT. Hon. Chibuike Rotimi' Amaechi's administration over the sale of valued assets of Rivers State and other related matters.
At inception, Justice Omereji had assured that the commission would work within the law and grant parties fair hearing. He is a stickler to principles and an avid adherent to the rule of law.
As a fearless judge, he took over the trial of the alleged killers of Soboma George, the ex-agitator, when some other judges had declined to conduct the trial.
He concluded the trial, convicted and sentenced the three persons charged with conspiracy and murder of the ex-agitator, Soboma George and Joy John Ejims, a groundnut seller in Port Harcourt more than 10 years ago.
Justice Omereji had ruled that the three accused persons, Dougbra Ogbe, Emmanuel Gladstone, Bere Matthew, should be hanged on their necks till they are dead for conspiring and killing Soboma George and Joy John Ejims at a football field in Nembe Street in Borokiri area of Port Harcourt on the 24th of August, 2010.
Another landmark judgement delivered by the eminent jurist was the award of N10 million damages against the Divisional Police Officer of Eneka Police Division, Chief Superintendent of Police (CSP) Yahaya Bello -Sam for the violation of the fundamental human rights of a senior lawyer, Afolabi Olabisi.
He held that the police failed to prove that the lawyer committed any crime before he was detained and pointed out that the action of the police was oppressive.
Omereji described the DPO's action as a flagrant violation of the law and condemned Olabisi's detention in the same cell with suspected criminals.
There are a plethora of other judgements in which Justice Omereji awarded damages against the state and Federal Government over violation of individuals' rights.
 During Rt. Hon. Chibuike Rotimi's administration, he awarded damages against the Rivers State Ministry of Transport for seizure of a truck belonging to a private company.
Justice Omereji is one man who did not mind whose ox was gored, whenever he delivered his judgements so long as justice was served. His lifestyle advocates probity and forthrightness.
He serves justice without fear or favour. He is reputed as one of the boldest judges to have served in the state judiciary. According to him, his mum in blessed memory had taught him how to be bold.
In tribute to his mum, at her funeral on November 7, 2020 Justice Omereji said, "You have taught me that one can only be remembered for what he has done and not by what he has".
Apart from the fact that his mum had influenced him positively, Justice Omereji is also a devout Christian who believes in leading by example. 
His exemplary Christian leadership and contributions to his faith earned him his ordination as a Knight of the Anglican Church.
Interestingly, this belief has helped to make Omereji the diligent and forthright man he is today.
Consequently, when the Rivers State Governor, Chief Nyesom Wike needed an impartial and bold umpire to manage the affairs of Rivers State Independent Electoral Commission (RSIEC) he looked for Justice Omereji and appointed him the chairman of the body.
Sir Omereji immediately swung into action with his commissioners, worked diligently and tirelessly to justify the confidence reposed in him by the people of Rivers State.
Indeed, the eminent jurist conducted the last local government elections in the state which has been hailed for being the only election that was neither marred by violence nor death. The RSIEC chairman was recently given an award by Rivers State youths for conducting a free and fair local council election. Justice Omereji who spoke at the award ceremony expressed gratitude to God for enabling him to achieve the feat.
He also thanked the youths for recognising the achievement of the electoral body.
Omereji, who spoke during the award ceremony, stated that the award though given to him could not have been achieved without the contributions of his able lieutenants and dedicated same to the entire electoral body.
A Port Harcourt-based journalist, Mr. Ralph Echefu, who spoke with The Tide in Port Harcourt at the weekend described Justice Omereji as nice team leader, who carried his lieutenants along.
Mr. Echefu, who also featured at the award ceremony, noted that by the chairman's speech, he was a good manager and team leader.
There is no doubt, however that the retired judicial officers, has often demonstrated his ability to lead each time an opportunity availed itself.
The jurist was at a time, the chairman of all magistrates in the state. He led the organisation well with an avowed commitment and display of uncommon integrity. As a chairman of the magistrates association, he was then a chief magistrate in the state.
Having served creditably as a chief magistrate, Justice Omereji was found worthy to be appointed the Chief Registrar of the state Judiciary.
During his service as a chief registrar, he was instrumental to the rehabilitation of the state judiciary. He worked with former Chief Judge of the state, Hon. Justice Iche Ndu to bring about far reaching changes in the justice system.
Justice Omereji was later elevated to a judge of the Rivers State Judiciary, a position he held until he turned 65 and retired meritoriously on September 24, 2020, after 35 years of service to humanity.
A Port Harcourt based lawyer, Mr. Chijoke  Agi, described Justice Omereji (rtd) as one of the most fearless judges ever to have been appointed to the bench in recent times.
Mr Agi, who spoke with The Tide in Port Harcourt at the weekend, remarked that the current RSEIC chairman is a man well suited for leadership given his track record.
According to him, the eminent jurist is a charismatic leader and there are not many like him in the state.
The Port Harcourt lawyer also described Justice Omereji as an epitome of discipline and noted that he would go places because of his transparency and forthrightness.
He noted that many Port Harcourt-based lawyers who appeared at Justice Omereji's court would no doubt hold the eminent jurist in high esteem because of the manner in which he dispensed justice.
Also speaking, another Port Harcourt-based lawyer, Endurance Akpelu (Esq) described the retired judge as a man of the people and noted that he was always ready to render a helping hand.
Mr. Akpelu pointed out that Justice Omereji was a man of integrity who would always justify the confidence reposed in him.
He said that the retired judge left legacies every where he went and added that he had begun to do same at RSIEC.
"Men like him are hard to find", Akpelu stated.
Conclusively, Hon. Justice George O. Omereji, is straightforward, incorruptible, astute person as well as a an avid adherent to rule of law. Posterity will continue to reward him for his firm belief in justice for all.
By: Chidi Enyie
Reps Adopt Petroleum Industry Bill For 3rd Reading
Court Fixes Morrow For Ex-JAMB Registrar, Prof. Dibu Ojerinde's Bail Plea A Federal High Court, Abuja, will, on July 8, hear the bail application filed by Prof. Dibu Ojerinde, former Registrar, Joint Admissions and Matriculation Board (JAMB), over allegations bordering on fraud.
Justice Obiora Egwuatu fixed the date, on Tuesday, after the court declined the oral application for bail by Counsel to the ex-JAMB registrar, Peter Olorunisola, SAN.
The Tide source reports that while the Independent Corrupt Practices and Other Related Offences Commission (ICPC) is the prosecution, Ojerinde is the sole defendant in the suit marked: FHC/ABJ/CR/97/21.
However, after the 18 counts were read to Ojerinde, he pleaded not guilty to all the charges.
"Having listened to his plea of not guilty, we shall be applying for a date for hearing the matter," lawyer to the ICPC said.
Although Olorunnisola said he was not objecting to Shogunle's request, he informed the court that he had filed an application for a bail on behalf of his client.
He said the application was filed June 29.
The anti-corruption commission lawyer, who acknowledged the receipt of the bail application, opposed it.
He told the court that a counter affidavit had been filed to that effect.
The defence lawyer, however, said that he was just being served with the counter affidavit by the prosecution and was yet to go through it.
The senior lawyer, therefore, prayed the court to allow Ojerinde to continue to enjoy the initial bail granted him by another court pending the hearing of his formal bail application.
Olorunnisola argued that his client would be appearing before a State High Court in Minna, Niger, in another matter the next day (on Wednesday), pledging that the defendant would always be available to stand his trial.
Besides, he said that Ojerinde's travel documents were already in the custody of the Minna court, which granted him bail, assuring that the ex-JAMB registrar would not jump bail.
But Shogunle opposed the oral application
"We oppose the application for temporary bail. It is not a term known to the law," he responded.
The ICPC lawyer said that if the defendant would be appearing before a Minna court the next day, the state had a facility to ensure his attendance in court.
Olorunnisola who countered Shogunle's submission, said Section 165(1) of the Administration of Criminal Justice Act (ACJA) gives the court a discretion to grant the bail.
Ruling, Justice Egwuatu said having listened to the arguments of the parties, a short date would be fixed to hear the bail application.
The judge, who adjourned the matter until July 8, ordered Ojerinde to be remanded in a correctional centre, pending the hearing of the bail plea.
The Tide source reports that the operatives of the anti-corruption commission had, on March 15, arrested Ojerinde, in Abuja, on allegations bordering on misappropriation of funds.
The commission said that the former chief executive officer allegedly committed multiple frauds, while heading JAMB and the National Examination Council (NECO).